4 (blurry) graphs that sum up the state of the Swiss Watch Industry in 2016
The press conference that kicks off Baselworld can, unfortunately, be a fairly dry affair. Statistics, Powerpoint presentations, graphs, smatterings of applause and self-congratulatory remarks about the resilience – and as recently as a few years ago, the booming – of the jewellery, precious gems and watchmaking sectors were the order of the day. But last year was different. 2015 marked the sad occasion of the President of the Swiss Exhibitors Committee, Mr Jacques Duchêne's passing. He had been President for 20 years. It was emotional. There were tears. The upswing, when it came, was in the form of a positive outlook for the industry and strong growth in all areas, including 1.9% in wristwatch exports.
The press conference yesterday lacked the emotion, and more importantly, it lacked the upswing. As a result of the France attacks on November 13th 2015 (which has severely impacted on tourism in Switzerland) and a massive circa 30% downturn of sales in Asia, there has been a decline of 3.3% in the overall value of wristwatch exports. While the news seems dire, and was characterised by several question-asking journalists as "a crisis", the panel, which included newly appointed President of the Baselworld Exhibitors' Committee, Mr Eric Bertrand, the General Manager of Baselworld Sylvie Ritter and François Thiébaud, President of the Swiss Exhibitors' Committee, pointed to the fact that Swiss watchmaking has grown by more than 60% since 2010, the year after the last major recession, which saw a monumental 22% dent in the value of wristwatch exports. A graph speaks a thousand words, so we thought we'd save them for watch reviews and let the Powerpoint do the talking.
GRAPH 1: Swiss foreign trade is down across the board, but watches have been hit hard, with a decline of 3.3%, compared to growth of 1.9% in 2014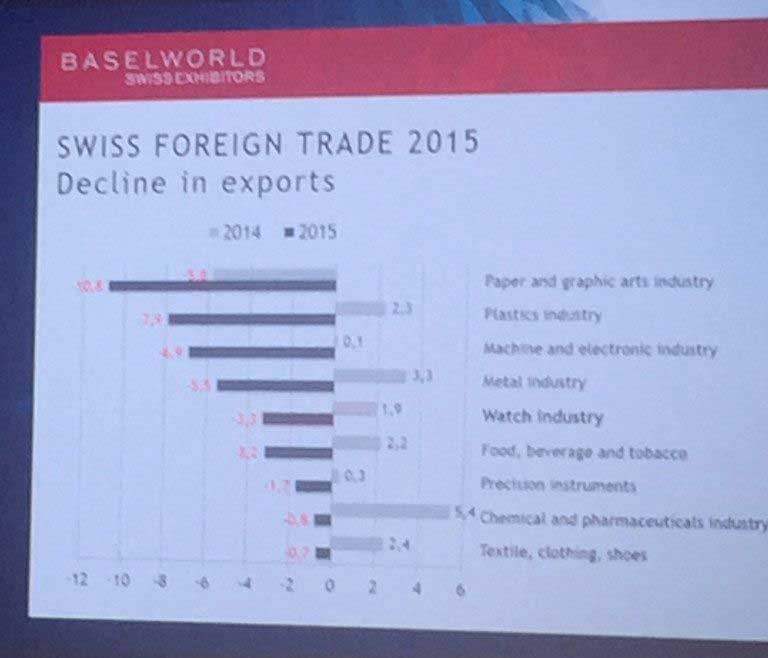 GRAPH 2: After a phenomenal bounceback from the GFC in 2008/2009, when the Swiss watch industry pegged gains of 22%, 19% and 11% in successive years (2010/2011/2012) the market plateaued and is now in mild decline, with the value of Swiss wristwatch exports down 700mCHF to 21.5bnCHF
GRAPH 3: The logic seems to be the higher the price point, the better you are as a watch brand, something first alluded to in a discussion with Richard Mille, who are experiencing growth very much against the grain. While it represents the low end of the market, the more expensive categories have fared better, with 3000+CHF registering a 3.1% decline in value of wristwatch exports.
GRAPH 4: The bloodletting in Asia has been MASSIVE. 22.9% down in HK, nearly 5% in China and 2% in Japan. Australia remains unchanged at 1% of the world market. Solid.