Everything you need to know about Unimatic
James Robinson
Unless you've been practising a technological and communications ban as well as self-isolation, you no doubt will have heard about the Unimatic x Massena LAB Modello Uno Ref. U1-ML6.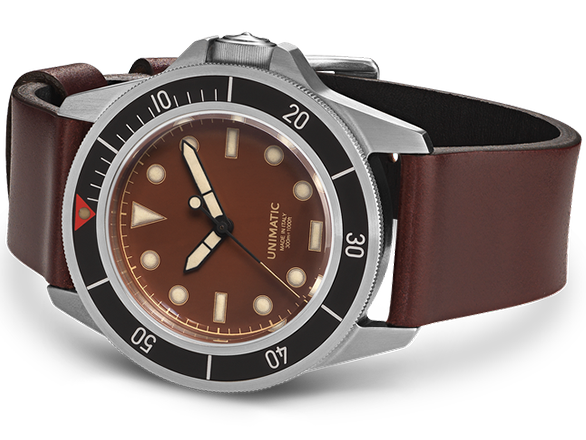 But while the new limited edition timepiece garnered some serious press in the watch world, and all 99 examples sold out in less than one minute, a lot of you are still asking: "Who is Unimatic?"
So, sit back, relax and allow us to explain.
Established in 2015 by two Milanese natives, Giovanni Moro and Simone Nunziato, Unimatic is an independent Italian micro watchmaker like no other.
Moro and Nunziato met while studying industrial design at Politecnico di Milano (Polytechnic University of Milan), the largest technical university in Italy.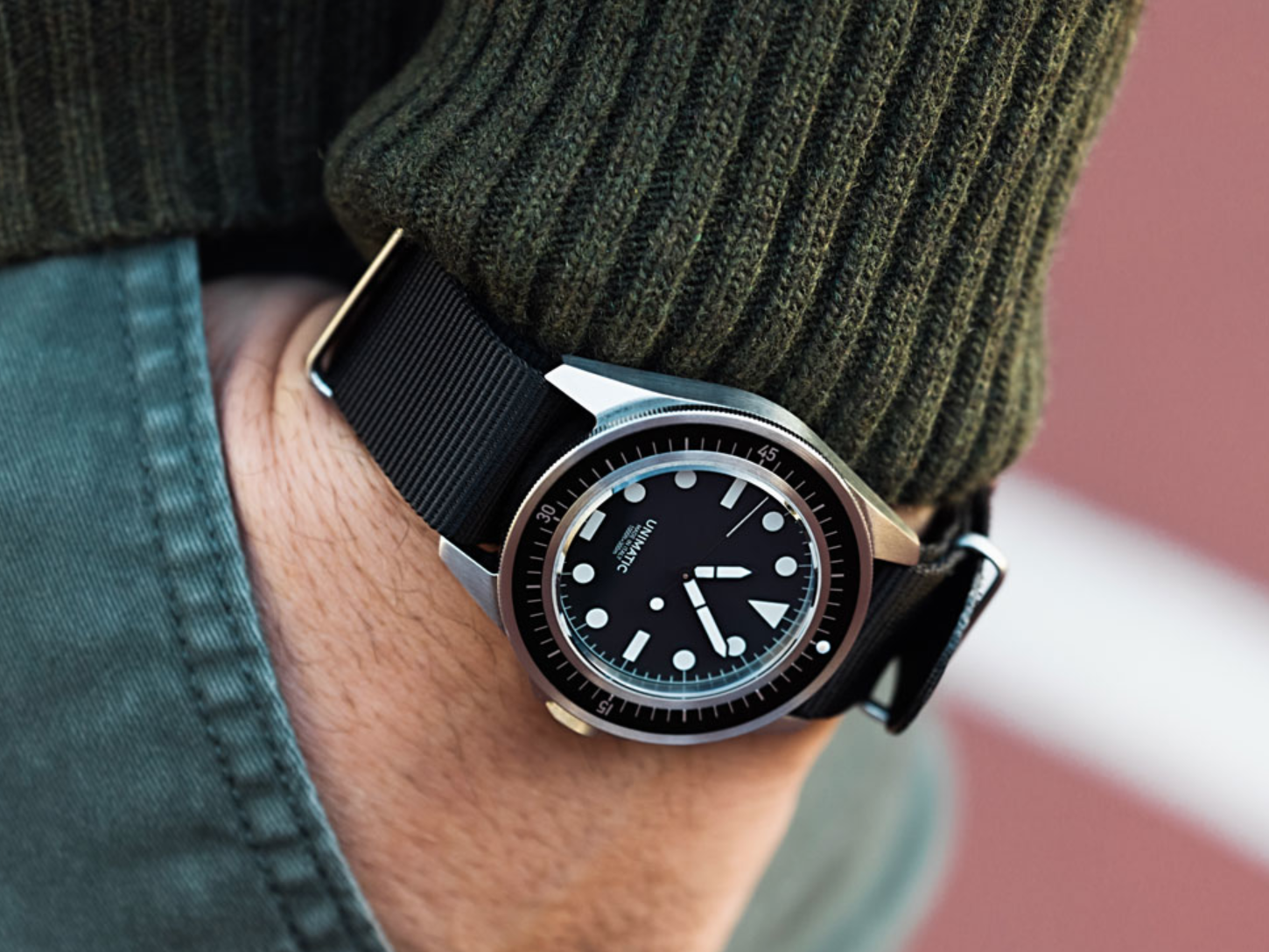 The duo quickly struck up a friendship and, as Moro explained recently in an interview with Gear Patrol, even started buying vintage watches together.
Fast-forward a few years and Moro, after attempting a few watch designs himself, reached out to Nunziato with the idea of creating a timepiece together.
What they came up with would become Unimatic's first and most popular model – the Modello Uno.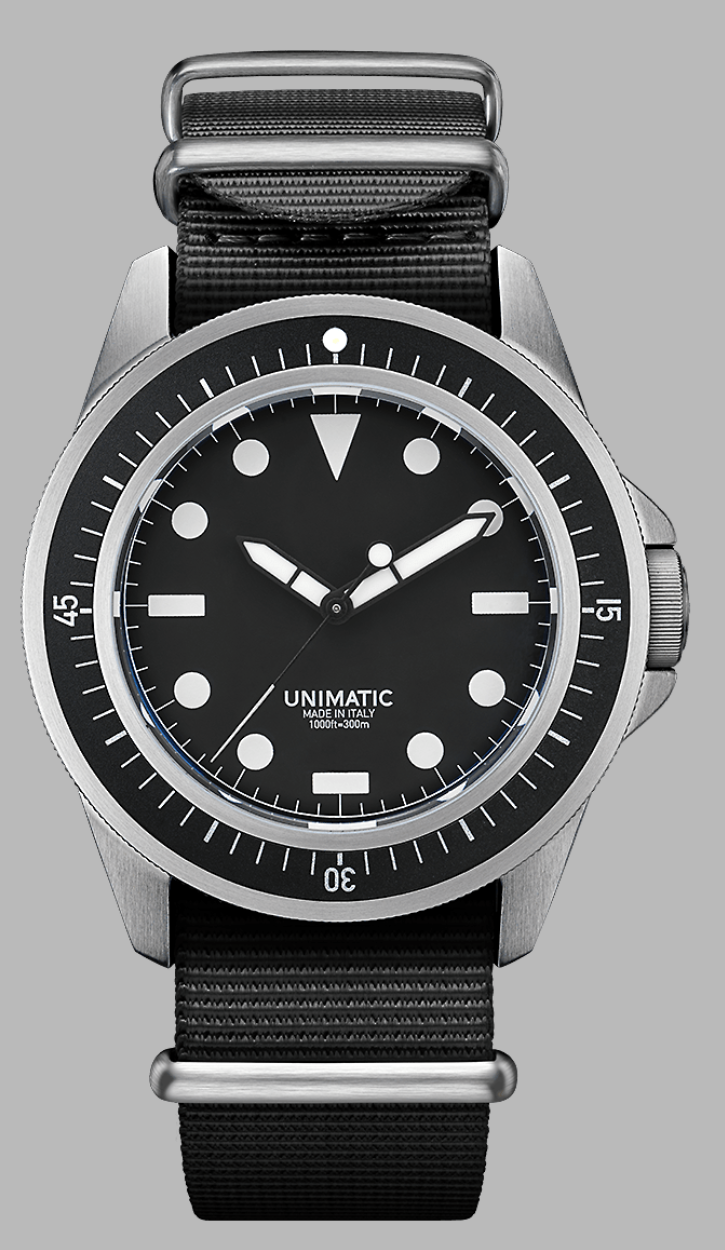 This no-nonsense dive watch presents a minimalist, almost Bauhaus-like design, one that takes inspiration from some of the archetypal dive watches of the '50s from the likes of Blancpain, Rolex and Omega, and gives it a unique and industrialised twist.
Measuring in at a uniform 40mm across (13.6mm thick) and utilising a 316L steel construction as well as a screw-down crown and caseback, the Modello Uno more than stacks up against contemporary rivals when it comes to water resistance – 300 metres, to be precise.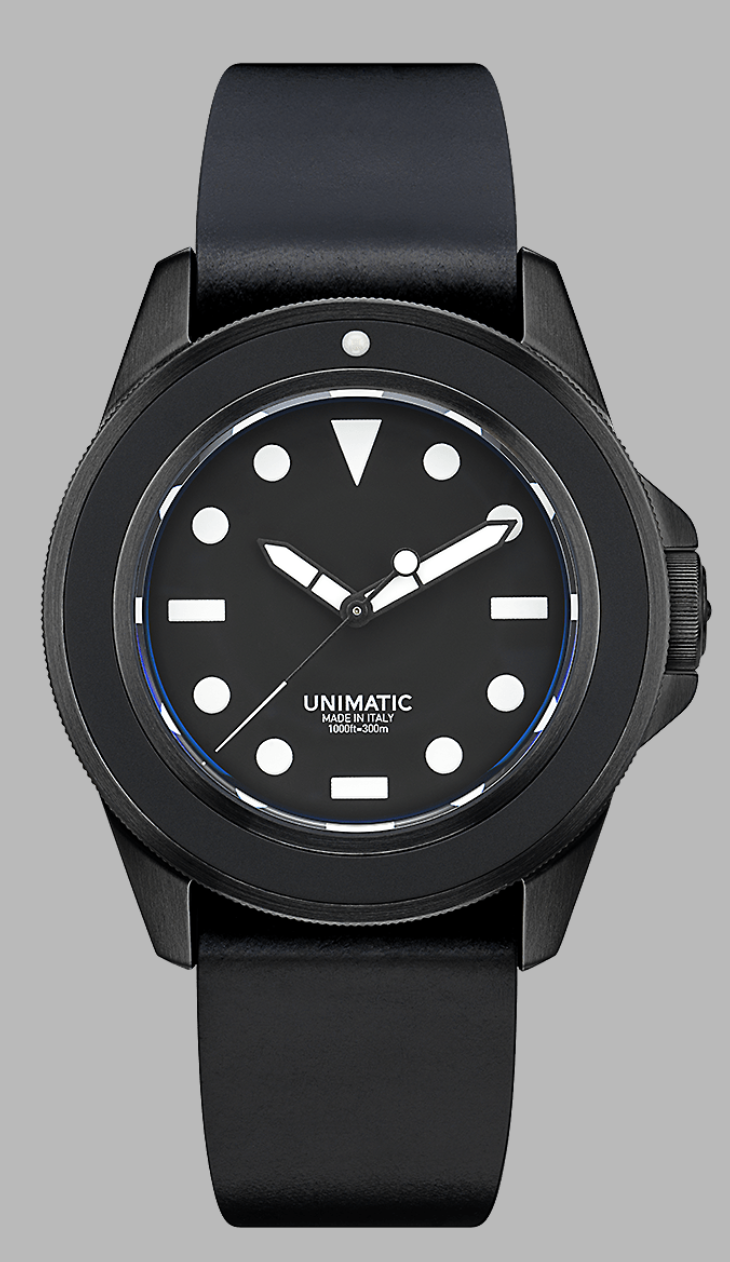 The rugged dive watch is powered by Seiko's tried-and-tested Calibre NH35A, a self-winding workhorse that offers up an operating frequency of 21,600 vph, accuracy rating of +40/-20 seconds per day, and 41 hours of power reserve.
Since the original Modello Uno, Unimatic has gone on to produce no less than 40 distinct releases and two more models – the Modello Due and Modello Tre.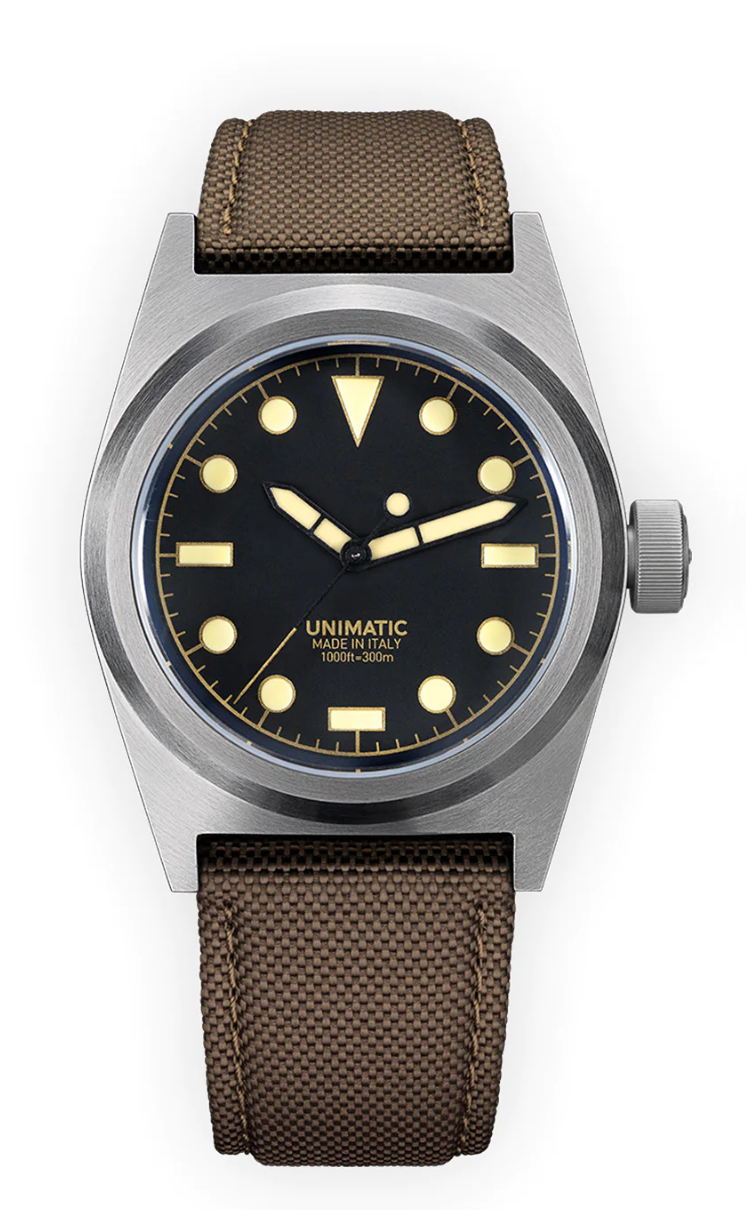 The Modello Due is the nascent watchmaker's inimitable take on a quintessential field watch, while the Modello Tre is the company's first chronograph.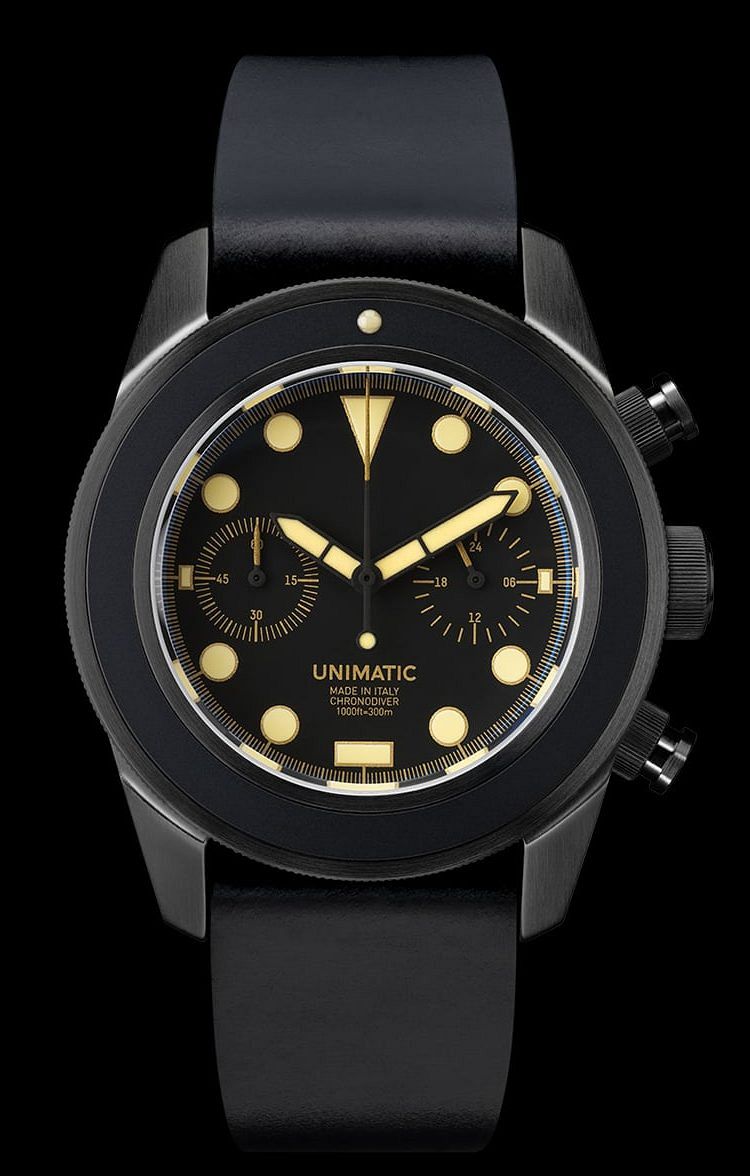 Unimatic has also created two in-house designed special editions that have been … interesting, to say the least.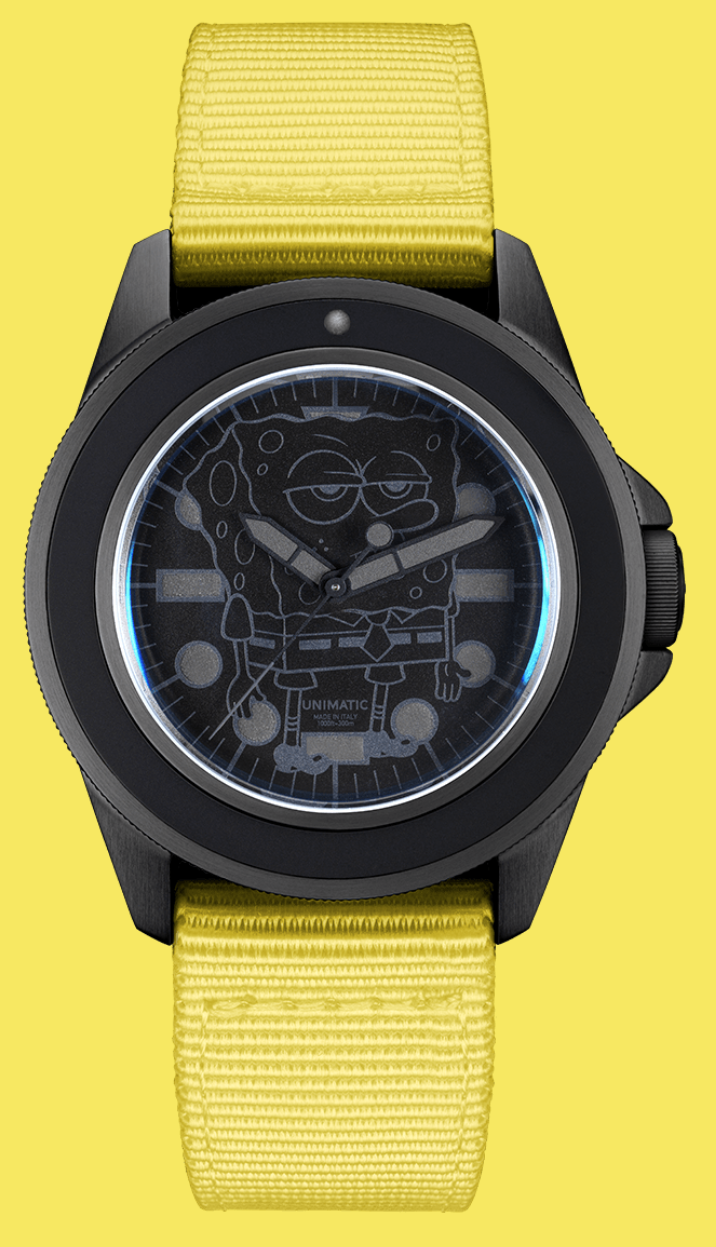 The first was the Modello Uno Ref. U1-SS, a truly quirky timepiece that celebrated the 20th anniversary of beloved cartoon character SpongeBob SquarePants. Limited to just 50 examples, this was such an eccentric watch by Unimatic, and quite a gamble. But it paid off. All 50 of the SpongeBobs were eagerly snapped up and, you've got to admit, as a zero f*cks given watch, it's pretty much perfect.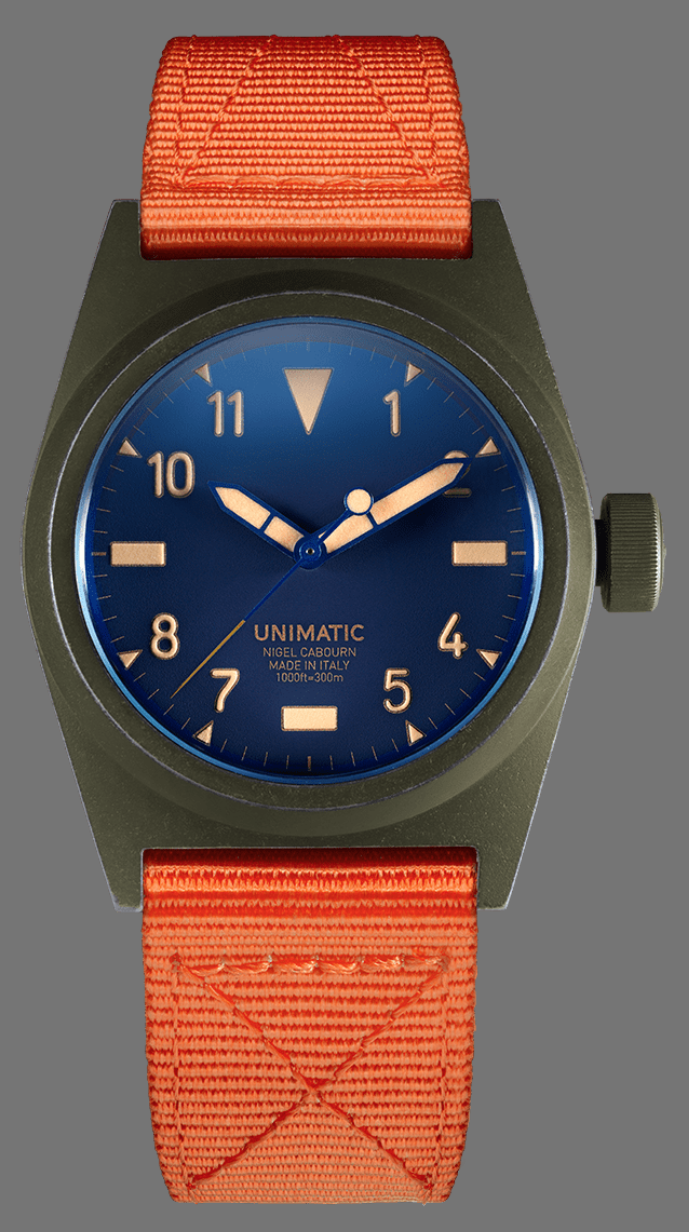 The second limited edition timepiece was the Unimatic X Nigel Cabourn Modello Due Ref. U2-NC. Co-designed with iconic British fashion designer Nigel Cabourn, this iteration of the Modello Due was inspired by the Commonwealth Trans-Antarctic Expedition of the late '50s. The 316L steel case of this Due features a highly unique stonewashed olive green Cerakote coating, which gives the timepiece a rustic charm that's become synonymous with Cabourn. An exemplary weekend beater.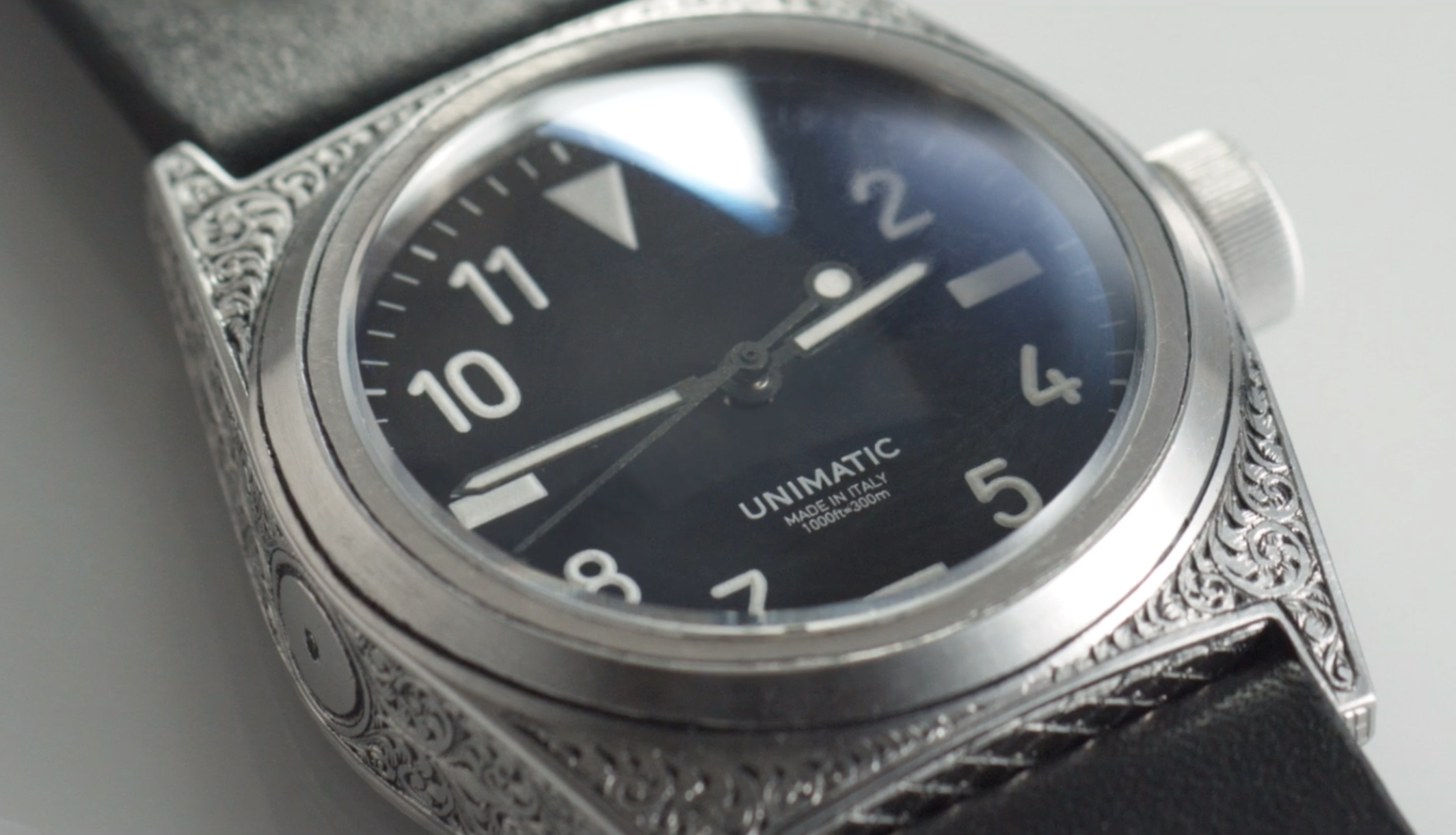 The other big feather in Unimatic's Coppola cap is their "Made To Order" collection, which gives customers the ability to personally commission customisable timepieces, which are engraved, by hand, by master engraver Stefano Muffolini. If you've got the coin, you could create a seriously cool, completely unique timepiece. This is a real point of difference compared to other micros, and we praise Unimatic for offering this service.
Now I know what you're thinking: "This all sounds well and good, but how much are these watches going to cost me?"
Well, it's actually a lot less than you think.
All the watches that Unimatic currently offer on their website will set you back less than $1500 AUD, delivered to your door.
They come with a two-year warranty … and they're cool as hell.
We're big fans of Unimatic. Every new release has us saying "Mamma Mia!" and we can't wait to see what they come up with next.