Why TAG Heuer is the brand that won 2022
Fergus Nash
I'll be honest, TAG Heuer is not really a brand that I love. Sure, I like the classics such as the Monaco and other icons, but if I won the lottery then I wouldn't be visiting the TAG Heuer boutique. So, the fact that I've chosen them as the brand that won 2022 signifies exactly how impactful their year has been, surpassing all of my expectations and then some. Sure, brands like Cartier and Jaeger-LeCoultre have also released plenty of stunning watches in the last year, but it doesn't feel as special when I've come to expect their excellence. Watches & Wonders felt like an answer to the watch community's unasked questions, recapturing the Aquaracer's professional diving credentials, incorporating some exciting emerging technology, and even creating a never-before-seen diamond-infused case.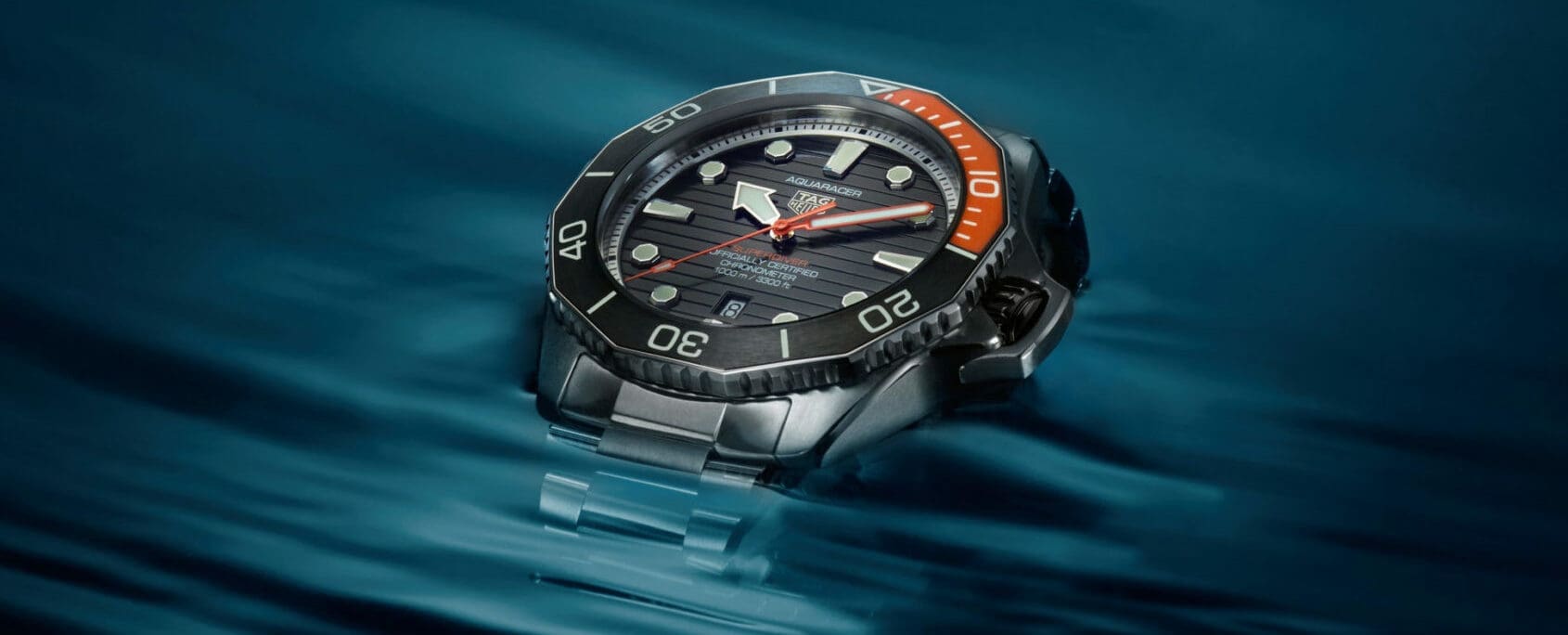 Exhibit A: The Aquaracers of Watches & Wonders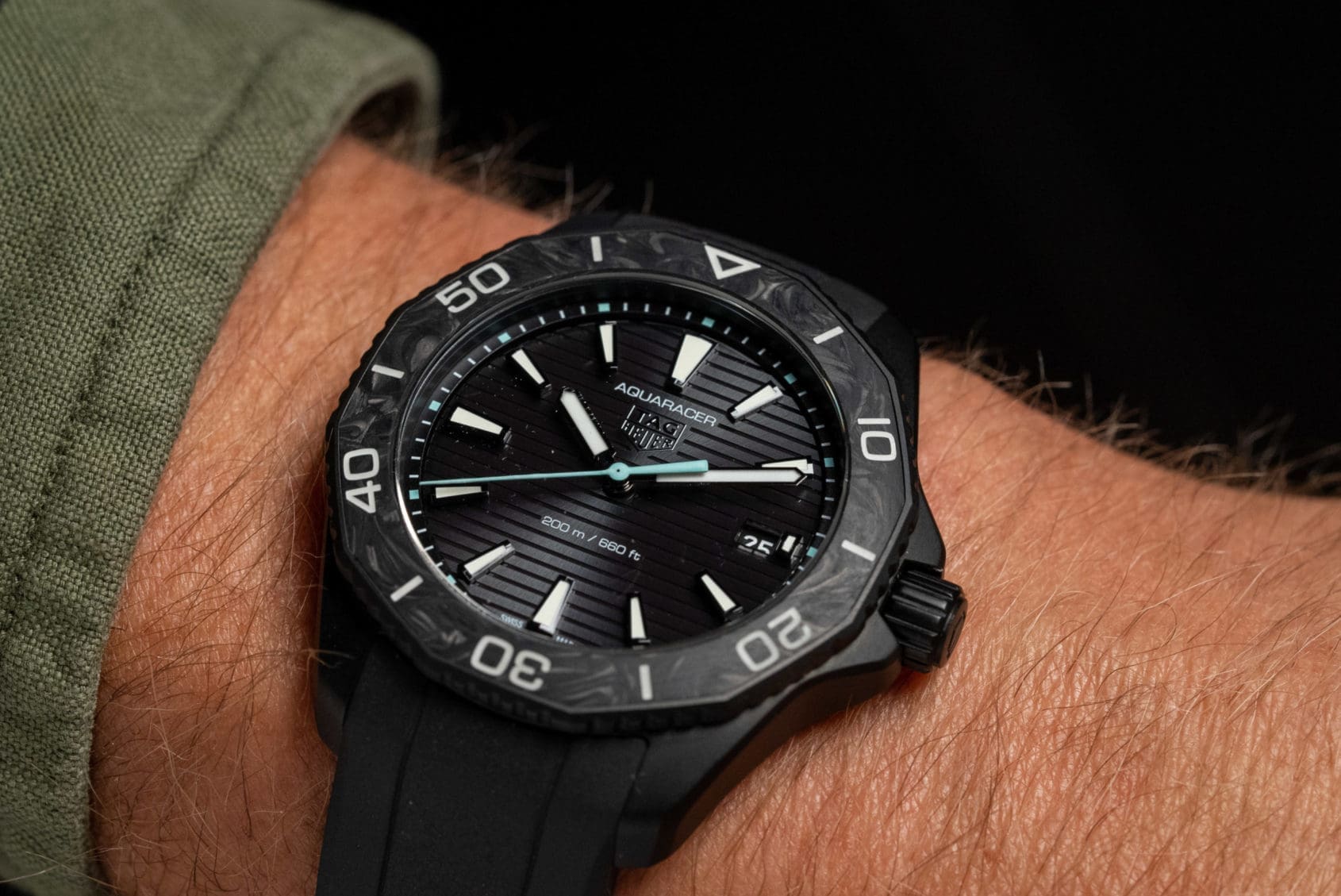 The Aquaracer was definitely TAG Heuer's focus in that first big 2022 release, spearheaded by the Professional 1000 Superdiver which gives them representation in the saturation diver market. Its bulk and attitude is backed up by impressive specifications and an edgy titanium case. If stealth and efficiency is more your thing, TAG Heuer incorporated solar technology into the black dial of their Aquaracer Solargraph, for unending power and quartz accuracy. The murdered-out case is complemented by a forged carbon bezel and brightly contrasting markers, with a pale blue seconds hand making it easy to read. As if that wasn't enough, the entire Aquaracer range was evolved with the Professional 200 line, trimming the fat from the diameters, bringing in some smoky gradient dials, and refusing to overly feminise the 30mm models.
Exhibit B: The TAG Heuer Carrera Plasma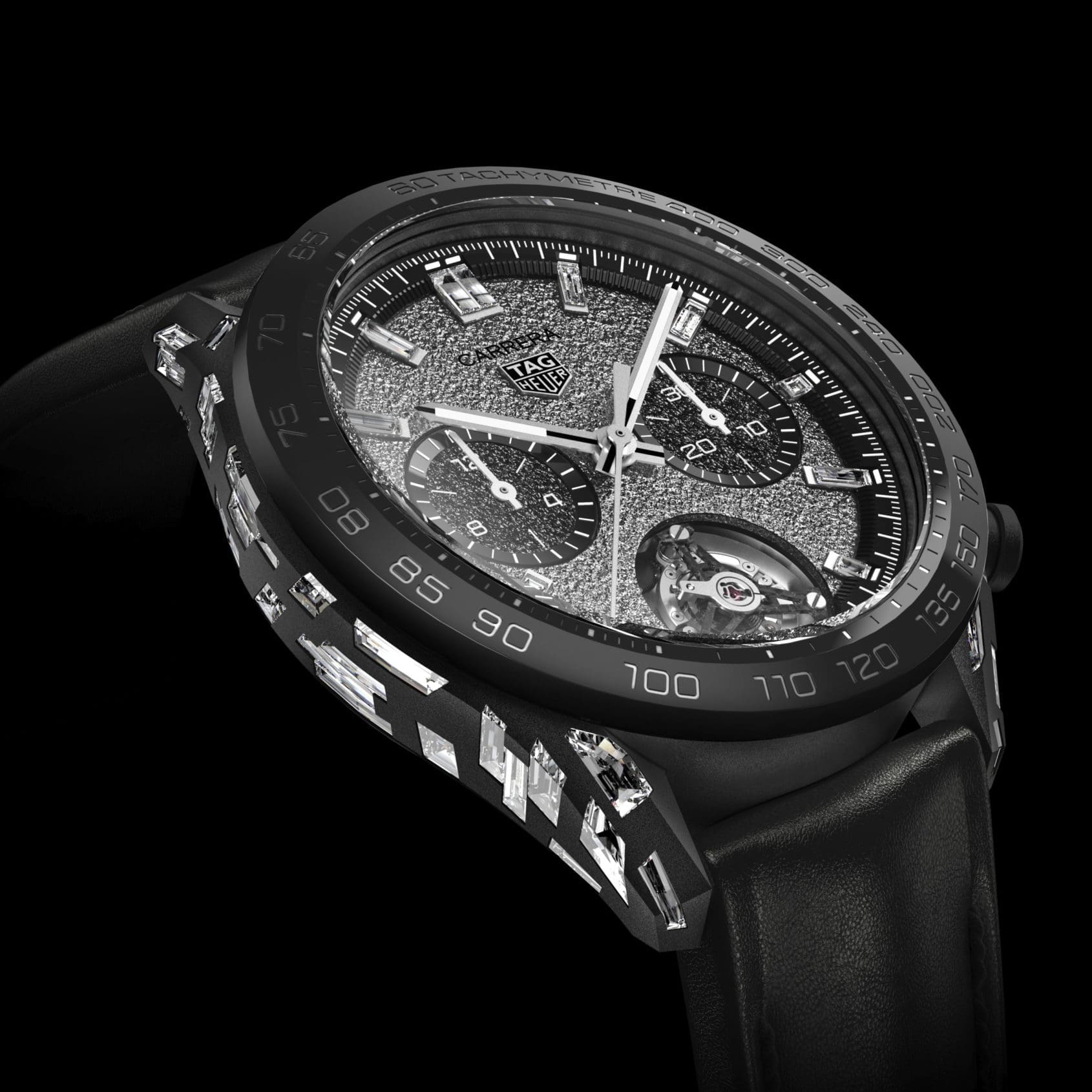 While there was a lot of love for the Aquaracer during Watches & Wonders 2022, by far the most attention-grabbing watch was the diamond-laden TAG Heuer Carrera Plasma. Setting diamonds into a watch case and dial is nothing new in the slightest, and so TAG Heuer shook things up by doing it in a way nobody else has done before, giving an effect that's bold, masculine, and exciting. The dial looks like it's made from some kind of crushed diamond dust, but it's actually grown in a single piece in a chaotic crystal structure that causes the rough texture. Diamond baguettes have been cut for the hour markers in a more traditional way, and the two horizontally aligned subdials are balanced by a skeletonised tourbillon cage at 6 o'clock. The most impressive part is the black anodised aluminium case with huge diamonds set into it seemingly at random, complete with a solid diamond crown.
Exhibit C: Honouring their beloved favourites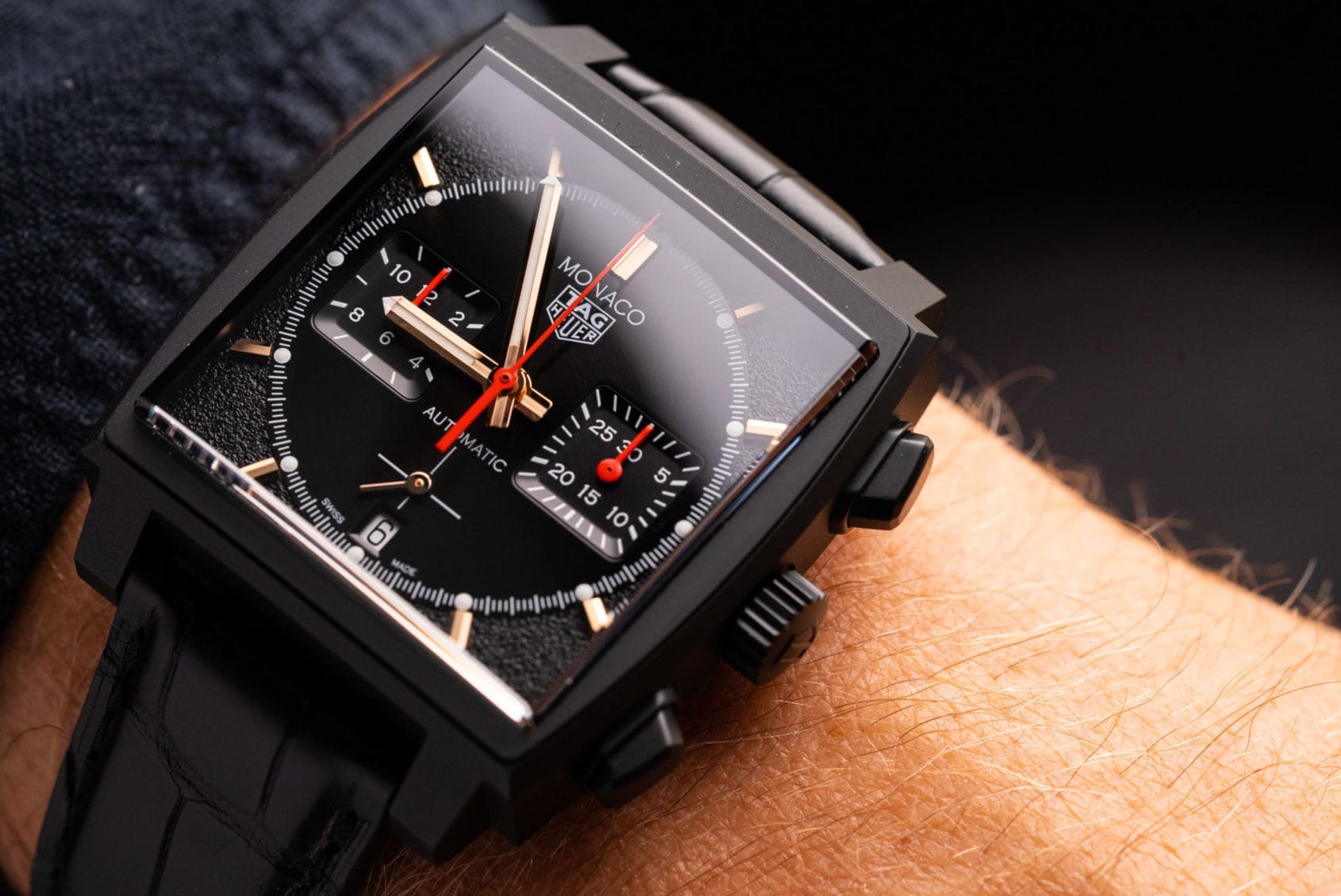 Nostalgia is a funny thing, especially when younger generations start to yearn for days that the older generations still feel like yesterday. But, TAG Heuer have been indiscriminate with their choices of retro homages, bringing back some watches and styles which have been missing from their catalogues for too long. The first is the TAG Heuer Monaco Dark Lord Special Edition, paying tribute to the original reference 74033 from 1977. As an early example of a racing chronograph with a black PVD coating, the originals are notoriously hard to find, and when they are found their coatings may well have been scratched away by something as innocent as being stored in a cupboard. This modernised 2022 version features a scratch-resistant DLC coating on a titanium case (a first for the Monaco) which lightens up the weight, yet keeps the deep matte black that makes those Sith-red hands pop.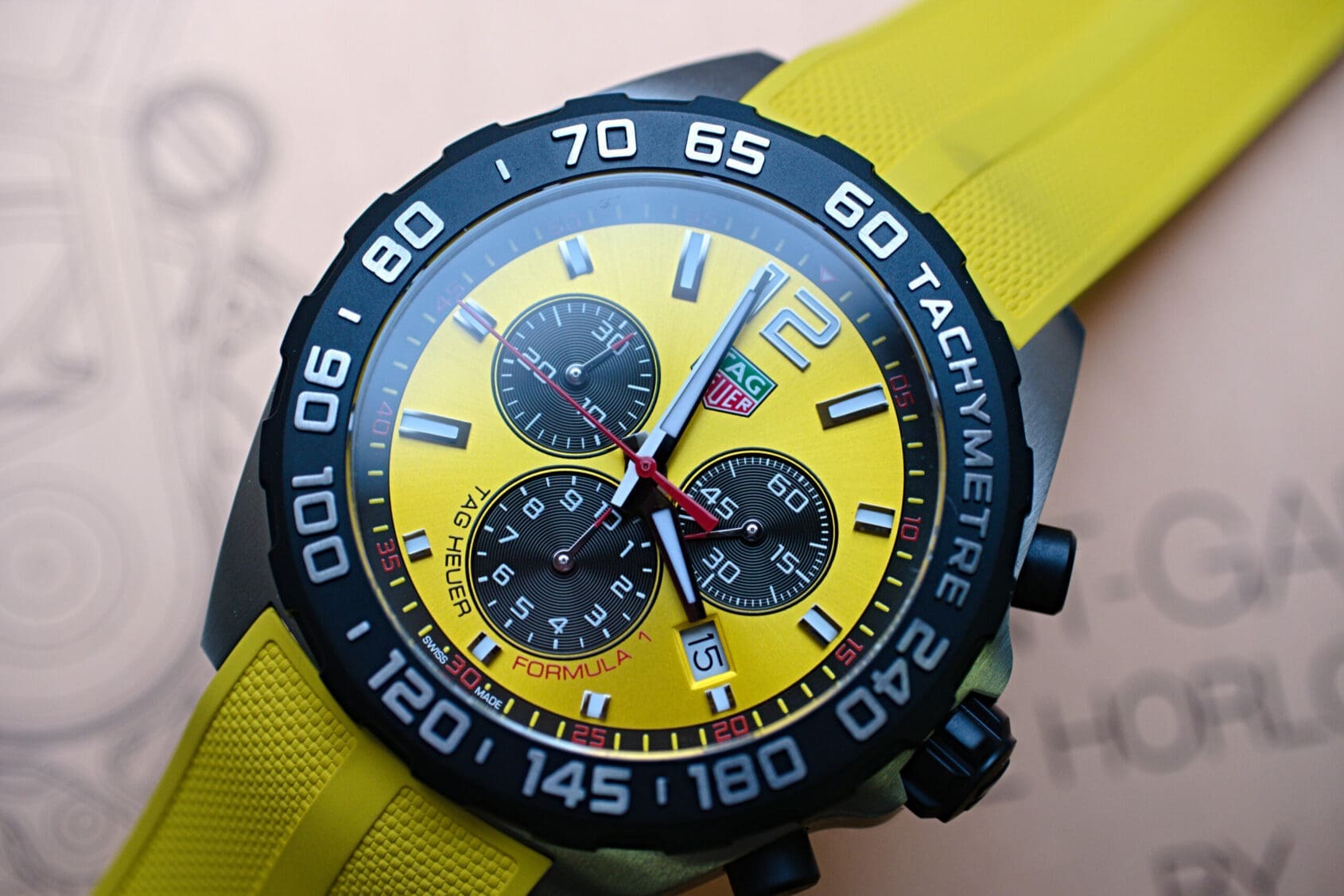 The next throwback was the release of a new TAG Heuer Formula 1 range, complete with some of the bright colours that initially made the watches so cool in the '80s. Although the specs and quality of the more recent Formula 1 watches are definitely improved from those early fibreglass and quartz ones, they did tend to feel more stern and sterile due to their darker colour schemes. The new 2022 models in green, yellow and red are all incredibly vivid thanks to a finely brushed sunburst texture, and get a heap of helping contrast from the black PVD-coated bezel. It's the lighthearted fun of bright colours that capture the same childlike imagination and excitement which brings Formula 1 fans into the sport in the first place.
Summary Judgement
For TAG Heuer, 2022 seemed to be a year of redefinition. Their releases had been steady in previous years, with plenty of great quality and attractive watches, however their image was firmly cemented in the minds of collectors. There was always a sense that people were missing something from the brand, but the first major watch event of the year put that to rest. Even once I was won over in January, the brand kept releasing hit after hit to cement my fan status. In winning me, and many more watch enthusiasts over, TAG Heuer has won the year.