Why did I fall more in love with this $50 Citizen than my $5,000 Cartier?
Fergus Nash
The phrase "nothing special" is often thrown around when you're showing your watch to other enthusiasts. It might be a bashful term born out of shyness, some insecurity that your watch isn't as expensive as the other person's, or it could even be sarcasm when the watch on your wrist is worth more than some people's cars. The truth is that all of these uses are born out of superficial standards, whether it be price, technical specs or clout. My $50 Citizen could never compete with a $5,000 Cartier if you lined up their spec sheets, but having owned both, I know which one is more special to me.
Before we get into the story, let's dive into that direct comparison. My Cartier Tank Basculante was a reference 2386 from approximately 1990-2000. It's an undeniably iconic design, with the "Basculante" building upon the already-idolised Tank case to rival Jaeger-LeCoultre's Reverso design. The Basculante could flip within a sub-frame of the case to either protect the sapphire-covered dial or hold it upright to use as a tiny table clock. The case's dimensions were 22mm x 32mm which is definitely small by today's standards, however I've always preferred smaller vintage-style watches, especially when rectangular. The dial had a pleasing parchment or eggshell white tone, with the Roman numerals arranged in a softened oval shape.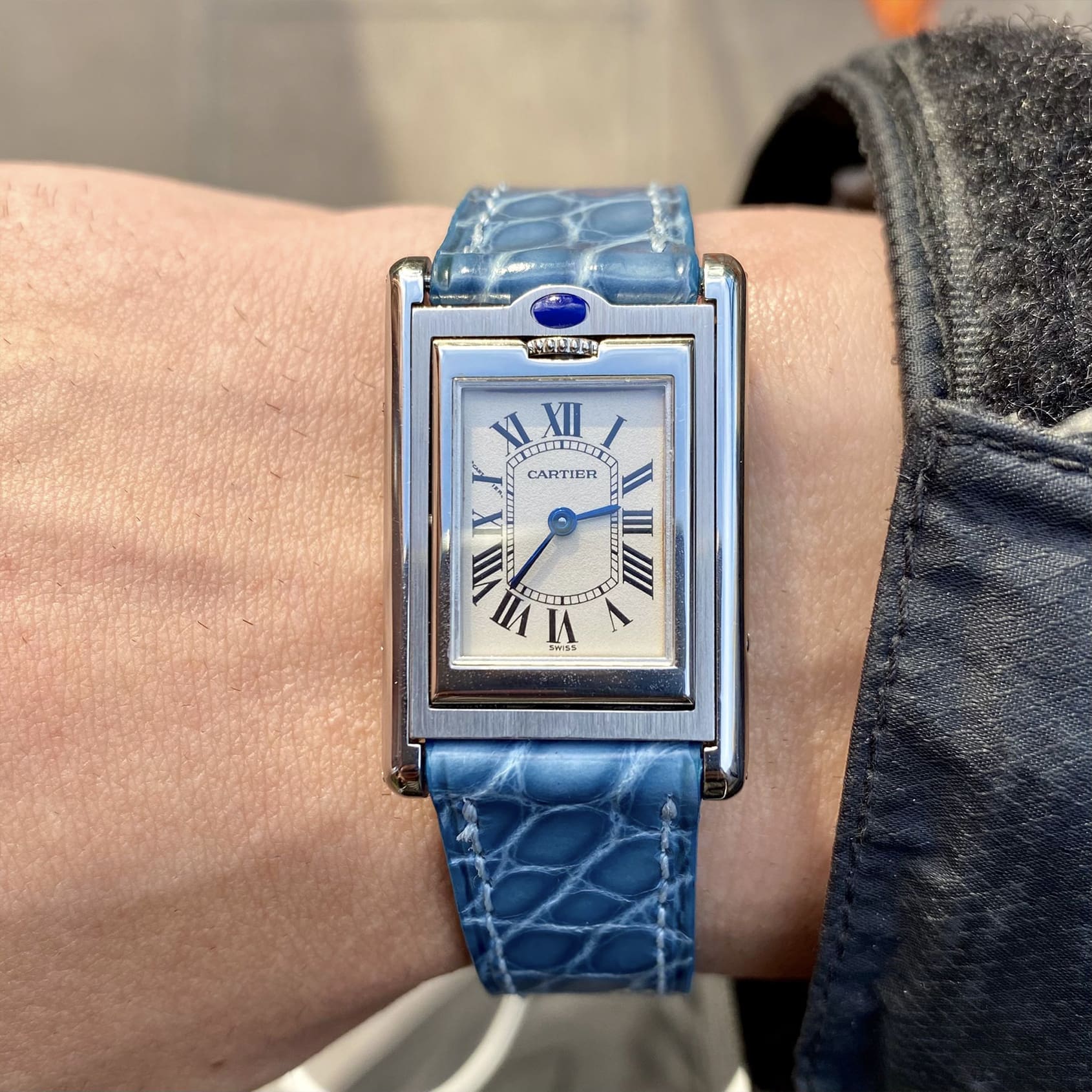 Researching the serial number of my Citizen Elegance bears no useful results whatsoever, but I would have to guess that this watch was made somewhere in the 2000s. It has a generic Japanese quartz movement with an unashamed central seconds hand, a mineral crystal with admittedly fantastic curved distortion, and a yellow gold PVD-coated steel case. The case is definitely inspired by the Tank, however the fluted sides along with the baton indices and Arabic numerals give it much more of an Art Deco vibe. The dial is finished tremendously for the price, with a super-subtle circle guilloché around the edges and a more pronounced engraved section in the centre.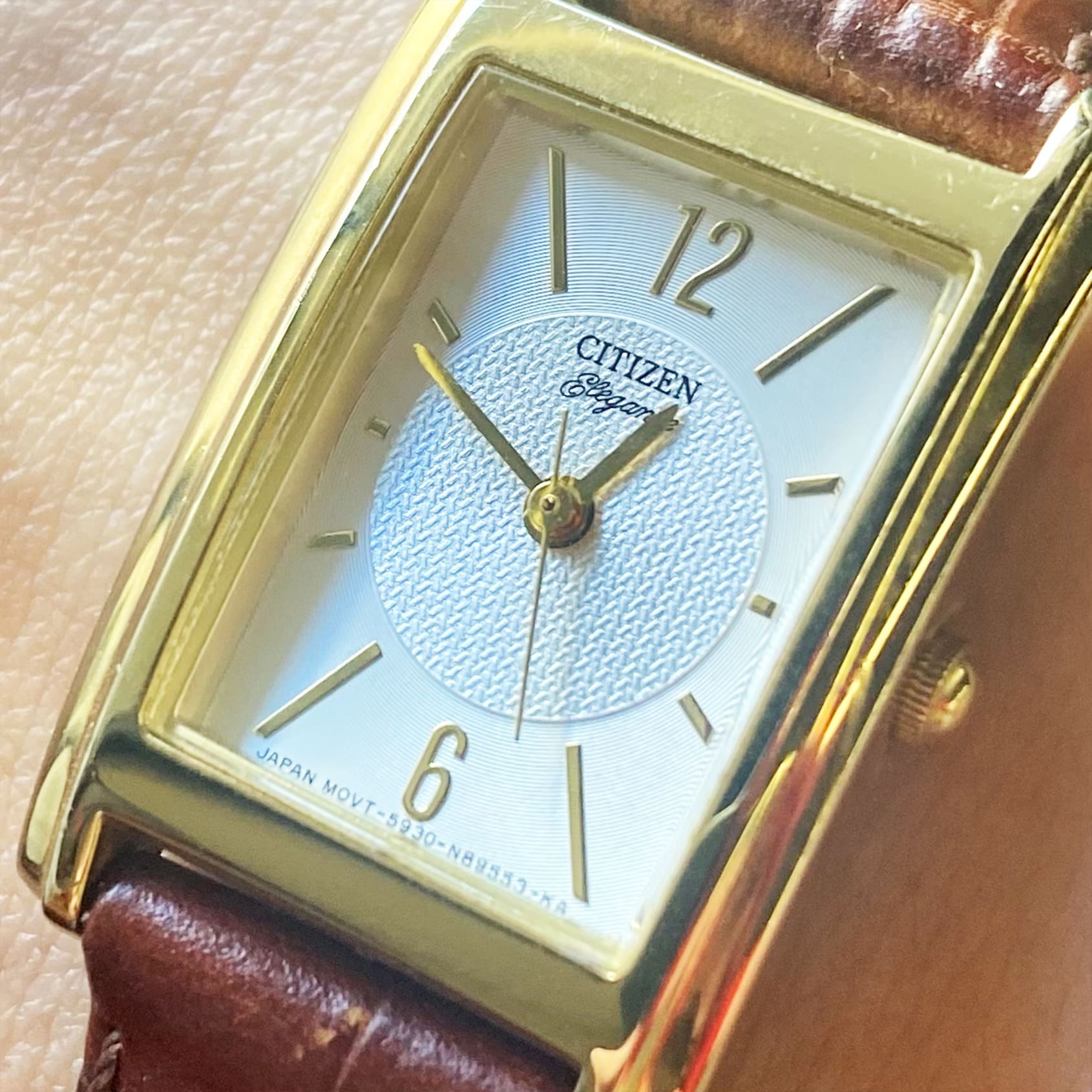 So you can see that in terms of pedigree and certainly resale value, the Cartier wins hands-down, but I really do believe the Citizen puts up more than a fair fight when it comes to design and quality. The key difference between the two is how I came to own them, with the Cartier bought on eBay as an impulsive purchase, and the Citizen found at an op-shop (a thrift store or charity shop for our non-Aussie readers) with my partner. The thrifting fates seemed to be smiling on us that day as both my partner and I found multiple great scores at the very first op shop we visited, and the Citizen happened to be one of mine. I've never bought a watch from one before, as the options are usually pretty poor, but this one stood out by a mile. Not only was the mineral crystal unscratched and the PVD coating intact, but the deployant-buckle strap actually fitted me, which was a first.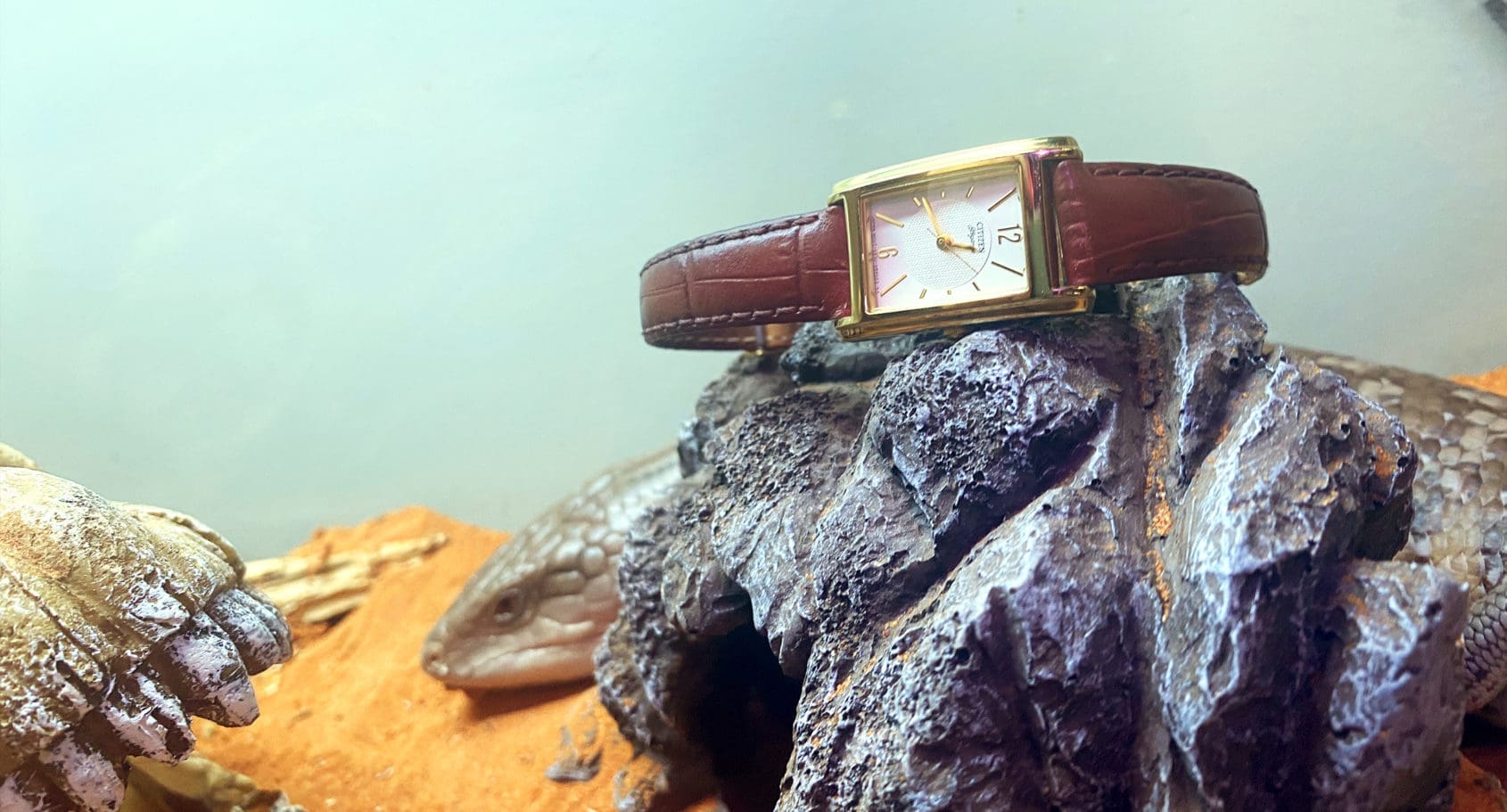 My love for Cartier can't be underestimated, and I'm constantly haunted by the loss of my Cartier Pasha which I wore to my interview for this writing job, as I sold it to fund the Tank Basculante which just never managed to keep my attention. I wouldn't say I had buyer's remorse, as I did genuinely love the design and history of the Cartier Tank, but those reasons just weren't enough to justify keeping it in my collection. When I think back on it now, my only solid memory of the watch was wearing it into an office, and in the queue for a COVID test. Before I'd even reached the counter, I'd already formed a bond with the Citizen Elegance from the moment my partner called out "Oh look Ferg, watches!".
Now, I'm not saying that you should instantly sell any watch you've ever bought purely because of specs or aesthetics, but I do think we as watch enthusiasts should endeavour to question what our connection to these objects really is. You may find yourself bonding closer with watches you already love, or maybe you'll free up some space in your collection for other things. Ultimately, the next time someone asks what you're wearing, hopefully you can respond by telling them exactly why it's special.