Weekends in Melbourne can mean several things: overpriced brunches with mates after a boozy night out on the town, hikes up the Dandenong Ranges' unendingly popular "1000 steps", day trips to the Peninsula Hot Springs and, if you're a watch enthusiast, donning that special timepiece in your collection that wouldn't dare see the light of day between Monday and Friday.
For this Saturday and Sunday, I wore my '66 Rolex GMT-Master ref.1675 "Pepsi" and went out in search of what other like-minded individuals had decided to attach to their wrist, and this is what I found out in the wild:
Riley's Rolex GMT-Master II Ref. 116710LN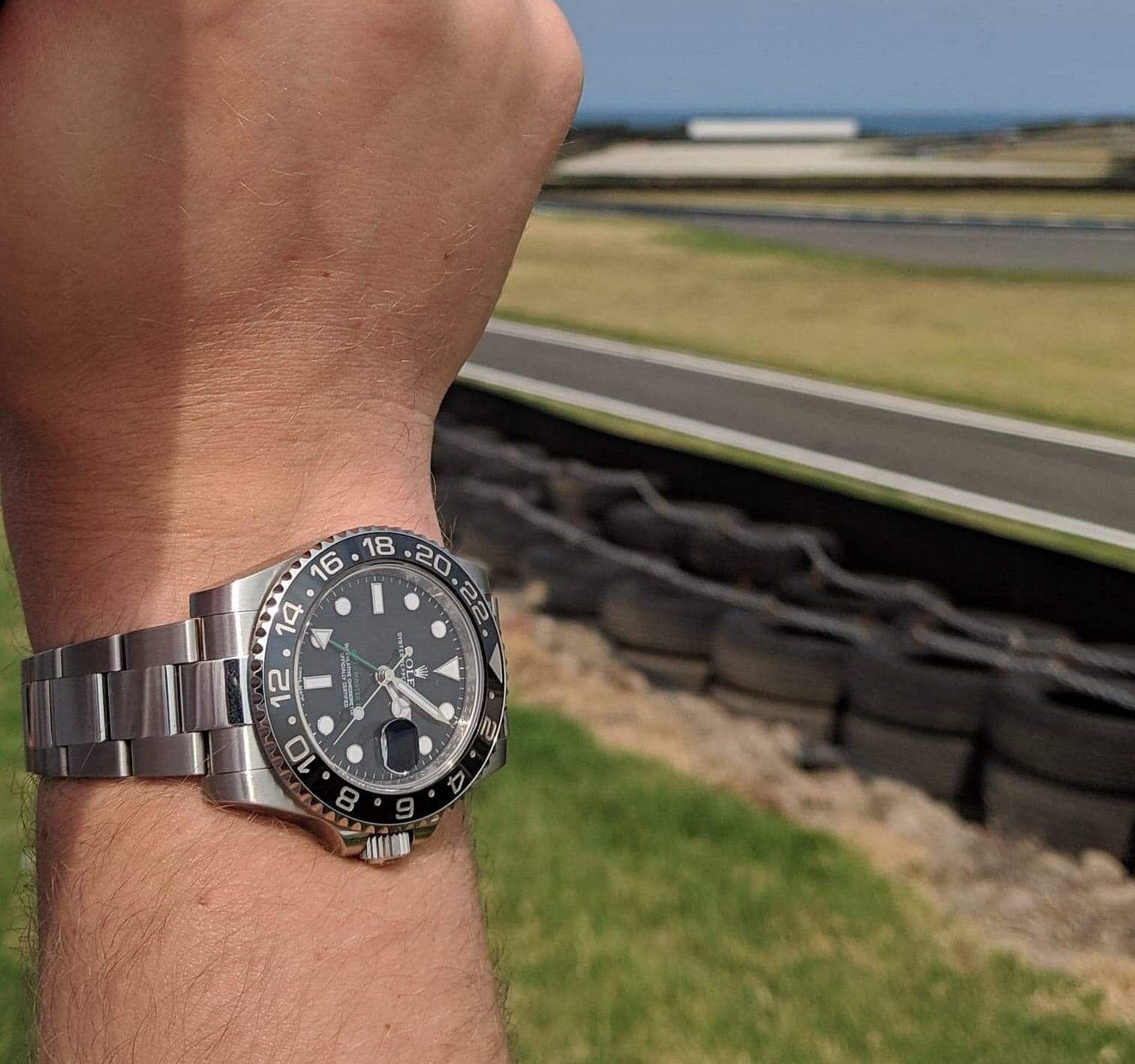 Riley always had his eyes set on Rolex's gorgeous GMT-Master II Ref. 116710LN, and much like our fictitious "Clairvoyant Collector", he had an inkling at the beginning of 2019 that Rolex may well discontinue the "Green Arrow", as it housed the older Calibre 3186 movement, which had since been superseded by the Calibre 3285, first released in the Rolex GMT-Master Ref. 126710 BLRO "Pepsi" back in 2018. Riley frantically contacted Authorised Dealers across the country, keen on securing the Oystersteel Professional model before it was too late. But alas — much to the surprise of, let's be honest, no one — Riley's requests fell on deaf ears. It seemed as though all hope was lost, and then, while perusing the interwebs late one night, Riley came across a particularly nice "Pre-Chromalight" 166710LN from 2010, with full box and papers, in immaculate condition. What was more remarkable, still, was that the current bid hovered roughly around what the RRP was for a new one. A mild bidding war ensued, and the net result was Riley now owning what he lovingly refers to as his "Green Demon". A great story of man conquering the steel sports model queue and doing so before the 116710LN was discontinued.
Dan's Tudor Black Bay Bronze Bucherer Edition Ref. 79250BB
Dan recalls the stress-filled experience of buying his stunning Tudor Black Bay Bronze Bucherer Edition like it was yesterday. It started with a frantic back and forth with his sister-in-law on WhatsApp, after finding out that she had walked into Bucherer's London store, asked for the rarefied watch, and had been told that they did indeed have one in stock that she could purchase. Dan, who was halfway around the world back in Melbourne, nearly fell off his chair when she sent him the message saying that they actually had one — he thought for sure that the watch he had lusted after since its release would be backed up on an indefinite waiting list. What followed was a juggling act of bank account scouring, spousal excuse-making that would make "The Enabler" proud, and a nail-biting process of transferring funds. Against the odds, however, Dan's sister-in-law walked out of Bucherer with the beautifully blue watch, and now it's Dan's exclusive weekend warrior. Another win for the little guy!
Zach's Nomos Glashütte Ludwig neomatik 41 Date Ref. 260
There are myriad reasons why people love watches — for some, it's the way they look on the wrist, for others, it's the purpose they serve — the list is endless. Zach loves watches for the engineering that goes into making their mechanical beating hearts tick. And, if you're really into the minutiae of horology, Nomos Glashütte is in a class of their own in the price bracket. That's what drew Zach to what is now his Ludwig neomatik 41 Date Ref. 260. Nomos is one of the few watchmakers out there that can truly claim to have a "in-house" movement, and it's been at great expense to the company. But the Caliber DUW 6101 automatic found inside Zach's Ludwig neomatik is a triumph of a movement, and exemplifies what can be accomplished through engineering prowess and attention to detail.