In this week's head-to-head battle of words, James Robinson squares off against Editor Luke Benedictus, as Nicholas Kenyon is still recovering from Robinson's knockout blow in last week's Crime or Sublime. This may well be Benedictus's first time in the figurative ring, but he's come out swinging. And the topic for this week's literary battle? Wearing jewellery with watches … Crime or Sublime?
Luke Benedictus – The For Argument
Oh please. Surely you've mustered enough self-confidence by now that you can get dressed without meekly submitting to one person's entirely subjective rulebook. The truth is that, for some people, anything goes. They can get dressed with maverick flair and blithe disregard for convention and it works for them, too. Admittedly, their rock-star swagger and charisma often stems from the fact that they are, in fact, bona fide rock stars (or similar). I'm talking about the usual suspects you find in the best-dressed lists: Jared Leto, LeBron James, David Beckham, André 3000, Mark Ronson, Jeff Goldblum, ASAP Rocky et al. Do the aforementioned actually wear watches and jewellery? Frankly, I have no idea (although as luck would have it, LeBron appears to be doing so in the first photo I googled). But here's the thing: if any of the aforementioned decided they wanted to combine a watch and some jewellery then I'm sure they could pull it off with zero fuss. The more important question to ask yourself is: could you make some of their more outré looks work yourself? For me, the answer is absolutely not. Keith Richards may pair his IWC Portugieser Chronograph with a rag-tag assortment of rings, bangles and trinkets and look like a pirate king. Yet if I tried the same thing I'd look like a walking mid-life crisis or a provincial hairdresser. That doesn't mean Keef is in the wrong. The key thing to dressing well is self-knowledge. You've got to know your sartorial parameters and play within them. Don't let Tom Ford or some other self-styled expert lecture you. Trust your own judgement. Just as long as that doesn't include square-toed shoes.
James Robinson – The Against Argument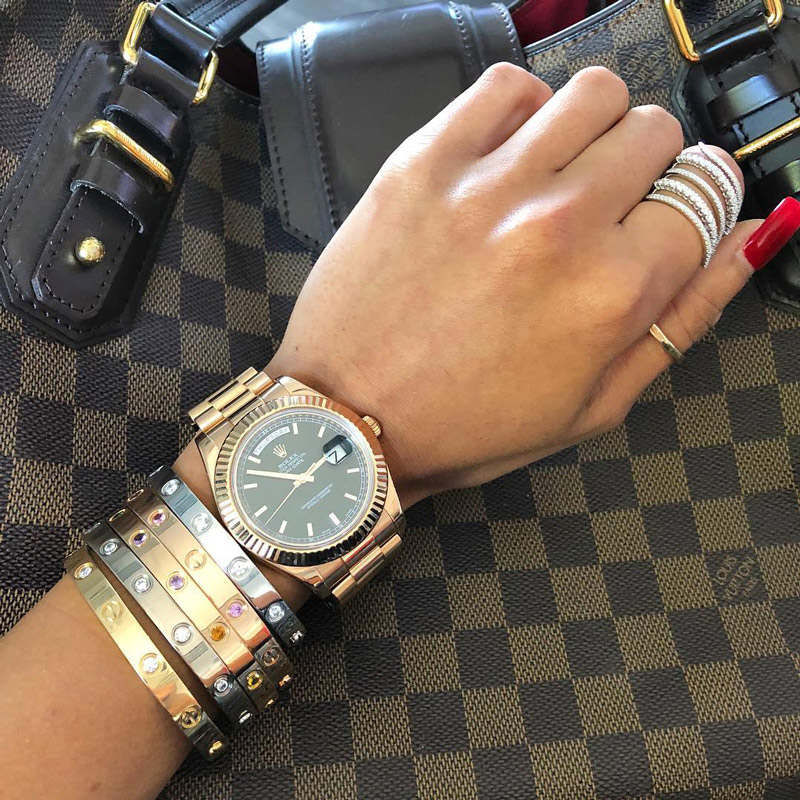 You know what doesn't make any sense at all … deliberately scratching and denting your car. There's no way you could do it, right? Even if it meant parking next to something that looked exceedingly cool, like a particularly lush and vibrant rose bush, or an angular, avant-garde concrete sculpture – if it meant there was a conceivable chance that it could increase the risk of damaging your car, the sane among us wouldn't even contemplate it. WHY then, do certain people feel the need to wear incredibly expensive watches, that in some cases are worth far more than the average car, with pieces of jewellery directly next to said watch, on the same wrist? I cannot fathom a reason, because invariably, the accompanying Cartier Love Bracelet worn next to an Everose Day-Date is going to do one thing – scratch and dent the living s**t out of it. Genuinely, it is a costly, pointless and futile endeavour that doesn't make anyone look more vogue or on-trend, it just makes the person doing so look like an imbecile. And, much to my shame, in the interest of full transparency, I should point out that I myself have previously worn jewellery next to my watch … I was an imbecile. But — and it's a big but — that was six years ago … you know, when it was actually popular to do so, when my Instagram feed was filled with people doing the same thing and I, being the lemming that I was, jumped on the bandwagon and did the same thing. It keeps me up at night, knowing that I used to be one of the unfortunate souls that rocked this highly moronic aesthetic. And you know what happened to the watch I wore at the time with all the jewellery? It's got scratches and dents all over it, and those imperfections serve as a reminder — never to be a style sheep again.