Editor's note: With Watches & Wonders finally in the rear-view mirror (phew!), we wanted to take a moment to reflect on the new watches that we'd seen and highlight some stand-out pieces. More specifically, we asked the T+T team to pick their favourites by selecting one watch if their budget was unlimited and another at the relatively affordable end of the scale. A few of the choices might surprise you, but here are what our crew chose as the best watches from Watches & Wonders 2021.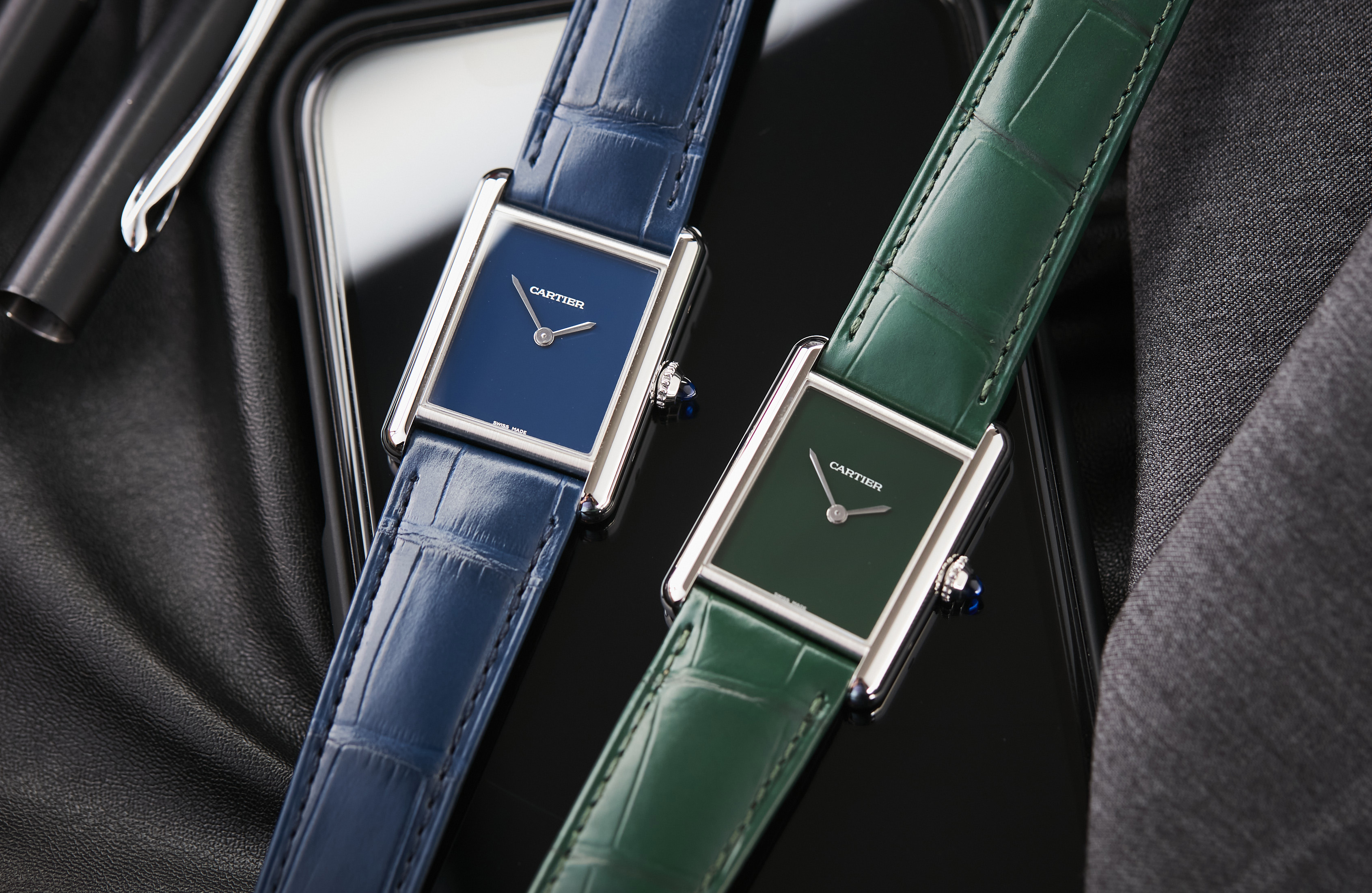 Andrew McUtchen
Fantasy: Bulgari Octo Finissimo Perpetual Calendar in platinum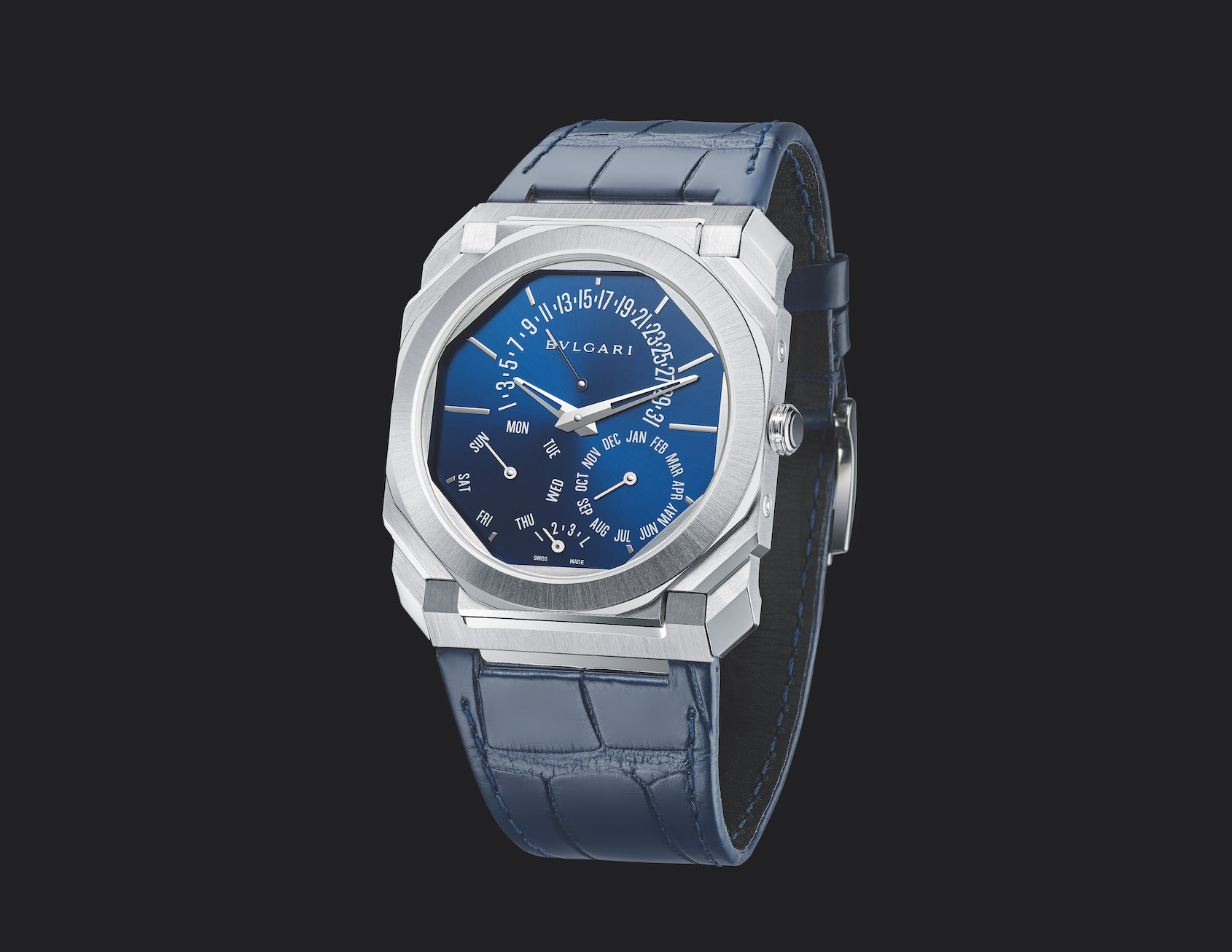 I can out myself as the man least likely to buy a Perpetual Calendar on this team. Why? Because I don't fuck with winders and my watches are always running out of juice. Also, I am not very smart in the numerical, engineering way. Read: a very important way. I would have zero per cent chance of getting a PC back into the correct cosmic cycle if it ran down. Which it would, within days. However, I could write a good poem about the sadness of time running out. On that front, I've got you.
That all said, this watch appeals to me in a very big way. Fabrizio called it "the ultimate Finissimo" and I can see why. The clear, lucid design language of the Finissimo is applied to the design conundrum of expressing SO MUCH INFORMATION on a dial. The use of a big top half spanning retrograde date is design genius, and the symmetry this allows for the remainder of the dials is near-perfect. The Finissimo, too, is a vehicle that was made for high-complications, because its mind-bending thinness is a complication in itself. Price: USD$89,000
Reality: Baume & Mercier Riviera ref. 10616
I have been borderline harassing Baume & Mercier about bringing the Riviera back since I was in short-pants in this industry. Way before I was worth listening to, if I'm honest. Why? It's purely nostalgic for me. It's the first luxury watch I ever really wanted, way back 20 or so years ago when, hot damn, it looked not that dissimilar to an AP Concept! Well, not really, but you know. Big bold rivets screwed into an octagonal bezel, an over-muscled case with big sexy flanks, integrated rubber strap, it was pure fire for me as an early 20s type of character.
So, I never got one back then, and moving right along to now, the logic holds that the timing is good – not just for me, but this broader trend of sports watches with you know what in you you know what material. The Baumatic movement is best in class for the money, too. Price: €3,600
Nick Kenyon
Fantasy: Patek Philippe Nautilus Ref. 5711/1300A-001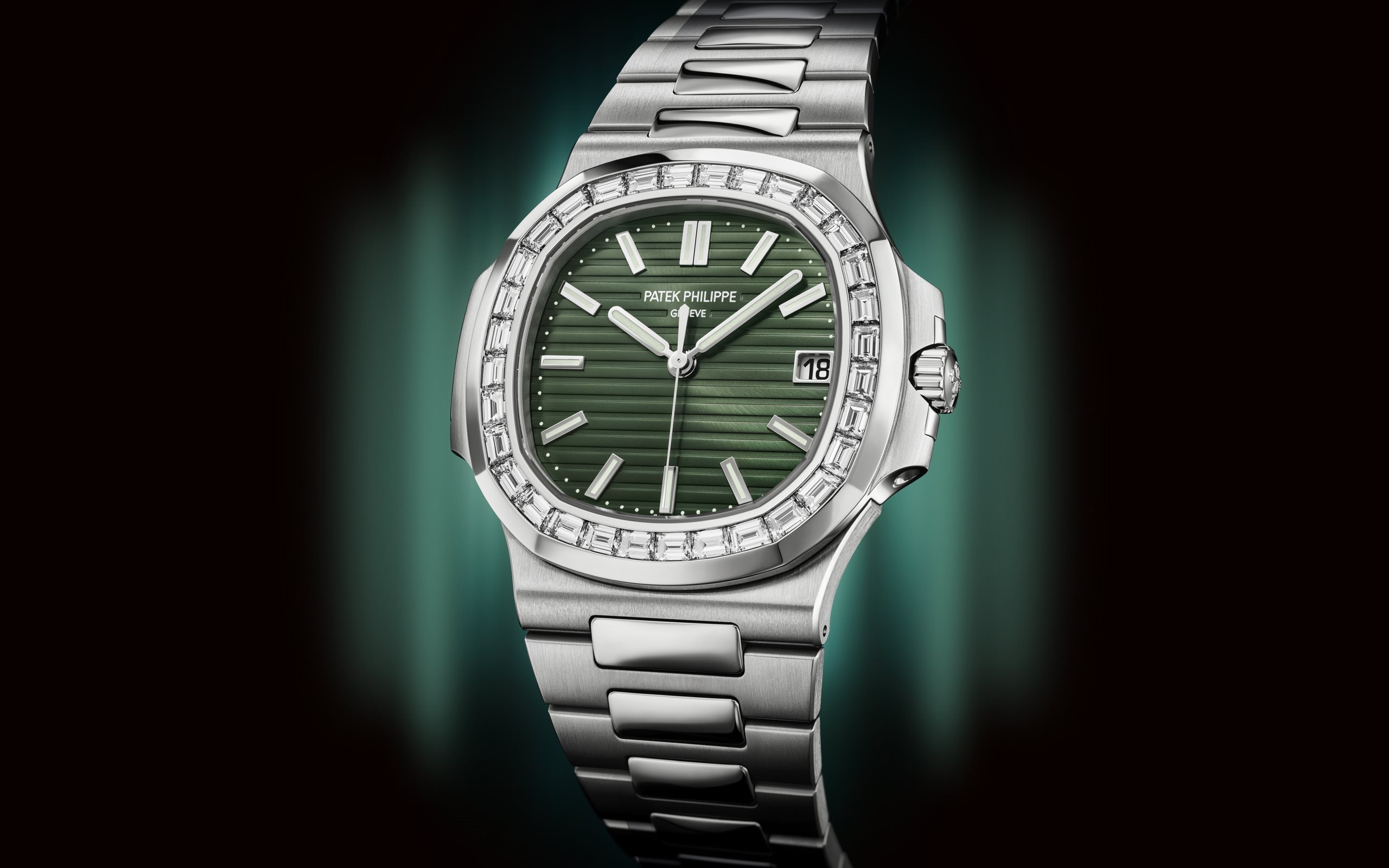 In terms of rarity, wow factor and simple good looks, this will be a Nautilus that is remembered as a swan-song to one of the most globally desired Patek Philippe references of all time. It still has the 40mm case and integrated bracelet we all know and love, with a decent 120m of water resistance, but the bezel is also set with 32 internally flawless baguette diamonds into the steel case, a combination that is extremely unusual for the Genevan maison. To mark the departure of the ref. 5711 from the collection, Patek Philippe has really pulled out all the stops. Price: Upon Request
Reality: Tudor Black Bay 58 925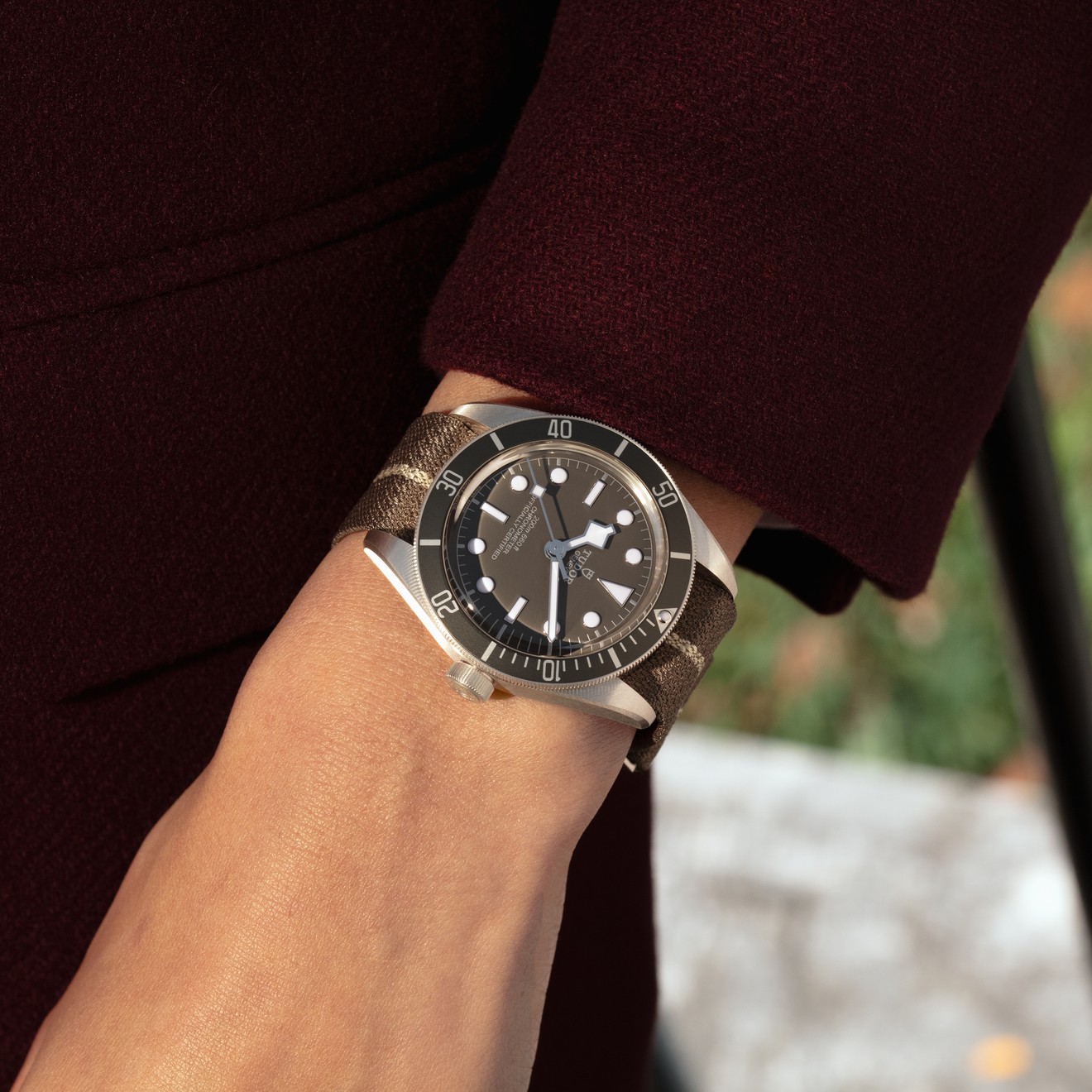 When it was released, the Tudor Black Bay 58 was hailed as one of the most wearable watches from the brand in years. These goldilocks proportions, combined with a taupe colour-way and the genuinely unusual case material of 925 silver and you've got a seriously interesting watch in your hands. It's only available on a leather strap or a NATO, so I'd pick it up on the NATO. Price: AUD$5880
Zach Blass
Fantasy: Jaeger-LeCoultre Reverso Hybris Mechanica Calibre 185 (Quadriptyque)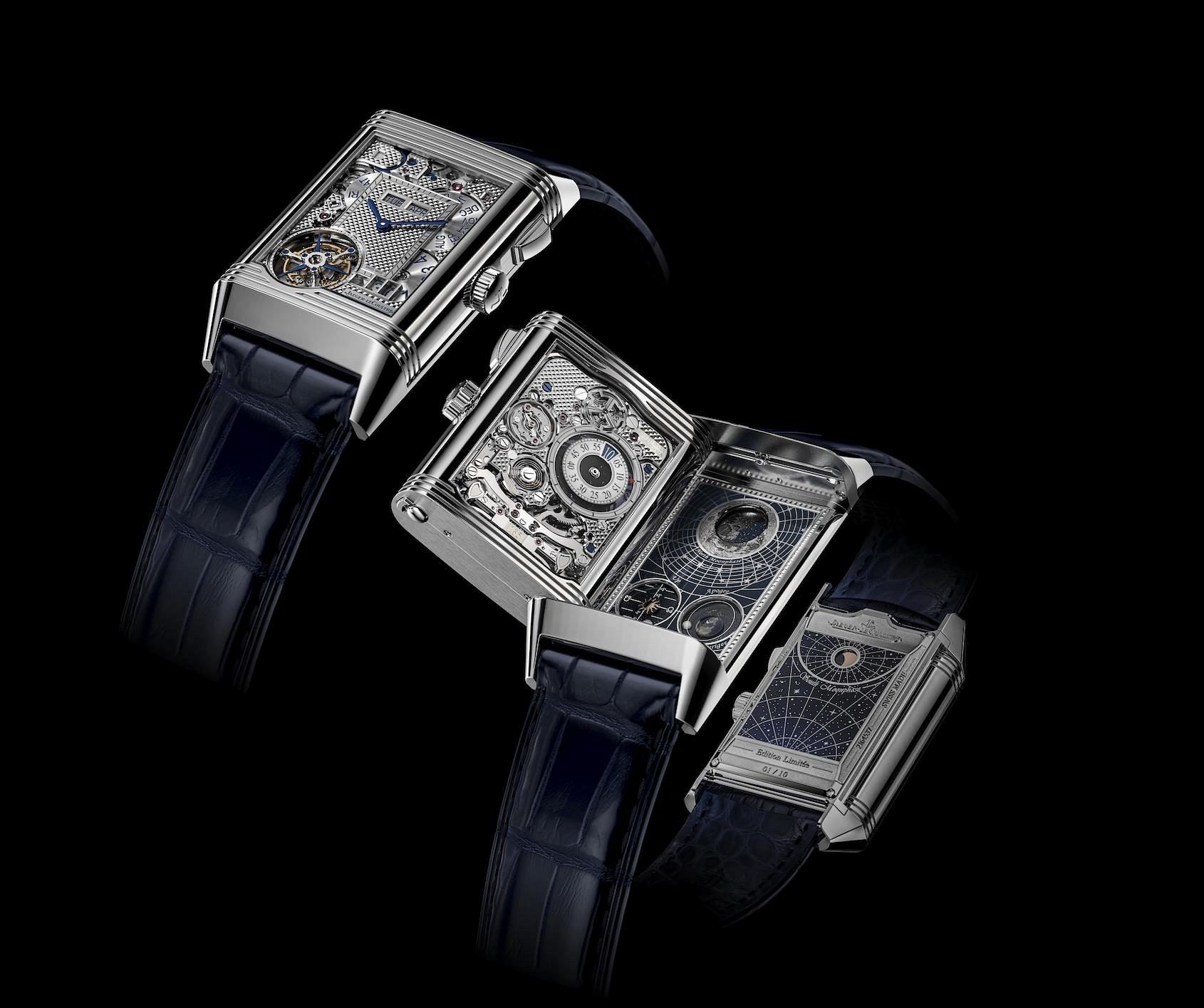 Outside of the watch community, Jaeger-LeCoultre doesn't always get its due as a pinnacle movement manufacture. The mass marketplace isn't necessarily aware, for example, that the original Audemars Piguet Royal Oak and Patek Philippe Nautilus both utilised an ultra-thin ebauche from Jaeger-LeCoultre: the caliber 920. The Jaeger-LeCoultre Reverso Hybris Mechanica Calibre 185 (Quadriptyque) reminds fans and buyers worldwide not to forget the movement manufacturing prowess of Jaeger-LeCoultre, packing 11 complications and four dials into a classic Reverso case shape. For more information on the watch click here. Price: On Request
Reality: Rolex Explorer ref. 124270
As somebody who once owned a Rolex Explorer ref. 14270, this is a watch I have a deep fondness for. It was the perfect size, and a very understated Rolex that packed all of the robustness the brand is associated with. While the new Rolex Explorer ref. 124270 will not have birth year sentiment or a unique frosted spider dial patina like my previous Explorer, this new ref. 124270 packs the updated 3230 caliber with a full balance bridge and 70 hours of power reserve. It also has a much more solid bracelet with easy-link adjustment built into the clasp. Hopefully when the time is right, my AD will not make me jump through hoops to return this classic to my collection. Price: AUD$9000
Luke Benedictus
Fantasy: A. Lange & Söhne Lange 1 Perpetual Calendar
To be honest, everything about this image conjures up a fantasy lifestyle for me. Imagine: a leisurely breakfast over the paper with a cup of tea, far from the mayhem of two small children, whose propensity to upset that aforementioned cup of tea makes the prospect of me ever wearing a pristine white shirt in the morning a laughable prospect. (Admittedly, I'd have just a dash of milk in that tea, thanks, but otherwise it's spot-on.)
Oh, and the watch? Well, the venerable brand's perpetual calendar is a bona fide stunner with a dial made from solid pink gold. Limited to only 150 pieces and costing $116,000 USD, it's a daydream of a watch in a white gold case. Price: USD$116,000
Reality: Cartier Tank Must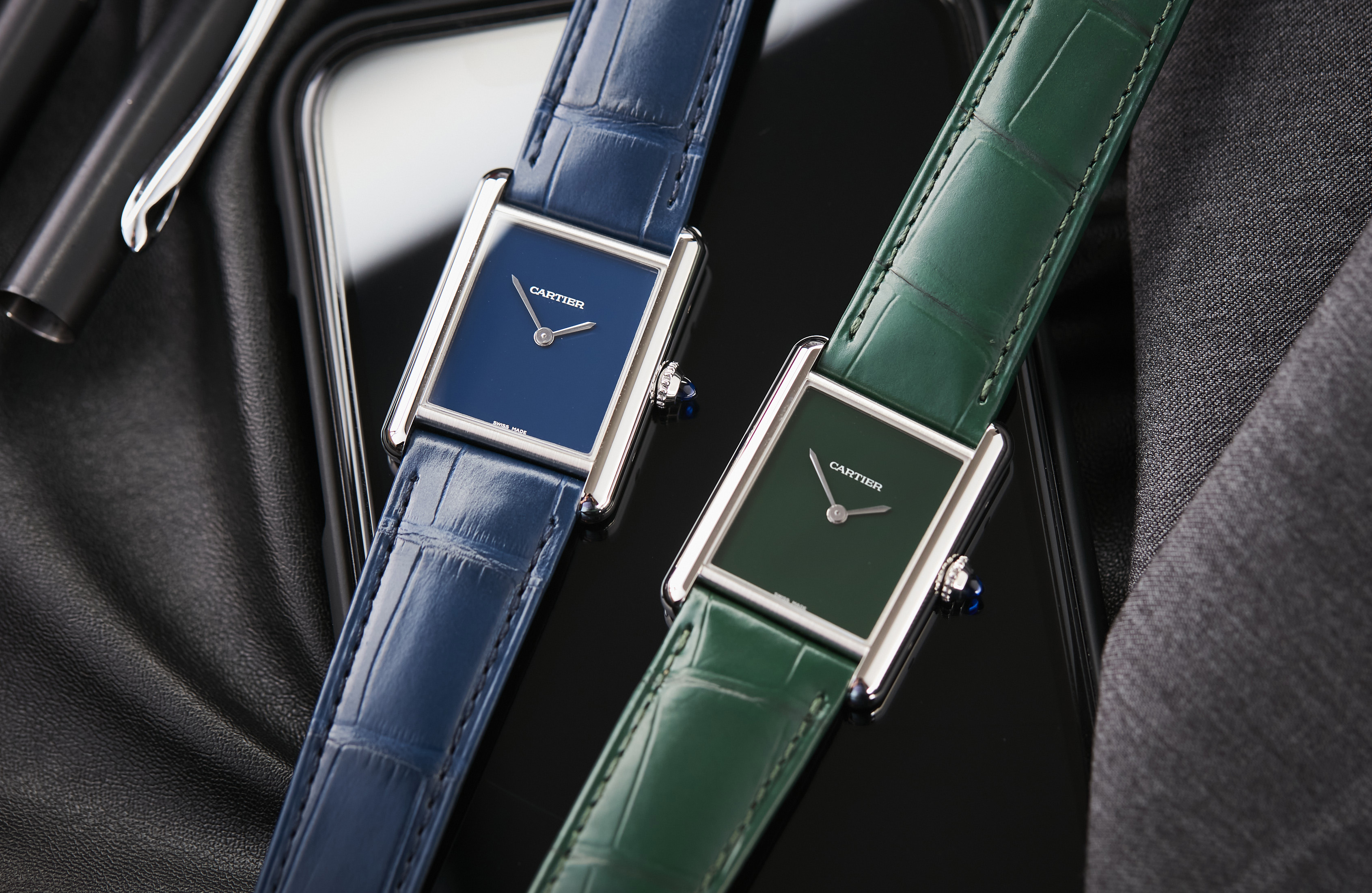 Yes, I know we're all drowning in a sea of green this year. But I still find myself strangely enamoured by Cartier's forest-green Tank Must, despite the fact that I've always struggled to accept the brand's cabouchon crown, which I still think looks like an erotic police siren. Here though it works for me as an ornate counterpoint to the Tank Must's minimalist and monochromatic looks. It would make a great daily wearer for my good wife. Price: AUD$4150
Thor Svaboe
Fantasy: Vacheron Constantin Overseas Tourbillon rose gold blue dial
It's no secret that one of my favourite integrated bracelet watches is the non-Genta designed (how dare I !?) Vacheron Constantin Overseas. Plus I LOVE blue dials. I have a penchant for the Vacheron purple-tinged blue, but in this new rose gold version of the Overseas there is a darker, more formal blue, that goes oh, so perfectly well as a contrast to the rose gold. It might feel a bit wide for me at 42.5mm, but come on! The height is only 10.39mm, and that, matched with the soft delight of the warm-tinged bracelet, complete with those Maltese cross-inspired centres, makes it a comfortable watch.
While some might find it insane to brush pure rose gold, it is a soft material, so you'll save yourself a world of hairlines, and like how sharp does the light reflect off the polished details. Like that slight bevel on the side of the bracelet. Add the pure brilliance of a leather strap and a pure sports rubber included in the One-Glamorous-Watch-For-All Days package, and I'm in love. And that is before I mention the inescapable fact that, at 6 o'clock, a Maltese cross cage holds the magical dance of a tourbillon. Price: EUR165,000
Reality: TAG Heuer Aquaracer 300 LE 844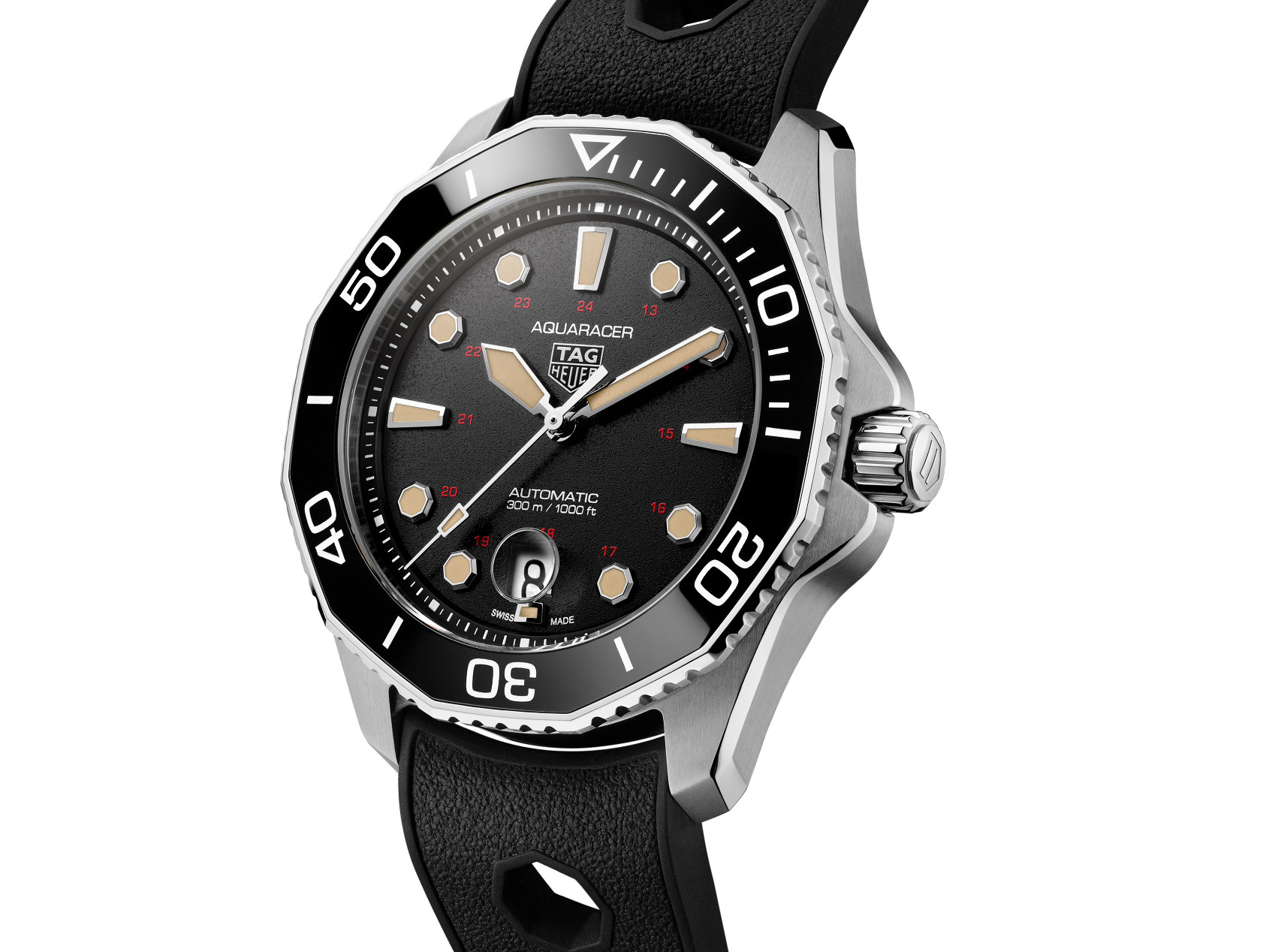 With the Autavia, I always felt that TAG Heuer was on the right track, but I was still longing for something tougher, less polished. Essentially I wanted a tool watch – that somewhat overused term that's very misplaced on me with my OCD-Qtip-on every hairline nervousness – but, hey, it's about the emotion. This is a feeling that I know I'm getting if I strap on the delightfully octagonal-vented rubber strap of the Aquaracer Professional 300 Tribute to Ref. 844.
No, it is not EXACTLY like the original, pretty far from it in some respects, but the way they have somehow still made it credible is a testament to the team behind the motorsports-infused crest. The case is very Aquaracer, angular toughness at for me a slightly large 43mm, but those sharp bevels on the titanium case are worth it, on a material that makes up for the size with its lightweight nature. I have no idea why the discussions have gotten so heated about the cyclops at 6 o'clock. Me, I find it idiosyncratic and damn charming. Favourite details? Perfect cream patina and a clever move of making the fat indices octagonal – it works a treat. With the addition of some fresh pops of red and more weaponised hands, I was sold. Price: AUD$6300
Fergus Nash
Fantasy: Hublot Big Bang Integral Tourbillon Full Sapphire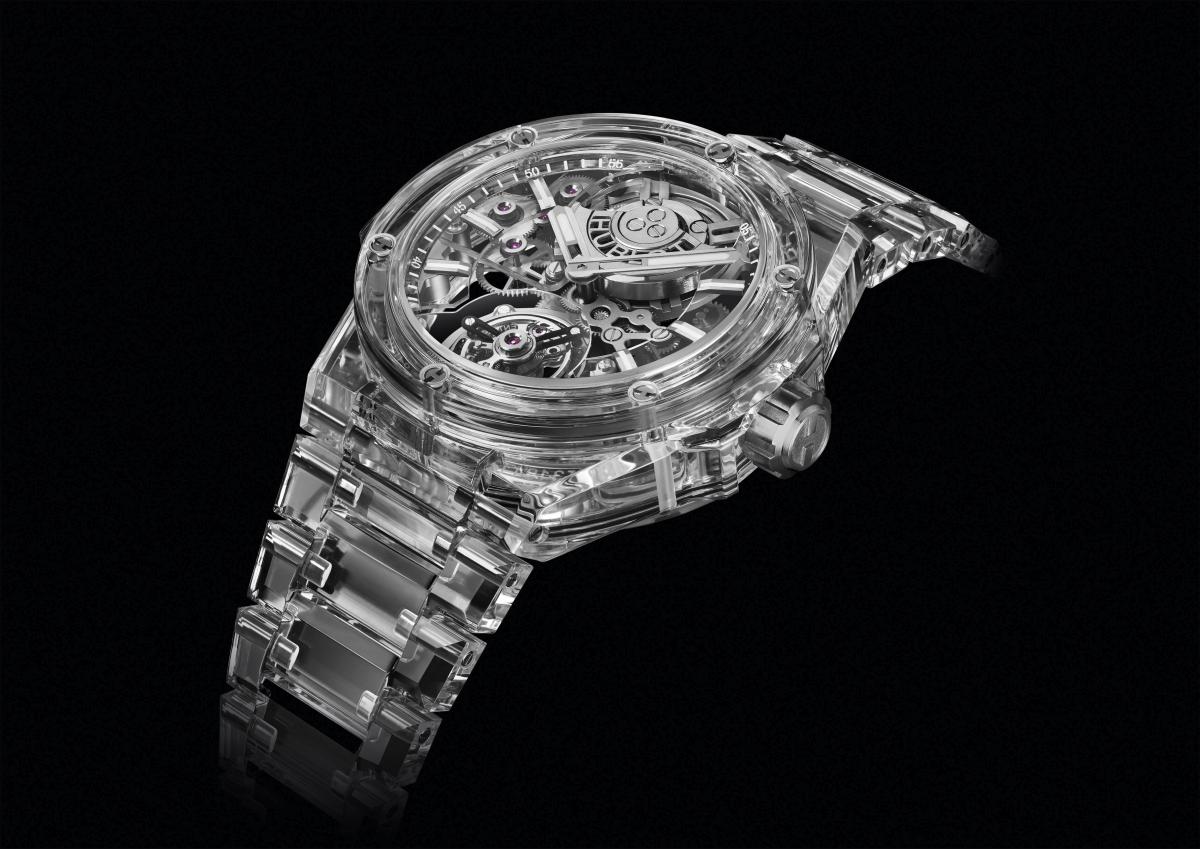 In the words of Jean-Claude Biver himself, part of Hublot's birth was the need for a "luxury Swatch watch". It then makes sense how the concept behind Swatch's 1980's "Jelly Fish", a see-through watch made of plastic, can be transferred into the world of hyper-luxury in the Big Bang Integral Tourbillon Full Sapphire. As its name suggests, a huge percentage of this watch is hewn from the second-hardest material on Earth, including the bracelet which is held together with titanium links. Every part of the movement is visible, including the micro-rotor at 12 o'clock, cleverly replacing the Hublot logo with its name within the skeletonisation. Price: USD$422,000
Reality: Cartier Pasha De Cartier 41mm Chronograph Steel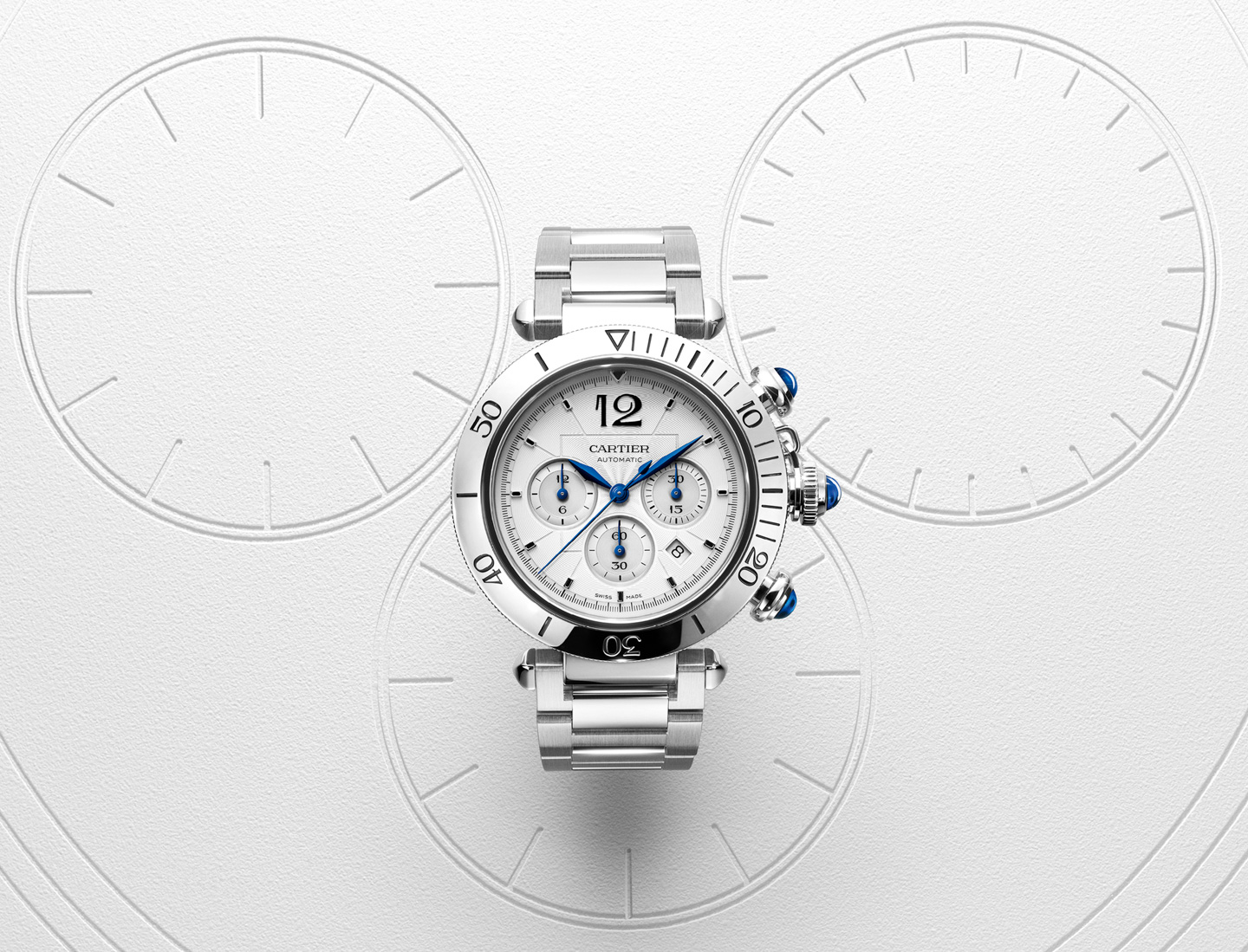 I have always been a massive fan of the underdog Pasha line, with its quirky art-deco and steampunk charms, and the reintroduction of the chronograph to their modern lineup of watches is hugely exciting. The diving-helmet style is just so weird and wonderful, with the steel model coolly accenting the vibrant blued steel hands and blue sapphire cabochons on the crown and pushers. My only dislike is the 4:30 date window, where the old models had a circular window and digits that weren't at a sloping angle. But for the Pasha, I'll forgive anything. Price: USD$9,450