IN-DEPTH: My A. Lange & Söhne 1815 Up/Down 36mm in yellow gold is the grail that keeps on giving
Zach Blass
Over the past five years or so, I have bought, traded and sold watches in order to build and grow my collection. Two months ago, I was able to acquire a watch that I am still in disbelief I am able to own and wear. High on my grail list, the A. Lange & Söhne 1815 Up/Down 221.021 was always an endgame watch for me. It was something I wanted to work towards and eventually be able to call mine. They say don't meet your heroes, in the worry they may disappoint you once you meet them in the flesh – or, in this case, in the metal. So, does the watch live up to my expectations? Let's find out…
The backstory/recap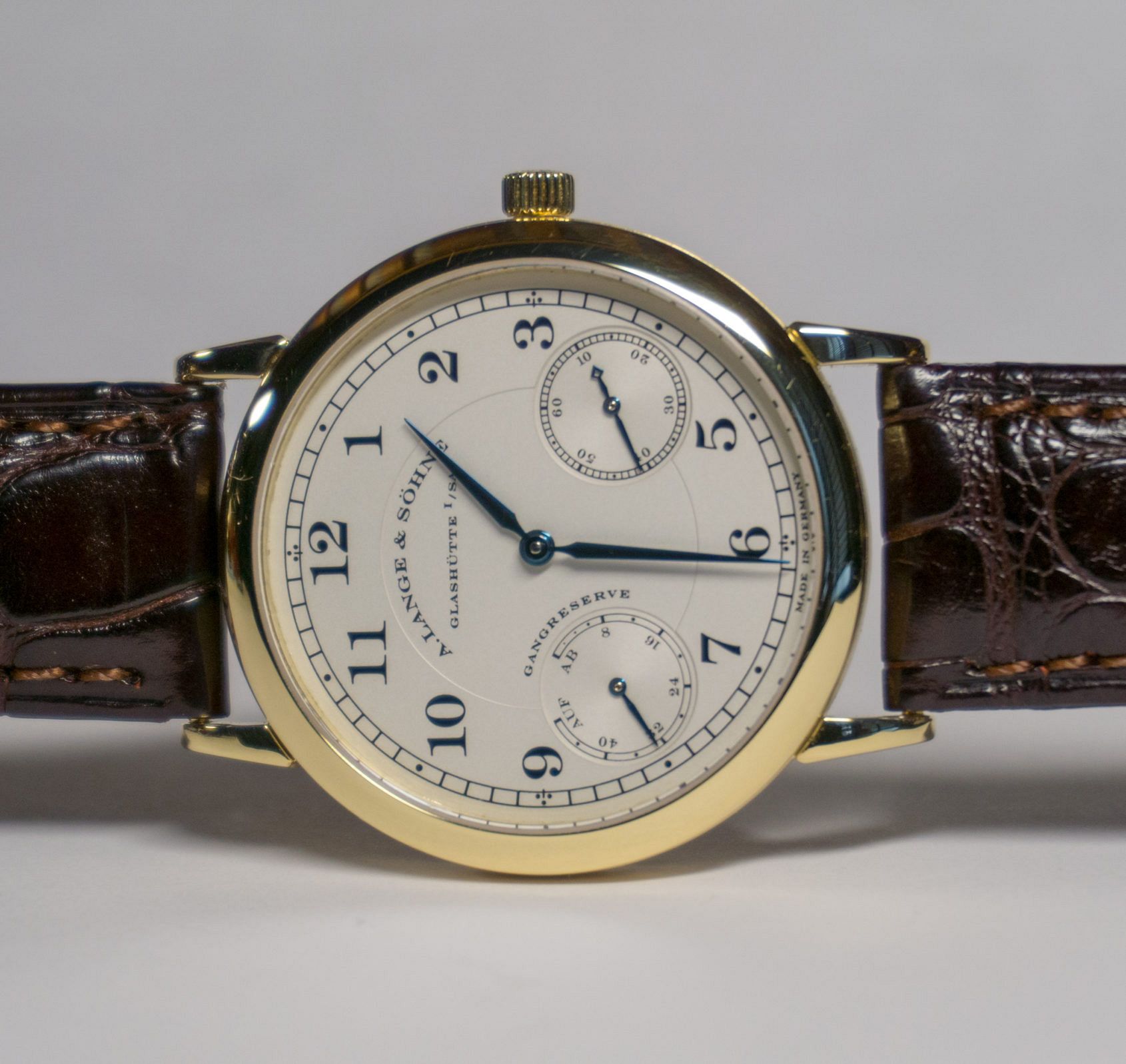 Swiss watches, in this industry, are typically the focus of conversation. The "Holy Trinity", in regard to the pinnacle of watchmaking, refers to three Swiss brands: Patek Philippe, Audemars Piguet and Vacheron Constantin. Many argue, however, that A. Lange & Söhne should be considered as equally prestigious as the three aforementioned brands. With German ancestry myself, it has always been a company that has piqued my interest. The traditional German style, with a 3/4 bridge plate and an engraved balance cock that can be traced all the way back to its master engraver, represents not only the best of German watchmaking but rather some of the best watchmaking in the world.
As luck would have it, a trusted pre-owned vendor of watches I have previously bought from, listed the 221.021 for sale and I decided I needed to make an inquiry. With a fair number of sports watches under my belt, I decided to leverage two things towards the purchase of this watch. One, a Rolex Explorer 14270, from my birth year, with a frosted/spider dial (full box and papers). Two, a cancelled pre-order of a watch that was approximately $4000 USD after its conversion from CHF. With a fair offer for my Explorer, and a confirmed refund from the cancelled order, it became real … I was going to get my grail watch.
Once I put it on the wrist I felt …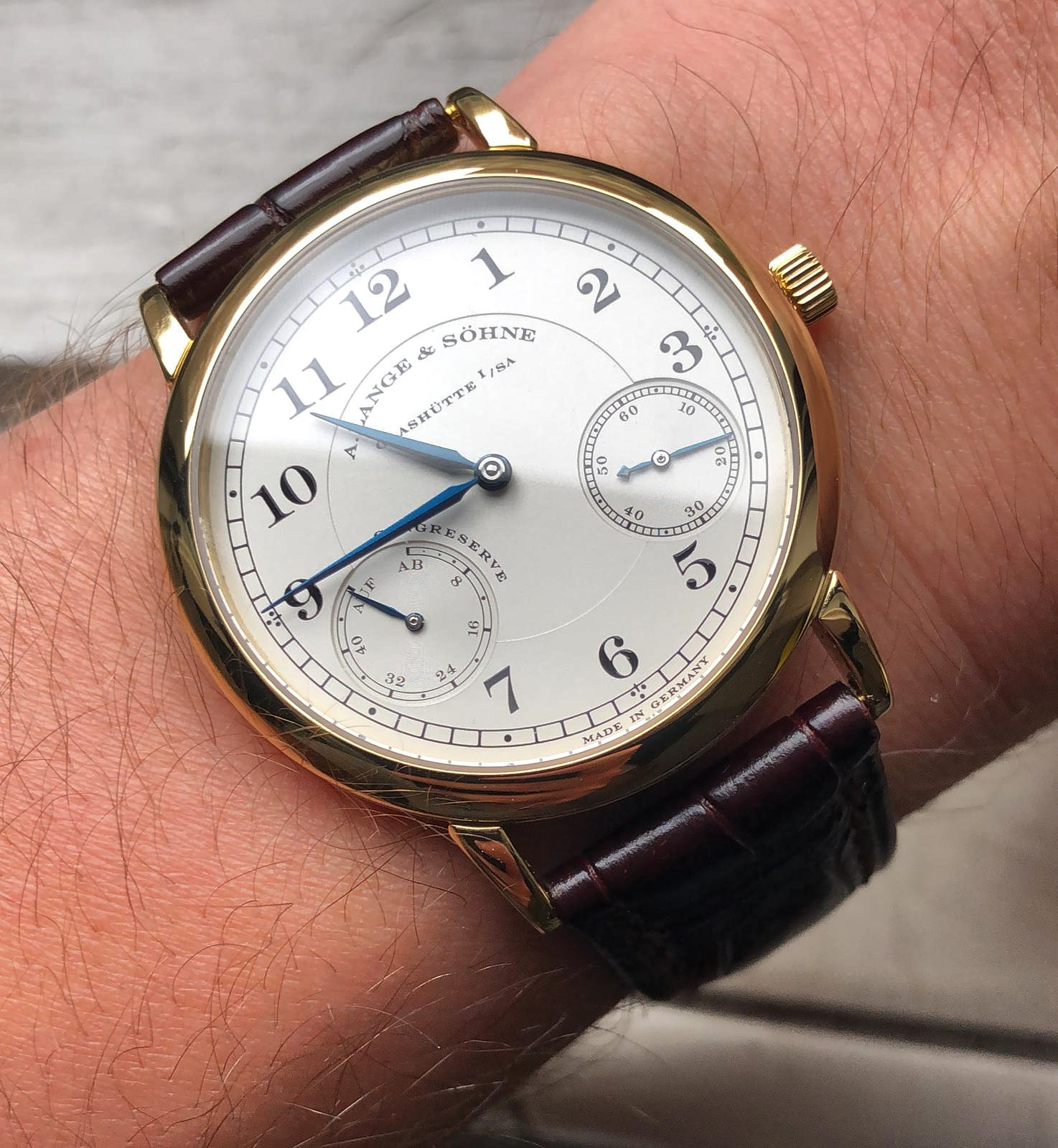 The second I put it around my wrist, fastened the buckle, and rolled the watch over to stare at the dial I felt a strong sense of pride and accomplishment. As John Mayer described in his second Talking Watches with Ben Clymer over at Hodinkee, when he engraved the back of one of his Patek Philippe watches he requested it be engraved with "Mr. John C. Mayer". Well, when I first put it on, I was no longer Zach Blass … I was now Mr. Zachary B. Blass. It sounds a bit ridiculous, but it is truly how I felt. I immediately called my Omi (a German term for grandmother) to break the news. I proudly explained that I had one of the best-looking watches I had ever seen, front and back, and, to top it all off, it was proudly made in Germany. It was an immense thrill to take it out of its box. I felt complete, my inner huntsman had been completely satiated once I had it in my hands, and the high has never gone away months later. 
Looks-wise?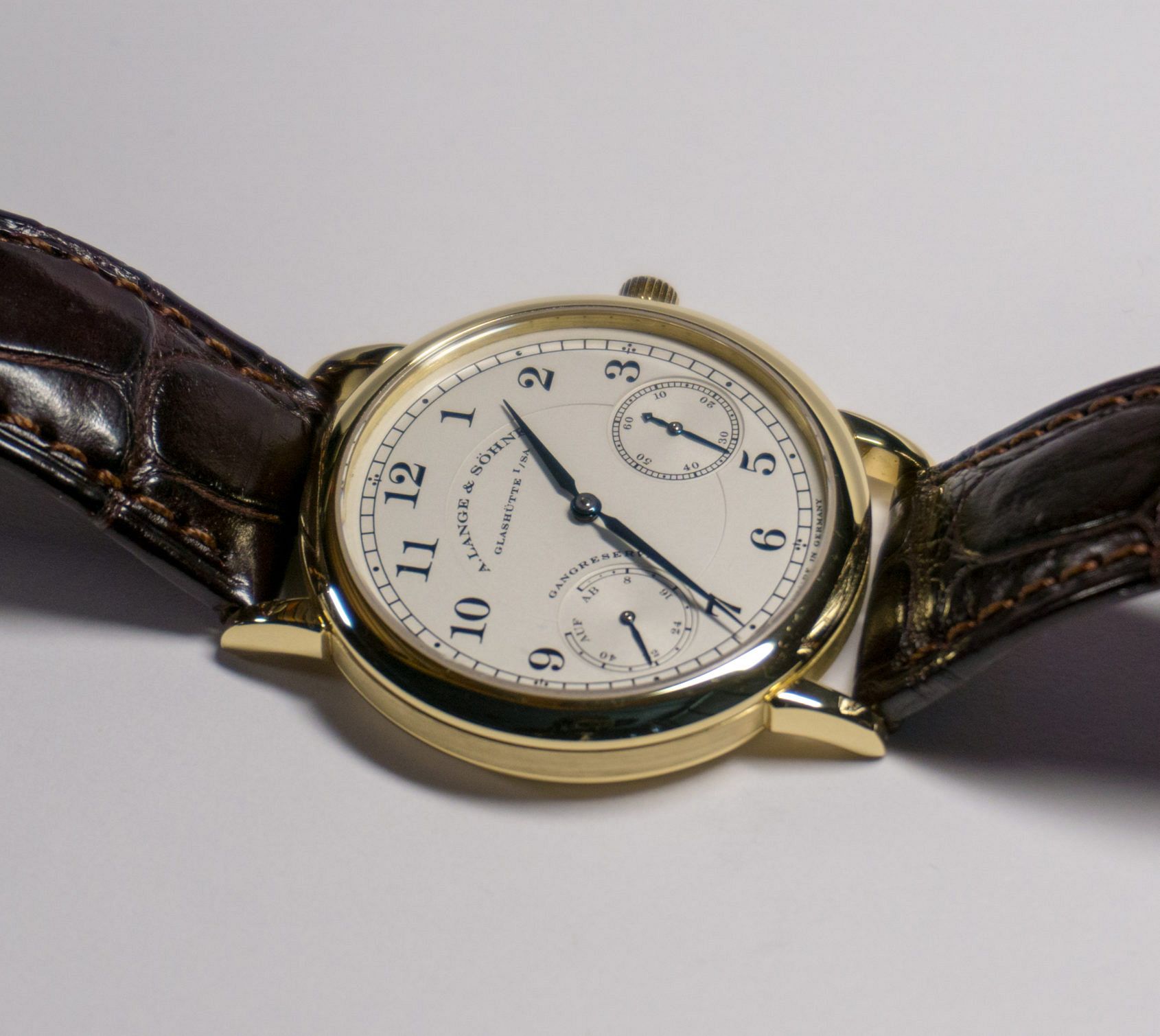 Having had a full case detail and movement service within the last two years, the watch was practically in pristine condition. Everything about it is quintessentially German. The Arabic numerals, distinct of the 1815 line, as well as its railroad track surrounding the dial (and sub-dials), harken back to traditional vintage design. The hands transform under the light from practically black to a blue found at the base of a flame – a perfect, consistent blue for each of the alpha-style hour, minute, second, and power-reserve hands. The solid silver dial has so much depth to it, with its sunken sub-dials and an inner circle that wraps around underneath the hour markers framing A. Lange & Söhne proudly on its dial. A grain texture is discovered under the right light, only adding to the texture and depth of the timepiece. The mirror polished bezel glistens proudly under the light and emits a luxurious glow. The satin case band provides nice contrast to the bezel, with a rich brush texture around the circumference of the case. The precious yellow gold has a luxurious heft to it, only adding to the sense of gravitas I feel with each wear.
What stood out to me …
The main standout feature of this watch is the power-reserve indicator found only within Up/Down models. While no longer a unique complication and function, it is distinct in its form and aesthetic. When I first wound the watch, I immediately focused on the small blue hand within the sub-dial. With each turn of the crown and click of the gears inside, it slowly made its way from "Ab" to "Auf" as I woke up the mechanics inside. I really dig the alpha hands and their aesthetic, which remind me of Achilles' spear. The Ab/Auf power-reserve indicator dates all the way back to 1879 when Ferdinand A. Lange patented this distinct design. It made its way from historic pocket watches and marine chronometers all the way to the modern 1815 lineup found today. While many watches now have a power-reserve function, this complication is distinctly Lange in its form.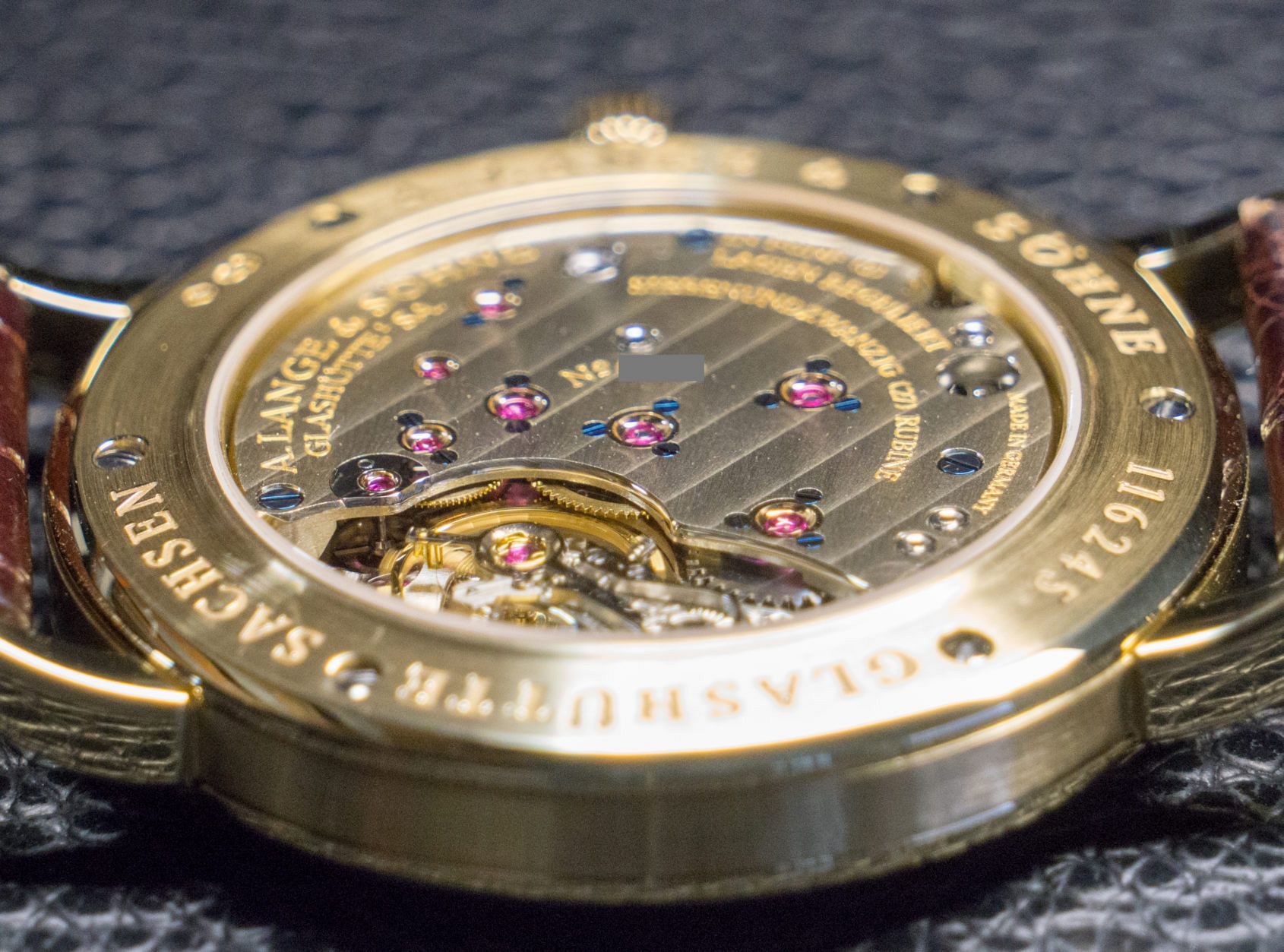 The other star of the show … its drool-worthy movement. Under a loupe I was able to explore the fine German artisanal craftsmanship. Its thin, curved, and angular bevelling was a sight to behold. Its engraved balance cock is a work of art in and of itself. Every component and detail had been given full attention from the hands of a true watchmaking maestro. One aspect of A. Lange & Söhne all collectors can appreciate is that each movement is designed particular to its reference. They are sized to perfectly fill its caseback with no unnecessary gaps or unused space.
Everything about this watch is haute horology. I also loved that although produced in the modern era, it felt like a traditional time capsule on the wrist. One less initiated in the hobby could be fooled quite easily into thinking it was a vintage timepiece worn by esteemed gentlemen and royalty of the past.
I'd wear this with …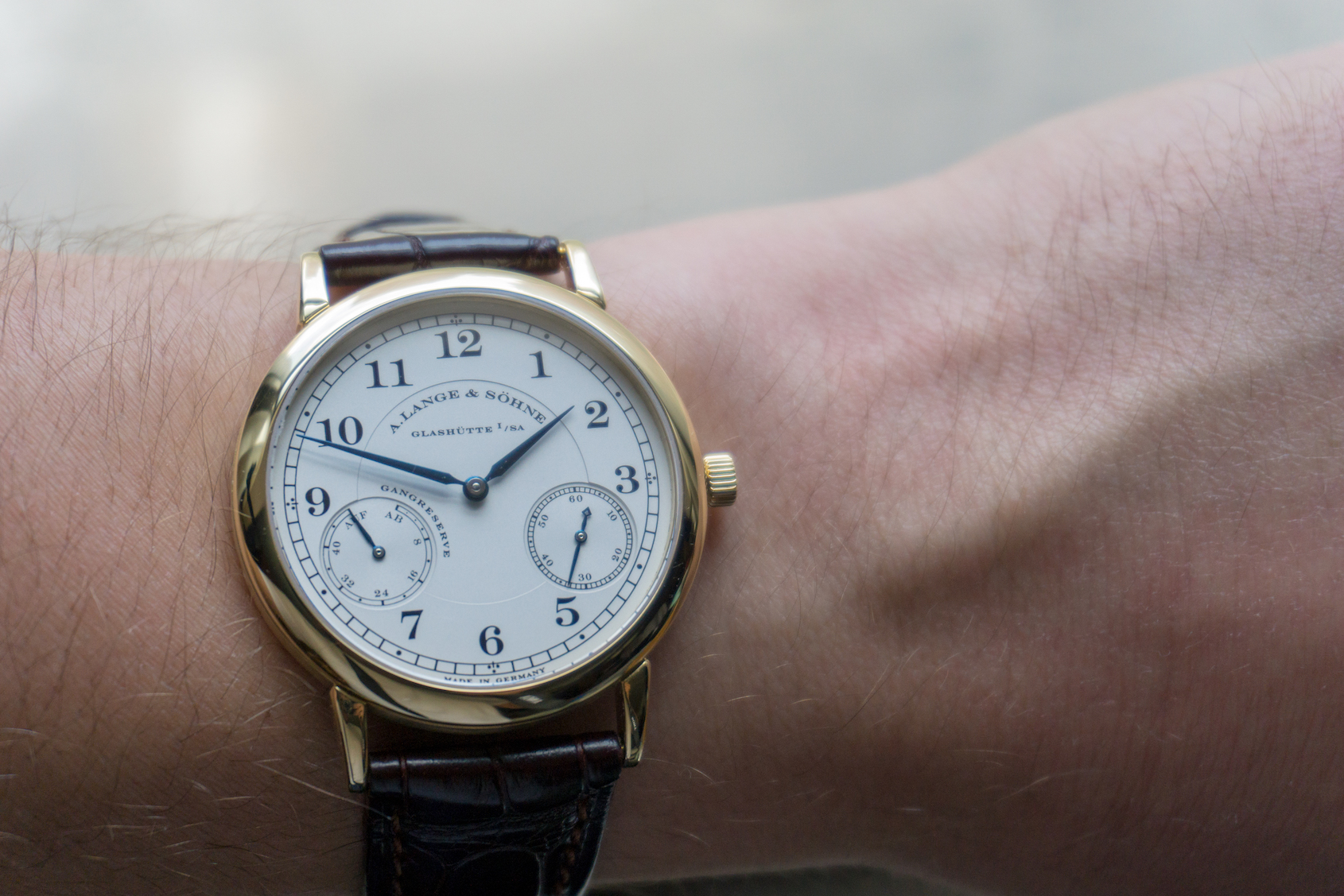 This watch is reserved for the highest of occasions. As I mentioned earlier, this watch is the watch for my wrist when I need to be Mr. Zachary B. Blass. Zach Blass wears his Black Bay Fifty-Eight. Mr. Zachary B. Blass wears his A. Lange & Söhne. If my shirt has buttons and a collar, then this is the watch I would want to wear. Short of a trip to the beach, or wanting to preserve and protect this precious timepiece, it's a watch I want to enjoy as much as possible. Being a precious metal watch on an alligator leather strap, this is likely to get more wear time in cooler seasons. I find myself preferring to sweat into other watches within my collection on a bracelet this time of year. But when it's time to suit up for the evening, or even in smart-casual wear, I will find any excuse to wear this grail piece. As long as my environment does not present a danger to this splash-resistant watch, I want it on my wrist.
If I could change anything …

To put this simply … don't fix what isn't broken. This 36mm case and compact lug to lug is everything I have ever wanted in a dress watch, or any watch for that matter. To change anything would remove its German influence, which I cannot find a single fault with. If I had to nitpick, the dial crystal seems to acquire very fine hairline scratches that are merely cosmetic in nature and do no harm to the watch. If it really bothered me, one trip to the Lange boutique and I would have its crystal replaced. The only other thing I believe should change – the fact it is discontinued. This watch is too perfect and classic in size. While the latest rendition is 39mm with an extra 24 hours of power reserve, I can say with 100 per cent confidence I would never take it over my 36mm 221.021.
So … will this watch ever leave my collection?

Short of a major financial disaster, or necessity to liquidate for reasons outside of the nature of collecting, this watch is definitely a permanent member of my collection. It will never be leveraged to buy another, as I have been known to do in the past (including this acquisition). Whenever I trade/sell a watch, it is usually a means to "upgrade" and add something meaningful to my collection. To put it simply, I don't think I can find something better than this 221.021. It's a compact 36mm, precious metal, haute horology, with an astoundingly well-finished movement proudly on display through its exhibition caseback.
In short, it's everything I have ever wanted and will always want. I love it so much; I find myself as a consumer not getting that desire to hunt for a new watch as I have in the past. I am no longer constantly canvassing vendors for a next acquisition. It truly satisfied my appetite for the "next watch". Whereas some watches had their honeymoon period and were later determined to be expendable in the name of acquiring new pieces, this watch was, and is, my endgame. If I ever have the fortune of having children and a family, it is my hope to pass this watch down to the next generation in an ever-continuing cycle. I would never want this watch to leave my collection or, more importantly, my family.