The comprehensive watch buying guide to London
Fergus Nash
If you've spent any amount of time and money shopping for watches online, you're likely to know all of the associated negatives. Sure, you'll probably be able to find the best discount on any watch in the world, but you have to consider the shipping and import fees, the possible scams, paralysis of choice and even, potentially, buyer's remorse. There's an almost tangible romance to shopping in person, as the hunt when hopping store to store makes the finally purchase feel even more special, and your personal inspection will reassure you against future regret. The only way to make this more romantic, would be to spend a day perusing the boutiques of one of the world's most charming cities — London.
Audemars Piguet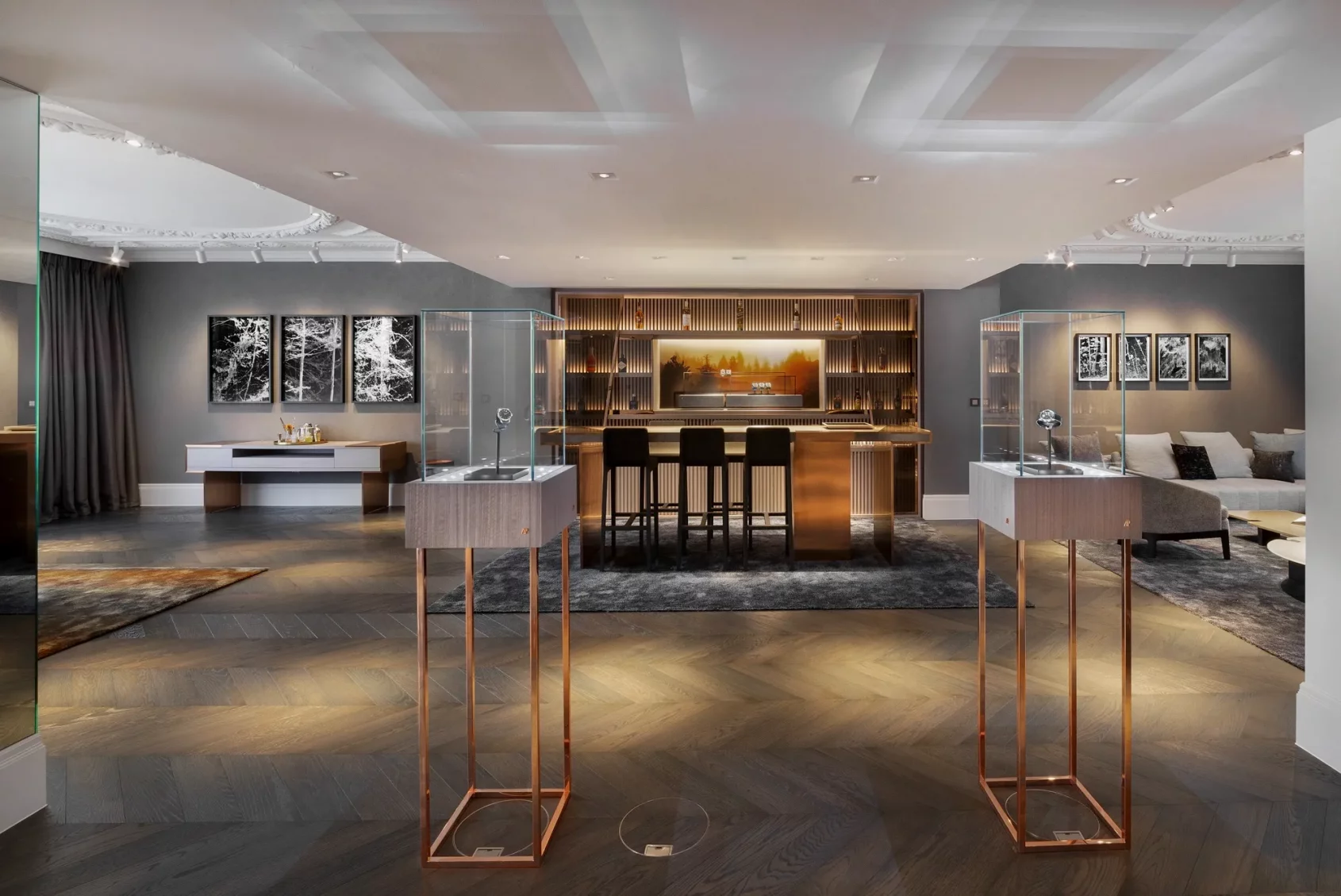 Already a powerhouse brand of luxury Swiss watches, Audemars Piguet have been growing rapidly in the last few years as they gain traction with all kinds of celebrities across sports and media. If you've got cash to burn and you want people to know it, paying a visit to an Audemars Piguet boutique would be a no-brainer. They opened their official AP House on New Bond Street in late 2019, immersing visitors in all things Audemars Piguet. For more details, visit their website here.
Address: 1st Floor, 130-134 New Bond St, London W1S 1DL
Contact: +44 7752 0528
Bamford
What started out as a curious hobby for George Bamford quickly became an international phenomenon, modifying Rolexes with blacked-out components and a signature powder blue highlight. Now, the Bamford brand have partnered with the likes of TAG Heuer, Bulgari, Zenith, and Girard-Perregaux to build you the customised watch of your dreams. The online configurator is worth hours of daydreaming fun, and they even produce their own watches under the name Bamford London. Their headquarters is called The Hive, and the only limit is your imagination. Check out their website at this link for more information.
Address: 80 S Audley St, London W1K 1JH
Contact: +44 20 7881 8019
Bell & Ross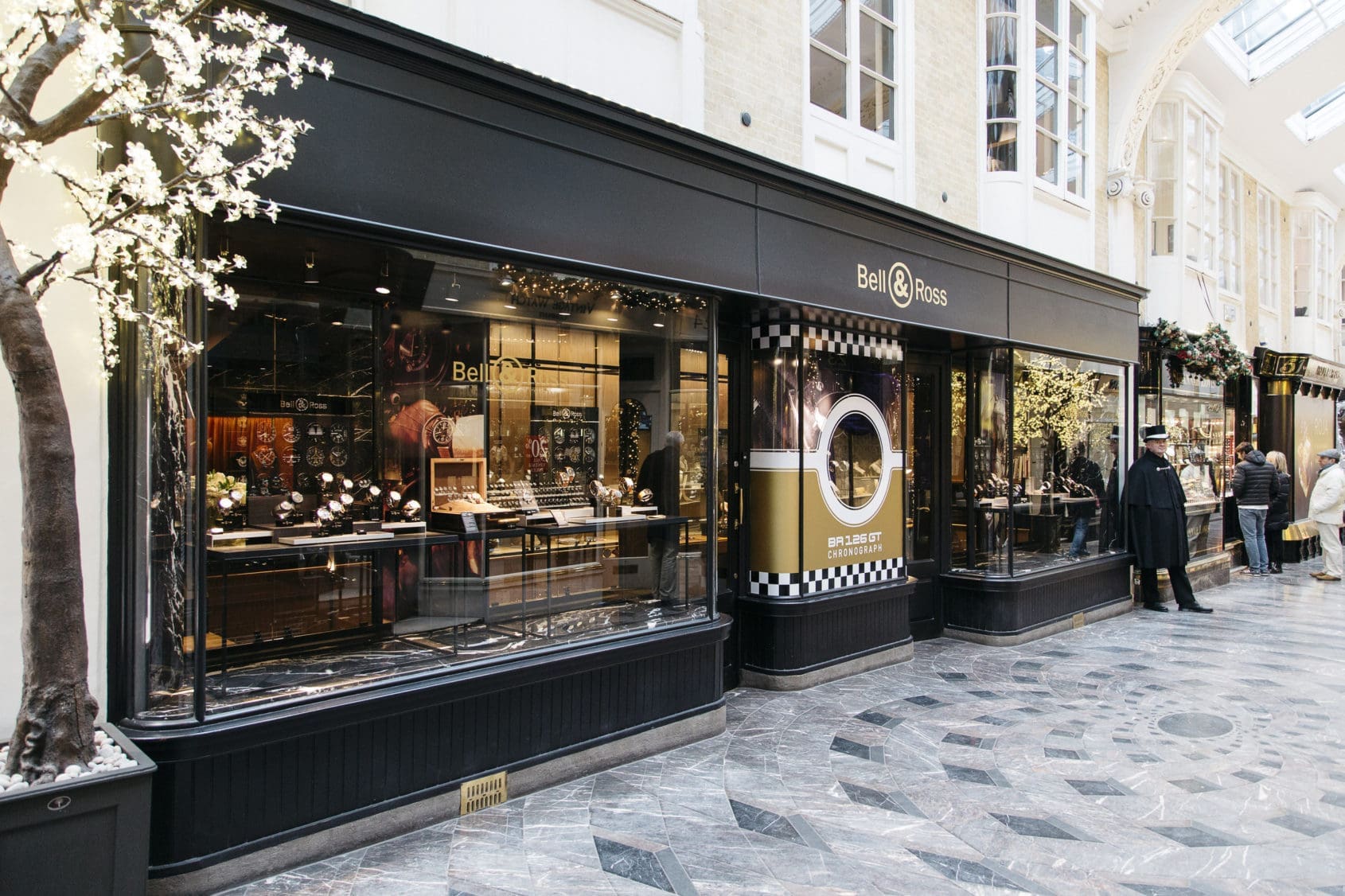 Bell & Ross can sometimes be overlooked among watch enthusiasts, with the hyper-niche focus on pilot's instruments gaining them a bit of a Marmite reputation. Seeing them in person is the only way you can truly make up your mind, and seeing how the tech-focused case shapes sit on your wrist could be the key behind it. You can browse their website in preparation for your visit here.
Address: Units 48, 49 Burlington Arcade, London W1J 0QJ
Contact: +44 20 7629 6464
Breitling
The Breitling Boutique on the corner of New Bond Street is definitely eye-catching, with a neon yellow sign behind the display cases enticing you to browse their ranges. While they're best known for their Navitimer range of aviation chronographs, there's no better way to expand your knowledge of a brand than to see what else they have on offer in the metal. Their website here even features a handy travel planning tool.
Address: 130 New Bond St, London W1S 2TA
Contact: +44 20 7499 8596
Bremont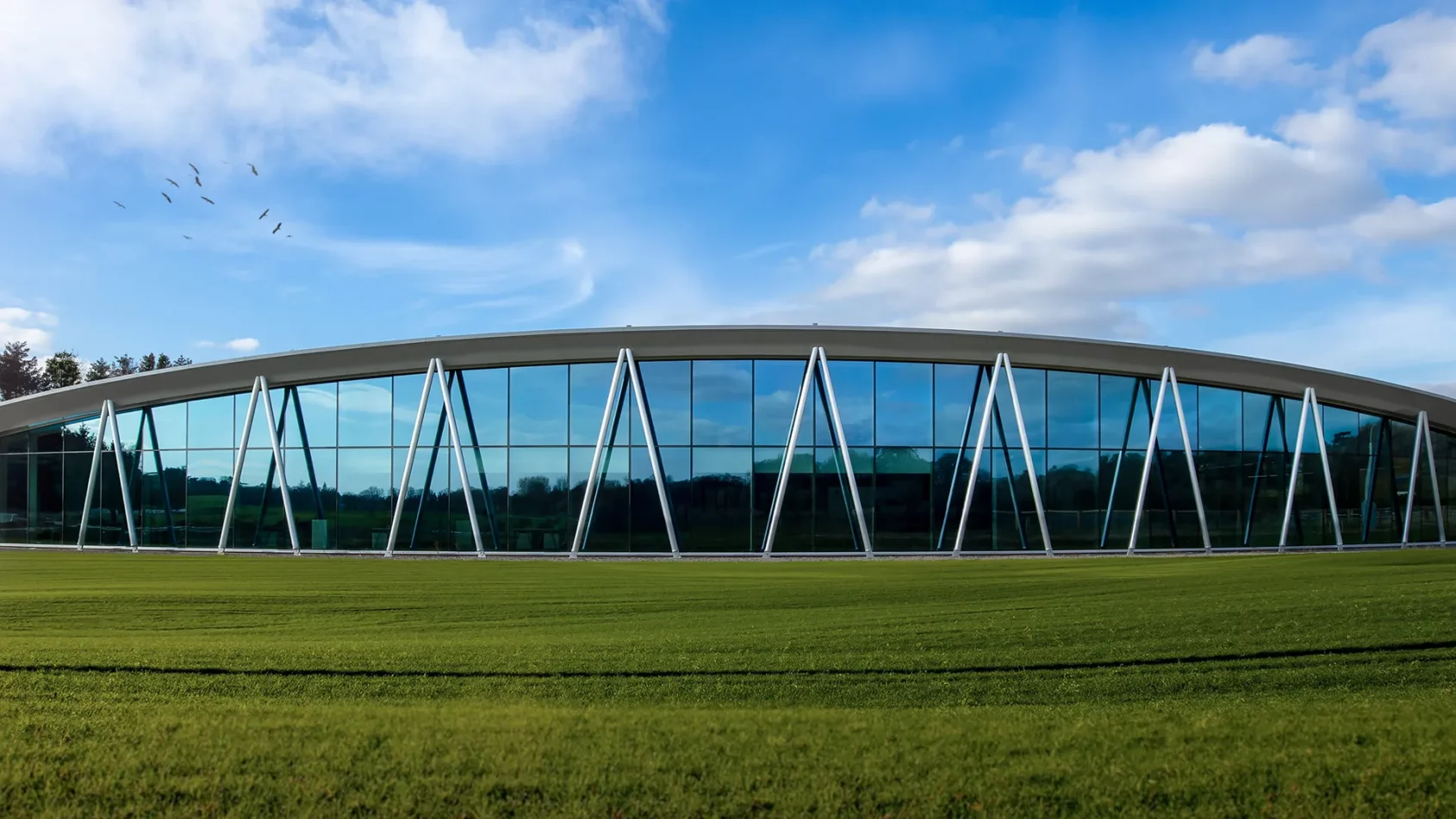 Bremont are another company on this list who can call England their home, in every sense of the word. There are several boutiques you could visit in the City of London or Mayfair for example, but if you can make the journey to their new factory and headquarters in Henley-on-Thames you will be in for a treat. The aviation-focused brand may not have as long a history as some of their contemporaries, but their passion is palpable and they share an exhilarating partnership with Williams Formula 1 team. Find out more at their website here.
Address: The Wing, Reading Road, Henley-on-Thames RG9 4GE
Contact: +44 80 0817 4281
Bulgari
As one of the great fashion cities of the world, London feels completely appropriate playing host to one of the finest Italian luxury brands of all time. Bulgari have been bold in their watchmaking efforts over the last decade particularly, taking the fight to the more-established brands by consistently breaking records for thin and complicated movement manufacture. Getting the chance to try on an Octo Finissimo may cause a shuffling in your list of dream watches, so be sure to visit both their website here and their boutique at Selfridges in person.
Address: Selfridges Wonder Room-400, Oxford Street, London W1A 2LR
Contact: +44 20 7318 7790
Cartier
With no less than 8 locations across London, Cartier have lived up to their nickname of being "the jeweller of kings and the king of jewellers" as declared by King Edward VII of Great Britain. The English love affair with the powerhouse of Parisian design runs deep, and every Cartier boutique experience is guaranteed to be a special one. To see their esoteric yet classic wristwatch designs, made to impeccable Swiss standards, check out one of their boutiques and their website.
Address: 143-144 Sloane Street, London SW1X 9BL
Contact: +44 20 3429 4470
Chanel
Chanel are still more known for their jewellery and fragrances than their watchmaking, but the J12 is an undeniably important watch to the history of watchmaking given its role in pioneering fully ceramic cases. This year, Chanel have revitalised the J12 watch series, strengthening their catalogue and making a boutique visit quite an exciting prospect. For more information, follow this link to their website and store locator.
Address: 159 New Bond St, London W1S 2UB
Contact: +44 20 7493 5040
Frank Muller
If there was a watch brand that captured the spirit of Alice in Wonderland, it would be Frank Muller. One of the first brands to make the Tonneau case shape part of their character, the whimsical and magical nature flows through all of their collections from time-only to haute complications. Read more about them online here, and then be sure to step into their mystical boutique.
Address: Frost of London, 22 Brook Street, Mayfair, London W1S 5DF
Contact: +44 20 3372 0108
Grand Seiko
It was only a few years ago that Grand Seiko started gaining incredible traction in the European and American markets, as media outlets and YouTubers began to show exactly how good their watches were. With finishing that's almost infallible under a loupe, Grand Seiko have become an almost default answer for people who want an alternative to Rolex, for debatably better quality and certainly less money for a steel sports model. You can follow this link to their website for more information.
Address: 57 Brompton Road, Knightsbridge, London SW3 1DP
Contact: +44 20 3105 6212
IWC
IWC are synonymous with the Flieger style of pilots watches, but their range is gargantuan. Their London boutique on New Bond Street depicts a historical ship design that pays tribute to Lord Horatio Nelson, as well as IWC's founder Florentine Ariosto Jones. The design also features on the caseback of a boutique-exclusive limited edition Big Pilot's Watch, showing just how much their London location means to the brand. Learn more about them at their website here.
Address: 138 New Bond St, London W1S 2TJ
Contact: +44 20 3618 3900
Jaeger-LeCoultre
Jaeger-LeCoultre are one of those brands that carries a certain magic about them. Whether it's their history of technological progression, elegant design that remains boundary-pushing, or perhaps just great marketing, every step inside a Jaeger-LeCoultre boutique feels like you're about to uncover something amazing. With the Stellar Odyssey collection being released this year, going to see some in the metal would be a fantastic day plan. Find out more here.
Address: 13 Old Bond St, London W1S 4SX
Contact: +44 20 3402 1960
Longines
Longines are amongst the oldest watch brands that have consistently been in business, and they're still one of the best brands to go and browse at a boutique. With a vast range of watches across a myriad of genres and price points, you can always guarantee that you'll be getting a great value watch with Longines. Check out their website for more information here.
Address: 411 Oxford St, London W1C 2PE
Contact: +44 20 7409 1473
Montblanc
Although it took a while for people to stop asking "isn't that the pen company?", Montblanc's range of vintage-inspired watches are well and truly respected amongst enthusiasts across their range. While some use ETA-based movements and still look fantastic, Montblanc's merger with the historic movement manufacturer Minerva takes their horological credibility one step further with some truly beautiful engineering. Visit their website here and see their boutique for yourself.
Address: 119 New Bond St, Mayfair, London W1S 1EP
Contact: +44 20 7629 5883
Omega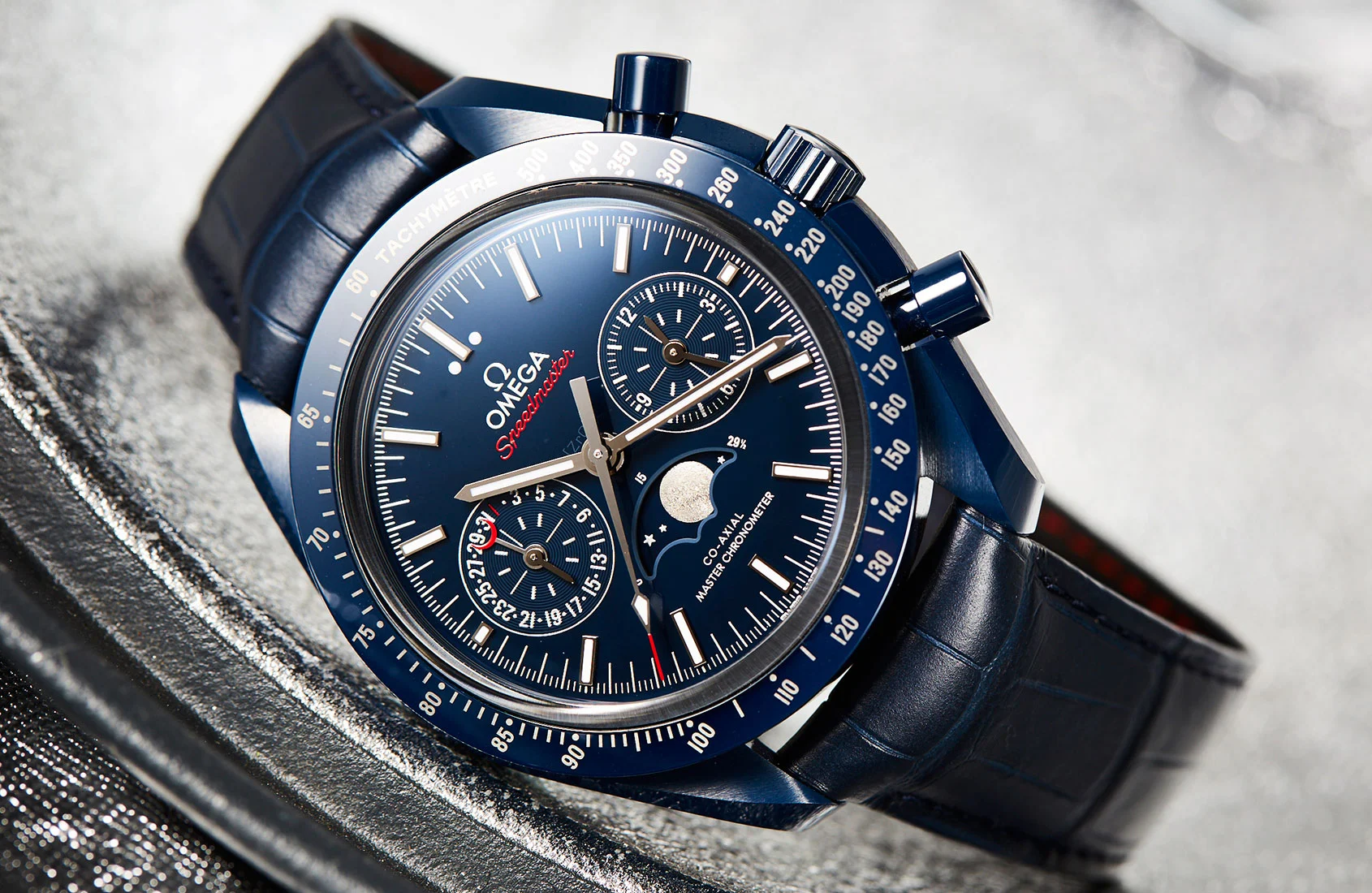 Omega can take the credit for some of the most iconic sports watch designs of all time, including but by no means limited to the first watch on the moon as well as the choice of James Bond. But, aside from all of the fame, the best part about Omega is that you can usually find exactly what you're looking for in-stock at their boutiques. To try some on yourself, give their Oxford Street boutique a visit or find out more online here.
Address: 451 Oxford St W1C 2PT, London W1K 6WA
Contact: +44 20 7907 2566
Panerai
With a dark and brooding exterior, the Panerai boutique on New Bond Street offers an insight into the character of the brand. The Italian-designed watches have stuck with their identity throughout their history, deviating from their successful silhouette only to modernise and provide new perspectives on what a Panerai could be. Take the plunge yourself by investigating their boutique or their website at this link.
Address: 30 New Bond St, London W1S 2RN
Contact: +44 20 3057 7080
Piaget
Piaget tend to pride themselves on sporty elegance and thinness that reflects their history of record-breaking ultra-thin movements. With their Polo watch being a consistent sales success since its 1979 release, trying one on may introduce you to the brand that could be considered underrated. Click here for more information on their London boutique.
Address: 169 New Bond St, London W1S 4AN
Contact: +44 20 3364 0800
Rolex
This list wouldn't be complete without a Rolex boutique, and there's no shortage to choose from in London. The New Bond Street strip is rife with luxury brands, but Rolex will always have the upper edge for their sheer desirability and brand awareness. If you ask anyone off the street to name a watch brand, chances are you'll hear Rolex. Follow this link to see details on their Bond Street boutique or browse their range.
Address: 43-44 New Bond St, London W1S 2SA
Contact: +44 20 7493 2299
Swatch
If you've been in the hunt for a MoonSwatch like seemingly every other watch collector on the planet, you've probably paid a visit to all of your local Swatch boutiques by now. While the supply is starting to catch up to the demand slowly, the Swatch boutique is still worth visiting regardless of your MoonSwatch interest. Every Swatch boutique offers free battery replacements for their watches too, further encouraging the fun, cheery atmosphere. You can find Swatch's website here.
Address: 313 Oxford St, London W1C 2HR
Contact: +44 20 7499 8211
TAG Heuer
Visiting a TAG Heuer boutique is like a shot of adrenaline, with the high-octane lifestyle apparent in every aesthetic choice made by the brand. Whether it's motorsport or just average fitness, wearing a TAG Heuer just brings an atmosphere of activeness to everything it accompanies. Their Flagship boutique on Oxford Street provides all the experiences and assistance you'd expect of them, and you can read more about it online here.
Address: 449 Oxford St, London W1C 2PR
Contact: +44 20 7495 1451
Tissot
Tissot are always a fun brand to browse given their wide selection of watches available for affordable prices, yet consistently well-made across their quartz and mechanical ranges. While they don't have a dedicated London boutique like some of the brands higher up the luxury ladder, you can find them at authorised dealers such as Watches of Switzerland and Ernest Jones here.
Address: Ernest Jones, 277 Oxford Street, London W1R 2BR
Contact: +44 20 7629 6581
Tudor
Tudor's 2022 strategy of releasing mostly Steel & Gold watches may have been ignored by a lot of watch fans, but it was all in favour of their new GMT — the Black Bay Pro. With their command over vintage aesthetics done with determined stoicism, the sister brand of Rolex will continue to provide us with the attainable luxury we crave. Find out more at this link.
Address: Unit 1105 Westfield London, Ariel Way, London W12 7GD
Contact: +44 20 8743 9865
Vacheron Constantin
Vacheron Constantin remain one of the holy trinity of Swiss watchmaking thanks to their constant dedication to not only luxury watches, but also keeping alive the artistry required to make them. Whether you're interested in high-art pieces inspired by the Louvre or steel sports watches designed for the wealthy traveller, a Vacheron Constantin boutique has it all. You can read more about their Old Bond Street boutique here.
Address: 37 Old Bond St, Greater London W1S 4AB
Contact: +44 20 7578 9500
Watches of Switzerland
As the largest luxury watch showroom in Europe, the Watches of Switzerland flagship boutique on Regent Street can guarantee you hours of lustful browsing. Lofty brands like Patek Philippe, A. Lange & Söhne, and Blancpain can all be found here among a slew of other great names. If you don't have time to travel to multiple stores, this would be your destination. Find out more about the boutique and its services here.
Address: 155 Regent Street, London WIB 4AD
Contact: +44 20 7534 9817
The Watch Club
If pre-loved watches are more up your alley, a great second hand dealer is a wonderful asset. Tucked inside The Royal Arcade on Old Bond Street, The Watch Club has a huge collection of used luxury watches with a two year warranty, free shipping, and a buy-back guarantee. Have a look at their collections and services online at this link.
Address: 4 & 5, The Royal Arcade, 28 Old Bond St, London W1S 4SD
Contact: +44 20 7495 4882
Antique Watch Co. UK
The definition of "vintage" has been stretched fairly thin now, with some people even considering giving that label to watches as young as 20 years old. If you have a deep abiding love for old things and the link they give us to the past, Antique Watch Co. UK has a beautiful collection of second hand watches for sale stretching back as far as antique pocket watches. You can browse their collection online here, but an in-person experience would be more magical.
Address: 19 Clerkenwell Road, London EC1M 5RD
Contact: +44 20 7250 3734
Watches of Knightsbridge
If you prefer the thrill of an auction over the standard second-hand dealer approach, Watches of Knightsbridge offer some truly mouthwatering catalogues across a wide variety of themes. Some of their specialties include the Oyster Bar dealing exclusively in vintage Rolex Oyster models, and Antiquarius that focuses on rare antique watches. Investigate their website here.
Address: Michelin House, 81 Fulham Road, London SW3 6RD
Contact: +44 20 3826 0025