The Alpina Heritage Carrée Automatic brings the '30s to the masses
Fergus Nash
As the Cartier Tank and Jaeger-LeCoultre Reverso battle it out as the most recognisable rectangular watches, other brands are free to explore that style which is quintessential of the 1930s. Alpina are one such underdog with a much richer history than most people are aware of, and earlier in the year they created the Alpina Heritage Carrée Mechanical 140 Years as a celebration of their 14th decade in watchmaking. That super-limited edition of 28 pieces was made with refurbished Alpina movements from 1938, but the new Alpina Heritage Carrée Automatic 140 Years brings that design to the general public with all-modern components.
The case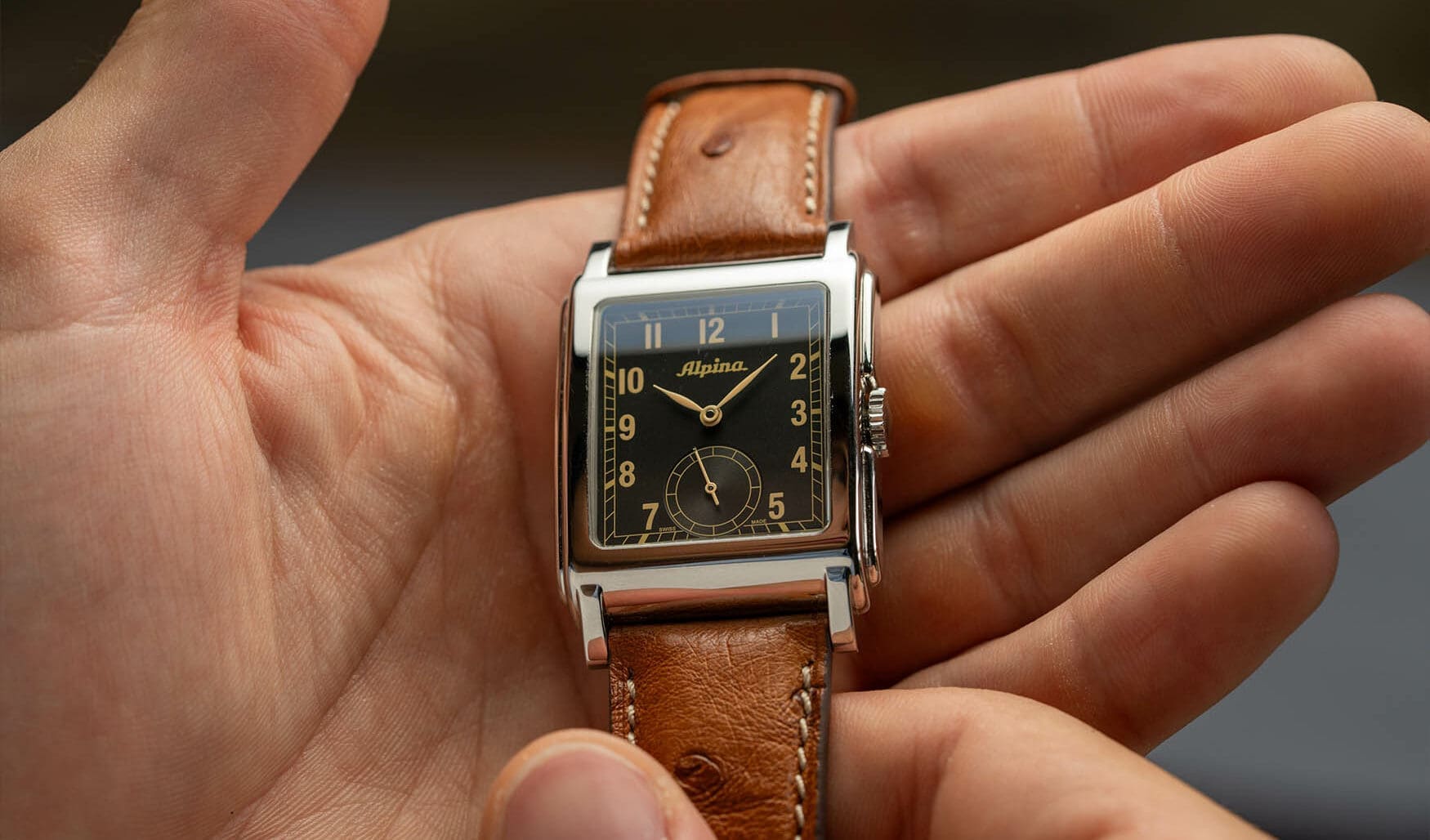 Rather than recreating a vintage Alpina watch one-for-one, the Heritage Carrée Automatic 140 Years is an original design which aims to capture the style of the 1930s. With the Art Deco movement at its peak, rigidity and symmetry formed the basis of gorgeous geometric patterns which inspired everything from typography to architecture. Manifested in a watch case, the Heritage Carrée Automatic 140 Years uses a rectangular silhouette with stepped edges that add a sense of ornateness in spite of simplicity. The polished surfaces represent sophistication, without fear of abuse or scratches.
The sizing is reminiscent of a vintage watch, although many men's watches could definitely get smaller than this. A bit larger than the hand-wound version, this rectangular case measures 39mm long and 32.5mm wide, and the height is a comfortable 9.71mm thick. The water resistance is only 30m, which could have been one area of improvement for a newly-designed case, however it's probably still more water resistance than a 1930s dress watch could have dreamed of.
The dial
Less may be more when it comes to '30s-style watch design, but that doesn't mean it needs to be boring. The Alpina Heritage Carrée Automatic 140 Years balances its details perfectly across both dial variations, each offering a different flavour of suave. The black dial has gilt features, all printed in the period-appropriate manner. The Alpina logo is a bit bolder than it was on their genuine 1930s watches, but it looks great in that typeface so we can't complain. Finally, the rounded small-seconds complication is a classic reminder that you're wearing a mechanical watch.
Hitting more on the Art Deco theme is the lighter dial, with cream and silver rectangular sectors as well as serifed Arabic numerals, giving it a bit more of a quirky quality. It's a clean and crisp dial to read, and looks a lot more like a relic from afar than the black version. Even the small seconds track is rectangular here, sharpening the look further.
The movement
While the first iteration of this watch used movements from 1938, a large supply of those calibres sadly doesn't exist. Instead, the Alpina Heritage Carrée Automatic 140 Years uses a modified Sellita SW200 to bring it to the masses. As seen through the sapphire caseback, the SW200 is an automatic movement with a power reserve of 38 hours and a beat rate of 4Hz. They're well-respected as an off-the-shelf Swiss movement, with good reliability and low servicing costs. It's perhaps a little bit of a shame that Alpina didn't use the hand-wound SW210 to retain some of that old-world charm.
The strap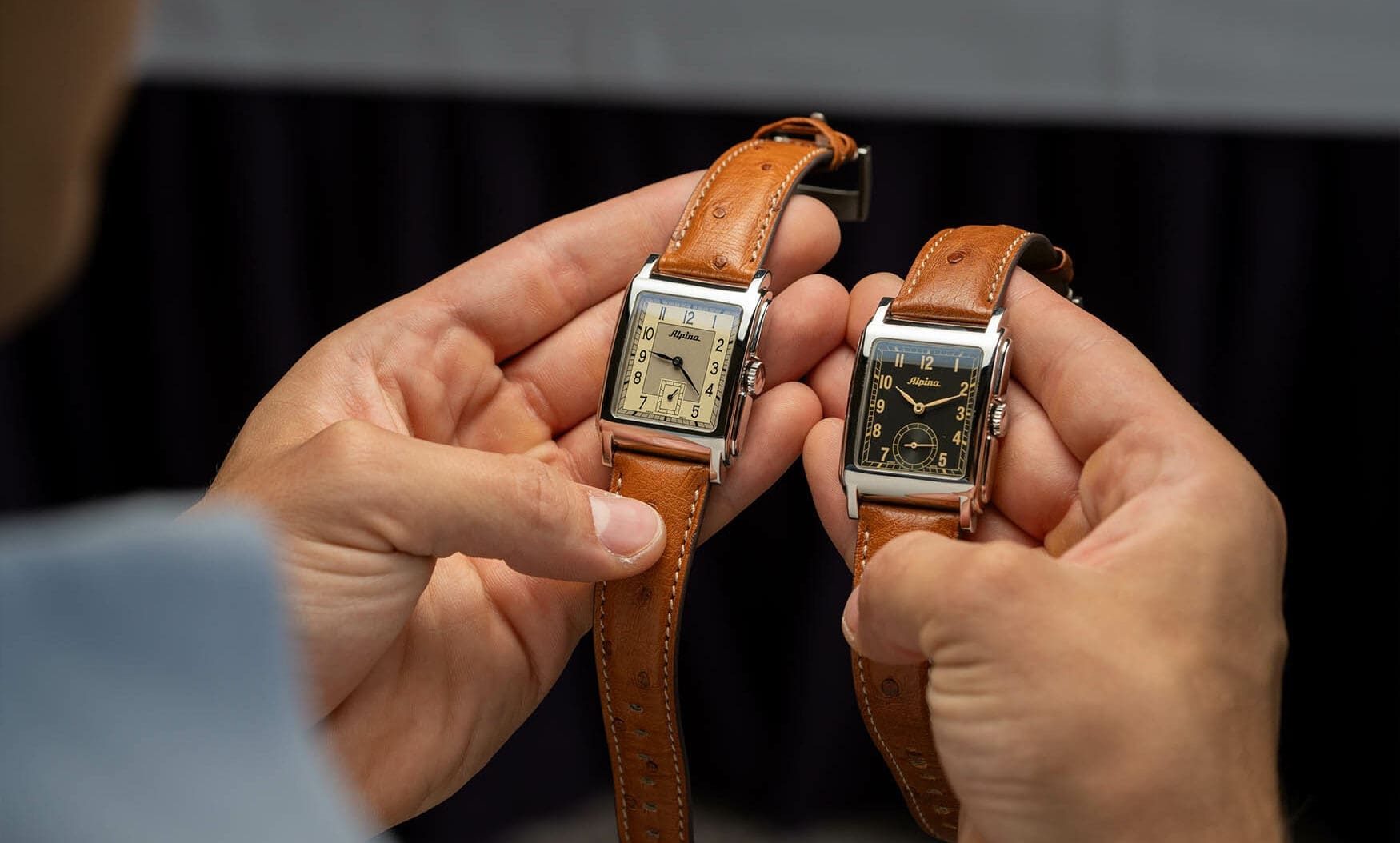 Both of the Alpina Heritage Carrée Automatic 140 Years models are fitted with a tan strap made from ostrich leather and a pin buckle clasp, which definitely reinforces a luxurious and dressy touch without losing versatility. If you do want to experiment with other strap options, the 22mm lug width should make it easy to find aftermarket leather straps or even bracelets.
The verdict
Bringing the Heritage Carrée Automatic 140 Years into a more affordable realm is definitely a welcome addition to the Alpina catalogue, and a relief to anyone who fell in love with the initial release not just for it's new-old-stock movement. My nitpicks would have to include the water resistance and the lack of a manually wound movement, as automatic wristwatches were much rarer in the 1930s, making it a little bit immersion-breaking. It's also a relatively expensive price to pay for a watch powered by a Sellita SW200 movement. Ultimately, the look is fantastic and it's hard to find stepped cases in this style today, so it's a worthwhile option if you're on the lookout for some vintage charm.
Alpina Heritage Carrée Automatic 140 Years pricing and availability
The Alpina Heritage Carrée Automatic 140 Years is currently listed on Alpina's website, with the black dial available now and the sector dial available soon. Price: A$2,568, US$1,595
Brand
Alpina
Model
Alpiner Heritage Carrée Automatic 140 Years
Reference
AL-530SAC3C6
AL-530BA3C6
Case Dimensions
32.5mm (W) x 9.71mm (T) x 39mm (LTL)
Case Material
Stainless steel
Water Resistance
30m
Dial
Silver and cream
Black gilt
Crystal
Sapphire crystal and exhibition caseback
Strap
Tan ostrich leather
Movement
Sellita SW200, automatic
Power Reserve
38 hours
Functions
Hours, minutes, seconds
Availability
Now
Price
A$2,568, US$1,595