Swatch just dropped their latest James Bond collaboration – the Swatch X 007 Tribute Collection – and the big question on everyone's lips is … can you still buy these exclusive models?
And the answer is: sort of. A quick peruse of Swatch Australia's ecommerce page shows that some models are still available, while others have already been snapped up by keen enthusiasts of everybody's favourite secret agent.
So we thought we'd walk you through each of the limited edition timepieces and, more importantly, tell you which ones you can actually still purchase from Swatch right now.
Swatch Dr. No Ref.SUOZ302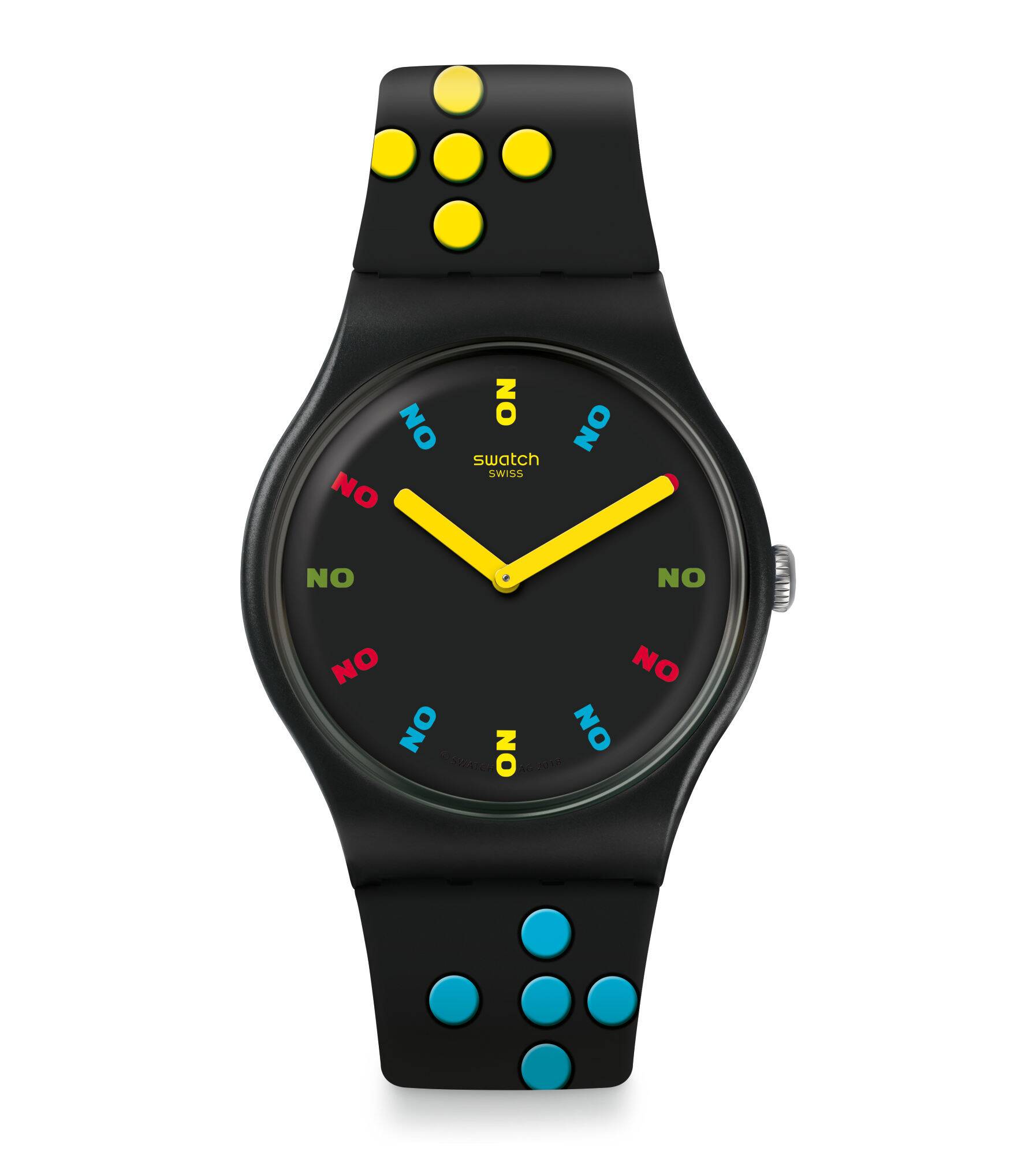 With an aesthetic that pays homage to the opening sequence of the first ever James Bond film, Dr. No, this is a Swatch watch that we can get behind. The dark black rubber band and dial have been hit with bursts of quintessentially '60s colours, with the rubber band sporting small coloured circles and the dial featuring prominent yellow hands and vibrant "NO" text replacing the normal hour indices, which provides a striking, fun and legible contrast to the matt black dial. We're not sure whether we can see Sean Connery himself wearing one, but this is a cool watch nonetheless. And the best thing about this model? You can still buy it, it's still available on Swatch's website.
Swatch On Her Majesty's Secret Service Ref.SUOZ715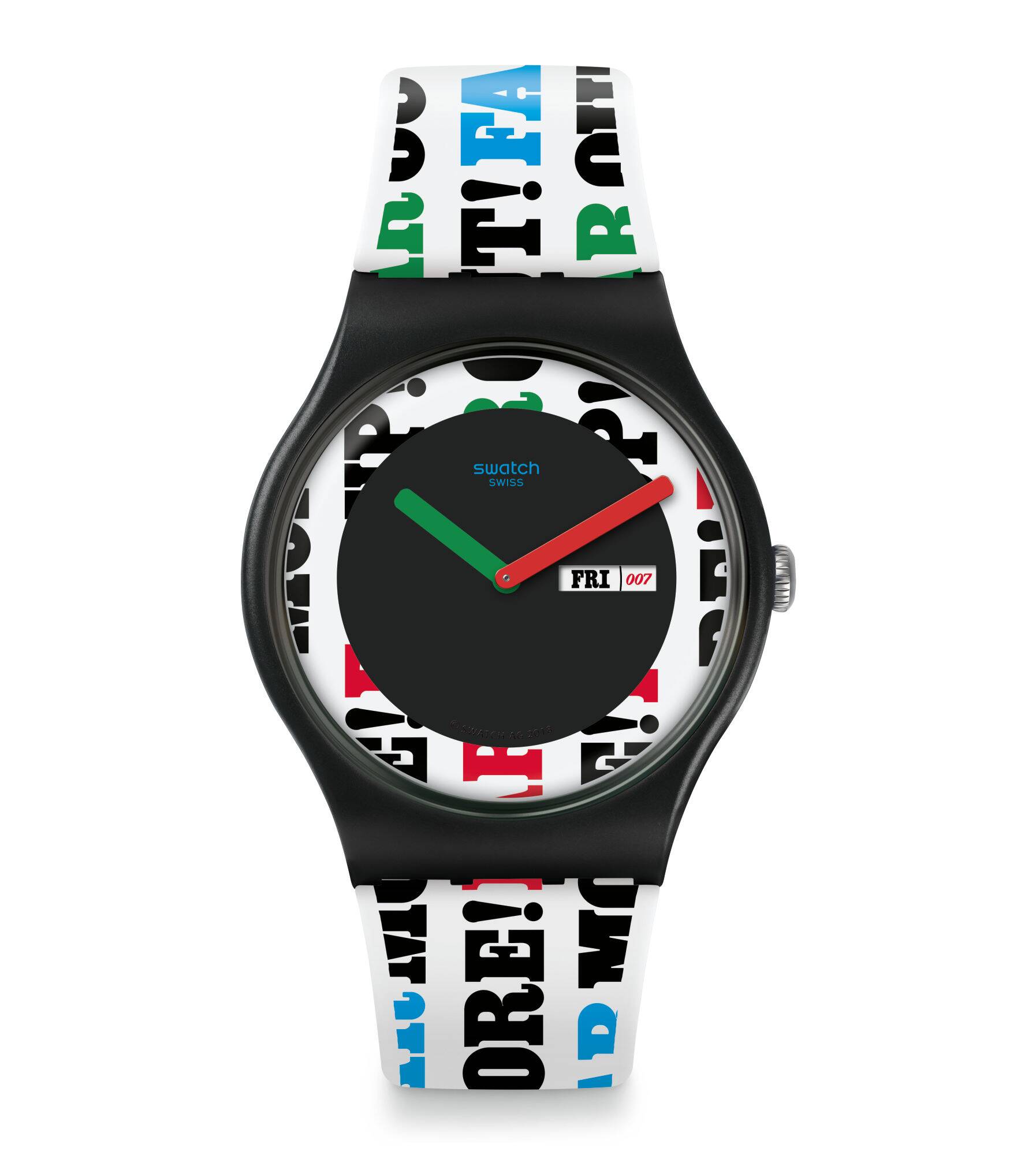 1969's entry into the James Bond franchise, On Her Majesty's Secret Service, represented somewhat of a tangent from all the Bond films that had come before it, and chief among them was Australia's very own George Lazenby replacing Sean Connery. Thankfully, though, this watch will last longer than Lazenby did as 007. It's a cool watch, with both the dial and rubber band styled to look like the film's original poster, which is a nice touch. Unfortunately, however, much like George Lazenby's acting career, this limited edition watch really has been a flash in the pan – it's already sold out, and the grey-market gougers await.
Swatch Moonraker Ref.SUOZ305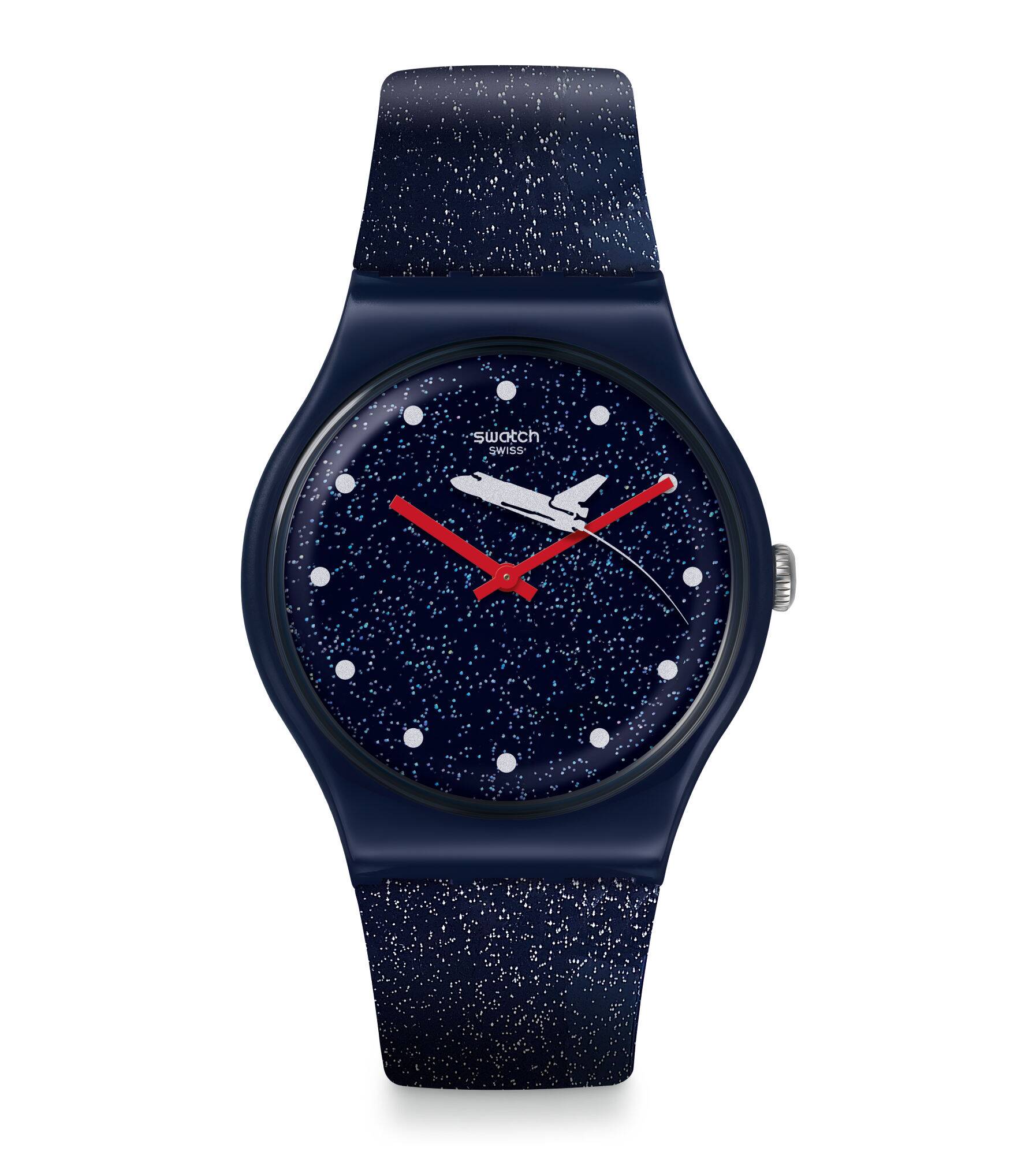 Roger Moore's fourth time playing the eponymous British spy saw him head into space to help retrieve a purloined space shuttle. Swatch has thus given this Bond watch an intergalactic makeover, with both the band and dial stylised to look like the night sky, stars and all. In addition, the dial features a space shuttle in flight, which is a fun and novel nod to the film. Fans of this watch shouldn't get their hopes up though, because it's already been cast into the realm of unobtanium – it's sold out on Swatch's website. So, if you do want it, expect to pay a bit more than its RRP of $145 AUD on third-party sites like eBay.
Swatch Licence To Kill Ref.GZ328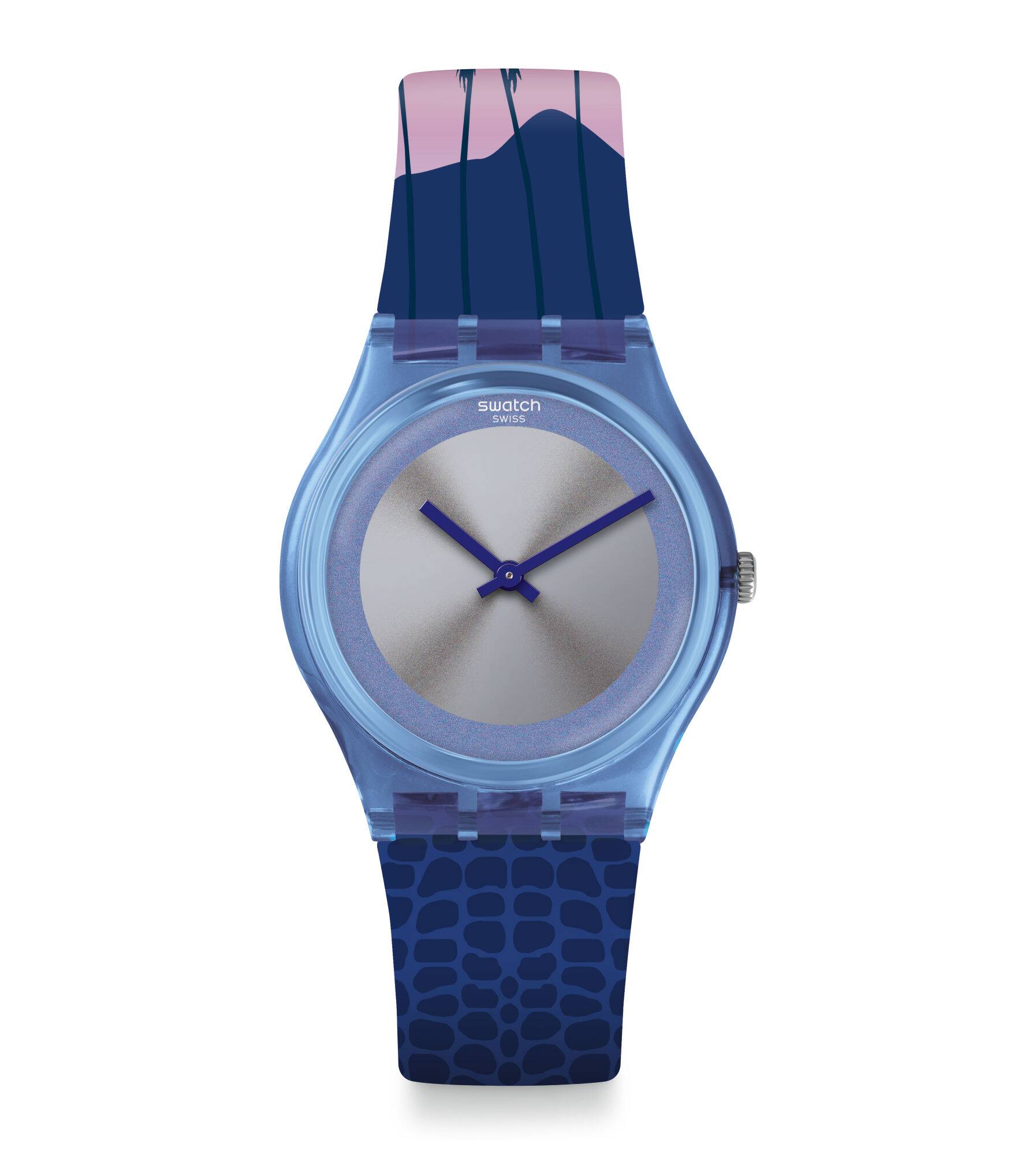 Rocking an overtly '80s pastille pangea of colour, this Swatch tips its hat to Timothy Dalton's second and final film as Bond. What makes this watch different from the aforementioned models is its size – unlike the three models above, which measure in at 41mm, this one is just 34mm, making it a great option for the female fans of 007. And it hasn't sold out … yet, so have a chat to your partner, and get a licence to buy.
Swatch The World Is Not Enough Ref.SUOZ304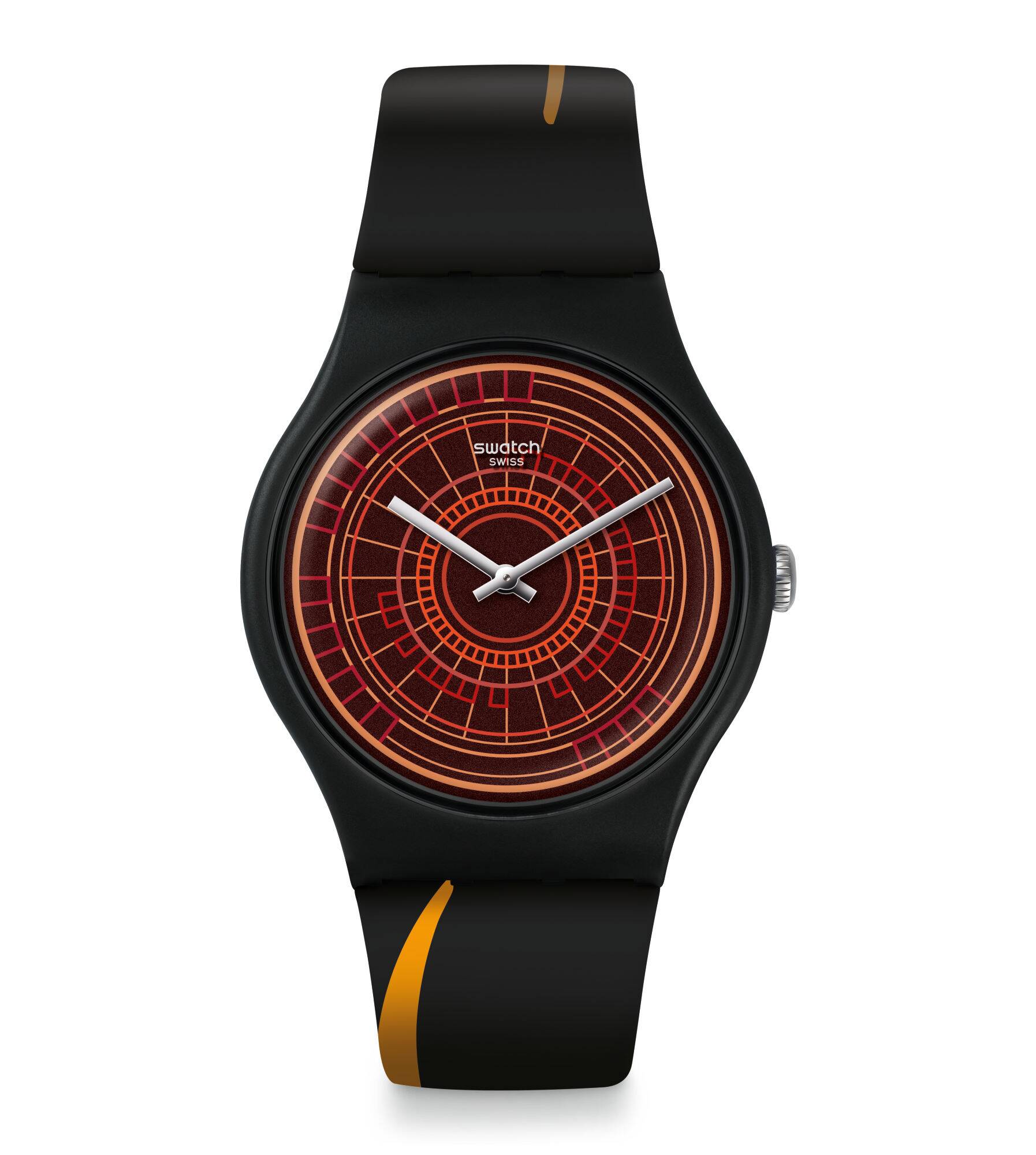 The final Bond film of the 20th century saw Pierce Brosnan's depiction of 007 babysitting an oil tycoon's daughter, which, as is often the case in a Bond film, led to a more sinister trail of destruction that involved copious explosions. As a result, the black rubber band of this limited watch is adorned with bright orange licks of burning flames, and the timepiece's dial is meant to mimic the scorching barrel of Bond's Walther PPK. This is a fun-looking watch, but unfortunately, much like the Moonraker and On Her Majesty's Secret Service, it's completely sold out.
Swatch Casino Royale Ref.GZ340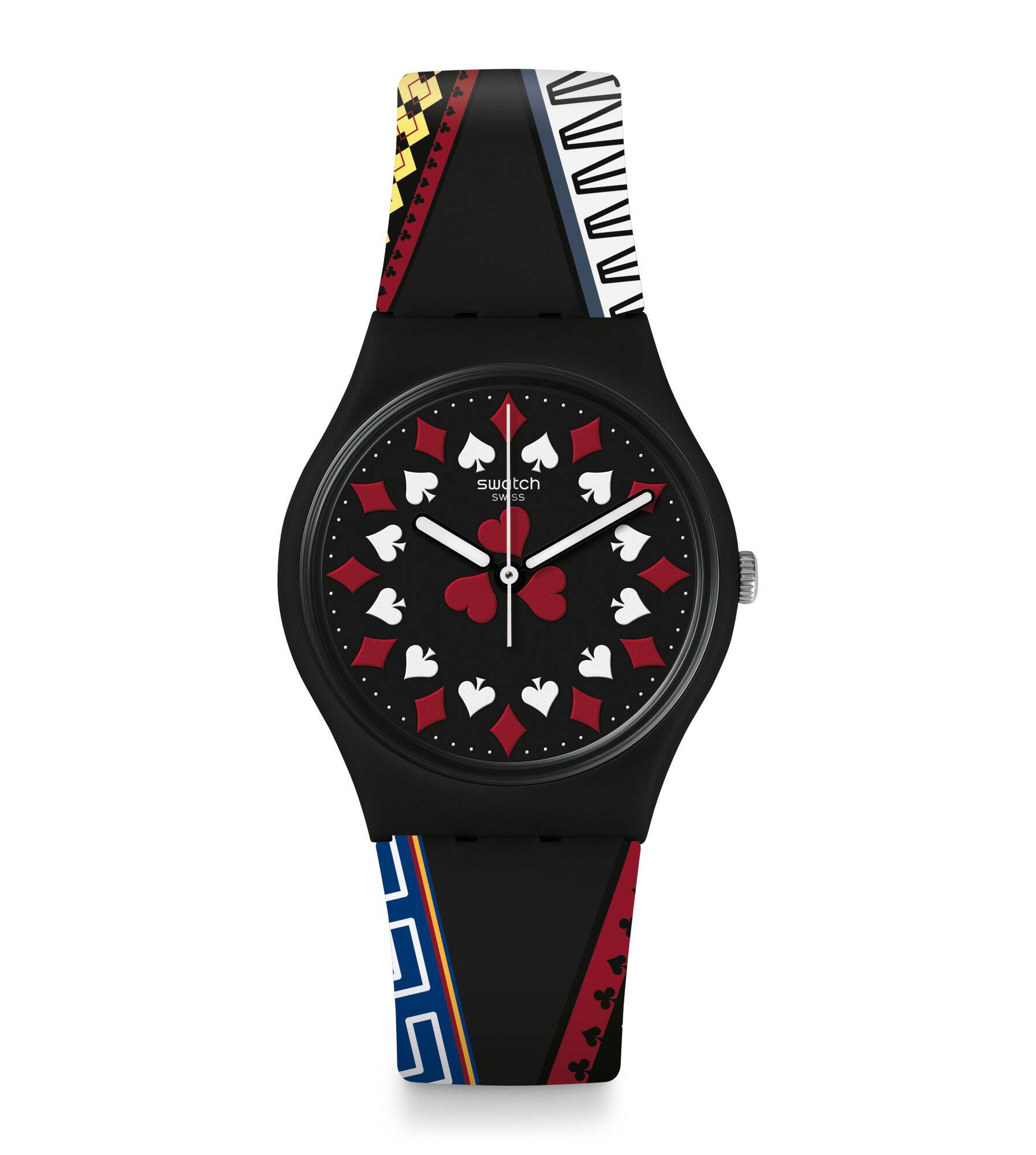 Arguably the greatest Bond film of all time, Casino Royale was nothing short of a masterpiece – not only was Daniel Craig brilliant as Bond (proving every pundit and naysayer wrong) but this was a 007 film returning to its roots – handsome lead, check; gorgeous femme fatale, check; high-stakes gambling, check; gorgeous Aston Martin, check. Swatch has decided to celebrate the classic film by creating a watch that is adorned with many, many motifs reminiscent of some of the world's most lavish casinos, and the dial is covered in the different suits of playing cards. This one is also for the Bond fan with a smaller wrist, as it measures in at a diminutive 34mm. And praise be, it's still available to buy.
It's also worth mentioning that each watch comes with its own unique packaging that is made to look like a VHS box … a very cool touch indeed.