Am I too old for a purple G-Shock? Don't ask my kids.
Thor Svaboe
Feel free to judge me. After reading my story on wanting a demure 36mm Carrera reissue in 18K gold on a leather strap, you might think I'm losing my marbles buying this dazzling all-metal purple G-Shock, the CasioGMWB5000RD-4. While supposedly red, close-up it's a vibrant flash of mad purple-ish burgundy. And boy does it it cheer me up, even at about 160 grams feeling much weightier than a normal G-Shock Square. It just feels "right". But does it also look like a mid-life crisis?
I'm honestly not pretending to be 26 or 32, but I have a sneaky suspicion some of the other parents at school think that's my aim. Is this the image I'm after, or am I the office joker, the one with the fish-shaped tie at the Christmas party? Is this my mid-life crisis, or is it simply a result or rediscovering the joys of a simple, cheerful digital watch? A watch that doesn't convey anything but: "Hey! I love colours, cheerful design objects and WATCHES".
And seriously, it feels great not to worry about looking too rich, attracting armed pick-pockets, or The Rake with a vintage chronograph on a hand-stitched suede strap. I love mechanical vintage-inspired watches, but all days are different, some days are just for simple, fresh dashes of colour that also happen to tell the time.
After my story on a charming brace of Casioaks I've rediscovered cheap, fresh fun, even with a dressy shirt on. With some custom jeans from SoSo Brothers, crisp white sneakers and a T-shirt, acting my age is simply not an option. Fifty (+1, tell anyone and I'll never speak to you again) is the new 30, and I couldn't be happier, though with my penchant for colourful, patterned socks (without exception), I might still be taken for the office joker. Do I care? Hell no, life's too short.
But the watch in question, the GMWB5000RD-4, was love at first click. It's my first foray into metal G-Shock territory, but I do have a soft spot for the classic square 5000-series being a teenager in the hey-day of the G. For some reason it manages to be an impossible combination of tank-like solidity, un-G-like weighty feel (well, duh!) while being properly comfortable, too.
The comfort is there by the simple, slightly flexing and rather brilliant bracelet. When you add the fact that the IP-plated case quality is quite superb, it's easy to fall for its charms. Taking a step up from resin will not disappoint, believe me. Sharp details like the contrast between polished main case and flat brushed bezel has left me impressed, so this is no summer romance, it's a stayer.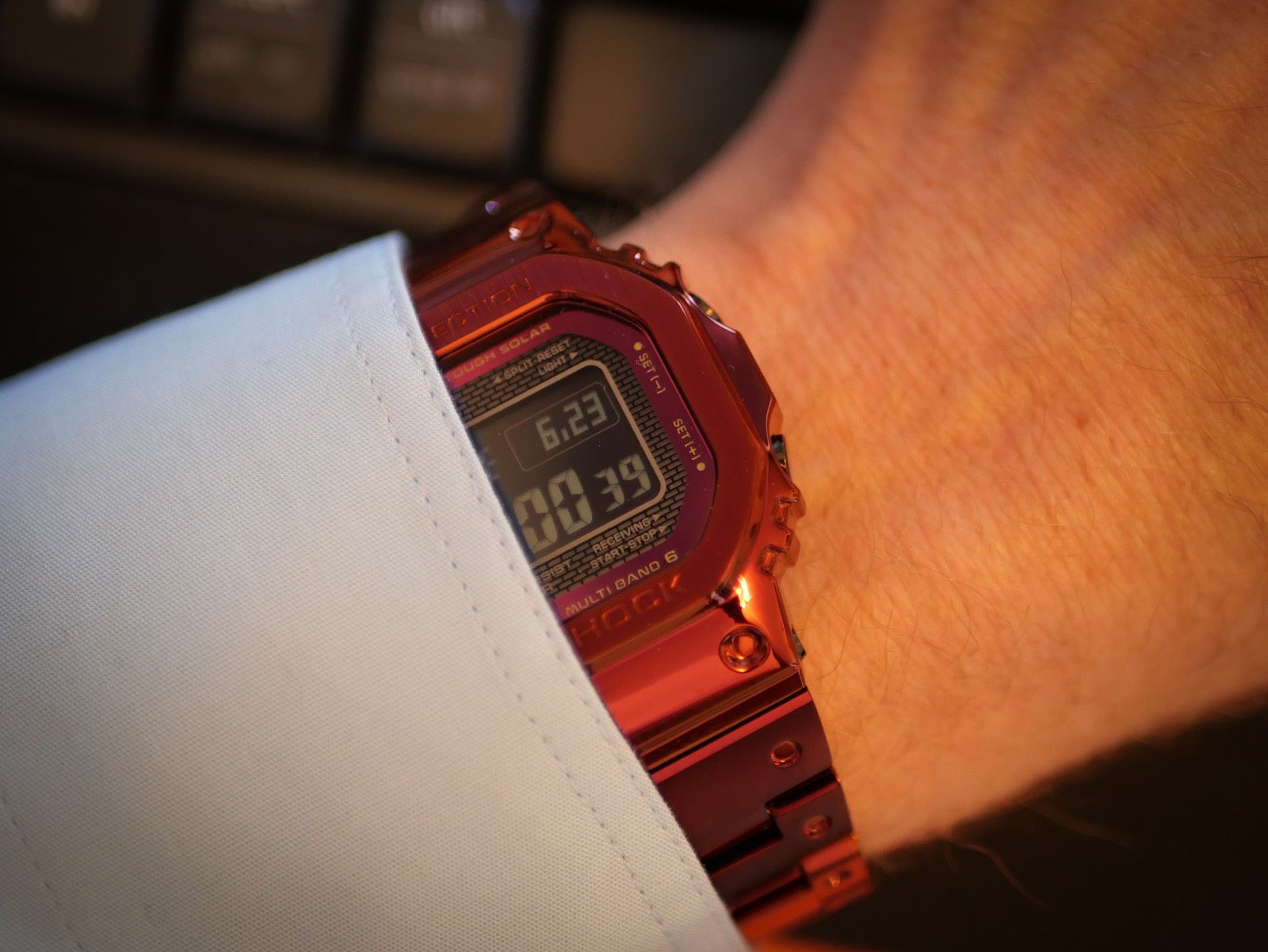 Functionality is as supreme as you'd expect from the top tier Bluetooth solar-powered module in the metal square series, app-connected and satellite-sharp to the second it's simply a delightful wrist presence. Always accurate, and ready to make you break out into a silly smile if it pops out of your shirt sleeve, noticed by the coffee shop patron. He was already eyeing up my the popsicles on my pink socks, so maybe his day just improved from having a giggle on me, I'm nothing if not magnanimous…
The Bluetooth, solar-powered case of the GMWB5000RD-4, is a stocky 43.2mm-wide by 12.9mm-thick and has a lug-to-lug distance of 49.6mm. Oh, and for the DIY dads out there, bracelet sizing with the G-Shock mini-push pins between the links is a doddle. The clasp is an impressive milled steel folding diver's number with four micro adjustments.
Casio G-Shock reference GMWB5000RD-4, price and availability:
Retail price around $600 USD, available now both online and at retailers.