The story in a second: A lot of value for not a lot of case.
Though "perceived value" has become the new marketing-speak of the last couple of years in the watch industry, there still aren't that many brands in the luxury watch industry that have taken any real significant strides. Sure, we've seen prices nudge their way down from Zenith through to Bell & Ross, but in my opinion these moves have been more about correcting past price creep rather than delivering greater bang-for-your-buck than what's already been on the market. Of all the players at the big table, I never imagined it'd be Cartier leading the real value charge, but in the case of the Cartier Drive de Cartier Extra Flat in steel this is precisely the case. Great design, a killer hand-wound calibre, and an unrivalled (for the dollar) case profile all make this new release a home run, especially now it's being offered in non-precious metals. When the first white gold and rose gold models were announced in 2017 there was a hefty outcry from the industry's media dying for a steel offering to be added, and clearly there was enough marketing data to back it up, leading to this model's arrival earlier this year. As with many watch releases, we knew the Drive Extra Flat steel looked good on paper (and during our quick hands-on at SIHH), but we couldn't resist the opportunity to get a bit of wrist time for a proper hands-on review.
The case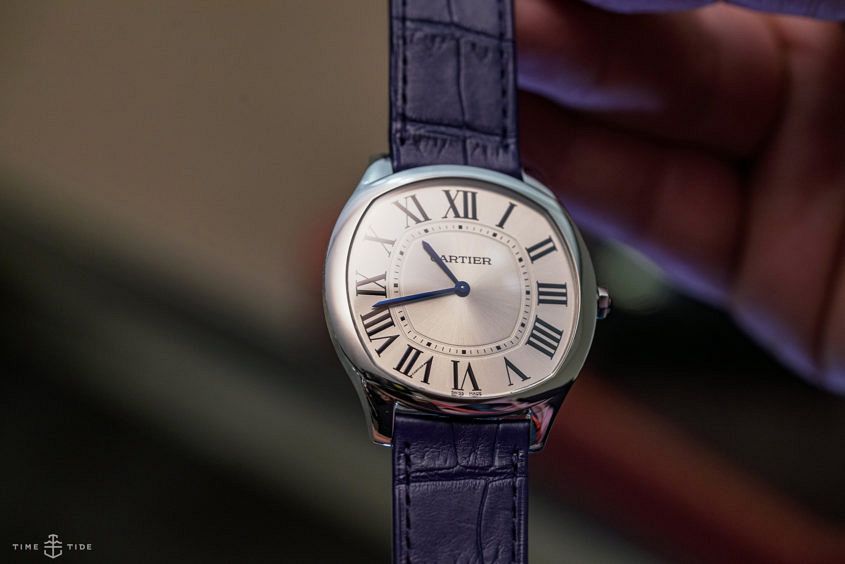 On paper, the Drive Extra Flat already earns some very substantial street cred. When the brand says "extra flat", they aren't kidding. Its 6.6mm case thickness isn't in record-book range, mind you, but compared to anything else on the market retailing in a similar price range, they frankly blow everyone out of the water. JLC's Master Ultra Thin Date comes in at 7.45mm in thickness for around $10,000, whereas the beautiful Bulgari Octo Finissimo Automatic wins the thickness battle (5.15mm), though with a price tag of more than double the Extra Flat — retailing for $19,250 on bracelet. Measuring 39mm across, the Drive Extra Flat is right in a prime sweet spot to appeal to all wrist sizes, and though its stubby lugs have a fairly prominent curve, they are executed in a way that avoids digging into the wrist should you be more accustomed to more substantial timepieces. Rather than going overboard with movement finishing and adding thickness to its movement, the brand opted for a simple stainless steel caseback on the Extra Flat, and quite frankly we're fine with that. Finishing things off, its crown is capped with the Cartier trademark blue stone, here a synthetic spinel, providing an elegant finishing touch (though not as prominent as those found in other Cartier models).
The dial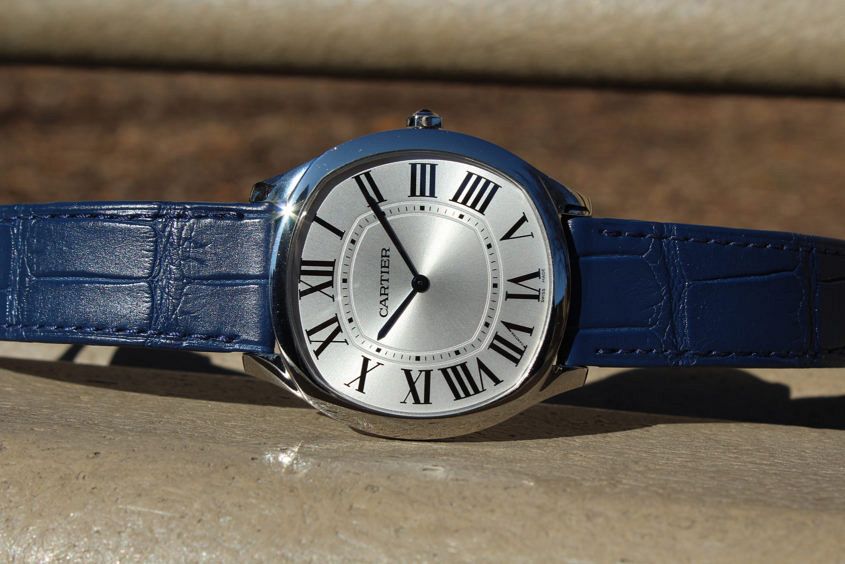 Examining the dial of the Drive Extra Flat we're faced with classic Cartier design essence in its purest form. Large black Roman numerals applied to a silver opaline dial, whose centre inside its minute track is given a subtle sunbrushed finish. Completing the package is a set of simple blued hands, which often appear black until viewed under the right lighting. When hit from the right angle, the blued hands and matt blue alligator strap are a perfect match.
The movement
Cartier's clever undercutting of its competition doesn't come with a sacrifice in calibre quality. The Cartier 430 MC is based on Piaget's calibre 430P manually-wound movement, comprised of 131 parts and good for a modest power reserve of 36 hours. While not a substantial reserve, the ritual of daily winding really isn't that much of a chore, and considering the trade of a larger, thicker mainspring that would defeat its ultrathin ambitions, this is yet again a fair compromise.
On the wrist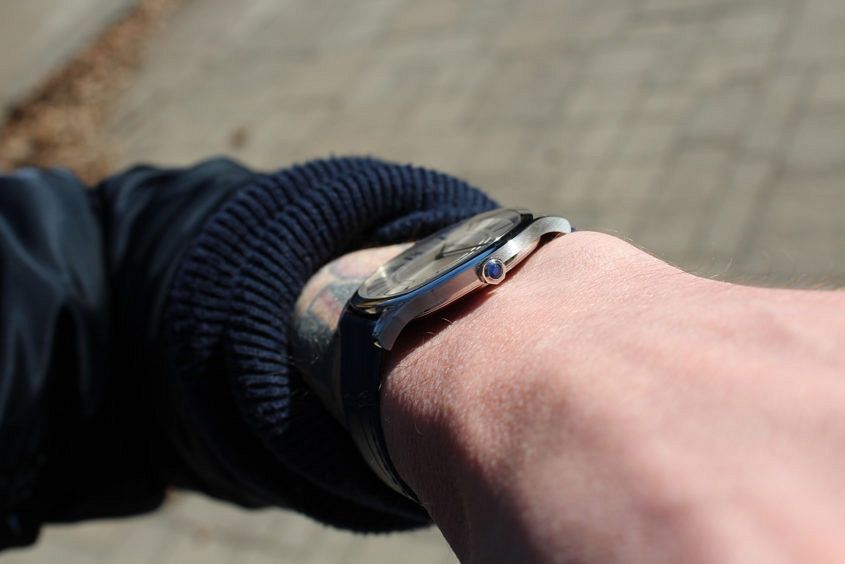 On the wrist, the Drive Extra Flat proves equally charming as it does on paper. Its cushion-style case wears very comfortably, with just enough wrist presence to not feel too dainty or delicate. Again thinking of its closer competitor from Bulgari, the Drive is definitely more on the classical/traditional spectrum both in design and proportion. Fitted on that blue alligator strap, my initial thought was that the piece would be easy to dress up and challenging to dress down, however with the right smart combination of denim, tee, and coordinated footwear, the Drive proved right at home. In part due to the matt finishing of the strap, the Drive thankfully isn't relegated to solely office or black-tie attire (though it does thrive in those conditions).
The verdict

No sugar-coating here, even with my louder and much more casual sensibilities, this is a watch I would own and wear on the regular. It's an instant classic without being that "icon status" watch that you'll see on every third wrist in the room, and more importantly it's some of the best-value luxury watchmaking there is right now. End of discussion.
Talking point
Design details like the numerals, minute track, and cabochon in the crown of the Drive de Cartier can be traced all the way back to Cartier's first ever wristwatch — the watch that Louis Cartier made for Alberto Santos-Dumont, which went into production as the Cartier Santos in 1911.
Who's it for?
Any self-respecting watch enthusiast with an eye for quality and value, who has a good excuse to get dressed up from time to time.
What would we change?
Aside from alternate strap options, there really isn't anything here that needs changing.
Cartier Drive de Cartier Extra Flat in steel Australian pricing
Cartier Drive de Cartier Extra Flat in steel, $7850