There's a cliché that men are often clueless when it comes to choosing the right gift for a woman – especially (weirdly) when she's the Significant Other in their lives. That, combined with the eye-rolling that all of us at Time+Tide do when an email with "Valentines" in the subject line lands in our inboxes (which has been happening quite a bit over the past month), prompted me to ask Nick and James which watch they would offer their SO as a Valentine's Day gift. Then, from a woman's point of view (a woman who, every 14th February, cringes at the flood of hearts-red roses-teddybears-and-bows kitsch that – somehow – is supposed to show that you love her), I would critique their choices. So here we go.
My Valentine's Day Choice: Nicholas Kenyon – White gold Piaget with lapis lazuli dial
Part of you can't really get too excited about Valentine's Day, thanks to the relatively mindless consumerism that happens halfway through February each year, but another part admits that spending time with your significant other, and maybe even getting a gift, is never a bad thing either. While watches are more of a focus at work than at home for me, it's still fun to consider the watch that I might gift on Valentine's Day, because it isn't an easy decision.
There's a number of great watches that would be in consideration, but at the point of landing on just one, I would pick this Piaget jewellery piece with lapis lazuli dial. It's a restrained watch that offers more, the closer you look at it, with the "non-colour" of the white gold hand-textured bracelet staying under the radar, the brilliant-cut diamonds around the bezel maintaining a cool tone, and the crisp lapis lazuli dial making a strong visual statement. The diamonds set into the bezel express confidence without the gaudy insecurity sometimes communicated by larger stones, and at 27 x 22mm in diameter, it extends a sense of slimline elegance.
My Valentine's Day Choice: James Robinson – Speedmaster 38 Co
‑

Axial Chronograph 38 mm Ref. 324.23.38.50.02.001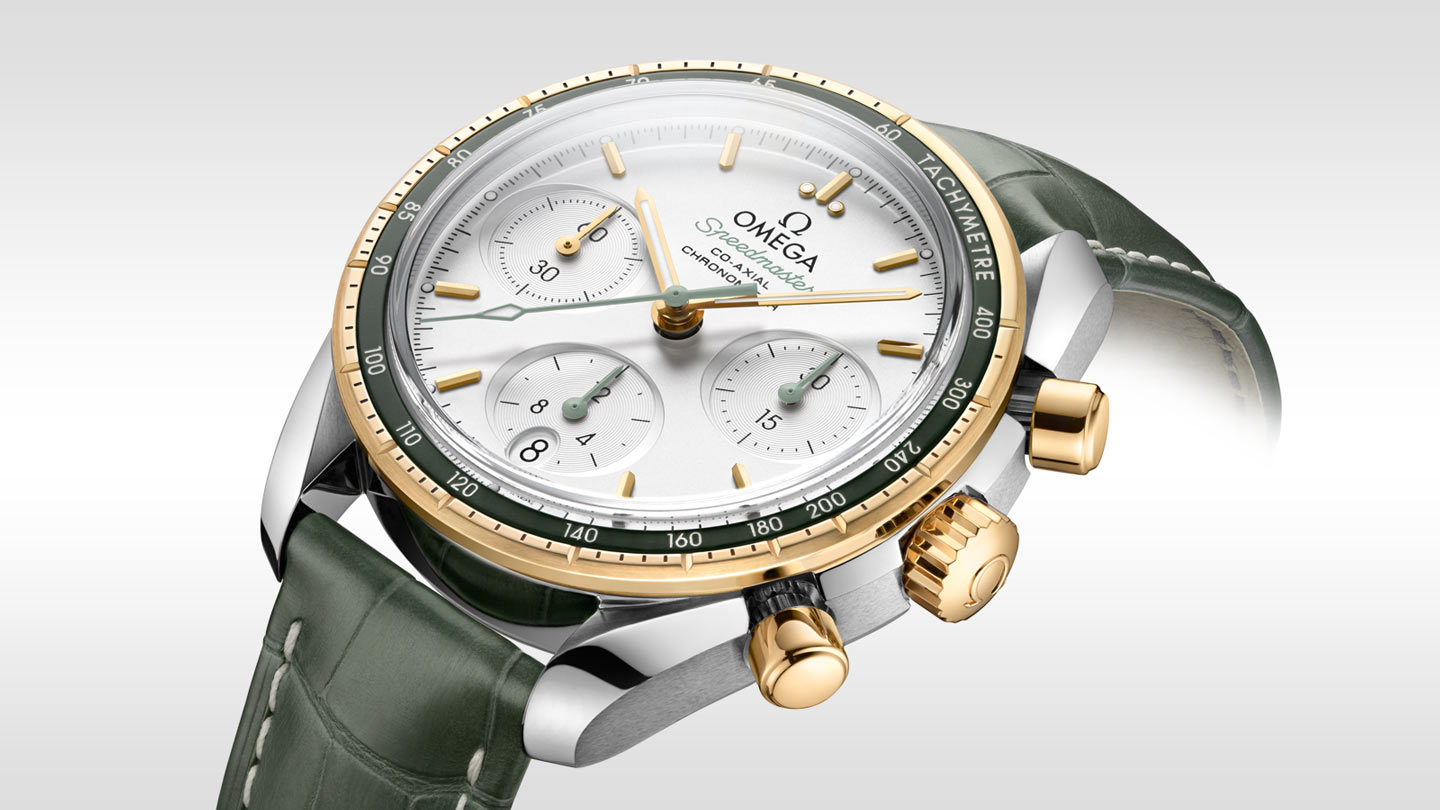 Buying something as personal as a timepiece for your significant other is a process in understanding subjective preferences. You work off anecdotal evidence … it's all you've got. A comment here, a like on an Instagram post there, a historical knowledge of their tastes – that's it. And, if that weren't a difficult enough code to decipher, you also need to comprehend that this is a Valentine's Day gift, which means it needs to be romantic. But you also want the person to whom you show your affection to actually wear and use the gift, rather than stuffing it away and only seeing it on occasions deemed as "special".
With all this in mind, I've gone for this gorgeous Omega Speedmaster. My partner has long admired the Speedy, and has often expressed a desire to one day be a card-carrying member of the #SpeedyTuesday fraternity. It's also, in my opinion, perfectly sized for a younger woman. Her favourite colour is green, so this Speedy, with its dark green alligator leather band, bezel and dial accents, has that covered. It's also splashed with 18k yellow gold, a precious metal long associated with romance, on the bezel edge, chronograph pushers, crown and indices. But since the whole watch isn't gold – the case is steel – it can easily be worn every day.
I think this watch ticks all the boxes for a perfect Valentine's Day timepiece … and thank holy hell that this is all hypothetical, because I do not have nine-and-a-bit grand to drop on a capitalistic day of nonsense dreamt up by marketers to get saps to stimulate the economy.
Sandra's reaction
Darn! There's no shortage of watches out there featuring the traditional symbols of romance (most of them toe-curlingly kitsch but some of them actually quite tasteful), but what do I see? Not even a sniff of it. I was hoping for, maybe, a central seconds hand with a heart-shaped counterweight, or a dial with a hand-painted rose, or a heart-shaped ruby set at 12 o'clock – heck, even just rubies without the heart. Because then I could take the mickey. But no, Nick and James are thoughtful men and they love watches, so they have wisely chosen pieces that would make a wonderful gift at any time of year. Those choices point towards the one and only rule that every man should follow when choosing a watch to give to the woman in his life.
Choose what she would like, not what you like: James is right that it's an exercise in understanding subjective preferences. And, yes, you could stalk her social media accounts to pick up some clues. But we girls are just … y'know, not that into being stalked. A better idea? Presumably, if you know her well enough to buy her a watch, you will also by now be pretty well acquainted with her best girlfriends. They know what her tastes are. So ask them. (Just avoid any friend who's a gossip because she will blab and your surprise gift will no longer be surprising.) With that in mind, James: you have clearly done your homework, so if she isn't thrilled, "It's not you, it's her".
Nick: seriously wow. I have to assume that you know she's the kind of girl who wears grown-up jewellery every day (so she will totally get that you describe the Piaget as restrained). And that she prefers watches at the more delicate end of the size spectrum? It would be a crying shame if she doesn't love this watch as much as you love her.
Be mine for Valentine's
So, if I have to receive a Valentine's gift and it has to be a watch, what would it be? A Jaeger-LeCoultre Reverso – because it is a 'Forever' watch and because every collection should include this icon (and I don't have one yet). I would accept either one of two models – with the greatest pleasure, thank you.
The Jaeger-LeCoultre Reverso Tribute Moon – because a moon-phase is the most classically romantic complication of all, and the dual time zone will remind me, every time I travel, that home is where the heart is. The bonus here is its generous size, so that Monsieur will be able to borrow it occasionally. A rare instance where "give what you would like" might totally work (because you already know that I would love it).
The alternative: Reverso Medium Thin in steel, with a special message engraved on the flipside of the case. Monsieur, I leave the choice of message to you. You know me better than to choose the "I love you" cliché. (The message Joanne Woodward had engraved on the back of That Watch for Paul Newman "Drive Carefully – Me" expressed love in a way that had deep meaning for both of them.) So, make the message something that's special to us. It could even be a significant date – just don't you dare make it 14.02.2020.