It sort of feels like all we've been hearing about from Zenith through the last year leading up to Baselworld 2018 has been all things Defy. And fair enough, the Defy Lab is technically the biggest thing since the horological equivalent of sliced bread (the winding rotor perhaps?). As we got closer to the fair, it was clear that there's no way a production version of the Defy Lab could be ready in time. Instead, Zenith have treated us to a couple of new models in the collection, including an entry-level offering that takes a healthy dose of design cues from its groundbreaking sibling.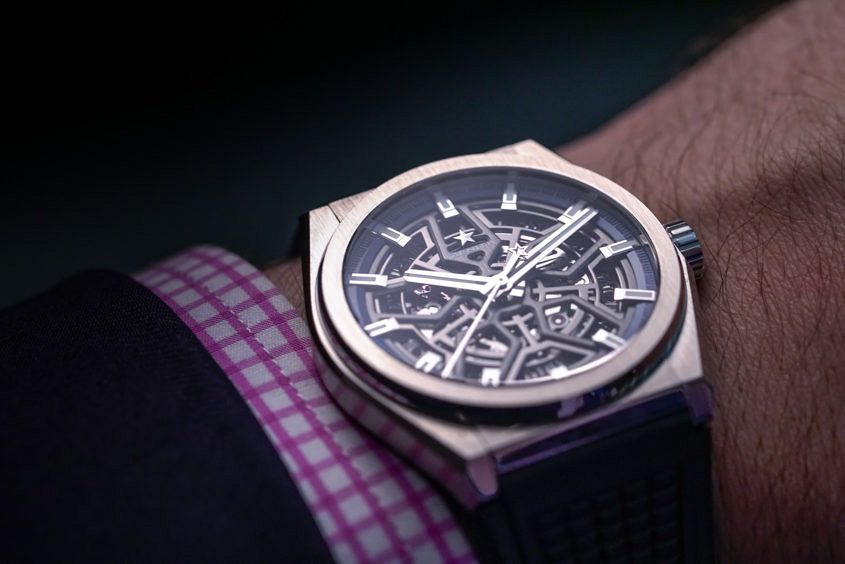 Vital statistics
A star-like pattern resting above an open dial really couldn't be a more blatant attempt to draw parallels between the Defy Classic and the Defy Lab, though the two watches couldn't be more different from one another, other than their shared case design. The Defy Classic is powered by the Elite 670 SK self-winding movement, rather than an El Primero — no doubt to be able to push a lower entry price. There's absolutely nothing wrong with the Zenith Elite calibers, so this isn't really a con. The big selling feature on the Defy Classic is actually its case size. Scaled down to 41mm across, the new model is incredibly versatile. It's not quite dress watch territory but it's still something that can be dressed up for the office and dressed down on the weekends.
On the wrist
Once strapped on, the Defy Classic is quite comfortable and lightweight overall. Case thickness specs aren't available at this time, but it's safe to say that the Classic is a fair bit thinner than any other model in the lineup, making it much more appealing to those who aren't fans of the chunkier and more casual look of the rest of the range.
Who's it for?
Fans of the Defy's DNA who can't or won't rock bigger watches. Defy Lab junkies who want a bit of that aesthetic at a much lower price.
Any surprises?
The move to an Elite movement outside the model range proved unexpected. Cost of entry could have been ameliorated a bit as well.
Zenith Defy Classic Skeleton Australian pricing
Zenith Defy Classic Skeleton on rubber, $9100.
Specifications
Brand:
Zenith
Model:
Defy Classic Skeleton
Case Size:
41mm
Case Material:
Brushed titanium
Dial:
Openworked with one different-coloured counter
Strap:
Black rubber
Movement:
Elite 670 SK