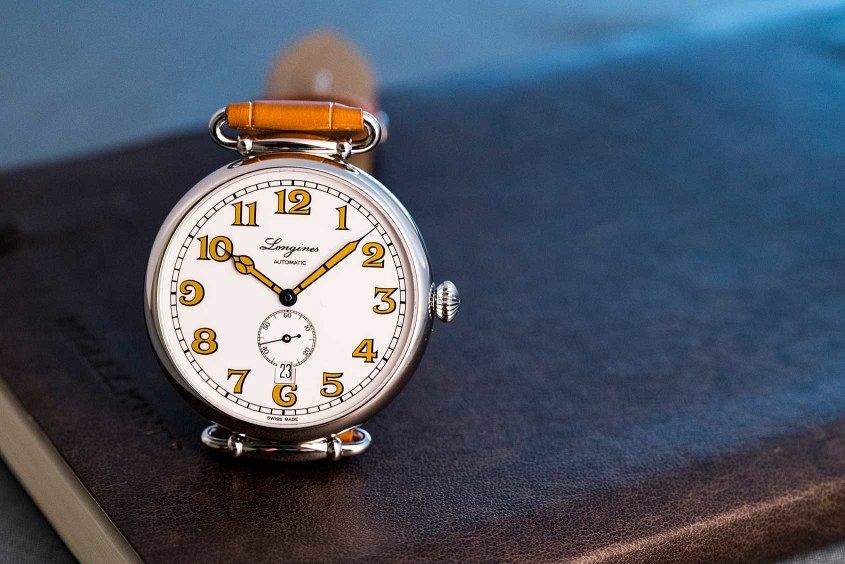 There's no arguing that the vintage reissue trend is still going strong, though this latest offering from Longines digs further back into the archives than we were expecting. Their newly unveiled Heritage 1918 draws on the brand's early history, having a very early pocketwatch-conversion vibe to it that, though a little unconventional at first, has grown on us quickly, and reminds us of the Longines Heritage Spirit. Its rich lacquered dial, contrasting honey-brown varnish painted numerals, and blued cathedral hands scream classic early 1900s watchmaking.
Unlike the faux-tina lume we have seen from countless other brands in an attempt to appear aged, this paintwork feels much more honest and will no doubt go over well with those seeking a heritage piece that's a little different to the mid-century style that's so trendy at the moment.
At 41mm, the Heritage 1918 sits very comfortably on the wrist. Its looped lug design takes a bit of getting used to, however the pivoting flexibility of the adds to its overall wearability. I'm the first to admit that I'm not much of a classic dress watch kind of guy, yet this piece is just different enough to draw me in. A ladies model has also been released, bumping the case size down to 38.5mm with an optional row of diamonds around its bezel. Given the only nominal case size variation, its safe to say that a woman could pull off the 41mm model with ease.
Our only gripe with this attractive piece is an expected one – the date window. While it does have its practicalities, it also detracts from the inherent simplicity of the piece. Having said that, we don't expect the date addition to be a major deterrent. Much in the same way that their Heritage 1967 diver added a third subdial while still paying tribute to the original. Having said that we suspect that lovers of the brand will be thrilled with their latest heritage offering.
The Longines Heritage 1918 Australian pricing
The 42mm Heritage 1918 has a retail price of $2350.