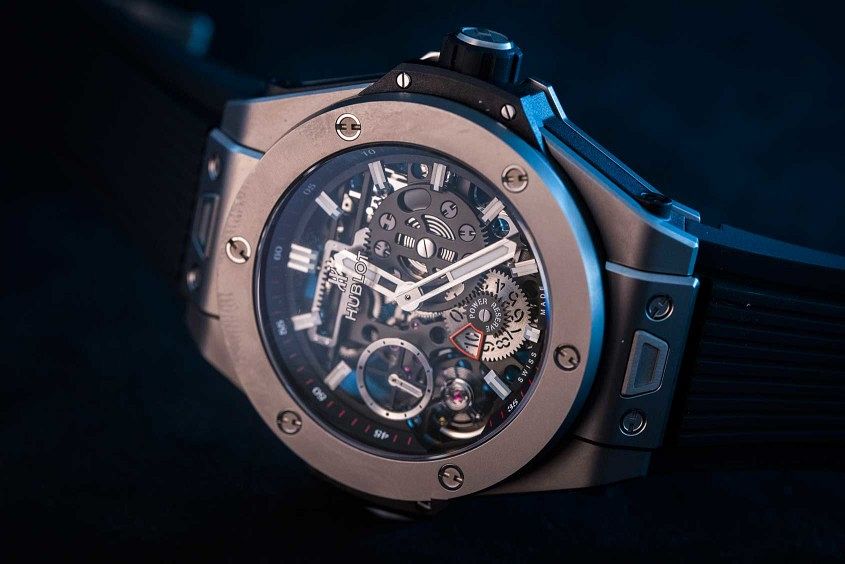 Hublot are one of the boldest (and most polarising) brands in the luxury watch industry – their designs inspire intense feelings, both negative and positive. Regardless of which side of the fence you sit on, they're constantly innovating and challenging their watchmakers and design teams with bold ideas that sometimes answer a why, and others simply a why not? More often than not, that answer comes from the helm – the powerful voice of Chairman of the Board Jean-Claude Biver stating with confidence that the answer is "Because we are Hublot, and that is what we do."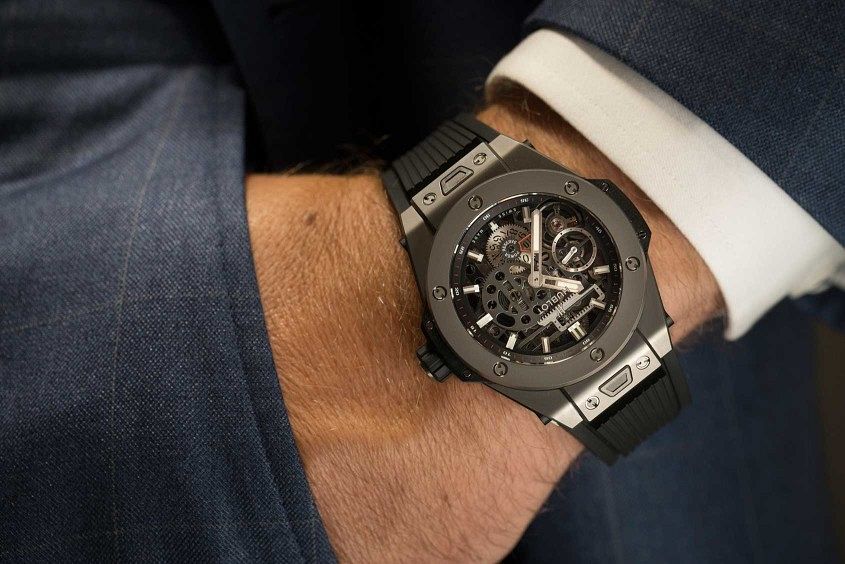 I'm the first to admit that Hublot doesn't always appeal to me, but every now and again they release something that makes me fall back in love with their craft and ingenious way of thinking about watches. This year, that sensation came with getting my hands on their all-new Big Bang MECA-10. This super-industrial skeletonized beast is offered both in Titanium and All Black version. The Titanium version we're looking at here boasts an attractive matte/satin microblasted finish.
…this guy has so much power, it has to let you know about it through two separate means.
The case is a regular Big Bang design, albeit one that looks slightly unusual because it lacks the chronograph pushers. It's cool, but the real crown jewel here is the new HUB 1201 movement. Twin parallel barrels are linked to a rack-driven pair of power reserve indicators. That's right, this guy has so much power, it has to let you know about it through two separate means. First, a subdial at 6 o'clock displays an indication from zero to 10 – in indication of how many days are currently wound into the two barrels. The second indicator is a touch more subtle. A gear at 3 o'clock is toothed to the first power reserve indicator, and as the power reserve reaches its last two days a red marker becomes visible through a cutout in the gear. And finally, the position of the rack and pinion themselves gives you a pretty accurate idea of the power reserve. Sure, you could argue that one power reserve indicator would have been adequate, but Hublot has never been in the business of being simply adequate now, have they?
Looking at the business-end of the HUB 1201 reveals as stunning a creation as we see up front. Its two massive vertically-stacked barrels ride on DLC-finished bridges that have a series of drilled holes reminiscent of those old Meccano erector sets you had back in the day. That's really part of the design play that the MECA-10's creators took great joy in. Over the course of the two years it took Hublot to turn this concept into reality, their movement designers clearly had a field day conceptualizing what it would mean to create a watch movement out of a Meccano set. We can't help but think that a Hublot horology Meccano set would be a genius move.
One way or another, the combination of this playful reference with its aforementioned industrial character gives it a huge amount of appeal in our eyes.
Hublot Big Bang MECA-10 Australian pricing
The titanium Big Bang MECA-10 has a retail price of $25,700.