The Grand Seiko 36.5mm 44GS range expands with three new U.S. exclusive references (SBGW309, SBGW311, SBGW313)
Zach Blass
Grand Seiko just debuted 3 new 36.5mm 44GS-cased references at their GS9 Club USA event.
All 3 are U.S. exclusives, but the SBGW309 (blue) can only be purchased by GS9 Club members.
The dials each use the famed Mt. Iwate texture with different season-inspired colours.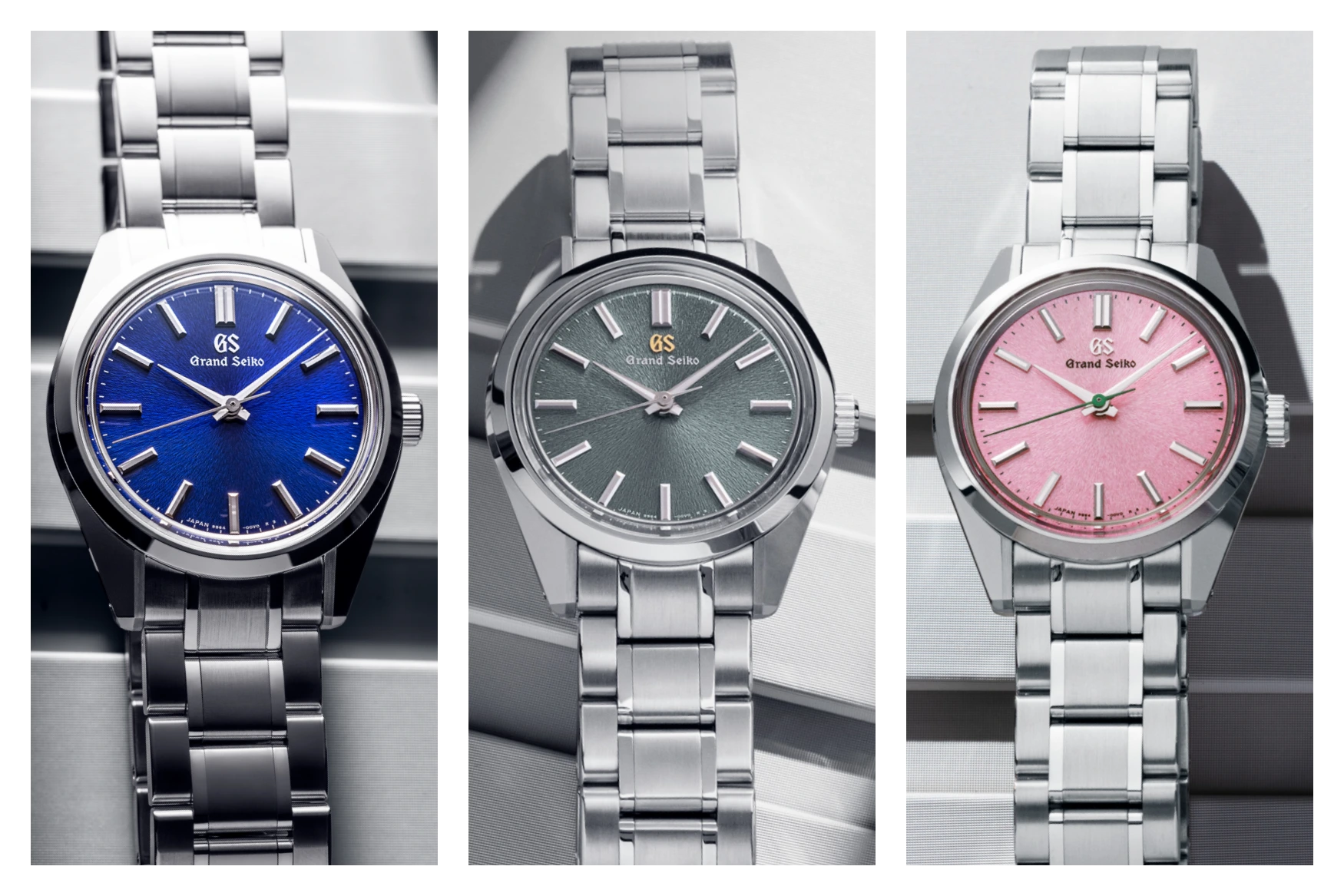 Grand Seiko has a wide array of distinct case geometries, but their longstanding icon is the 44GS case. Debuted in 1967, and created by Grand Seiko designer Nobuhiro Kosugi, this was the case that established and utilised the nine elements that define 'Grand Seiko style' with a challenging canvas that articulated the nuances of 'light' and 'shadow' through its mixed-finished and faceted form. In the modern era of Grand Seiko, the design of the 44GS has subtly evolved from the original 44GS from 1967. Among these subtle evolutions, to better speak to the current marketplace the case would be enlarged to 40mm in diameter. In April 2022, however, Grand Seiko debuted a new 36.5mm size that offered a more vintage 44GS feel that is closer to its original dimensions (37.9mm). While the 40mm 44GS case is by no means too large, the 36.5mm midsize offered a more wrist-democratic option for those who prefer classic sizing. This 44GS midsize collection has steadily grown over the last year, but today Grand Seiko has just launched three new U.S exclusive references, the SBGW309, SBGW311, and SBGW313, at their GS9 Club USA event in California.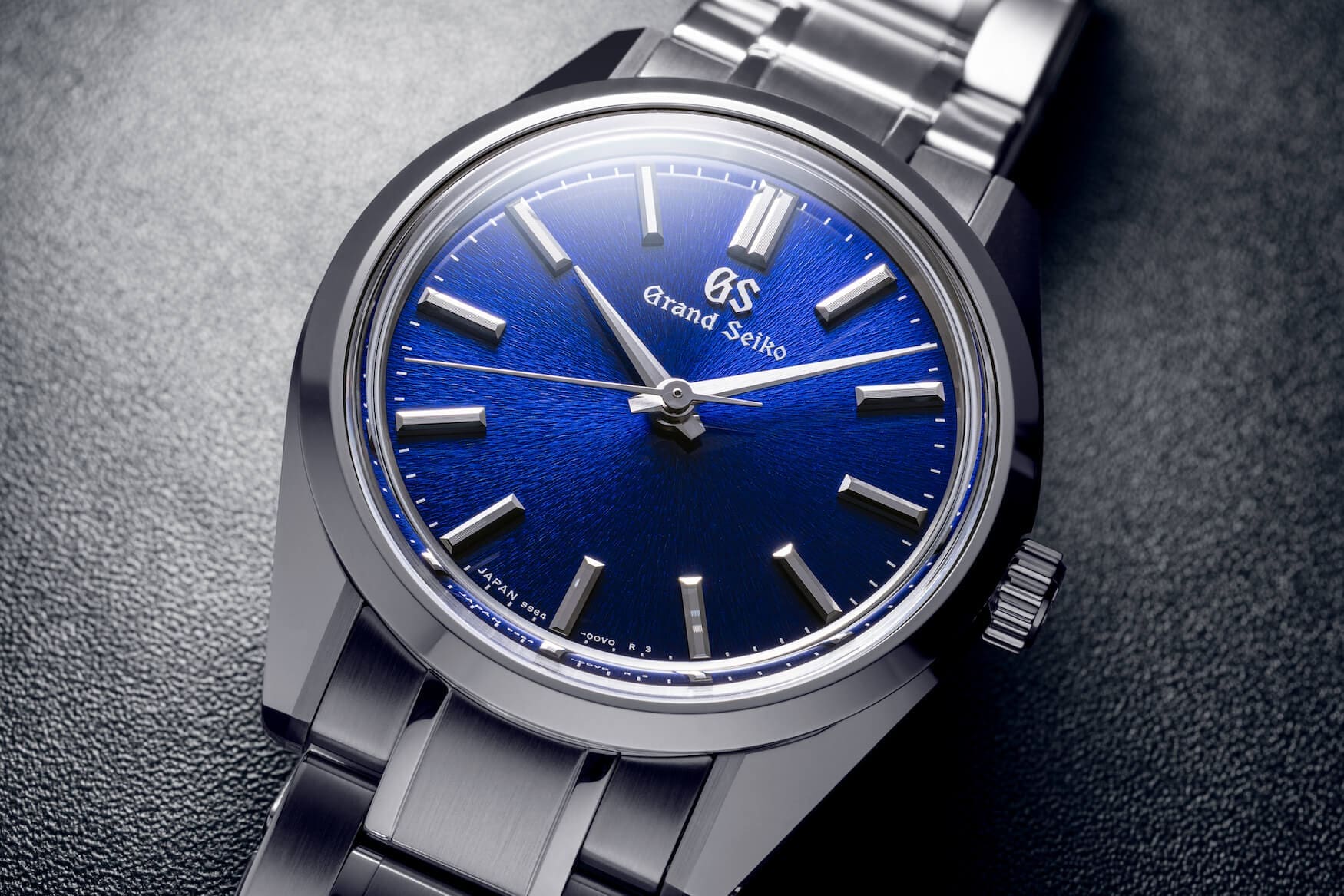 Now, the pink dial of the SBGW313 may feel a tad familiar, as the first 36.5mm 44GS watch used a cherry blossom-inspired dial. But, what each of these models debuted within the collection for the first time is the beloved Mt. Iwate dial texture. The pattern has been paired with three seasonal hues, the blue SBGW309 'Juhyo' inspired by the ice-covered trees on the mountain in winter, the pale green/grey SBGW311 'Tsuyu' inspired by the rainy season of summer, and the lush and fertile landscape it offers, and the pink SBGW313 'Hanami' familiarly takes inspiration from the cherry blossoms seen in late spring. To be fair though, the familiar hue is given a fresh texture and also utilises a green-colored central second hand for the first time as well.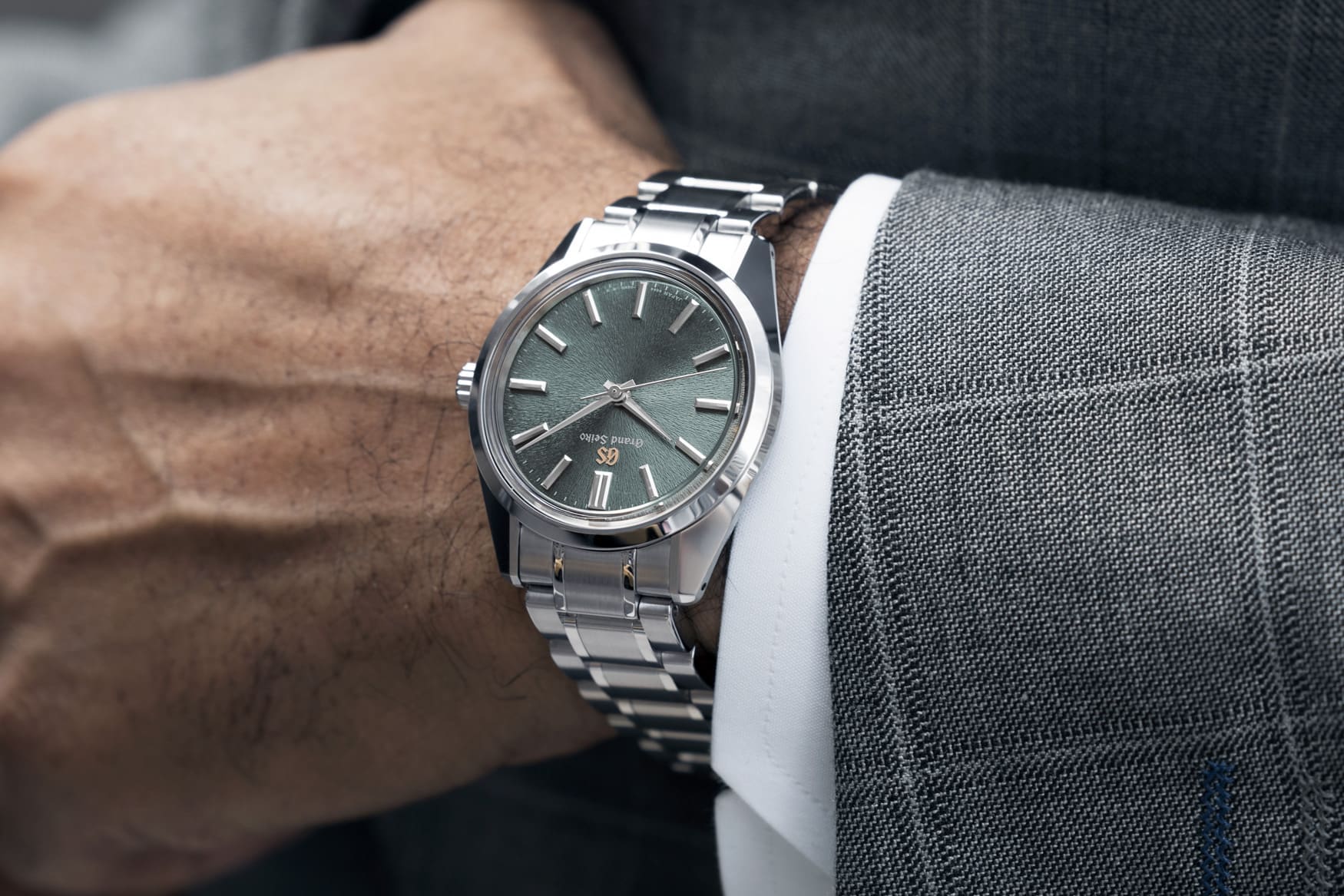 For those not caught up on the specs of the midsize 44GS collection, the stainless steel watches are 36.5mm in diameter, a slender 11.6mm thick, and a very compact 42.7mm lug-to-lug across the wrist. In this smaller size, it does not have a screw-down crown but it does retain a daily-wearer approved depth rating of 100 metres. Part of the midsize 44GS case's slenderness stems from the fact it utilises the in-house manually wound 9S64 calibre. With 72 hours of power reserve, you fortunately have a good amount of time before you will need to wind the watch back up again. But, I cannot help but wonder if an automatic movement would have been a stronger choice. It would have added a little bit of thickness, but the question is just how much? And would it be a worthwhile tradeoff? In line with the Grand Seiko standard, the calibre offers its weekend-proof power reserve and +5/-3 regulation. It is worth noting though that this entry-mechanical calibre is not a hi-beat movement, instead beating at the more standard and common 4hz. Not a bad thing, just worth mentioning.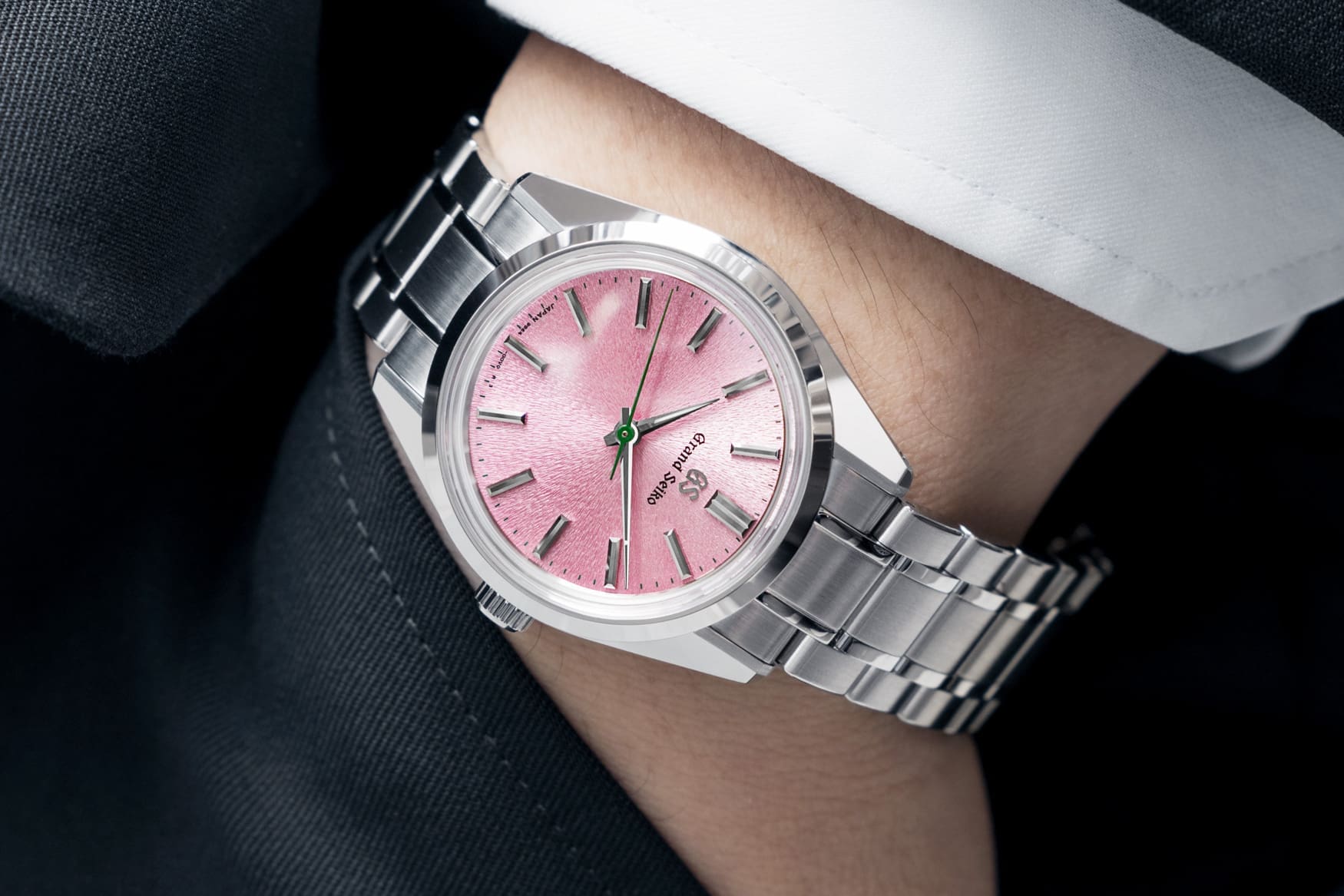 I am, of course, biased in my rally cry for more compactly-sized watches – a selfish, but seemingly community-shared, desire that caters to my smaller 6.5-inch wrist. I do not know how well these midsize 44GS cases have been performing in terms of retail sales, but we do know the initial SBGW289 limited edition of 1,200 pieces sold out rather quickly. And, I have observed many commenters on social media lauding the availability of this more classic size. So, I do feel bad for those who live outside of the U.S. as there will likely be a fair bit of FOMO for international fans outside of the region. Even within the USA, the blue SBGW309 is notably the most exclusive – only available for purchase if you are a GS9 Club member. Exclusivity aside, I am glad to see Grand Seiko elect to use the midsize 44GS framework for their GS9 Club USA festivities – and not just for one limited edition as is usually the case, but rather three exclusive editions that are not limited. This signals Grand Seiko is fully invested in developing this collection further and I personally love to see that.
Grand Seiko SBGW309, SBGW311, and SBGW313 pricing and availability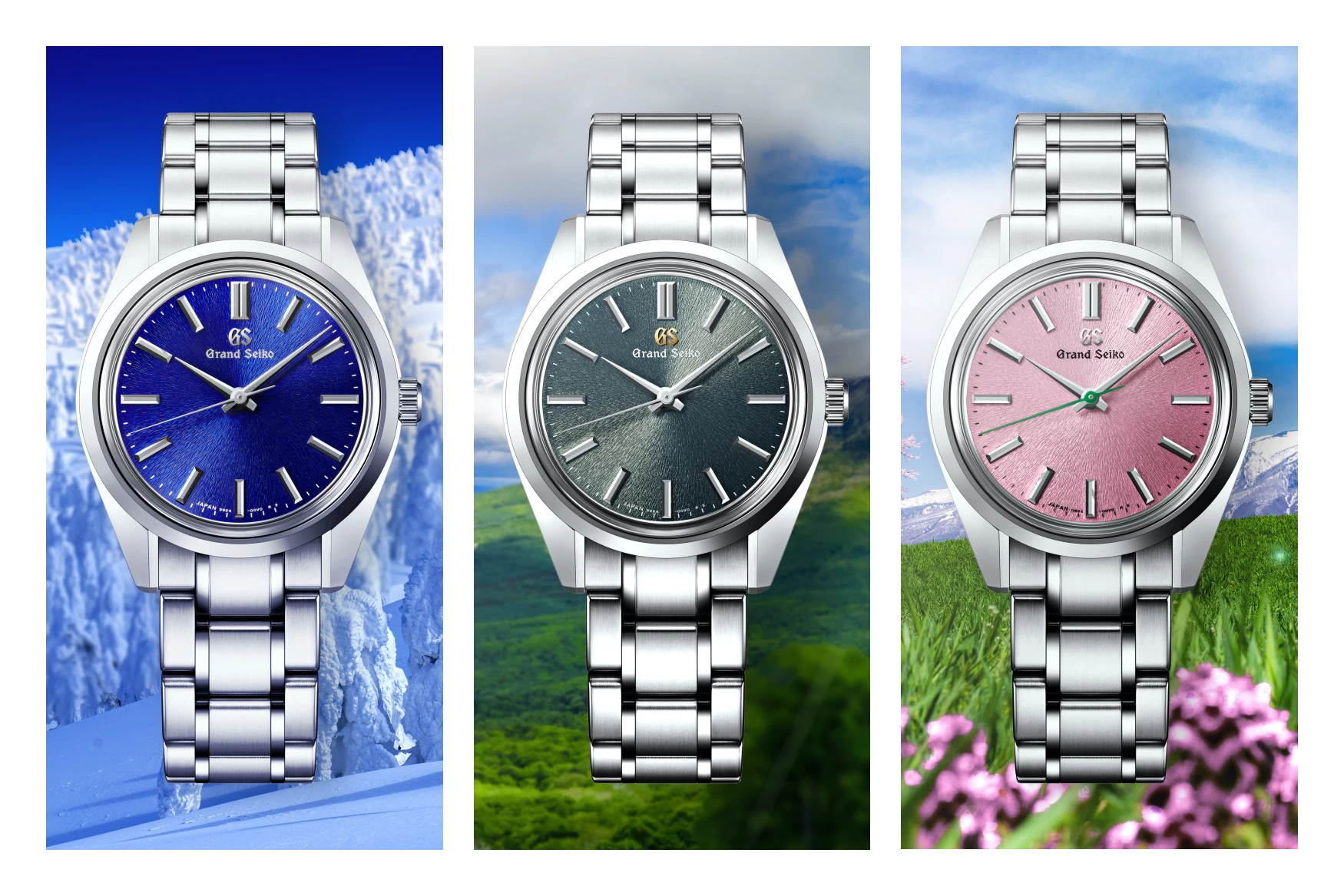 The new Grand Seiko SBGW311 and SBGW313 U.S. exclusives will be available to purchase starting November 2023 at Grand Seiko Boutiques, Grand Seiko Boutique Online, and Grand Seiko Authorised Retailers. The new SBGW309 U.S. exclusive will be exclusive to GS9 Club members at Grand Seiko Boutique Online and Grand Seiko GS9 Club events. Price: US$5,900
Brand

Grand Seiko
Model
44GS Midsize
Reference
SBGW309, SBGW311, SBGW313
Case Dimensions
36.5mm (D) x 11.6mm (T) x 42.7mm (LTL)
Case Material
Stainless steel
Water Resistance
100m
Dials
SBGW309: 'Juhyo' (blue)
SBGW311: 'Tsyu' (green)
SBGW313: 'Hanami' (pink)
Crystal
Box-domed sapphire
Strap
Three-link steel bracelet, folding clasp with push button release
Movement
Calibre 9S64, in-house, manually wound
Power Reserve
72 hours
Functions
Hours, minutes, seconds
Availability
SBGW309: November 2023 – GS9 Club Exclusive
SBGW311: November 2023 – U.S. Exclusive
SBGW313: November 2023 – U.S. Exclusive
Price
US$5,900