The surprisingly colour-changing Cartier Santos in green
Borna Bošnjak
There are those watches that need very little in terms of introductions and contextualising. Cartier's Santos is without a doubt one of those, whether that's in its most elegant Santos-Dumont form, or the slightly sporty Santos de Cartier. The latter, in its fresh Watches & Wonders 2023 green dial variant, is the model I got to spend some time with recently, culminating in curious conclusions – some expected, others not so much. I should preface this by saying that I'm personally not the biggest Santos fan, as I much prefer the more slender shape of the Santos-Dumont. When I realised that I'd be learning to get on with the Large model, I was even more sceptical. Without spoiling too much, my scepticism wasn't entirely warranted, as every aspect of the watch surprised me in some way.
Chameleonic Santos green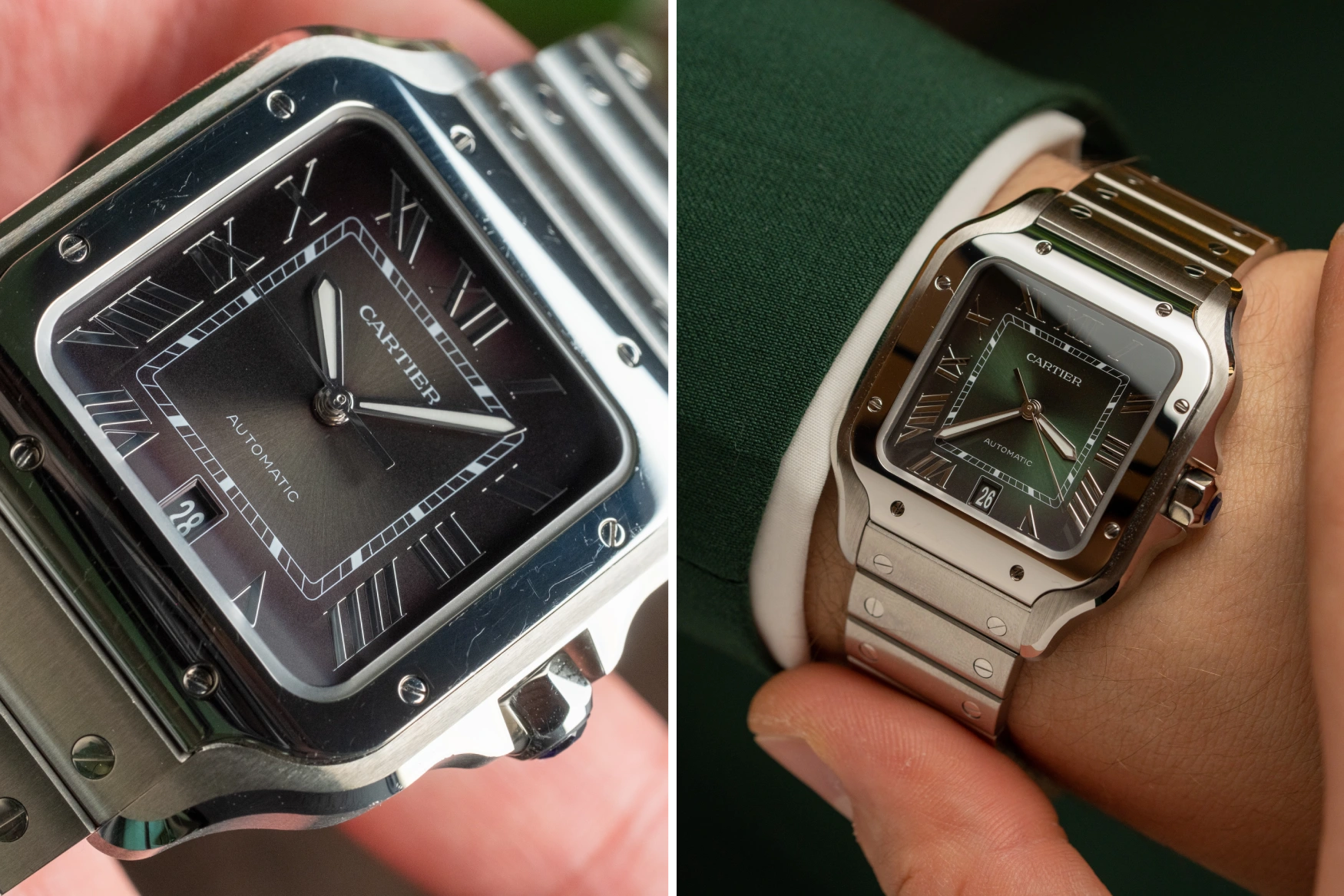 The dial was one of those surprising revelations, as I did not expect the Santos to be as dynamic as it is. With this, a picture really is worth a thousand words. In most of the lighting I found myself in, the dial appeared this metallic sunburst grey, with flashes of green here and there. On the complete contrary, the watch shone in emerald in our imagery shot at Watches & Wonders. The coolest thing is, this isn't just a white balance thing in my camera settings – the Santos truly does display these differences in person, too.
As for other dial features, it's a pretty standard Cartier affair: Roman numerals all-round, as you'd expect, with a framed and bevelled date window nestling in at 6 o'clock. The date wheel isn't quite colour-matched to the green, rather trying to blend in with the black the dial slowly transitions into. In any case, it's not an obtrusive design, though I do think the no-date, smaller variants get the dial proportions down even better.
Tricky proportions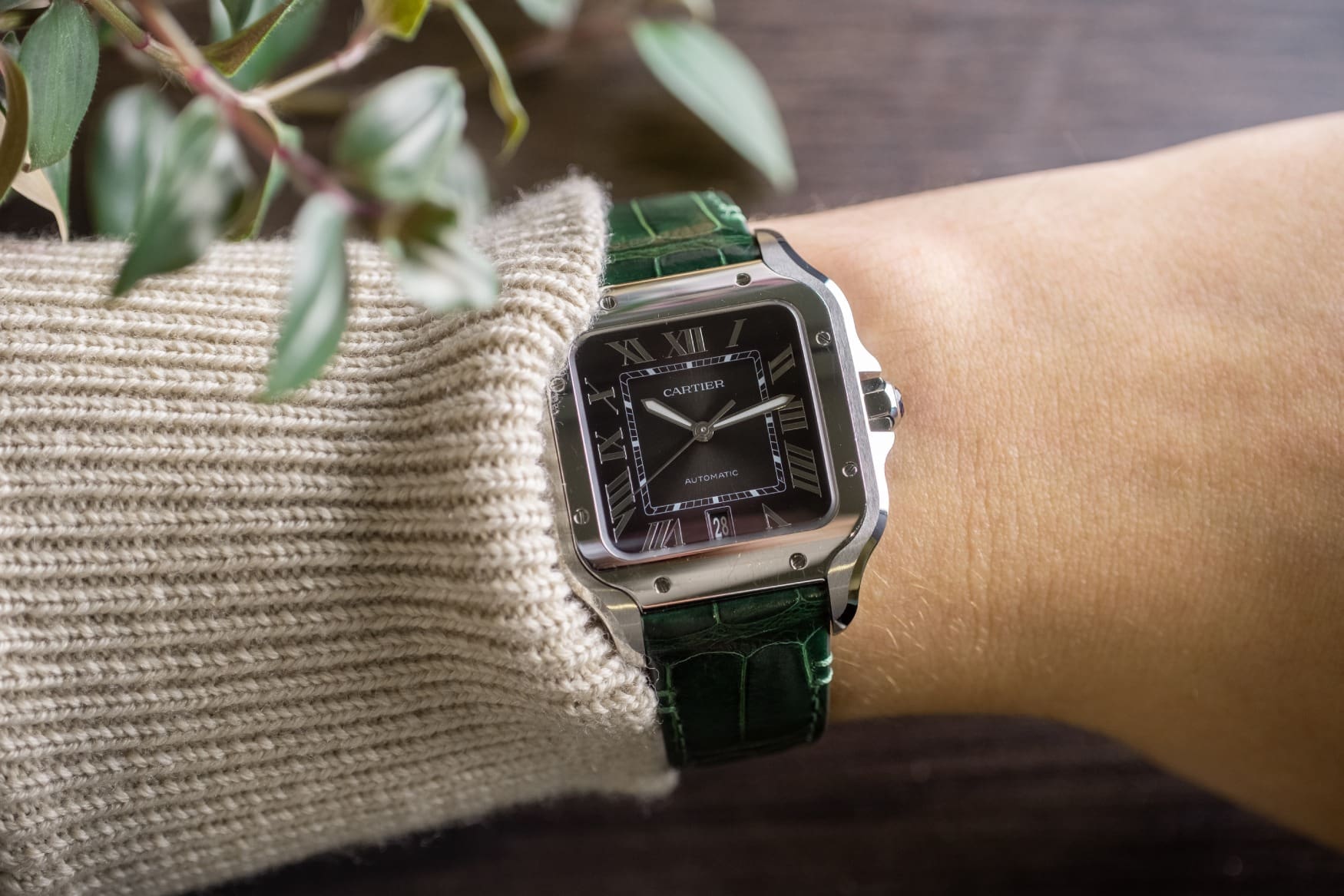 On paper, a watch that measures in at just under 40mm in width and 47.5mm lug-to-lug may seem perfectly reasonable and not really in line with the model's Large moniker. One must remember, however, that the Santos is a square watch, and as such wears much larger than these dimensions suggest. For reference, my wrist is somewhere around 6.15in/15.5cm in circumference, and the Santos just fits within parameters I'd be comfortable with in any watch.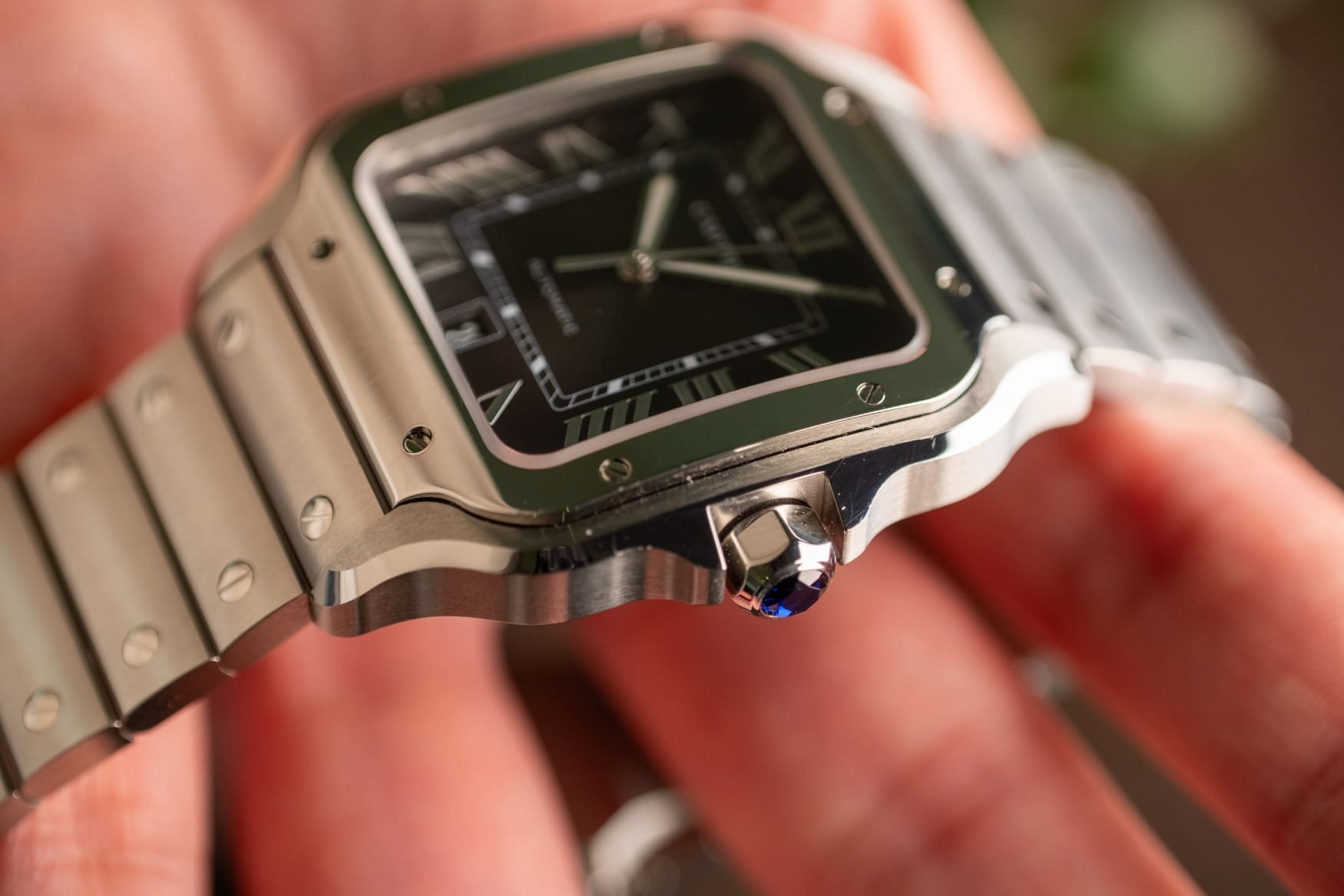 The broad polished bezel with its eight screws adds to the watch's presence, as it extends all the way to the bracelet, increasing its perceived size. The same can be said about the stubby lugs that widen to form the rest of the mid-case, with a wonderfully executed bit of polishing that separates the brushed top surface and case sides. Another surprise was just how slender this watch is, coming in at 9.4mm while retaining 10 bar of water resistance. It's not a sports watch per se but should still be capable of fending off any splashings of champagne or surprise dips into your Hampton villa's pool. At least that's what I think Cartier Santos owners get up to on the daily.
It transforms on the leather strap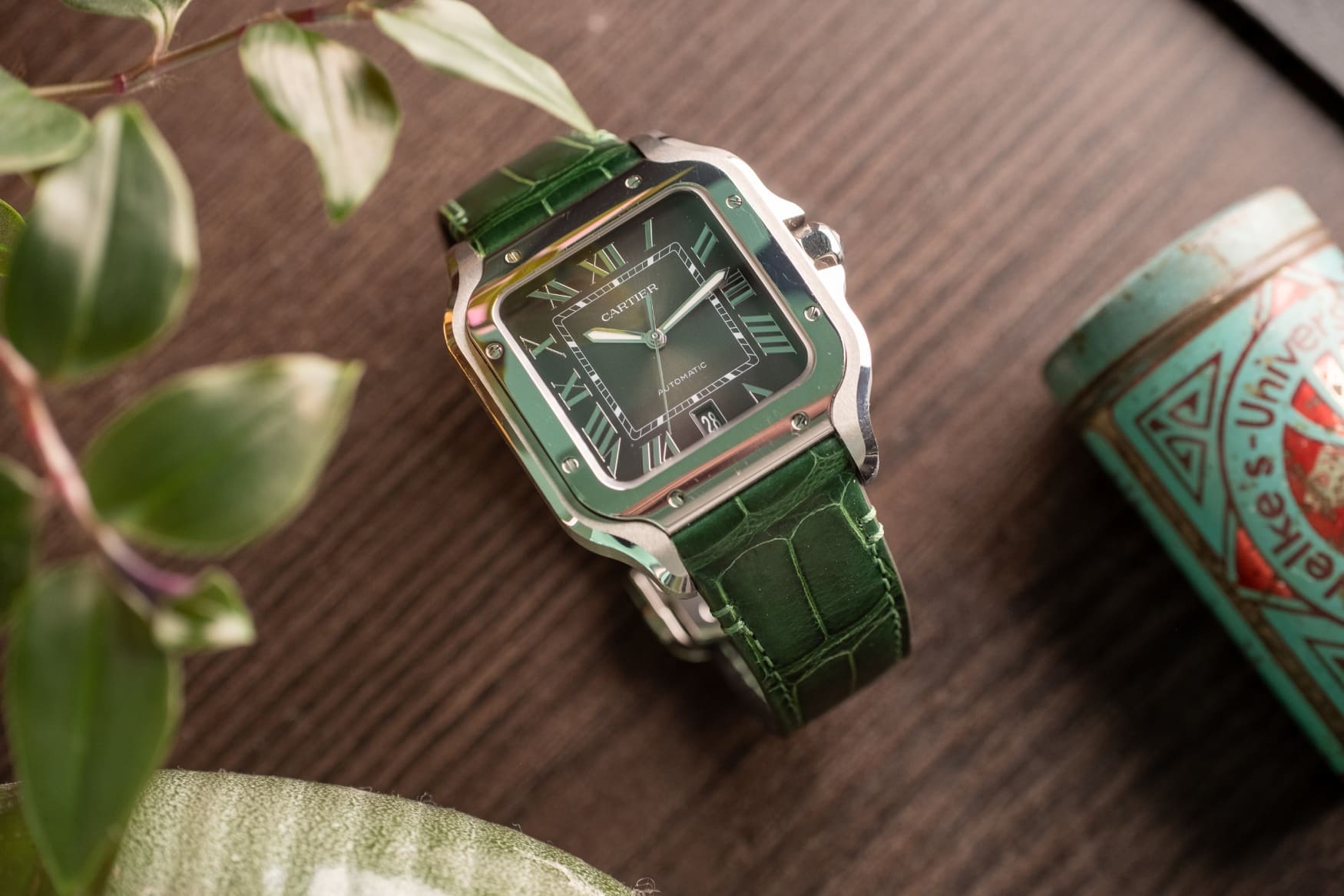 Where the Santos de Cartier Green really came alive, at least in my experience, was on the supplied alligator leather strap. Aided by the effortless quick-release system that made strap changing a breeze, I spent most of my time wearing the Santos like this. There was quite a significant strap overlap when closed, courtesy of my Small Wrist Gang® membership, though it didn't add too much extra bulk – the same goes with the signature Cartier-shaped deployant clasp.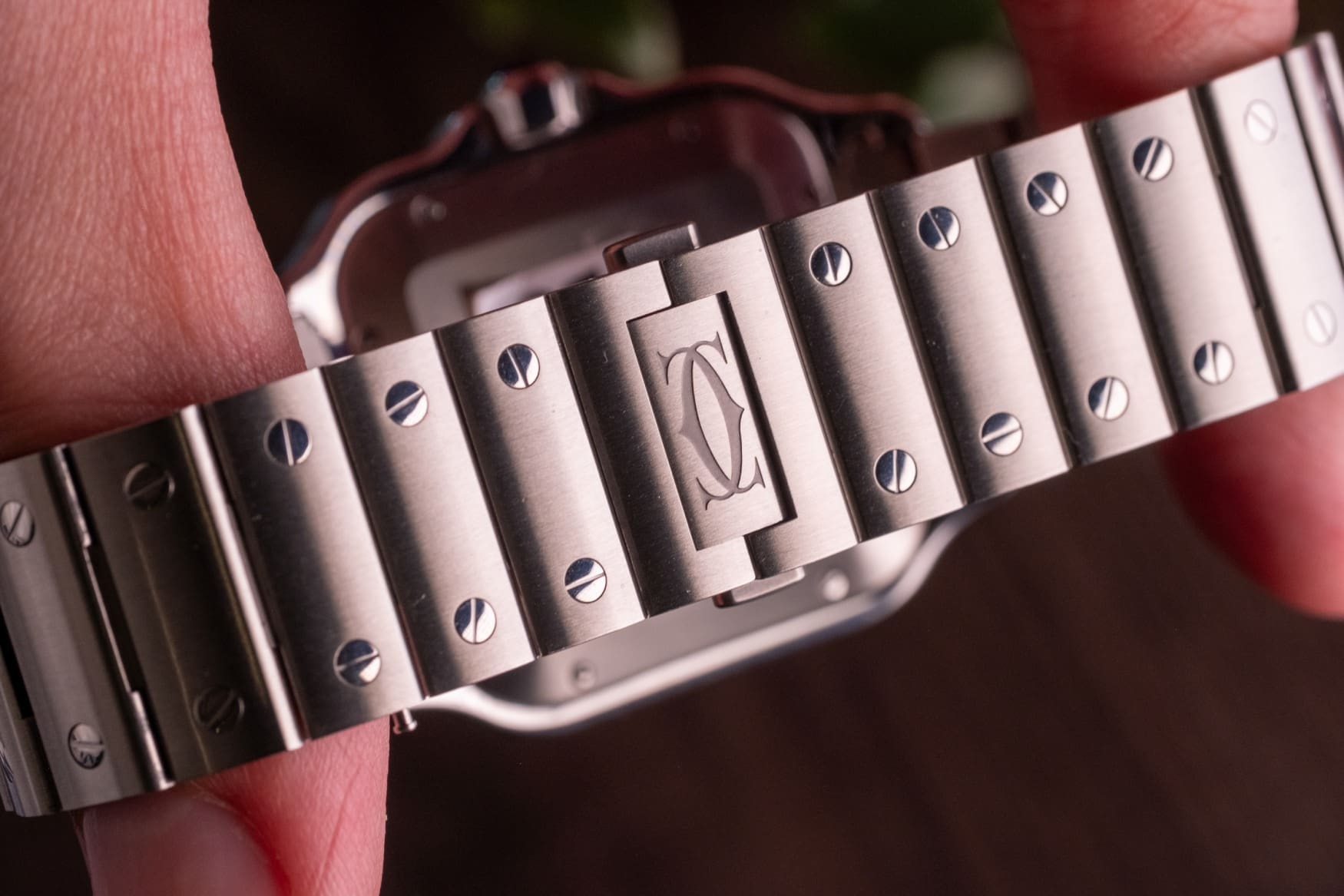 It's blasphemous, I know, saying that I prefer the Santos on a leather strap as opposed to its near-iconic bracelet. The fact of the matter is that I'm sure I would much prefer the watch on the bracelet in one of its smaller variants. With it on my 6.15in/15.5cm wrist, the Santos de Cartier Large feels like a big cuff, even with the pleasant bracelet taper, to the point where it wore similar to an integrated bracelet sports watch. The screwed links and spring-loaded pins for adjustment are easy to use, and the bracelet is finished with a relatively seamless butterfly clasp. As with any similar style of clasp, however, there are no micro-adjusts, which means you'll have to hope the fit is just right with the provided links.
Closing thoughts
So, was my scepticism of the Large size warranted? In the most non-interesting, non-conclusive conclusion imaginable, all I can say is – yes and no. The size is indeed too large for my preferences, though it by no means looked oversized, especially when paired with the leather strap. The case finish is top-notch, as you'd expect from a watch like this, and that dial is just stunning. You will have noticed that I haven't spoken of the movement yet. The 1847 MC that powers the Santos de Cartier Large is hidden behind a solid caseback, sporting an automatic winding rotor and a dual-sided balance bridge, assumingly for superior shock protection. It's decorated with heavily textured Geneva striping, though its most impressive feature is its height. Measuring in at only 3.8mm, it helps the Santos achieve its sub-10mm thickness, which hugely helps the wearing experience. For a lot of folks, the movement isn't the primary consideration when buying a Cartier, and while the 1847 MC is by no means a bad movement, I doubt it'll sway many purchasing decisions.
To sum it all up, the new Large, green-dialled Cartier Santos confirmed my suspicions of preferring the medium size, at the same time completely catching me off-guard with its colour-changing dial and comfortably slender wearing experience on the leather strap.
Cartier Santos de Cartier Large green dial pricing and availability
The Santos de Cartier Large in green is available now from Cartier. Price: A$12,200, US$7,750
| | |
| --- | --- |
| Brand | Cartier |
| Model | Santos de Cartier Large Green |
| Reference Number | WSSA0062 |
| Case Dimensions | 39.8mm (W) x 9.38mm (T) x 47.5mm (LTL) |
| Case Material | Stainless steel |
| Water Resistance | 10 bar |
| Crystal(s) | Domed sapphire |
| Dial | Smoky green |
| Strap | Steel bracelet and green alligator leather strap, QuickSwitch interchange system |
| Movement | 1847 MC, in-house, automatic, non-magnetic escapement |
| Power Reserve | 42 hours |
| Functions | Hours, minutes, seconds, date |
| Availability | Available now |
| Price | A$12,200, US$7,750 |