Sydney-sider Daniel Yong (AKA @MrGrandSeik0) is a teacher by day, and Grand Seiko fanatic by night. When he's not working, you might catch him in a random café in Sydney with either a cappuccino, espresso, or a glass of whisky (depending on his mood and time of day, of course), accompanied by good reading material.
Hi Daniel, what's your daily watch and why?
It's an Apple Watch … Just kidding, Andy! Although there's nothing wrong with owning an Apple Watch, I believe one should own a piece of horology first. My daily wrist companion is my Grand Seiko SBGW031. It was the first "real" watch I purchased myself that spiralled my obsession with horology and, yes, Grand Seiko. I will cover why Grand Seiko later, but since purchasing it, I feel like it has grown into becoming both my comfort watch and the extra good luck charm I need when delivering an important presentation. Or quite simply, when a situation requires me at my best. Did I mention that it's more versatile than you think? Really, it is. Just check out my Instagram page.
What else is in your collection? Have you got a favourite?
It's no longer in my collection, but I loved my Jaeger-LeCoultre Reverso reference 270.8.54. I actually sold it to fund another Grand Seiko, but realised very quickly how much I regretted letting it go. The Reverso is such a timeless and beautiful design that just screams out elegance and sophistication. And what I love most about it is that it only attracts those in the know.
In saying that, my favourite watch, even when I still had the Reverso, is still, and will always be, my SBGW031. We — and yes, I do refer to my watch as if it were a living thing — have been through quite a few good and bad situations together. Thankfully, the good times outweigh the bad. I did say it was a good luck charm, right?
Why Grand Seiko, what is it you love about them?
First of all, I feel like they should send me some commission for plugging their brand! Just kidding, what isn't there to love? What attracted me to purchasing my first Grand Seiko was the story behind the 1960 reference 3180, also known as the first Grand Seiko. After years of hard work and development, they released it to compete against the big boys. Seriously, how cool is that? It reminds me of the David and Goliath story and resonates with how we should always strive to be a better version of ourselves and prepare to take on new experiences and challenges.
As I started getting acquainted with the brand and their models, I started realising how "Japanese" their quality is. Meaning, everything is done to the best of their ability. All aspects of their watches are finely crafted to the point that if you were to use a loupe, you would struggle to find a fault. Even the damn hour and minute hands are polished underneath — how extra is that?
Now, some people could say that the offerings by the brand are simplistic or minimalistic, but I honestly love that. Because they focus on producing watches for everyday people, the message is that they are all about refining an almost if not perfect design. And what I find personally is that over time you start to notice and appreciate the smaller details. Isn't this similar to how love works? In addition, I love how they refuse to spend money on advertising, and instead use it in development. However, if your thing is to buy a watch to instantly impress other people, this is probably not the watch for you. But if you're thinking of buying a timepiece for a long-term commitment, for the hopes of working towards a romantic relationship between your eyes and the tiny machine on your wrist, then consider a Grand Seiko.
How did your passion for GS start?
Oh wow, it feels like so long ago. Honestly, it was sometime in 2014 when I first discovered them on a popular Seiko Facebook group. Prior to Grand Seiko, I had a Seiko 5 diver, an ETA Tudor Black Bay Blue and a Longines Master Control. Unfortunately, all have moved on from my collection. As one usually experiences in the hobby, or should I say obsession, you eventually discover what your "thing" is. And I can confidently say that I'm an enthusiast for both dress watches and simple, but classic, everyday pieces. As someone who has a bad habit of stalking watch groups and posts on Instagram, I eventually became "poisoned" by those beautiful candid shots. Trust me, I too questioned whether I could drop a couple of grand on a Seiko. Yes, I am ashamed that I used to be one of "those guys". But after flipping my other pieces, I decided to give the golden lion a go and the rest was history.
What is the most common thing people ask you about GS?
Is it really worth buying a Grand Seiko when I can buy a Seiko SARB033 that looks similar? Now, I love my SARBs and the rest of the Presage line, but just … no. Another common question is, "Why did you spend that much on a Seiko when you could've bought a Swiss watch?" That's like asking someone in the bookstore why they bought Hemingway's The Old Man and the Sea instead of Eat, Pray, Love. Taste man, taste — everyone's got their own.
Do you have any particularly interesting watch stories?
So, I'm extremely jealous of collectors who share stories about how they acquired their watch or watches from a beloved family member. I wish I had a story like that to share but I just don't. However, in the education world, one rarely bumps into another enthusiast but you know what? Even with an obscure brand like Grand Seiko, I've actually met random colleagues at conferences who've stopped me to check out my watch and knew what it was. Out of all places, a teacher's conference! But I will say, the majority of those were university professors or external mentors.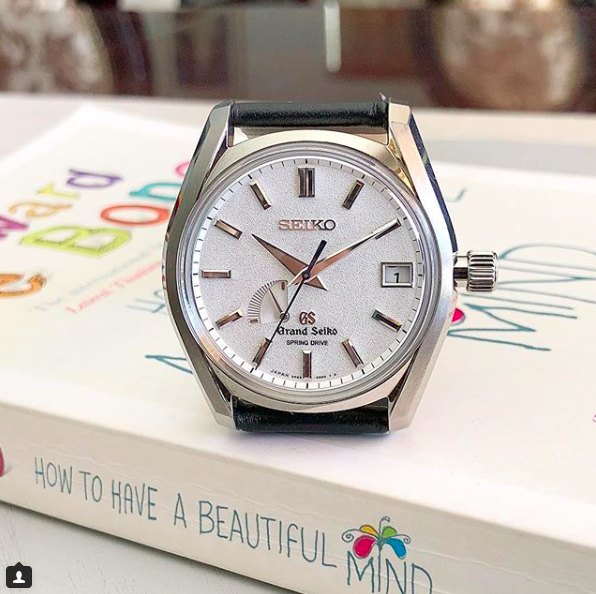 Can you tell me about one of your current projects that you're working on?
Well, I don't want to bore you non-educator folk. But since you asked, I have recently completed a partnership project with the Primary English Teaching Association of Australia on researching the importance of quality talk in classrooms. Basically, it's a style of teaching that involves having the teacher and students engaged in rich conversations about the learning taking place with a democratic approach. It's a practice I'm passionate about and believe it will benefit all students in Australia. As of current, I have been lucky enough to lead a project based on this in my school, with a potential to share it across other school networks. In addition to that, I've also been contacted by an old professor of mine to guest lecture at a university in Sydney on this teaching practice, to pre-service teachers next semester. Don't worry, I'll try my best to not go off tangent and lecture about Grand Seiko watches!