Vacheron Constantin design a unique clock for the world's most expensive car
Jamie Weiss
Vacheron Constantin's Les Cabinotiers bespoke department has collaborated with Rolls-Royce on a luxurious dashboard clock piece unique upon a client's request
Styled after a dashboard-mounted gauge, it features a bi-axial tourbillon and double retrograde display
The car it was designed for, the Rolls-Royce Amethyst Droptail, is the world's most expensive new car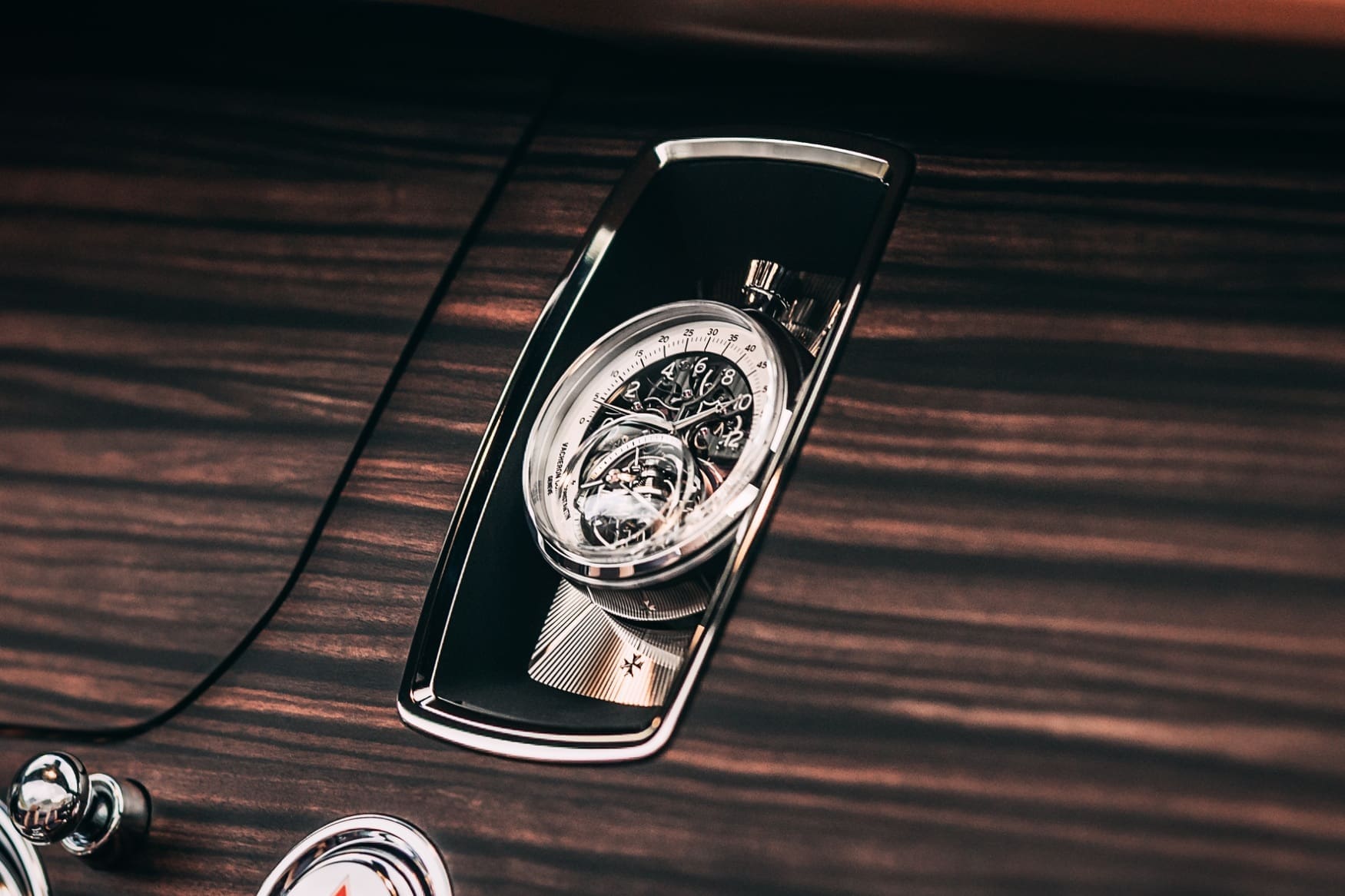 When it comes to automobiles, nothing screams class more than a dashboard clock. These days, in an era where infotainment systems have taken over our dashboards, few car brands produce dashboard clocks – and those that do tend to only install small, quartz-powered pieces. Vacheron Constantin's latest creation is the antithesis of a small quartz dashboard clock, however. In response to a request from an as-of-yet unnamed client with a penchant for both luxury cars and fine watches, Vacheron Constantin has unveiled a piece unique Les Cabinotiers Armillary Tourbillon designed to fit into the dashboard of the Rolls-Royce Amethyst Droptail, a vehicle that itself is a one-off commission and is reportedly the world's most expensive new car. This is about as luxurious as both cars and watches get, people.
It's an intriguing collaboration, one that might never have come to fruition if not for our mystery millionaire (or likely, billionaire) client. VC's Les Cabinotiers is almost entirely unique in the watchmaking world. Similarly, Rolls-Royce remains one of the few true coachbuilders active today – so it's incredibly fitting that these two legendary luxury brands have joined forces. It's also the first dashboard clock Vacheron has made in almost a century, with the only other example dating back to 1928.
Christian Selmoni, Director of Style and Heritage at Vacheron Constantin, explains that it's a "true bespoke timepiece, thought of and manufactured for a single client", which also informs some of the design choices of the watch. For instance, the client wanted the watch to represent a speedometer, which is why VC suggested a double retrograde display (the crown at 12 o'clock also helps the piece resemble a dash-mounted stopwatch from the early days of motorsport). Similarly, it's cased in stainless steel to match the Rolls' trim, as per the client's instructions. The purple NAC-treated components of the movement match the car's paint job, while the white gold, sunburst-guillochéd holder also reflects its interior trim design.
Powered by the Calibre 1990, itself derivative of the movement from the Vacheron Constantin 57260 – the most complicated watch in the world – the Les Cabinotiers Armillary Tourbillon features a twin-axis tourbillon with an unusual cylindrical escapement. VC holds four patents for the movement in this watch – for the instant double retrograde, the escape, its diamond-coated pallet lever, and the design of its tourbillon carriage which rotates to form the shape of a Maltese cross every 15 seconds. A tourbillon is a rather fitting complication for a dashboard clock to feature. As VC themselves relate, the tourbillon was developed to remedy the isochronism problems affecting the balance spring of pocket watches, which were also generally vertically housed in a fob. The retrograde display also lets the tourbillon take up more dial real estate so it can be truly admired.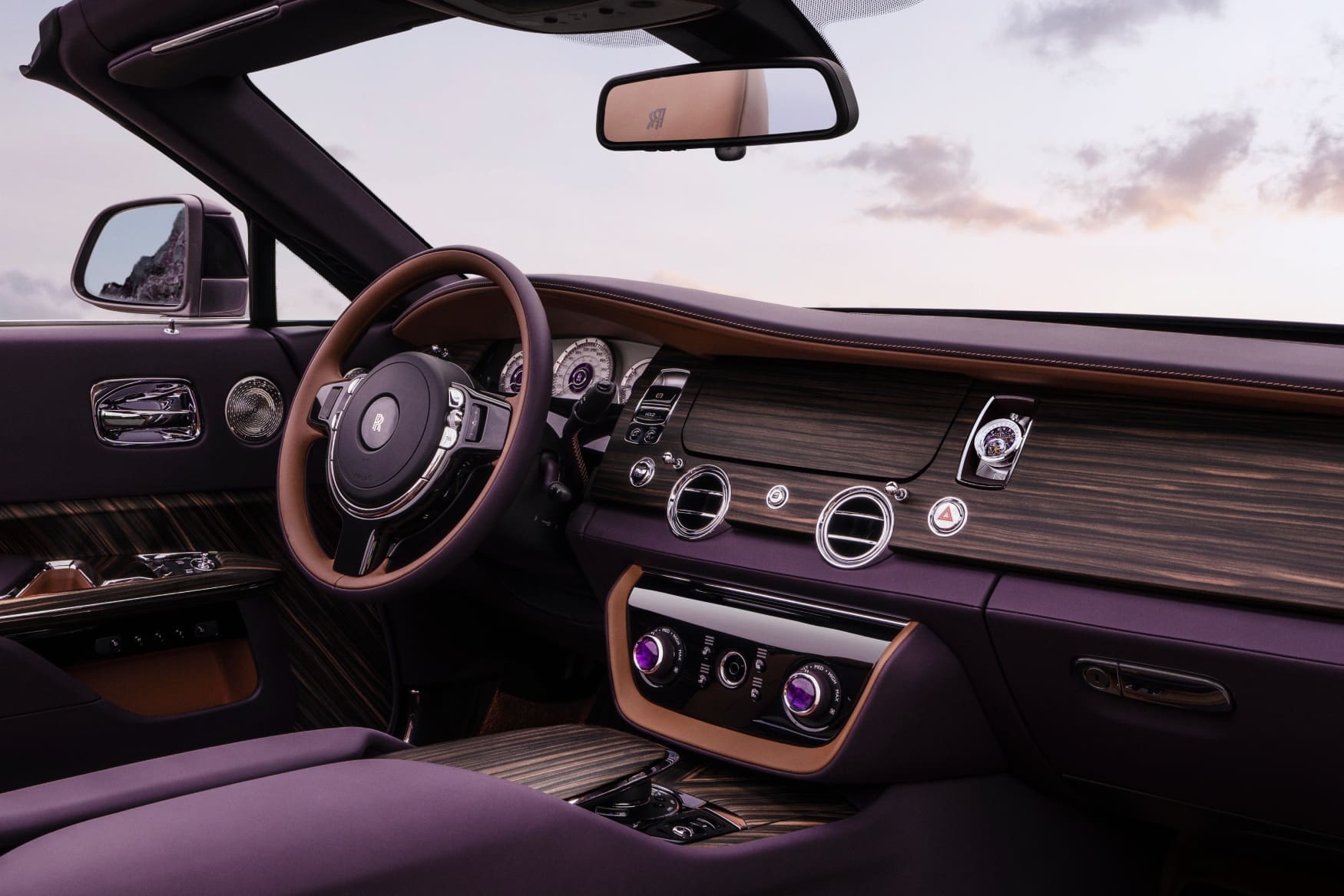 As alluded to above, the Les Cabinotiers Armillary Tourbillon is mounted in its own bespoke holder, which allows the watch to be rotated 180 degrees in order to admire its movement through its sapphire crystal caseback. Vacheron Constantin also confirmed that there's a second compartment in the Amethyst Droptail where you can store it when you don't want it on the dash – presumably in the car's glove box. Sadly, Rolls-Royce hasn't shared imagery of the car yet, so we can only imagine what that looks like.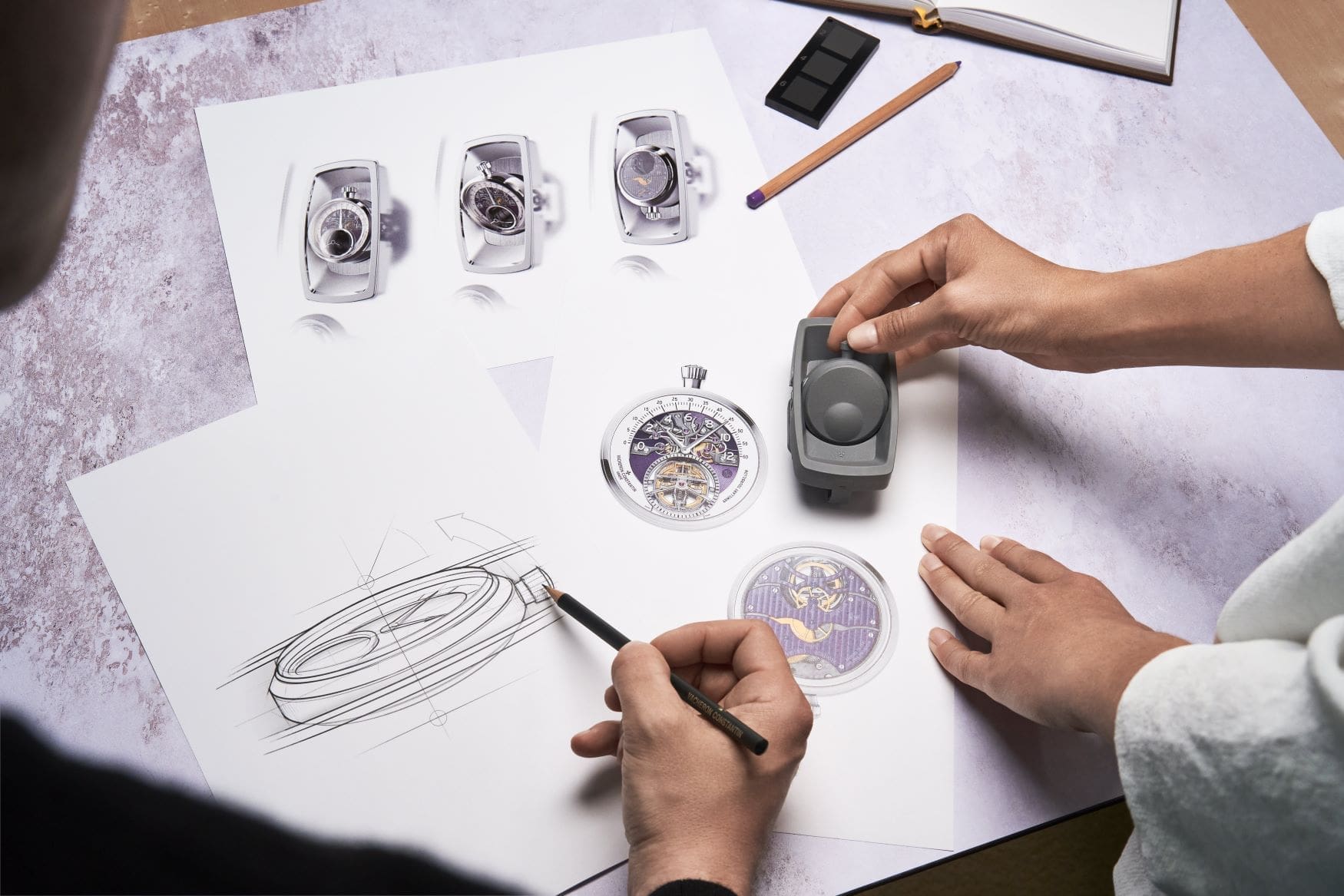 This is by no means the first luxury timepiece to grace a Rolls-Royce dash – far from it. Back in 2021, Rolls-Royce collaborated with Bovet on a piece unique dashboard clock, for instance. Indeed, the first Rolls-Royce Droptail to break cover, La Rose Noire, also features an Audemars Piguet Royal Oak Offshore-derived dashboard clock, itself mounted in its own bespoke holder. However, this Vacheron Constantin is easily the most complicated and sumptuous dashboard clock the world has seen yet, and a true masterpiece of engineering.
Vacheron Constantin Les Cabinotiers Armillary Tourbillon pricing and availability
Vacheron Constantin haven't revealed pricing for this piece due to its nature as a unique commission, but it's likely to be the most expensive option on the car. For perspective, the Rolls-Royce Amethyst Droptail reportedly sold for over A$40 million…
| | |
| --- | --- |
| Brand | Vacheron Constantin |
| Model | Les Cabinotiers Armillary Tourbillon |
| Reference Number | 9880C/000A-182C |
| Case Dimensions | 43.8mm (D) x 19.9mm (T) |
| Case Material | Stainless steel |
| Water Resistance | N/A |
| Crystal(s) | Transparent sapphire and brass with rhodium opaline finish |
| Dial | Sapphire on both sides |
| Lug Width | N/A |
| Strap | N/A |
| Movement | Calibre 1990, based on 57260, manually wound, in-house |
| Power Reserve | 58 hours |
| Functions | Retrograde hours and minutes, armillary tourbillon with seconds indication |
| Availability | Piece unique |
| Price | Not disclosed |