The first double-faced watch wasn't made by the brand you expect
Fergus Nash
Back in the centuries where pocket watches were the pinnacle of horology, experimentation was rife. Among the watches of royalty were incredible complications, calendars, automatons and glorious decorations – and occasionally even double-sided displays. For something encased in solid metal and kept in a soft pocket, it wasn't too much of a stretch of the imagination to use the back of a watch for an extra function.
When wristwatches rose in popularity during the 1930s, especially for use in sports, the question of protecting the crystal was an important one. The Jaeger-LeCoultre Reverso is the most famous example, intended for playing polo and flipping the case around to prevent anything getting too scratched or broken. So naturally, you would assume that Jaeger-LeCoultre quickly figured out the same double-face trick with the Reverso right? Especially considering their innovations with watches such as the Quadriptyque.
The answer actually comes from Omega, and it's not just the brand that is surprising but also the era and the technology. Fifty years after the inception of the Reverso, Omega released the Equinoxe in 1981. This quirky little integrated bracelet watch is quartz-powered and features a flipping case, one side with an analogue display and the other side digital. The Omega Equinoxe had a fair bit of functionality too, with a split chronograph that you could operate via dial buttons, alarm and countdown timer. Although modern watchmaking makes anything seem possible, with records for the thinnest wristwatch seemingly broken year on year, digital technology such as CAD and CNC equipment has played a huge role in those achievements. Before the digital age, creating something thin enough to fit two dials within a single case was almost unthinkable, so it makes sense that a quartz watch got there first.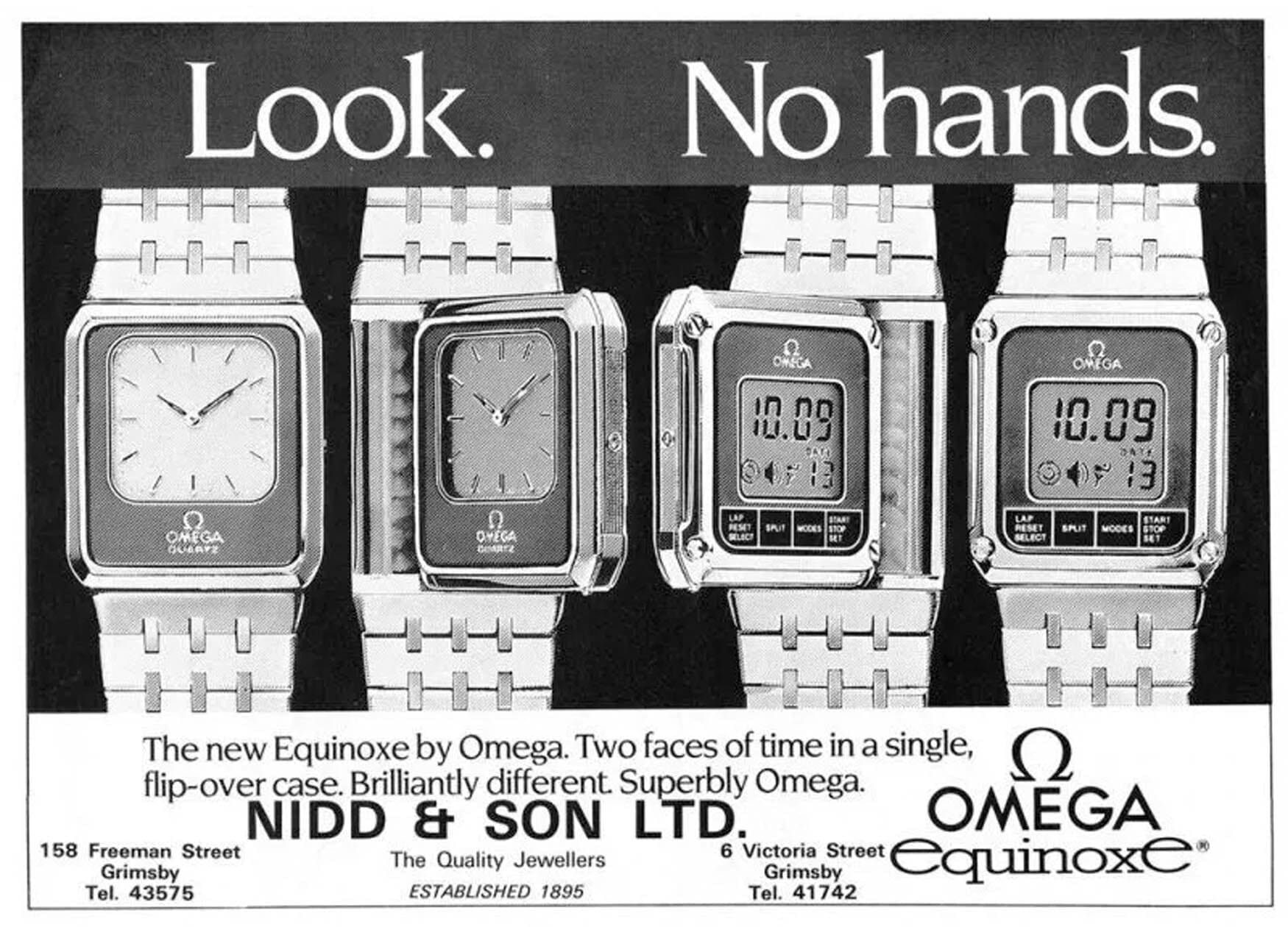 With a dashing little rectangular case at 27mm in diameter, the Omega Equinoxe is still quite an attractive watch with or without the novelty. The integrated bracelet that looks straight out of a Casio catalogue is definitely a blast from the past, especially with the two-tone colour scheme and a softly finished bezel. Both the gold dial and the digital one are easy to read, each suiting casual or dressier situations better depending on your mood. If you're looking for something with a neat claim to fame and maybe a little element of stealth wealth, the Omega Equinoxe tends to sell for around US$2,000-US$3,000 on the vintage markets.