The best watch memes of 2021
Zach Blass
Editor's Note: If you are not a regular reader of our Friday Wind Down column, then you may not be aware of the fact that each week we select a watch meme of the week. At the close of the year, we decided we would select some of our favourites to lift your spirits while you're slumped on the sofa in a turkey-induced food coma.
Merry Watchmas!
View this post on Instagram
All I am going to say here is proceed with caution. If your significant other is wondering where the Ninja Foodi your in-laws gifted you went, odds are they will figure out it went back to the store to support your watch addiction. This is why we recommend you direct your friends and family to the Time+Tide shop for any last minute stocking stuffers.
The sad truth about watch safety
View this post on Instagram
While a funny meme on the surface, this is ultimately dark humour that reflects a scary reality of modern life. Watch theft has become more and more rampant, to the point that some watch collectors are steering clear of wearing or purchasing certain brands out of fear of drawing attention. I certainly have watches that I would never travel with to certain destinations. When you reflect on it, it is quite sad that we all work so hard to acquire coveted timepieces – only to then have to strategically decide where and how we wear a given timepiece to ensure nobody takes a machete to our arms. Stay safe out there my friends.
Unobtanium hi-jinks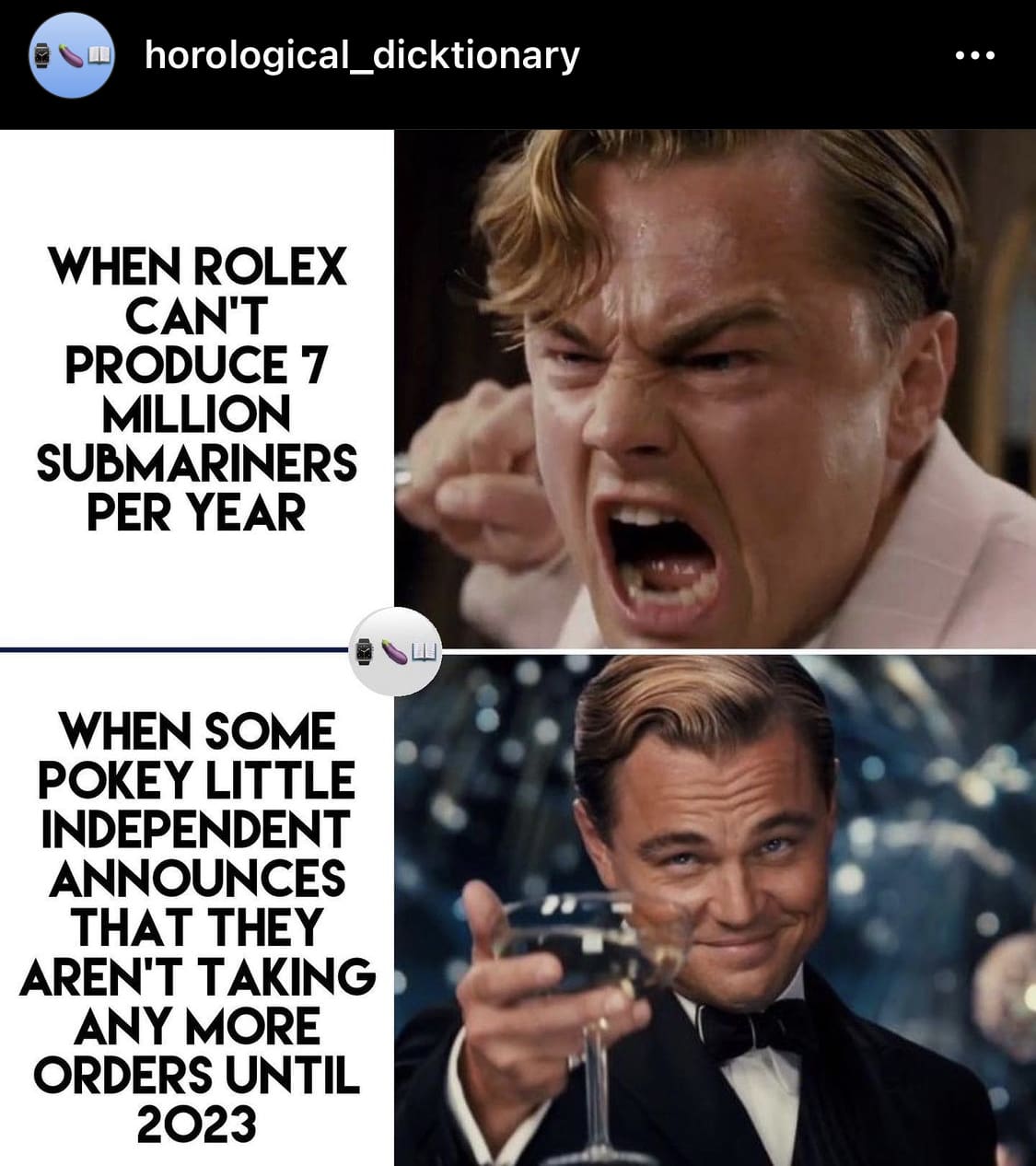 While just an image poking fun at the state of the marketplace, it does showcase the double standards surrounding the lack of availability of certain timepieces. Rolex's output is estimated at between 800,000 and a million watches a year and, as a result, people wonder why such a large production does not yield their desired reference. The output of independent brands is far more limited. So when a brand, such as Grönefeld, does the right thing by being transparent and revealing their queue is so long they won't accept any new orders for the moment, there is at least a sense of knowing where you stand and acknowledgment that predominantly hand-finished products take longer to make.
Where leather loses
Leather is by far the most elegant mode of affixing a watch to your wrist. It is classic and customisable, and therefore is a great means of introducing colour and personality to your watch. Swapping between straps can also make one watch look like multiple, stretching the aesthetic of your piece and preventing things from getting stale – especially if you know you need to hold off on your next watch hunt. There are, of course, tradeoffs, one of which is why I cry foul whenever I see leather paired with aquatic suited sports watches. Water is the enemy of leather, and this is the minor Achilles heel of the material. Whether it's during a hot summer or on vacation, where sweat inevitably ensues or a water-related adventure is on the horizon, this is the moment to switch to rubber, fabric, or metal as a strap option. Even fabric though, when wet, feels a bit like wearing a damp towel. So as the above suggests, it is something I can definitely relate too. It is like putting on a washed shirt that hasn't made its way into the dryer. It just doesn't feel great. So, when it comes to straps, be strategic my friends.
Safe queens with @watchumor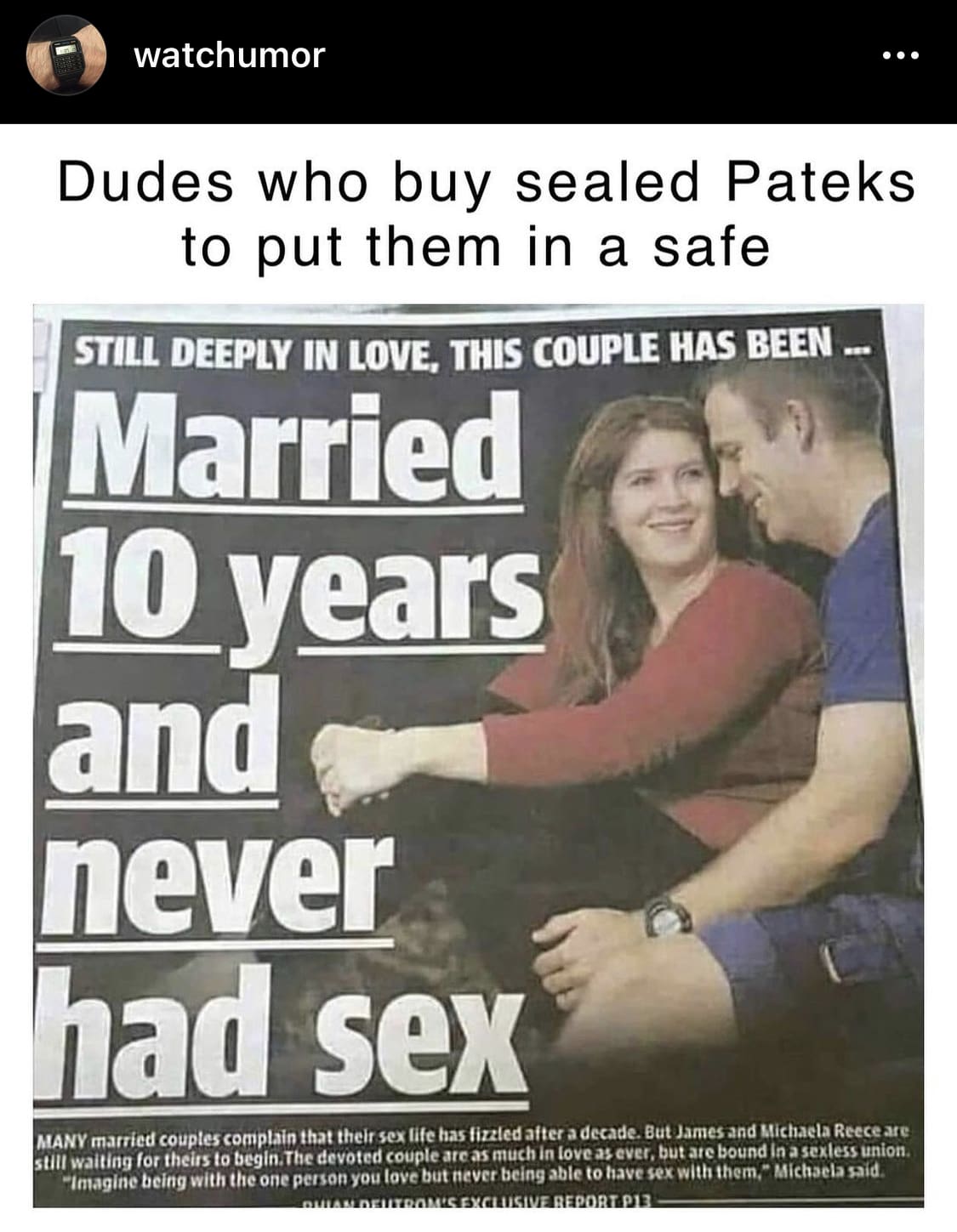 One of the greatest tragedies, in my opinion, of the watches-as-assets craze is how some people are compelled to own an amazing watch but not actually wear it. There are many collectors who wish to add a Nautilus, or other highly in-demand piece to their collection and wear it proudly. But the watch's eye-popping value on the secondary market prompts a strong fiscal case of leaving it in a safe for a rainy day. Personally, I believe watches should be purchased to be worn and enjoyed, but then again I have never had the pleasure of facing the dilemma: Do I wear my George Daniels? Or should I keep it safe in my watch box?
Washing your watch with @watch.memes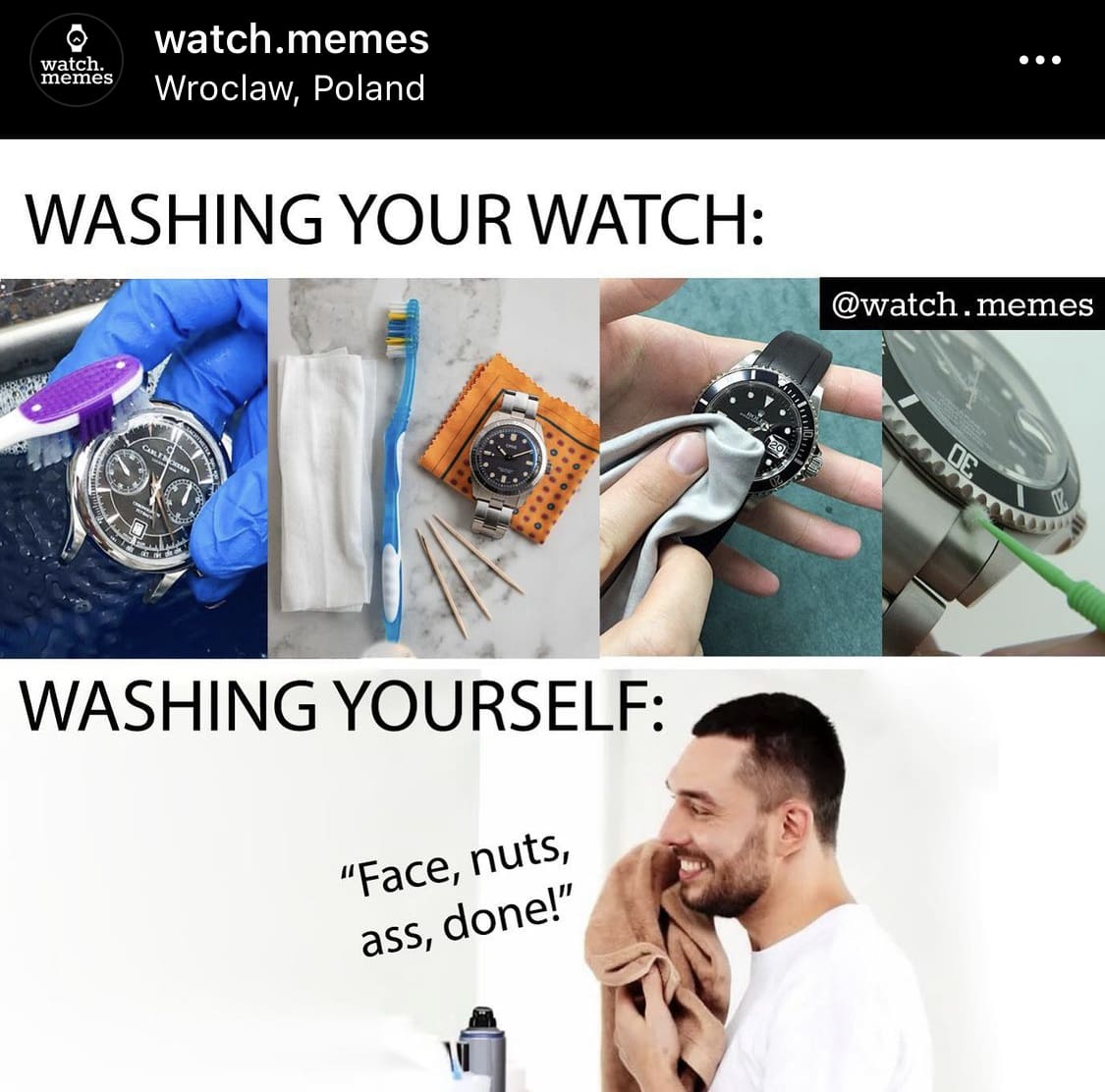 If you have already read my past story "How I became totally OCD about the way I handle, clean, and store my watches", then you know I regularly clean my watches using different methods appropriate for varying depth ratings. If you don't clean your watches, I suggest looking into it as when done properly it can extend the lustre and longevity of your timepiece. That being said, some of us go further than others and while they can be precious luxury items we also need to remember that these things were built to live longer than we ever will. I definitely make sure I throughly wash my body in the shower, but I can laugh at the above knowing I equally clean my timepieces as well.
DIY watchmaker woes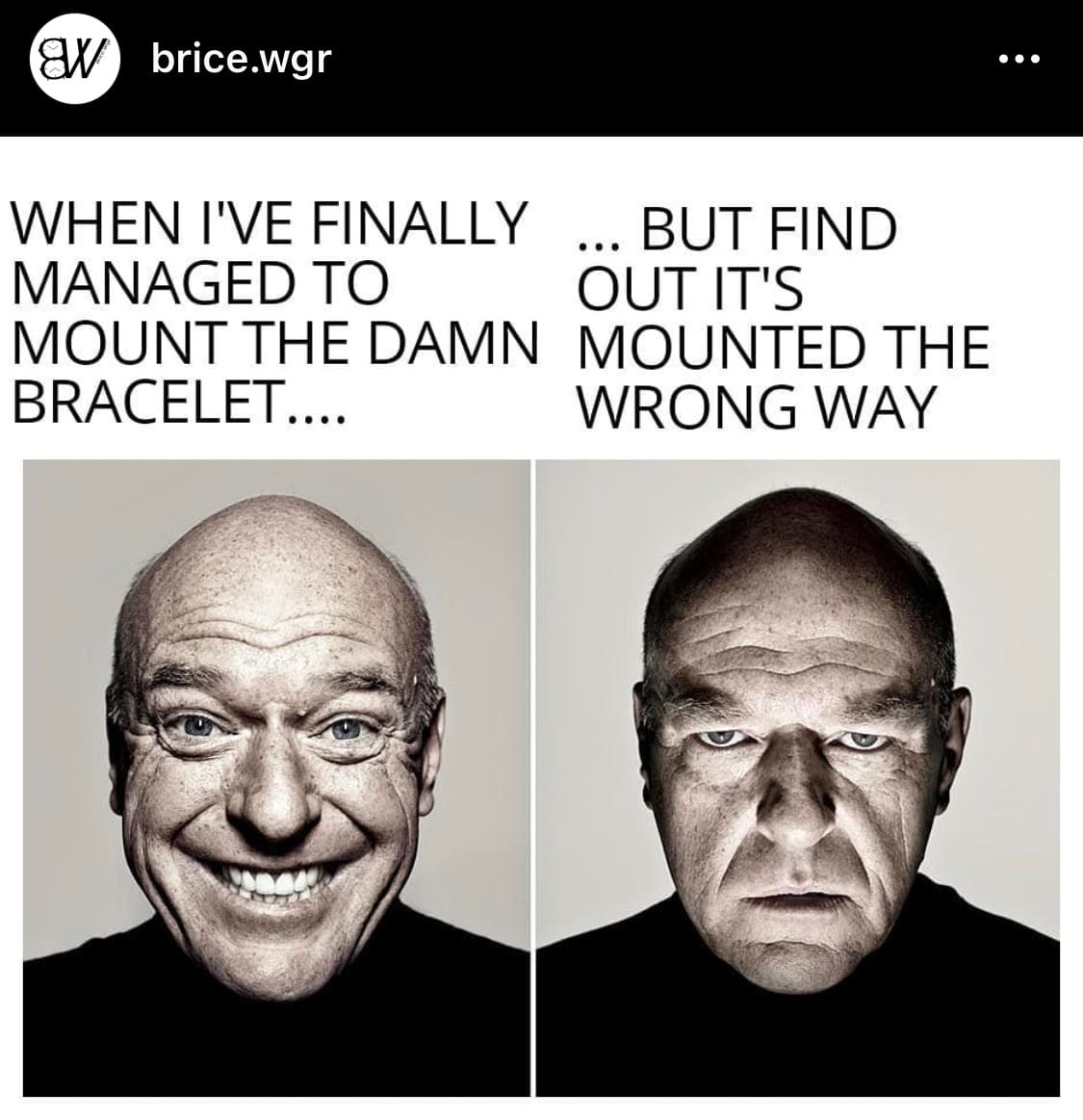 More often than not I leave my factory bracelets on my watches, but in an exploration phase of rubber and NATO straps for watches like my old Tudor BB58 Navy Blue I definitely learned the pain of this first hand. With tight tolerances, and very spry spring bars, even with a pair of Bergeon pliers it felt like a high-stakes game of operation – in my mind thinking: "don't scratch the lugs! don't scratch the lugs!". So when you have that brief moment of satisfaction that you have safely and securely reattached your bracelet, only to find you have unintentionally inverted its orientation, well… the above meme says it all – a very Sisyphus-and-boulder moment for sure.
Watch mine is yours, and yours mine

Regardless of the composition of your partnership in life, couples do not always see eye to eye on watch collecting – after all individuals have varying passions. Watches are life for the W.I.S tribe of the world, but there are, of course, more important things in life (as much as it pains me to admit). I myself recognise that my own watch collection may have to shrink one day, when responsibilities arise that my single and twenty-something life has yet to present. I joke with my peers that there will likely be one form of a collection Ragnarok or another when the inevitable big financial moments come in my life, and tough decisions will likely need to be made. I will try to keep as many as I can, as I do really love each watch, but whether financing the next hunt or, more responsibly, a new chapter of my adult life, I try to remain mentally prepared to part ways with some of my pieces – and make sure I account for the ones I know I can't.
The hot-topic of date window positioning
Watch collecting is a game of details, with even the smallest of design elements having large impacts. It is amazing how polarizing a date complication can be. The mainstream market and utility-driven collector demands the presence of a date window on their watch, while design purists believe a dial is better left without one. When a date window is introduced, the next point of scrutiny is always its positioning and colour scheme. Traditionally, people are most used to the 3′ position and ideally the date disc colour-matches the tone of the dial. The next most welcome position is at 6′, with many believing its placement maintains the symmetry of a dial. But we also commonly see date windows at the 4′ position, and this is, by far, the most controversial position in the eyes of collectors. While the meme above may say otherwise, the placement is due to a caliber's design. The question is, does it bother you? And if it does, why do manufacturers keep designing calibers that require the date window to be there? For me, it is a case by case situation – I wouldn't immediately write off a watch with a 4′ date window, but I do, however, prefer the 3′ and 6′ positions. What do you think?
@watchumor reflects on the good ol' days long gone
View this post on Instagram
It still amazes me how less horologically inclined people are often surprised when they hear that watches can cost more used than they do new. It is a concept that is not foreign to sneakers and amazingly even video game consoles nowadays. So why would watches be any different? That being said I will never forget how I felt when I heard Paul Newman Daytona's traded for thousands of dollars in the '90's. Boy, do I wish I had a time machine…
F.P. Journe meets Squid Game
Since its September 17th release, the South Korean TV show Squid Game has captivated viewers world wide. It is on the trajectory of becoming Netflix's most watched original series,  currently ranked number one on the platform across their regions of distribution. As someone who just binged the nine episodes, I don't want to spoil anything, but the show has been described as a horror film meets hunger games. There is certainly a component of social commentary as well, making the show more meaningful than just blood and gore shock. Throughout the series, contestants have to compete in deadly takes of various childhood games – one of which is having to carve out the shapes etched into a brittle sugar derived sweet with a threading needle in under ten minutes. If a contestant breaks the treat while trying to complete the carving, well… let's just say there is a heavy price to be paid. While the show dealt with more conventional shapes, a clever watch enthusiast created a render of a F.P. Journe Souverain "Remontoir d'Egalite" as seen shared above by Rocky (@lordhorologist). Considering the intricate lines and shapes you would have to work with, that is not something I would want to have to carve out in ten minutes – especially if my life depended on it.