HANDS-ON: The Seiko Prospex SNR045J is like a Rolex "Hulk" Submariner on steroids
James Robinson
The first time I held the Seiko Prospex SNR045J in my hands, I laughed, turned to my left, and said to Deputy Editor Nick Kenyon, "What on earth is this?" To describe the limited edition dive watch as evocative is more than an understatement – it conjures up many, many thoughts in my mind, scrambles them, and leaves me feeling very confused, for a number of reasons.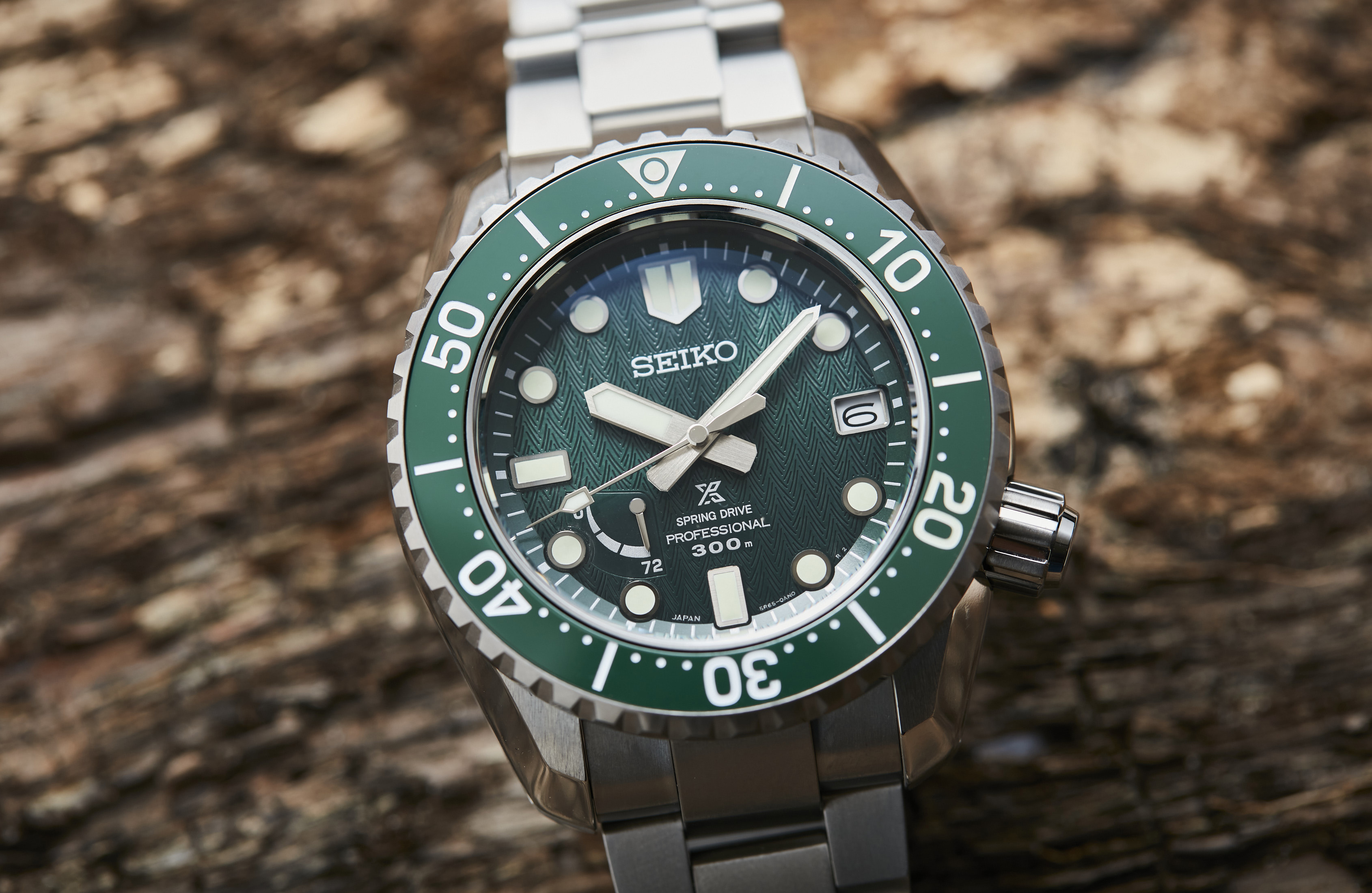 Firstly, it's yet another (ir)regular Seiko that blurs the lines between Seiko and Grand Seiko. Secondly, look at the size of it! Who is this watch made for? And thirdly, why can't I stop staring? And why is it only looking and feeling better the longer I have it attached to my wrist? Well, as a consequence of these perplexing queries, I spent the next 48 hours wearing the Hulky puck, steadfast that I'd get to the bottom of my curiosities, which, I hazard to guess, might be some of your curiosities too.
The case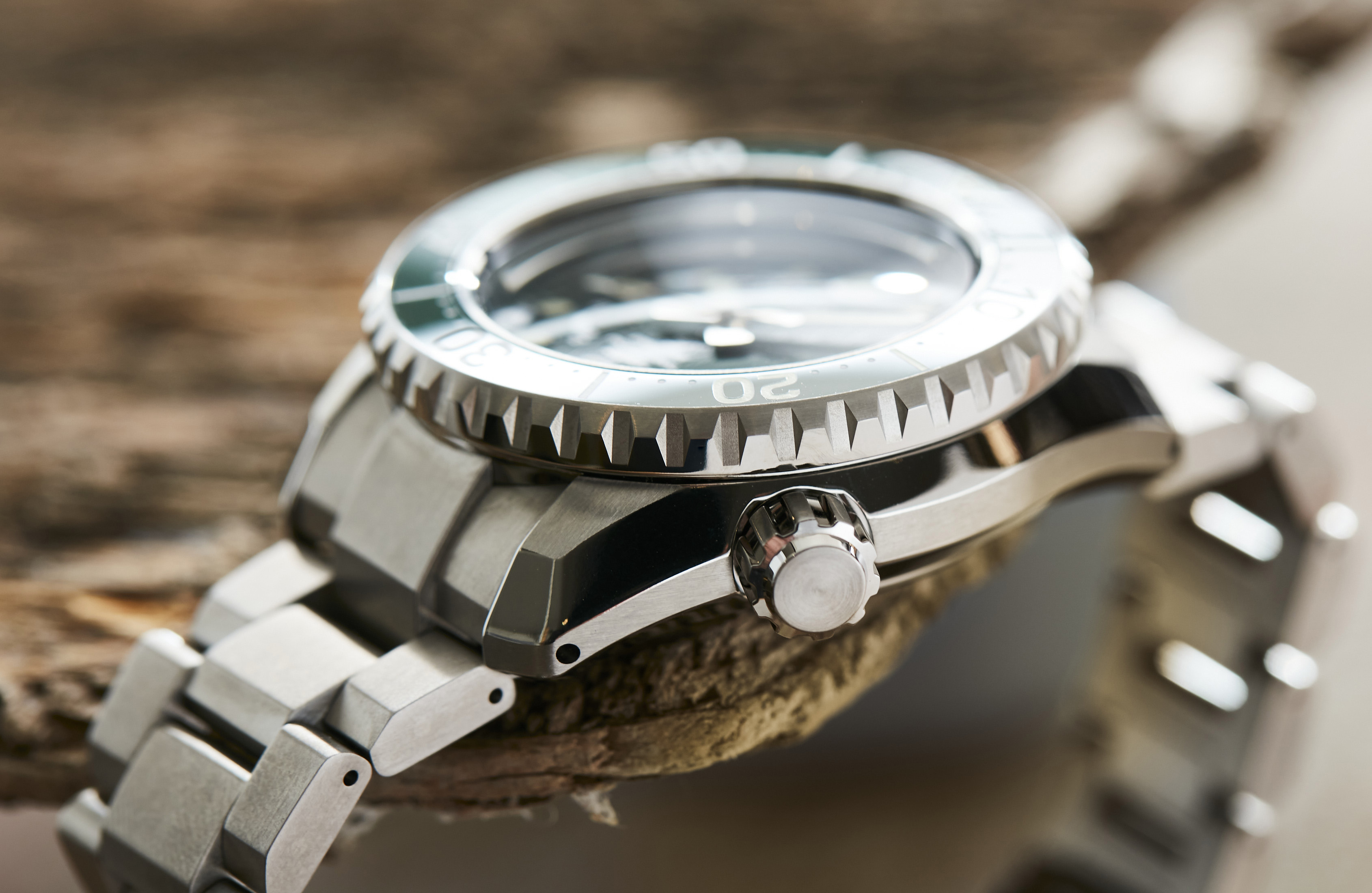 BIG … it's bloody big. How big? Enormous. More specifically – 44.8mm across and a positively chonky 15.7mm thick. And these measurements only tell half the story. Because the lugs are short and quite stubby, and the overall length of the watch is 50.9mm, it feels, if anything, even bigger. But — and it's a big but — because the case is made from titanium, it's shockingly light, so much so that if you closed your eyes and someone were to put the watch on your wrist, its lack of weight would make you swear it was no bigger than 40mm. This is a big accomplishment by Seiko, and should be applauded, as should the quality and finishing of the case, which is an attractive amalgamation of brushed and polished elements. The size of the crown is another matter, however. It is gargantuan. It doesn't integrate harmoniously, it juts out, and there were more than a few times when it pushed into my wrist when I articulated it.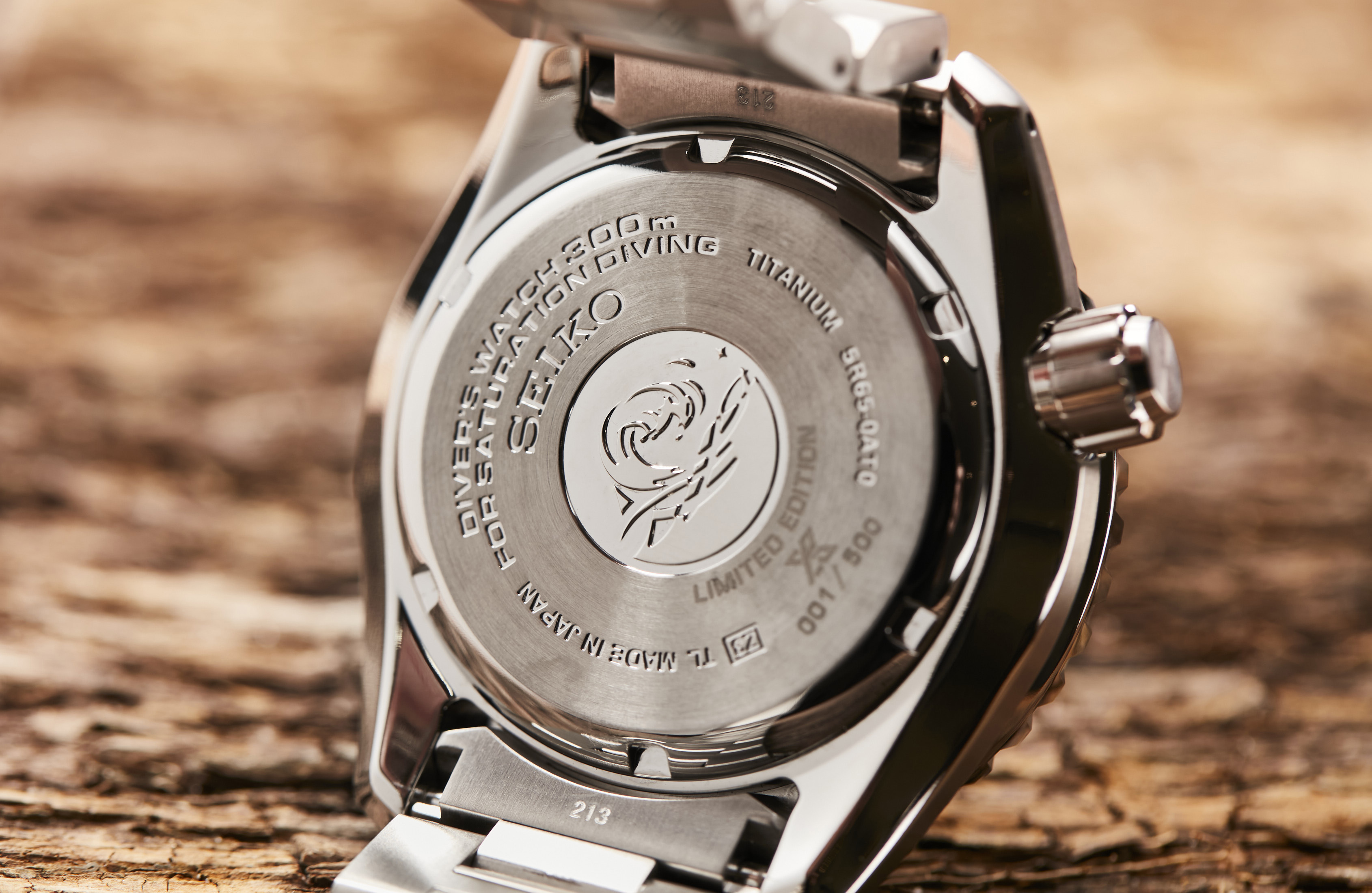 As far as its submersible credentials go, the Prospex SNR045J's case seems pretty infallible, with 300 metres of water resistance guaranteed by Seiko. Sitting above the case is a bright forest green unidirectional rotating bezel with a 60-minute scale. It's a classic dive watch, and it's been executed well by the manufacturer, with the bevelled bezel providing smooth discernible ratcheting clicks with no play at all. Also sitting atop the beefcake of a case is a faintly domed piece of sapphire crystal with an anti-reflective coating, ensuring superlative legibility both in and out of the water.
The dial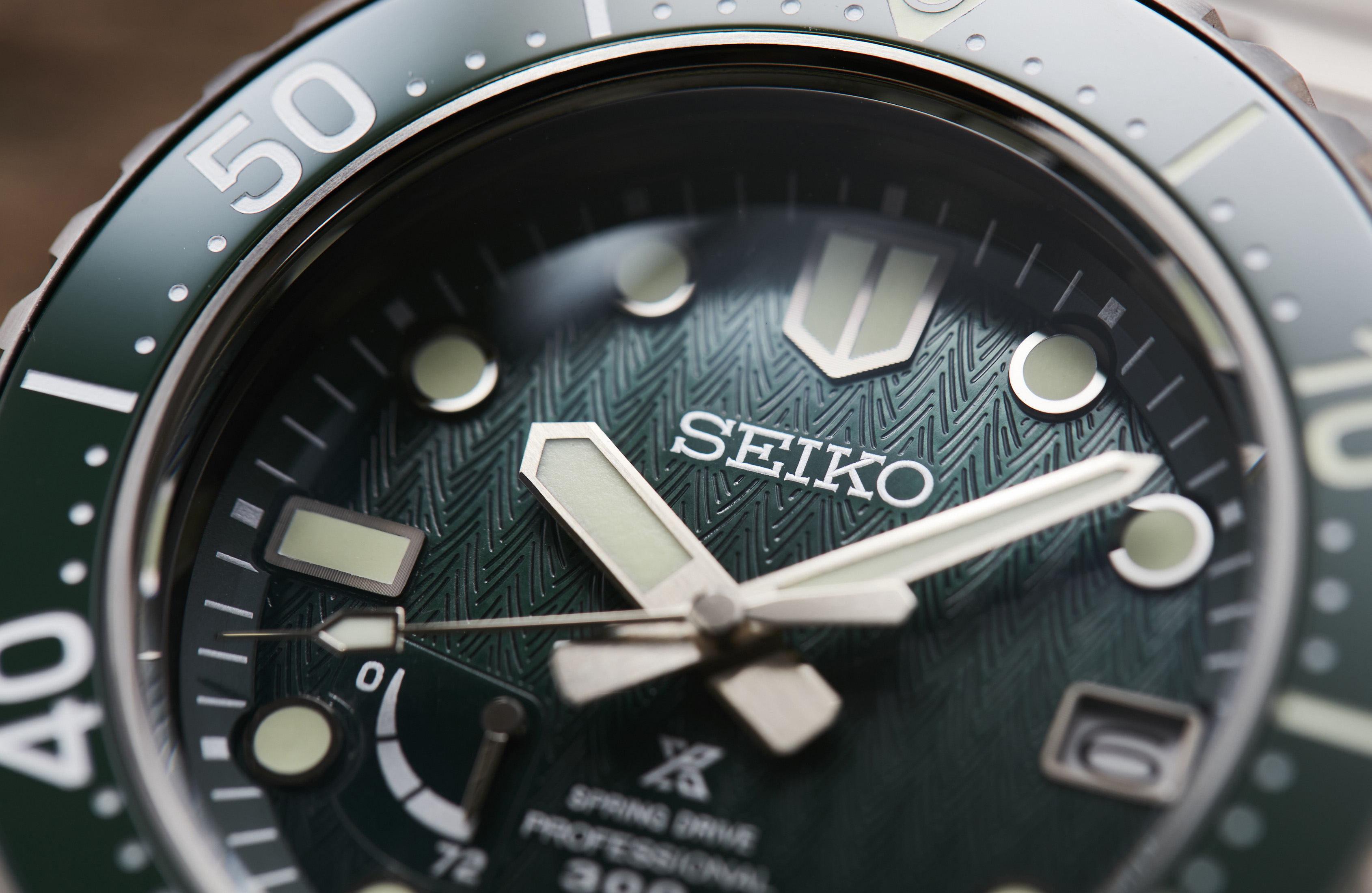 No beating about the forest (green shade), the dial of this watch is its greatest asset. It's more akin to a work of art than an instrument used to tell time. Inspired by a mysterious underwater moss forest found 50 clicks away from Japan's Showa research station in Antarctica, it really is a thing of beauty. The elaborate motif pattern is mesmerising. I couldn't help but stare in admiration at its intricacy. Thick LumiBrite-filled indices line the edge of the fascinating dial, and the equally thick handset also scores the ultra bright lume.
A small date aperture located at three o'clock juxtaposes the rectangular indices at nine o'clock with a charming amount of symmetry, although, given the location of the bulbous crown at four o'clock, it would have been nice to perhaps see the date aperture line up with it instead. A simple, easy to read power reserve indicator is located between seven and eight o'clock. For a lot of folks reading this who already know the price of this watch, this is what you're paying for – a unique, truly beautiful dial from a watchmaker that creates dials better than just about anyone else in the business.
The movement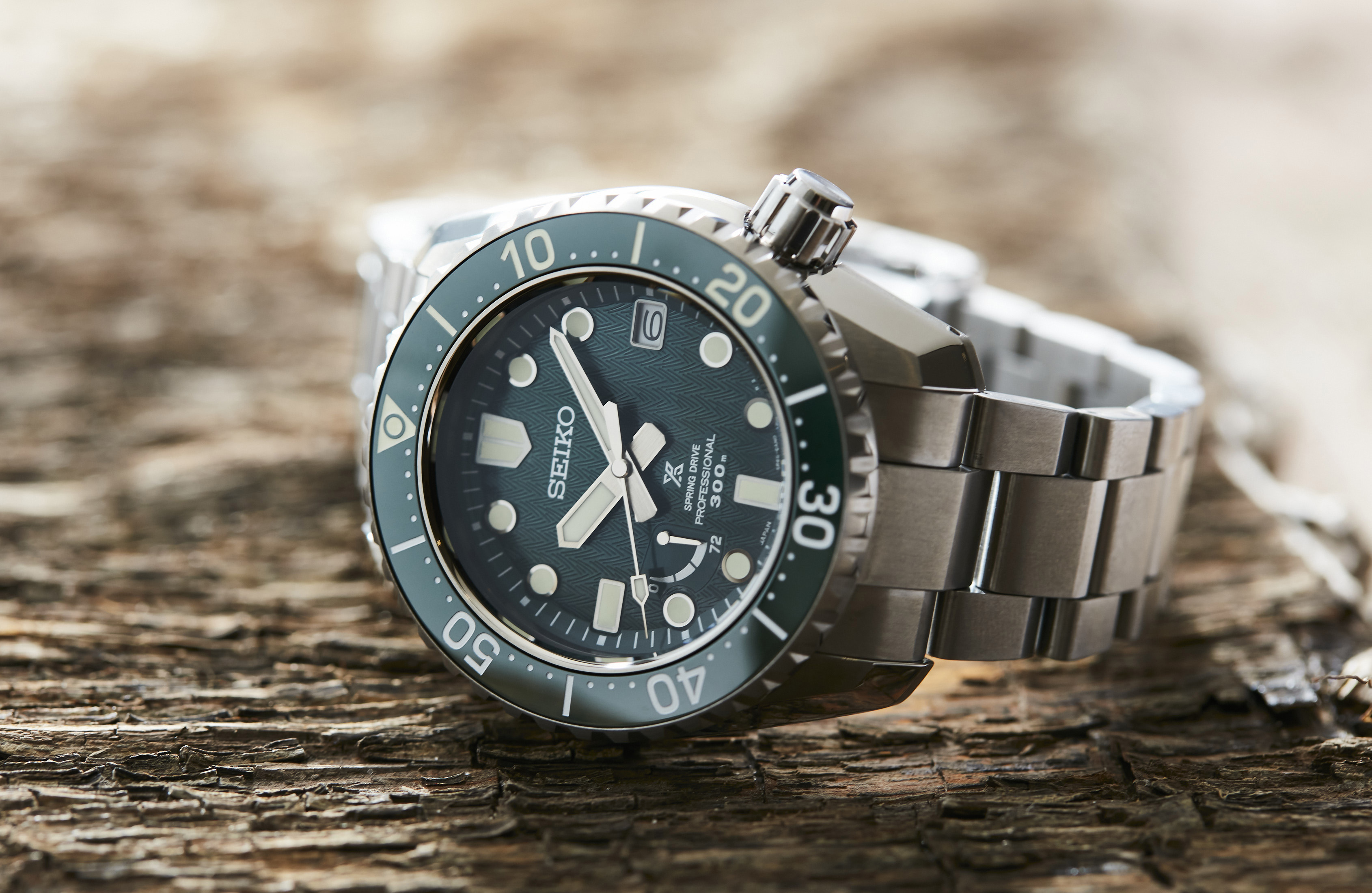 If there's one thing a dive watch should do well, it's accurately tell the time. I don't care if my 1960s-something gold-capped dress watch loses a few seconds here or there every hour, but if I'm stuck on the ocean floor with a giant metal tank strapped to my back that's slowly losing oxygen, you better believe I want a device that is going to be accurate to within a second. Luckily, the Seiko Prospex SNR045J is fitted with the manufacture Calibre 5R65. This superb Spring Drive movement offers not only three days of power reserve, but more importantly, an accuracy rating of +/-15 seconds a month. Because it's Spring Drive, it also offers that buttery-smooth second hand sweep, which never fails to amaze me.
On the wrist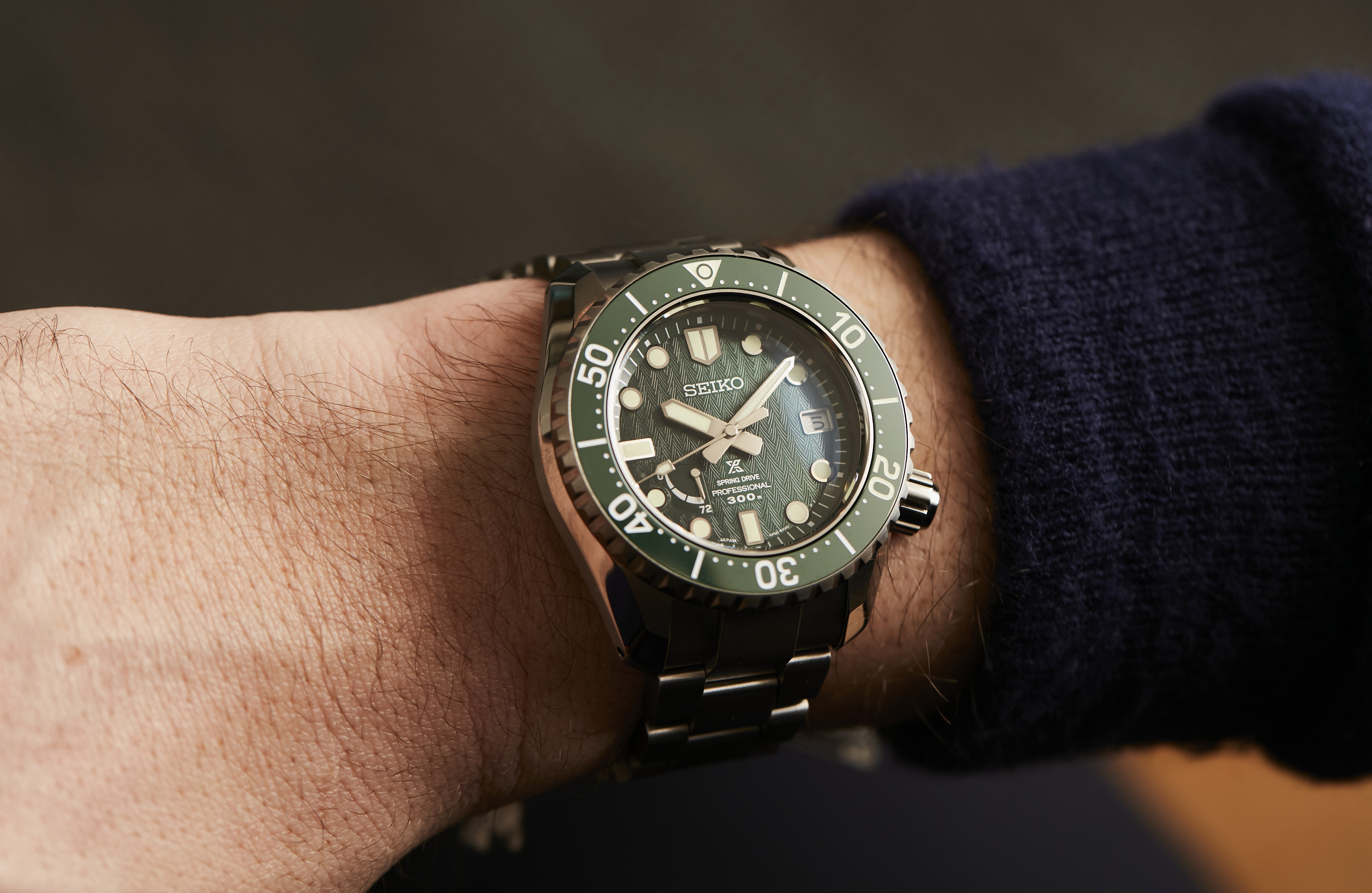 On the wrist, this watch is a bittersweet combo that can leave you feeling beguiled, but frustrated. There's no getting around the size, and if you decide to wear a shirt, it better have cuffs that flare larger than a pair of bell-bottoms. And it's not just difficult to couple with an outfit. Because it's so big, regardless of how little it weighs, it can feel cumbersome, and whether it's consciously or subconsciously, you find yourself avoiding door handles or really anything else you could potentially strike it on. However, as I mentioned earlier, the dial is achingly beautiful to look at – a real showcase of just how good Seiko is at not only implementation but design. Is it reason enough to buy the watch? Yes, potentially.
Verdict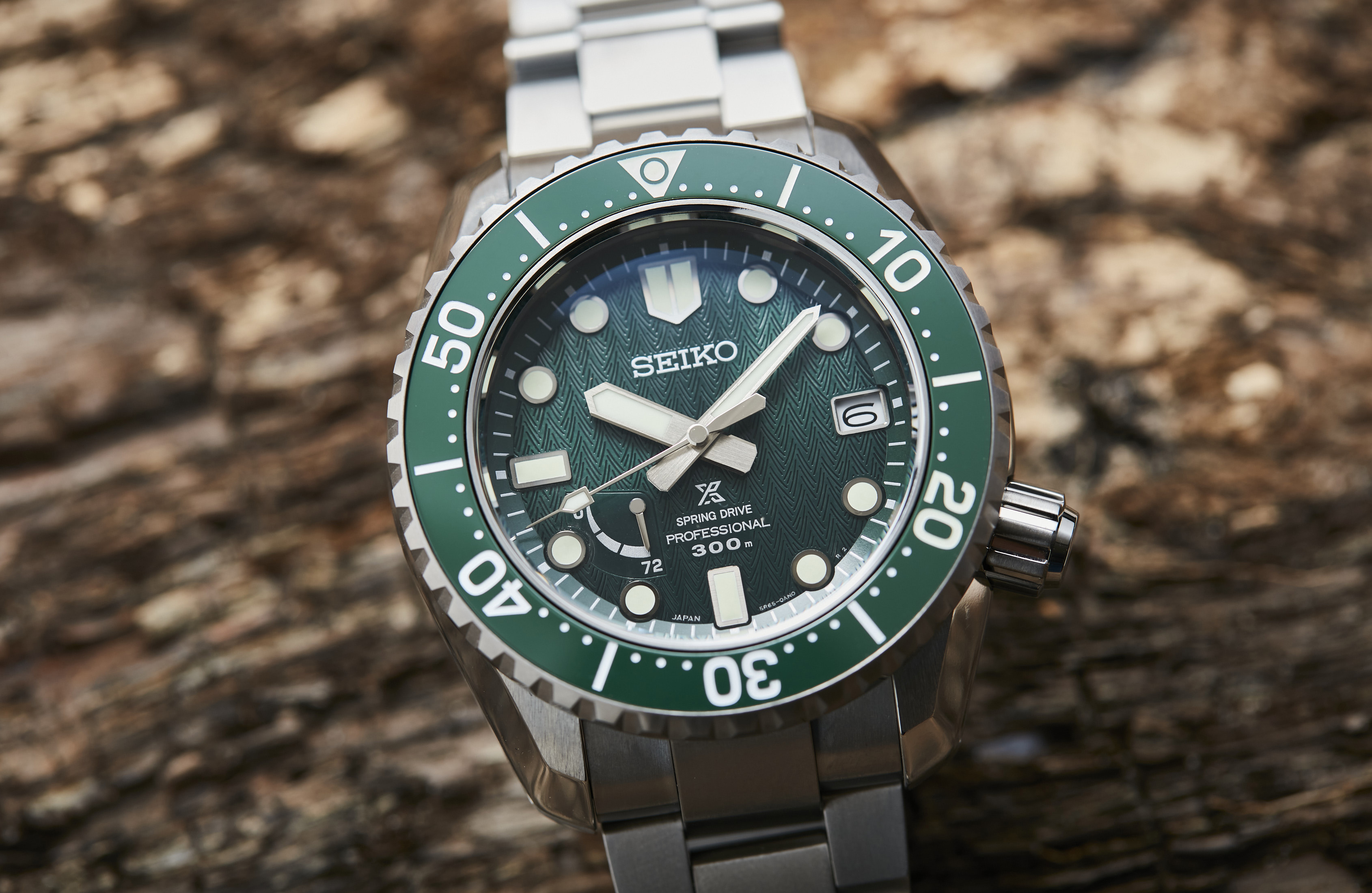 Seiko is making only 500 examples of the Prospex SNR045J, so regardless of what I think of it, it's probably already sold out. Such is the case with most limited edition Seikos these days. It's a polarising timepiece, but for the 500 folks brave enough to part with $9400 AUD to secure one, they'll certainly be getting a timepiece like no other, and one with a dial that is truly unique.
Personally, I really would've liked to have seen this watch's dial, colour scheme and titanium construction used on something like Seiko's much more civilised SPB149J1. If they had done that, it may have been the best watch released this year.
Specifications
Availability
Limited edition