Is Rolex trend-chasing with its new colourful range of Oyster Perpetual models? A look back into the brand's colourful past…
Zach Blass
The wild profusion of colours in the new Rolex Oyster Perpetual collection caught many by surprise this week. And it immediately had people drawing parallels with the colour suites of other brands. It begs the question, are these new sporty and youthful lacquer dials – in candy pink, turquoise blue, yellow, coral red and green – a blast from Rolex's past, or something completely new, perhaps inspired by other brands?
A Brief History of Rolex Dials and Color
Rolex is primarily known as a brand of modesty and incremental change, built upon robust and reliable watches. More often than not, you will typically see Rolex watches in four colors (at least in their steel watches) – Black, White, Silver, and Blue. Their precious metal watches of the past, however, were a bit more adventurous in dial tone and configuration.
In 1956 the Rolex Day-Date was released and became one of the brand's most luxurious and prestigious watches. Just four years after its release, not a long time in Rolex years, they began to experiment with the lineup, introducing dials with diamonds and eastern arabic numerals. Stone dial configurations were brought into the mix as well – fabricated from stones such as Onyx, Jasper, Bloodstone, Lapis, Opal among others. A decade later, Rolex would introduce their "Stella Dials" to the world in their vibrant enamel-lacquer color tones.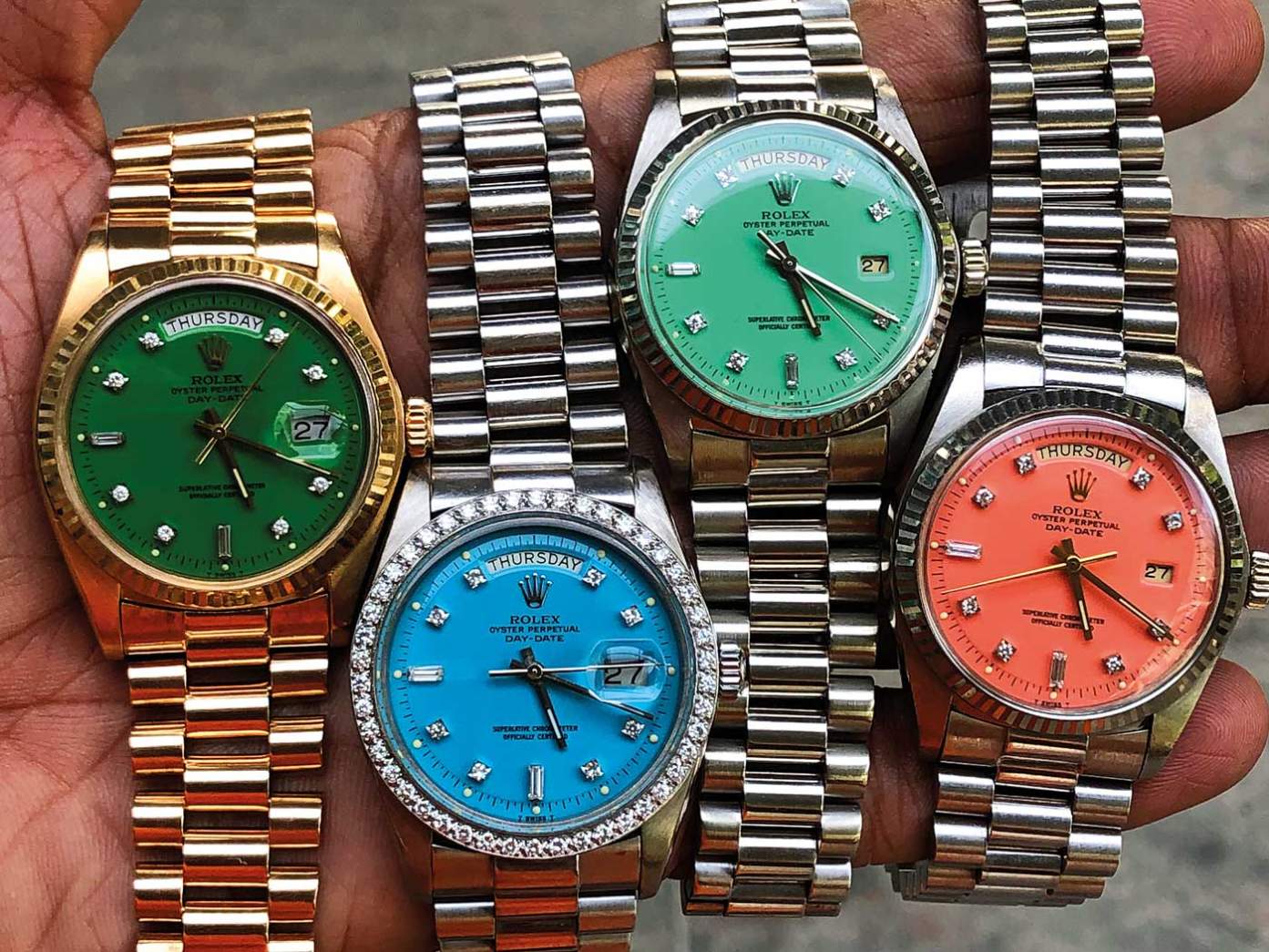 As Tariq Malik of WatchTime Middle East explains, "Stella is not a nickname… Rolex used the term 'Lacquered Stella' in their catalogs in the 1970's".  These dials were high gloss enamel-lacquer finishes that were conceived as a new way to try and tackle the Middle East and East Asian marketplaces. While initially targeted to those locales, these watches and dials have found their way into collectors hands all around the globe. Tariq Malik notes, "The Stella colors are oxblood, red, orange, blue, green, turquoise, peach, salmon, pink, yellow, and purple with the latter being the rarest."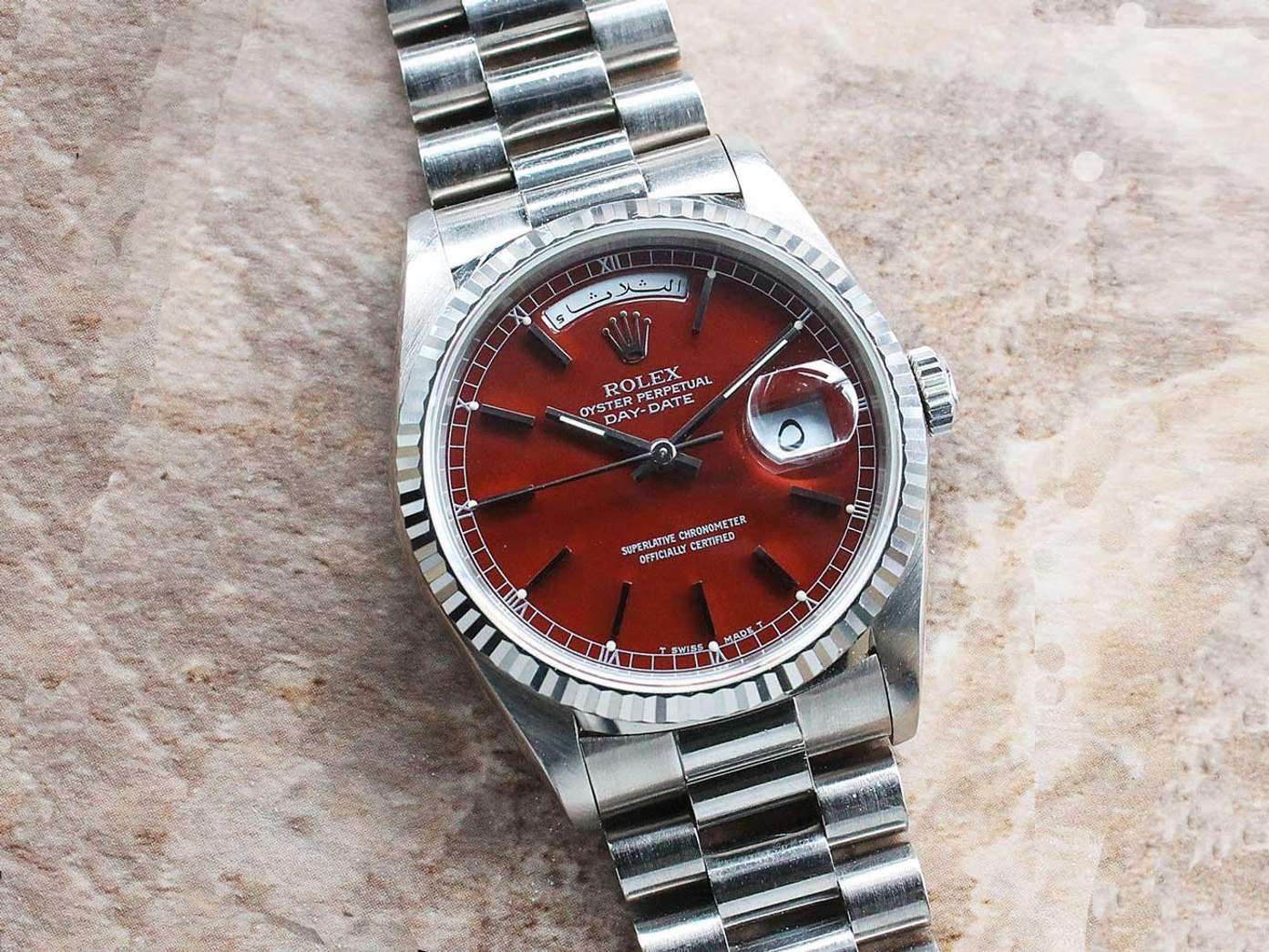 These colors and dials, due to their age may have formed patina and aged in hue, but it seems more than likely that tones are the basis for the lacquer dials now introduced to the standard Oyster Perpetual line. It is worth noting that Stella dials from the '70s and '80s are quite limited.
Tarik Malik explains; "The irony is that Stella models weren't popular during the time Rolex produced them. Back then clients wanted more conservative dials on a Day-Date like white, silver, and black whilst Stella models sat ignored in display cases. In some cases, Stella dials were even replaced by conventional or other dials. Rolex allegedly destroyed batches of Stella dials as they were unsellable, one reason why they are so rare today." As a result of their rarity, these vintage Day-Date models can command quite a hefty price tag today.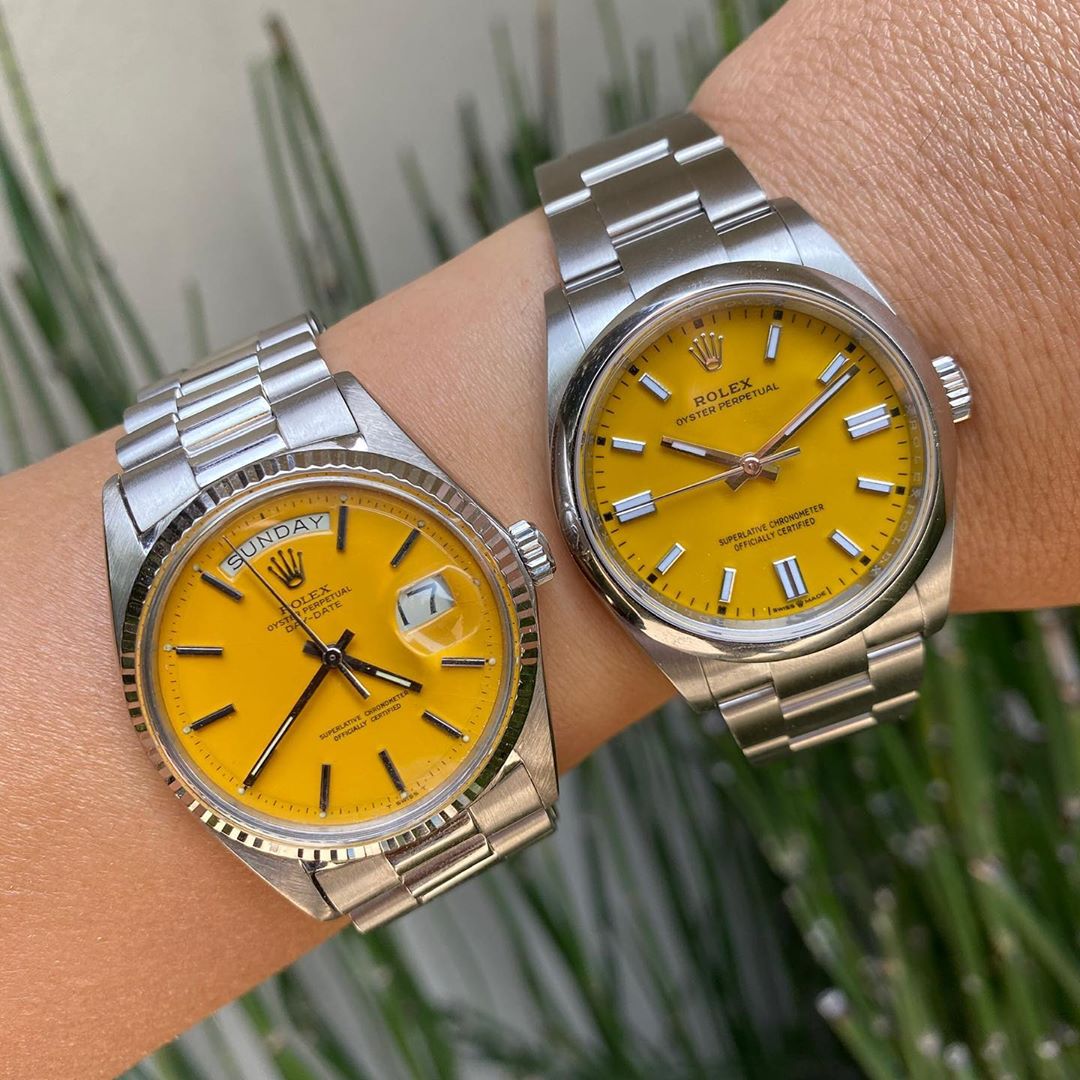 This picture by Eric Ku vividly shows that while the brightly coloured dials are not new to Rolex,  they are new to the Oyster Perpetual model – and are a second (and proportionally more affordable) chance for collectors, both beginners and veterans of the hobby, to own a Rolex in this style of configuration. So, let's fast forward to 2020.
How are Stella dials different to the new Oyster Perpetual dials?
We spoke to Eric Ku, owner of the Stella dial DJ above about how different the dials are in the metal. "When you put them side by side it's obviously a more modern manufacturing technique used. On the Stellas you have a sprayed layer of colour and then a clear lacquer put on top of it. This is more solid colour through the dial, if that makes sense. There's a slight bit of translucency through it, but it's like for example the Rolex white which is still a solid colour. It's a more modern type of paint they use, the gloss is built into the paint, and they don't need an extra clear layer on top."
As for the size, and how it wears, Eric, who is the first in America to have what he has deemed the 36mm yellow dial 'Pikachu' OP delivered; "I don't have a 41mm to compare it to but the 36 is pretty perfect. When Rolex designed that case in the '50s, 36 is really the sweet spot, I'm telling you, the 36 is literally the Goldilocks size. I have smallish wrists so the 41 might look too big."
The new 2020 Oyster Perpetual models
Launched alongside these five returning Stella inspired colours are three previous dial tones found in recent years: silver, black, and blue sunray-finished dials. These watches are for all wrists, considering the fact they are all made in 31mm, 36mm and, new to the lineup, 41mm. The introduction of the 41mm case has also led to the discontinuation of the OP 39mm. With 28mm, 31mm, 34mm, 36mm, and 41mm models available (only with the 31, 36, 41 in all color schemes) – this is the Wonka Factory of Rolex, with a colour and size for all palates.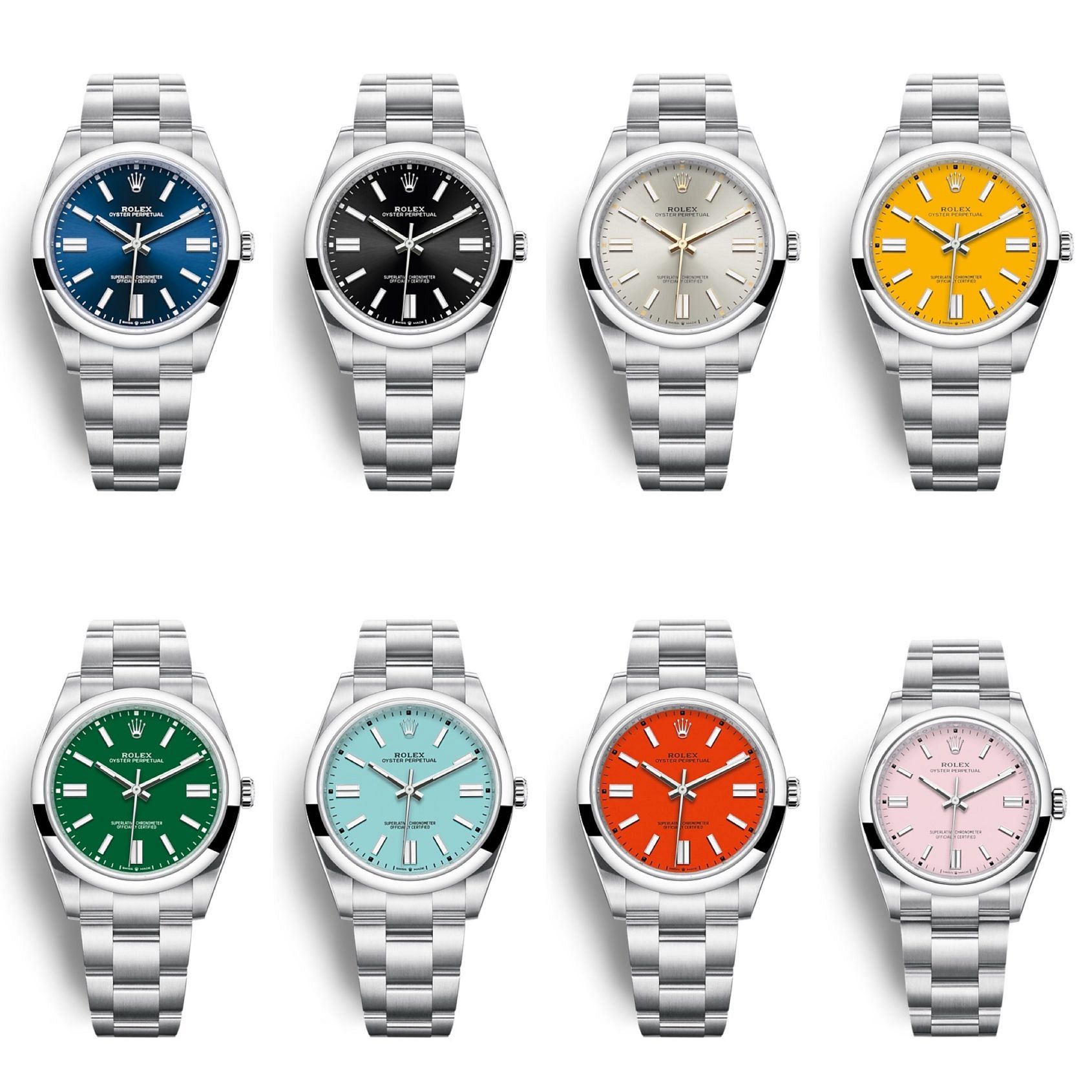 Whereas the silver, blue, and black dials are sunray-finishes, the additional five vibrant and fresh colours are more uniform in tone through the use of lacquer. Interestingly, the silver sunray dial in particular, on both the 36mm and 41mm models, stands out from the rest by having the hour markers and hands fashioned in 18k yellow gold. This departure from the rest brings an option with retro cues in a lineup otherwise filled with modern design cues and colours. This gives people looking for a classic and understated aesthetic an option to join in on the fun of these new releases as well.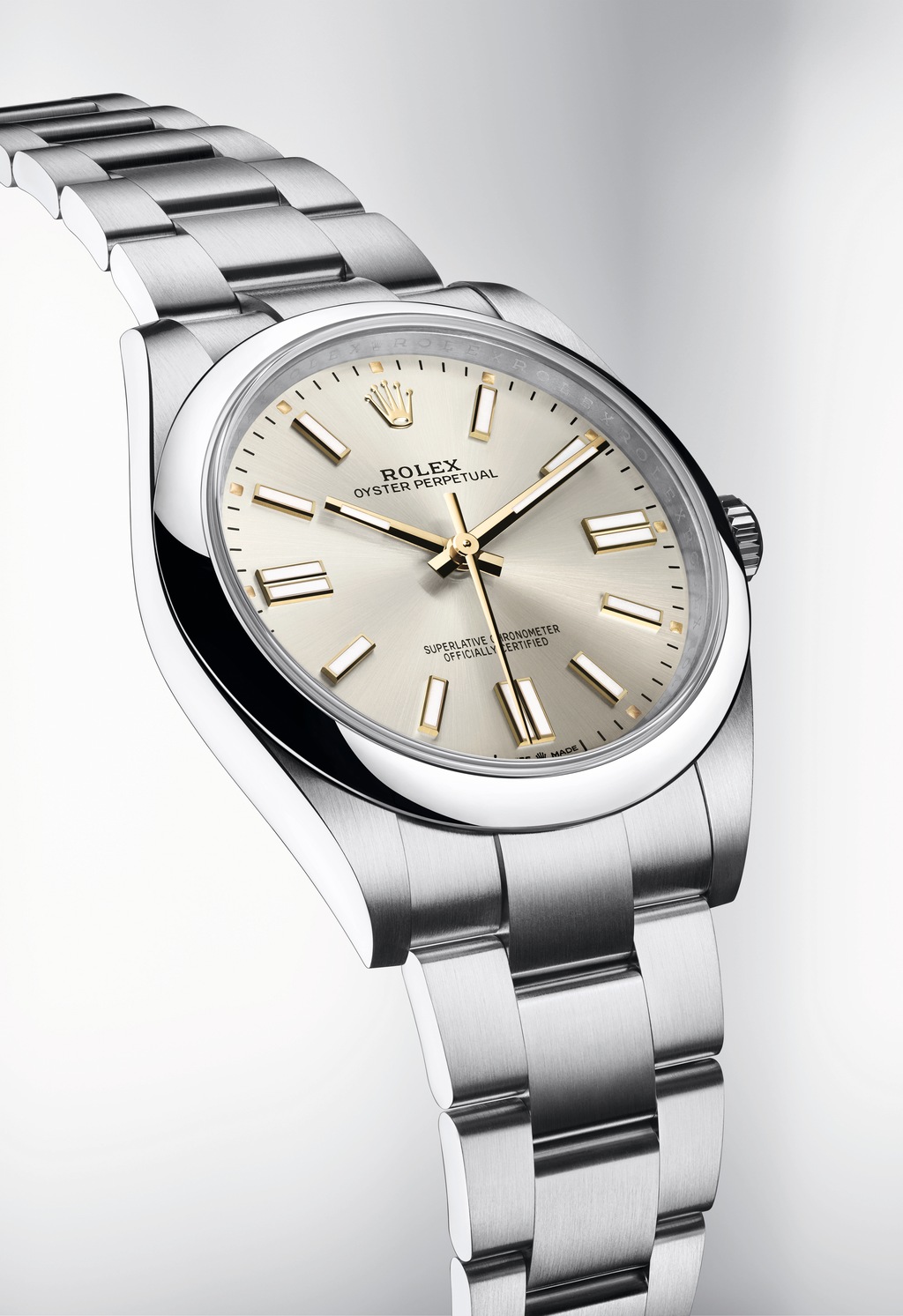 All the new Oyster Perpetual watches are fitted with an Oyster bracelet with the Easylink comfort extension system – a first for the Oyster Perpetual range. The 36 and 41 lineup have been equipped with the new calibre 3230, the same movement found in the new Submariner model. Incorporating the Chronergy escapement technology, developed and patented by Rolex, the power reserve of this new movement extends to about 70 hours.
The 31 is powered by the caliber 2232, which while not inclusive of the Chronergy escapement still manages to have about 55 hours of power reserve. The hands and markers on all of these models are coated or filled with "Chromalight", which emits a long-lasting blue glow for increased legibility in dark conditions. While not 300m water resistant like the Submariner, the upgrades found in this seemingly dressy lineup make these watches fashion-and-function chameleons more than ever.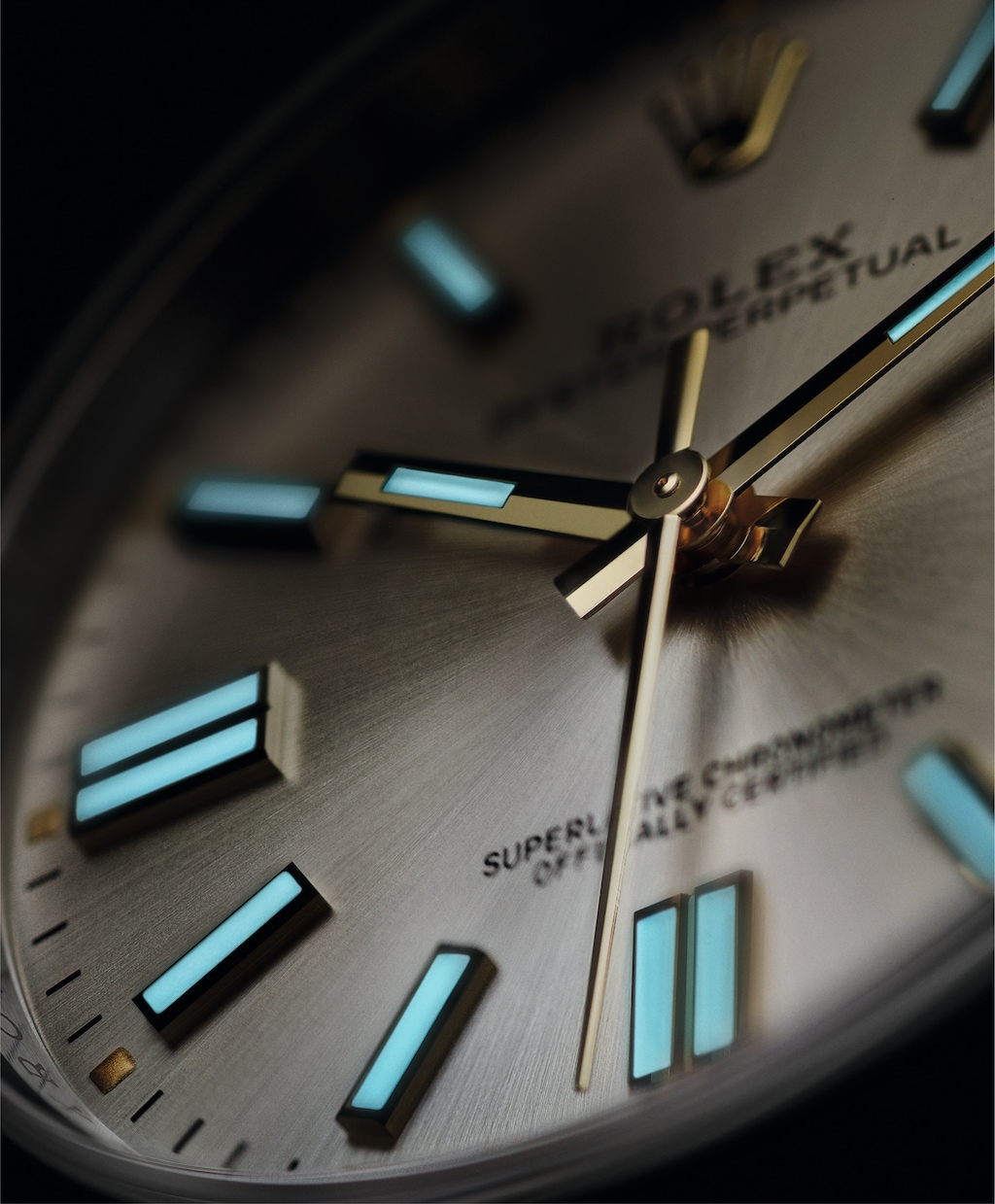 The Oyster Perpetual lineup has had some of the most underrated Rolex models in the eyes of horology hobbyists. It is ultimately the foundation of many sports Rolex models, all of which proudly display Oyster Perpetual (or Oyster Perpetual Date) before its Professional moniker. With this fresh new revival of colours new to the Oyster Perpetual line, as well as movement upgrades on all fronts, these 2020 models present a great alternative (or even first choice) for those unable to access some of the more in demand Professional models like the Submariner and Daytona.
It is worth noting, for example, that even the smaller OP model at 31 has a longer power reserve than my Rolex 114060. These watches may not have the same depth in the water as the Submariner and Sea-Dweller, but they have just as much depth on the wrist and present a lot of playful opportunities and expressions not previously found within the Rolex catalogue.
Rolex Oyster Perpetual new models price and availability:
Rolex Oyster Perpetual 41mm: $8300AUD and will be available from Rolex authorised dealers.
Rolex Oyster Perpetual 36mm: $7850AUD and will be available from Rolex authorised dealers.
Rolex Oyster Perpetual 31mm: $7250AUD and will be available from Rolex authorised dealers.