Porthole perfection: Our top 5 Hublot watches from 2019
Time+Tide
Horological disruptors Hublot were on a veritable roll last year, releasing a great many new and innovative timepieces that once again show why they are making waves in the watch world. Here are a few special wristwatches that caught our eye.
HUBLOT BIG BANG UNICO TEAK ITALIA INDEPENDENT TITANIUM
Limited to just 100 pieces, the Hublot Big Bang Unico Teak Italia Independent Titanium 45mm is every teak-freak's fever dream. With a bezel made of a mixture of teak and carbon fibre (peak 'art of fusion' right here, folks), this is the perfect watch for all yacht owners looking to recall the deck of their Sunseeker with a flick of the wrist.
Ref No: 411.NQ.5129.NR.ITI19 / Case size: 45mm / Case material: Titanium / Movement: HUB1242 / Price: $31,100
HUBLOT CLASSIC FUSION FERRARI GT 3D CARBON 45MM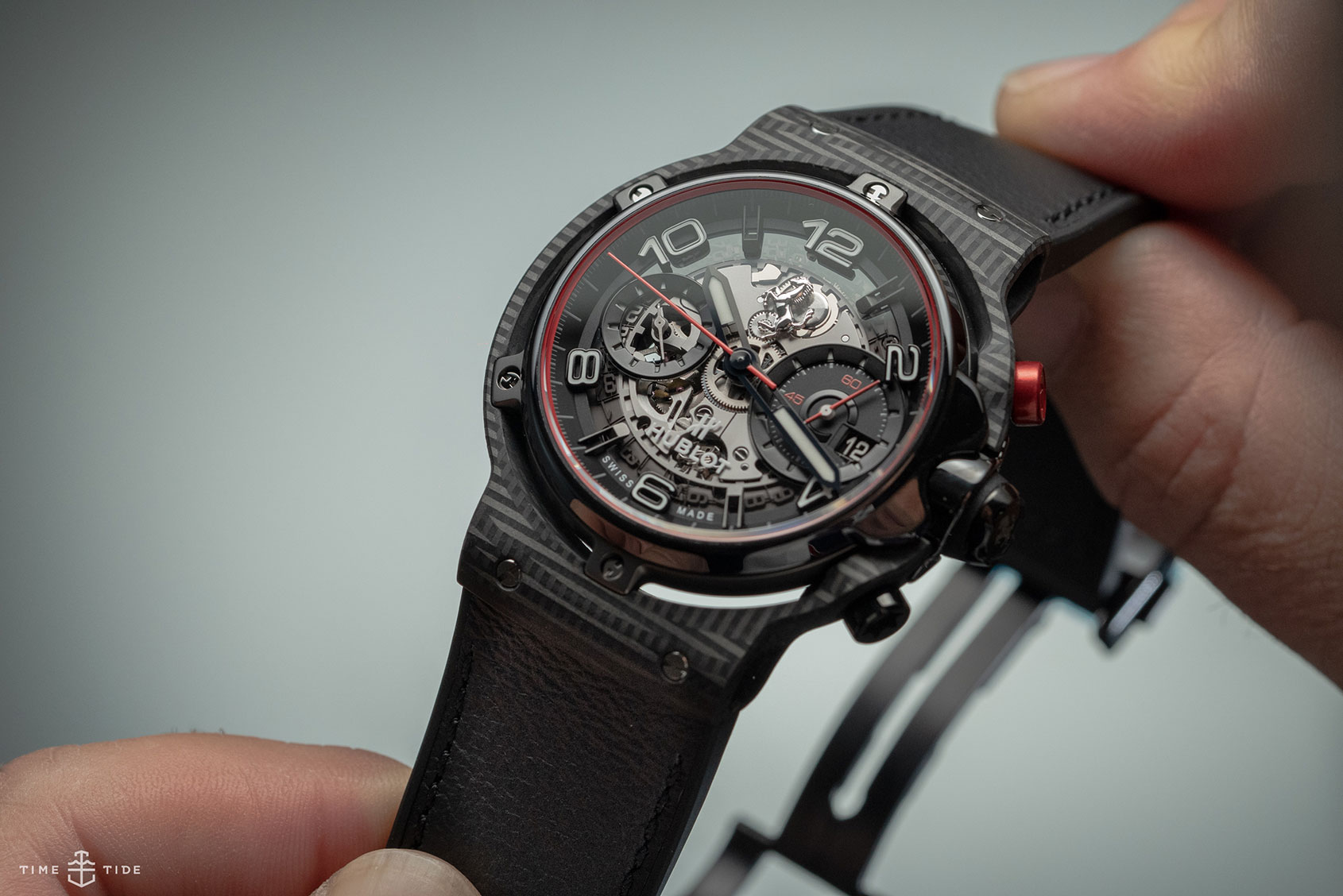 And now for something completely different. Although Hublot is well known for pushing boundaries when it comes to case design and material science, it would be fair to say that the brand hasn't really deviated from its classic case silhouette too much over the years. This year is different though. The Classic Fusion Ferrari GT 3D Carbon offers a more rounded bezel and case design, while still retaining many of the brand's recognisable nuances.
Ref No: 526.QB.0124.VR / Case size: 45mm / Case material: Carbon 3D Fibre / Movement: HUB1280 / Price: $35,100
HUBLOT BIG BANG MP-11 POWER RESERVE 14 DAYS KING GOLD JEWELLERY
There's not much chance you'll be missed with the Hublot Big Bang MP-11 Power Reserve 14 Days King Gold Jewellery 45mm on your wrist, but if this is your kind of watch it's a safe bet you don't want to be. Bling aside, this timepiece presents an impressive feat of movement architecture, horizontally stacking 7 barrels in series to achieve an impressive power reserve of 14 days, which is digitally displayed thanks to the rolling counter to the left-hand side of the barrel stack.
Ref No: 911.OX.0118.RX.0904 / Case size: 45mm / Case material: King Gold / Movement: HUB9011 / Price: $190,000
HUBLOT BIG BANG TOURBILLON POWER RESERVE 5 DAYS RED SAPPHIRE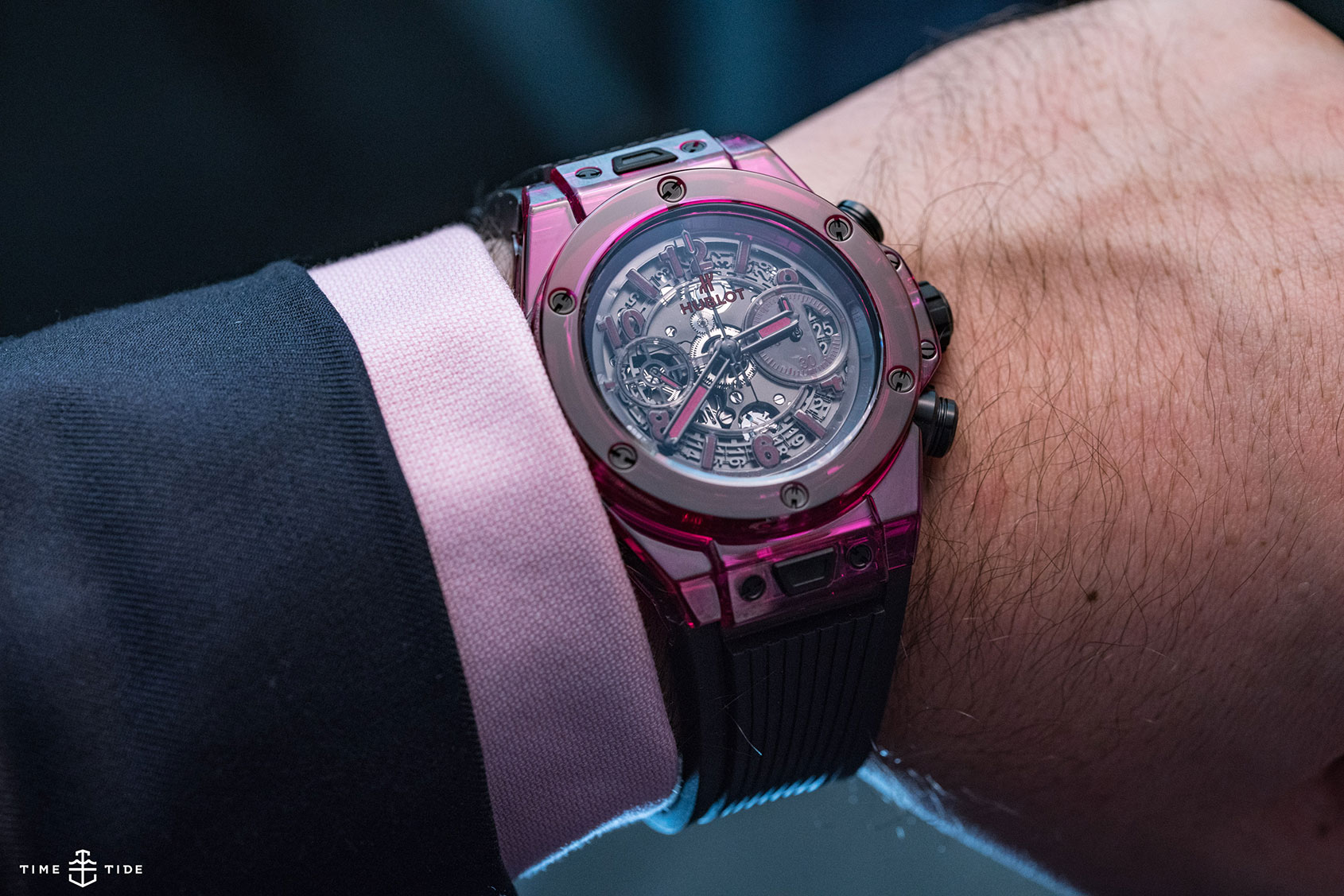 Straight from the brand that brought us high-impact plastic cases infused with squid ink, the Hublot Big Bang Tourbillon Power Reserve 5 Days Red Sapphire 45mm is an uncompromising wrist machine that looks, for all its potential braggadocio, surprisingly elegant on the wrist, wearing smaller than the diameter suggests.
Ref No: 411.JR.4901.RT / Case size: 45mm / Case material: Sapphire / Movement: HUB1242 / Price: $95,000
HUBLOT BIG BANG ONE CLICK SANG BLEU STEEL WHITE DIAMONDS
The Sang Bleu models are eye-catching jewels for the wrist, and this one, the One Click Sang Bleu Steel White Diamonds, is an exceptionally feminine effort from a brand known mostly for its muscled watches for men. While the time-telling matrix takes some getting used to (focus on the black triangles on the tips of the rotating "snowflakes" on the dial), the optical effect of these complex layers interacting makes this piece the conversation starter it is.
Ref No: 465.SS.2027.VR.1204.MXM19 / Case size: 39mm / Case material: Steel / Movement: HUB1710 / Price: $21,600