Editor's note: Last Baselworld (2018, not 2019), I decided to mix things up a little and leave my normal bunch of plain and simple three-handers at home for something a little, um, busier. Well, a lot busier if we're honest. But trust me, all the colours and text on the dial of the Montblanc Orbis Terrarum didn't detract from its awesomeness …
There's a lot of important planning that happens in the lead up to Baselworld. But perhaps the single most important question is — what watch do I wear? In previous years I've taken a handful of pieces, something I wasn't keen to do this year, as I find it vaguely stressful travelling with more than one (what if I leave it on a plane!), and I typically end up wearing only one the whole week. So this year I decided to travel with just one, and I also thought it was the perfect opportunity to put a travel-oriented watch through its paces in a real-world setting. So, a bit of back and forth later, one watch emerged at the top of my short list. The Montblanc Orbis Terrarum, released back in 2015. I've always liked this watch; it looks good and offers great value, and over the years I've done my darndest to get some more meaningful time with it. Well, this time around the stars aligned, and I found myself looking down at that little blue world as I jetted my way to Switzerland.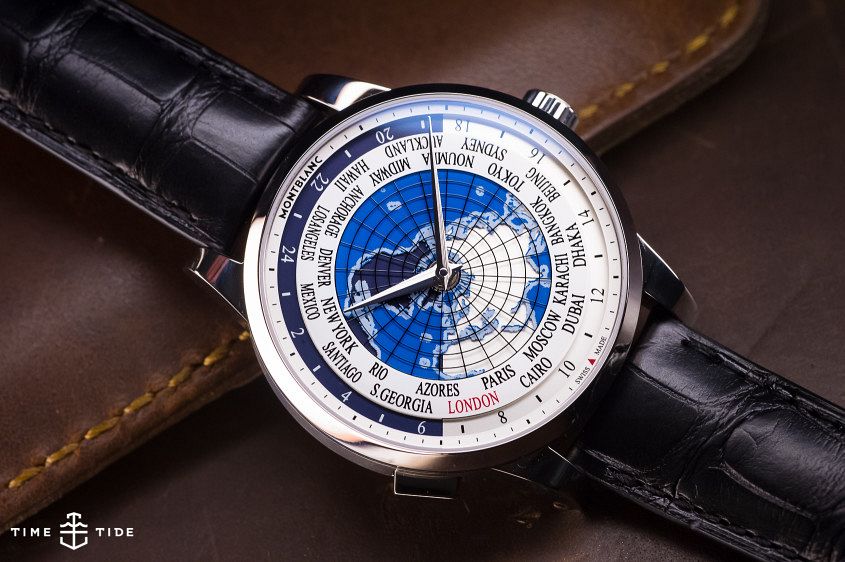 Once I put it on, it felt … refreshingly wearable. I often find complicated watches a little, well, complicated to wear, with either surfeit of pushers and protrusions or height marring my ideal case profile. Not so the Orbis Terrarum. At 41mm across by a relatively slim 11.9mm tall, this watch felt right at home on the wrist.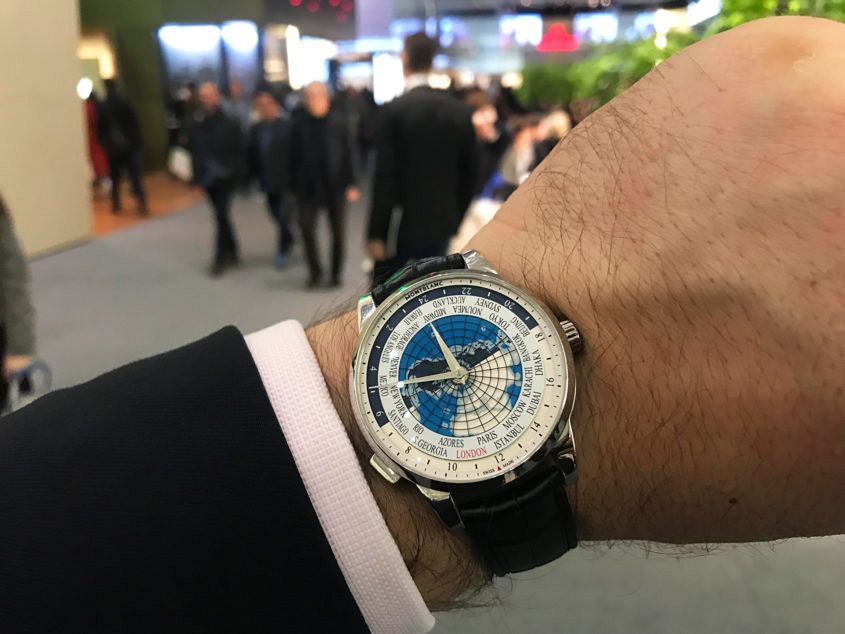 Looks-wise … it's all about that dial. It stands out, but is far from garish, and is a real conversation starter, even in the high-calibre halls of Baselworld. And as if to make up for the gregarious nature of the dial, the rest of the watch is super subdued and formal. The case construction is fairly simple, with straight, plainly brushed sides and a sober black alligator strap. Sure, it's an unusual watch, but the function always comes first — it's not show for show's sake.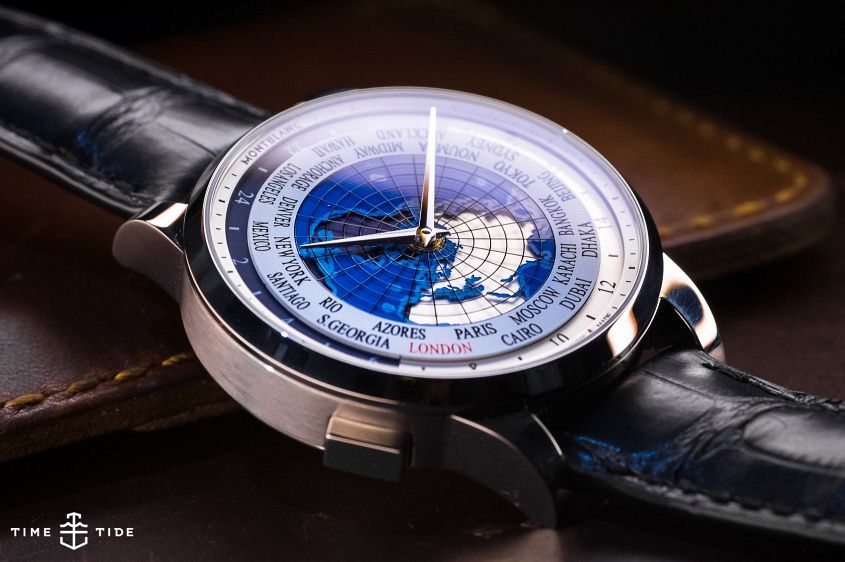 What stood out to me … while the dial was the visual star of the show, the functionality really shone for me. Using complicated watches can sometimes take some practice, not so the Montblanc Orbis Terrarum. Hit the pusher until the city ring lines up with your local time, then set the local time and away you go. You've got the world at your fingertips, and changing your local time is easily done on the wrist, something I really appreciated during my foggy, 24-odd hour Melbourne-Dubai-Geneva commute. Even before I left, working with writers across three continents, as well as the ever-essential Swiss time, I really loved the world-at-a-glance nature of this watch. Having said that, daylight savings time did trip me up once or twice, but it was never a deal-breaker.
I'd wear this with … the more formal end of my wardrobe. While I wore it casually, it's a watch that suits the more formal things in life, especially on the croc strap (a bright blue NATO would be another story). And as Basel is a jacket and tie affair for me, it was the perfect choice.
If I could change anything … I'd add a touch of luminous to the hands. Honestly, that's a bit of a surprise for me, as I'm typically not overly fussy about lume. But over my week of wear, there were a few situations where low light visibility would really have helped, notably in the darkened cabin of a plane, where I was temporally confused, my phone was out of reach, and I didn't want to fiddle with lights or in-flight screens. I think for a travel-oriented watch, which will likely be worn outside of typical comfort settings, these sort of practical features are useful.
This was my first time wearing a world-timer in the manner it's intended, and I've got to say, I would highly recommend it. If you travel a lot, or work with more than two time zones, this is definitely one to consider.
Montblanc Orbis Terrarum Australian pricing
Montblanc Orbis Terrarum, steel on alligator, $7750