MICRO MONDAYS: Fleux Watches revives the 1960s with two vintage-throwback divers for less than $500 each
Time+Tide
There's no shortage of vintage-inspired divers in the independent and microbrand market. While many brands have got this formula wrong and wheeled out bland homages, some have also got it right and today's brand, Fleux, is a prime example. The two models that we'll dig into below – the FLX001 and FLX002 – are launching on Kickstarter on April 11. The good news? Kickstarter prices will start at a modest US$420 with shipping estimated to begin in September 2023. You can learn more about Fleux here or follow the Kickstarter campaign here. 
The origin story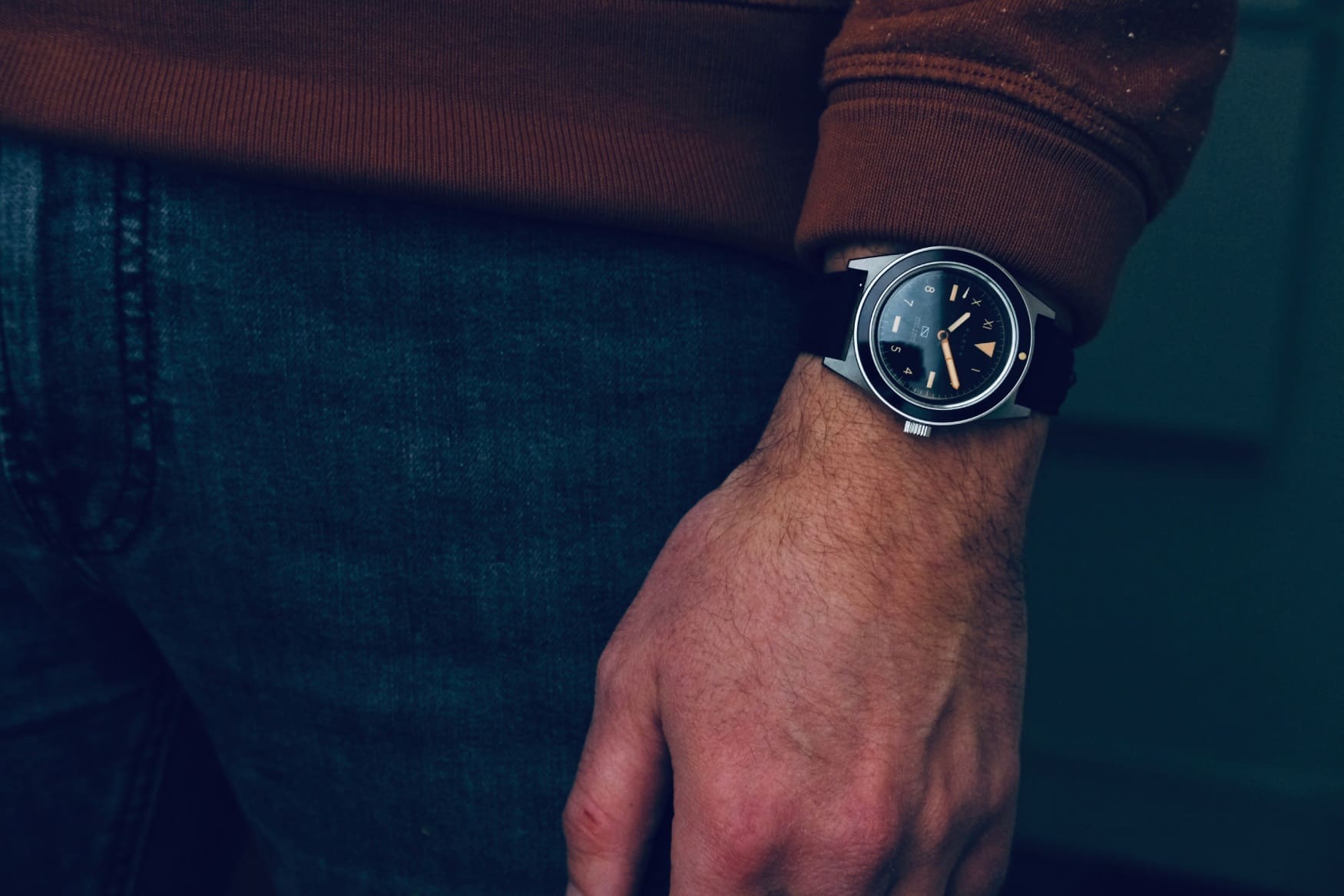 Canadian watch collector Edward Cho got an early start in the watch world. He was raised by his grandmother who had the habit of winding a big Rado every morning. She would tell him that the watch had to be wound in order to tick. This first encounter left an impression on Ed who subsequently went on collecting various brands at various price ranges over the years, before getting hooked on smaller divers from the 1960s and '70s due to their simpler aesthetics. Realising that it wasn't prudent to dive with a watch that's half a century old, Ed started thinking about making his own. 
'60s-style divers made in 2023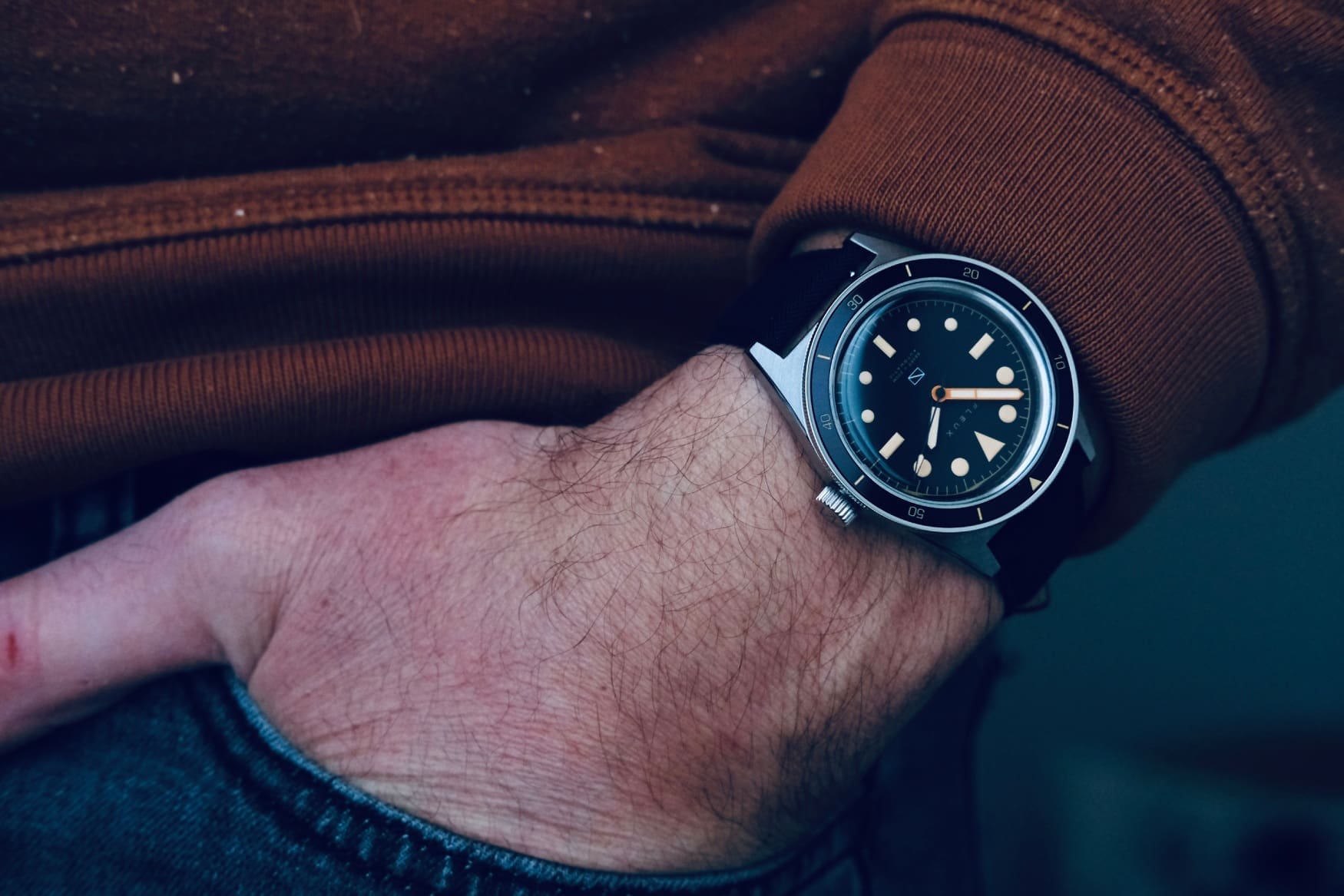 As an older person might say, things were simpler "back in the day". In terms of horology, watches had more reasonable dimensions, simpler layouts, and were far more affordable. One day I calculated that the first Submariner used to retail for about US$1,250 in today's dollars, adjusted for inflation. Although it is still a big chunk of change for many collectors, it is a far-cry from its current retail price—close to US$10,000. And while the technology and built quality of a $500 diver does not compare to that of a Submariner, what matters for many is the value they get. Which is the point of this review.
As most collectors would agree, one cannot use a vintage diver today as it was intended to be used when it was first built. A lot has changed in terms of technology. Now gaskets last longer and movements are more reliable and can be repaired more easily. All of this means you can make cheaper watches with better functionality. In the case of the Fleux FLX001 and FLX002, two vintage-inspired divers that can go down 200 metres without any issues, the watches are powered by the Seiko NH38A caliber – a reliable, mechanical movement.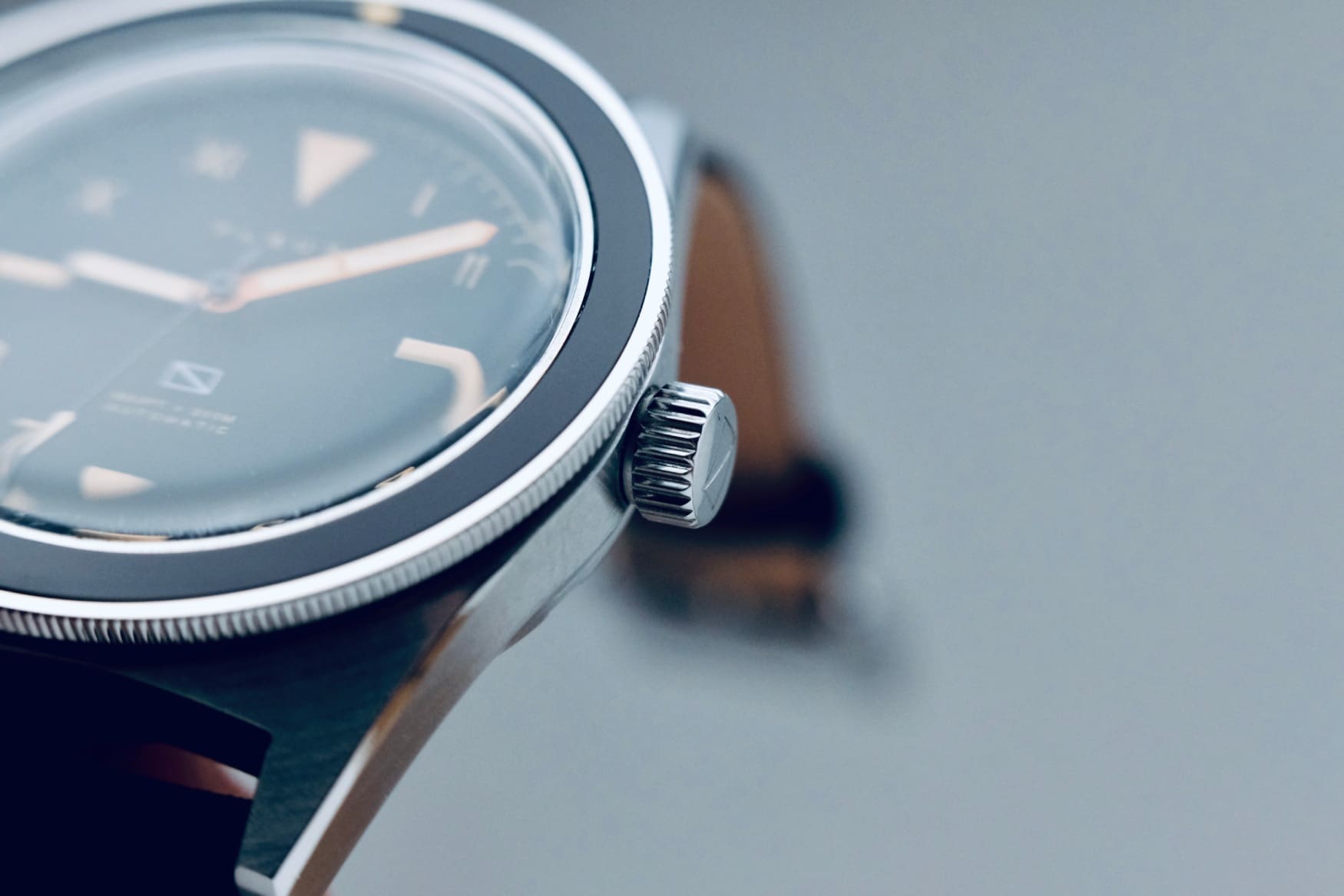 To keep the vintage vibe alive and strong, Ed equipped his first two models with double-domed hesalite crystals. Hesalite is more shock resistant than sapphire, however not as scratch resistant as sapphire. At the same time, hesalite adds warmth to the dial and scratches can be easily buffed using Polywatch (I've done it and it works). The vintage spirit is also expressed in the use of SuperLuminova C3 "Old Radium" on the hands and painted hour markers. Indeed, everything is painted on the dial which further aids in giving these watches a vintage vibe. The lume is applied in thick layers making reading the time a breeze in darker conditions. 
Last but not least, Ed opted for a rare, friction-fit bezel to keep the old spirit alive.  The FLX001 and FLX002 bezel inserts are made of coated aluminium giving the impression that they are made of ceramic. The bezel on the FLX001 has countdown markings while the one on the FLX002 has one dot like the bund style made originally for German underwater commandos. 
Key specifications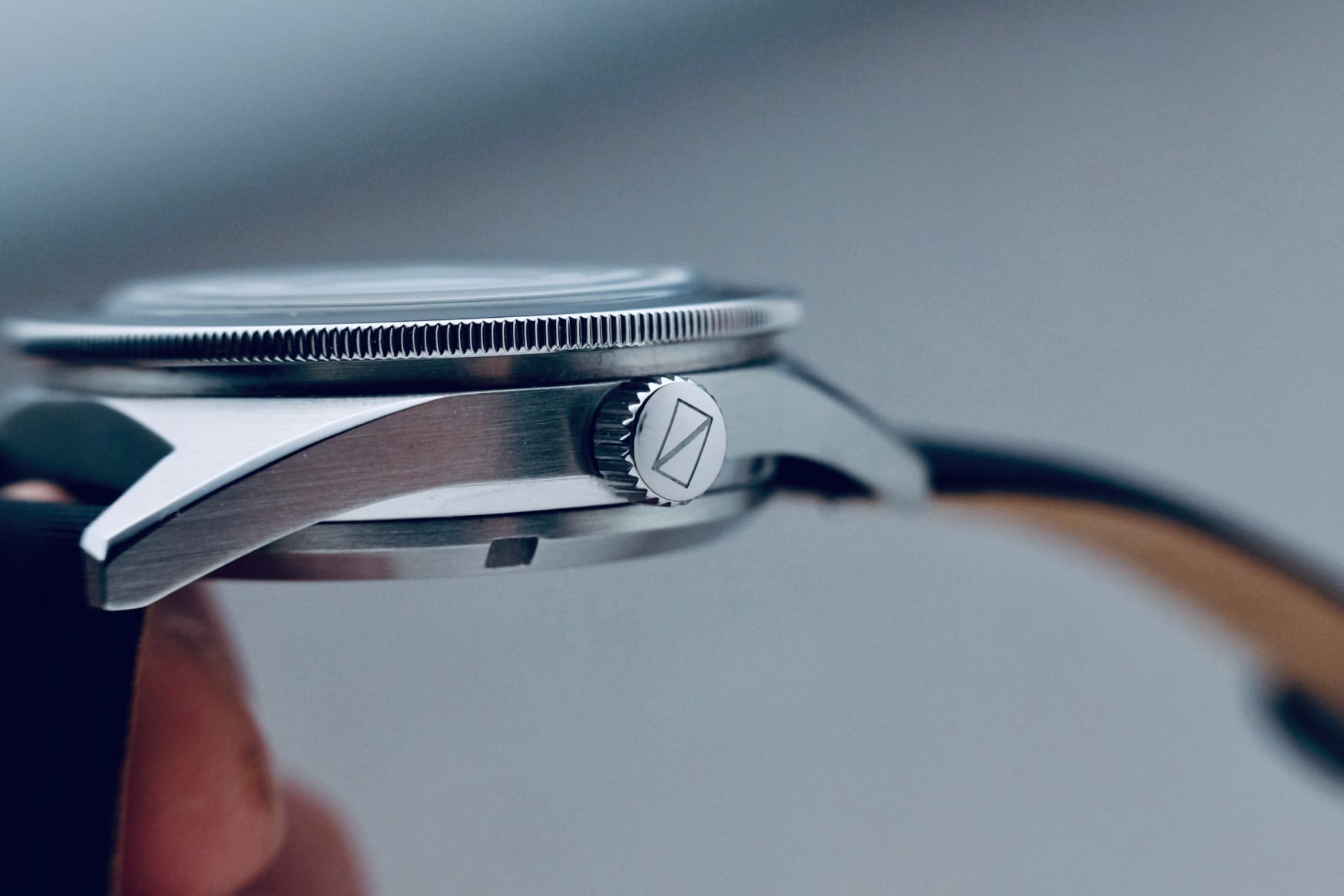 To conform to vintage-looking specifications, the Fleux watches come with certain dimensions: a 38mm case diameter, 47mm lug-to-lug, and 14mm thick including the crystal. While 14mm does sound thick for something that looks as if it was made post World Ward II, the watches sit comfortably on the wrist. Equipped with 20mm lug width, the FLX001 and FLX002 are true strap-monsters. The watches are provided with SEAQUAL straps made of recycled ocean plastic that come with quick-release spring-bars. (SEAQUAL is a non-profit organisation that fights against ocean pollution).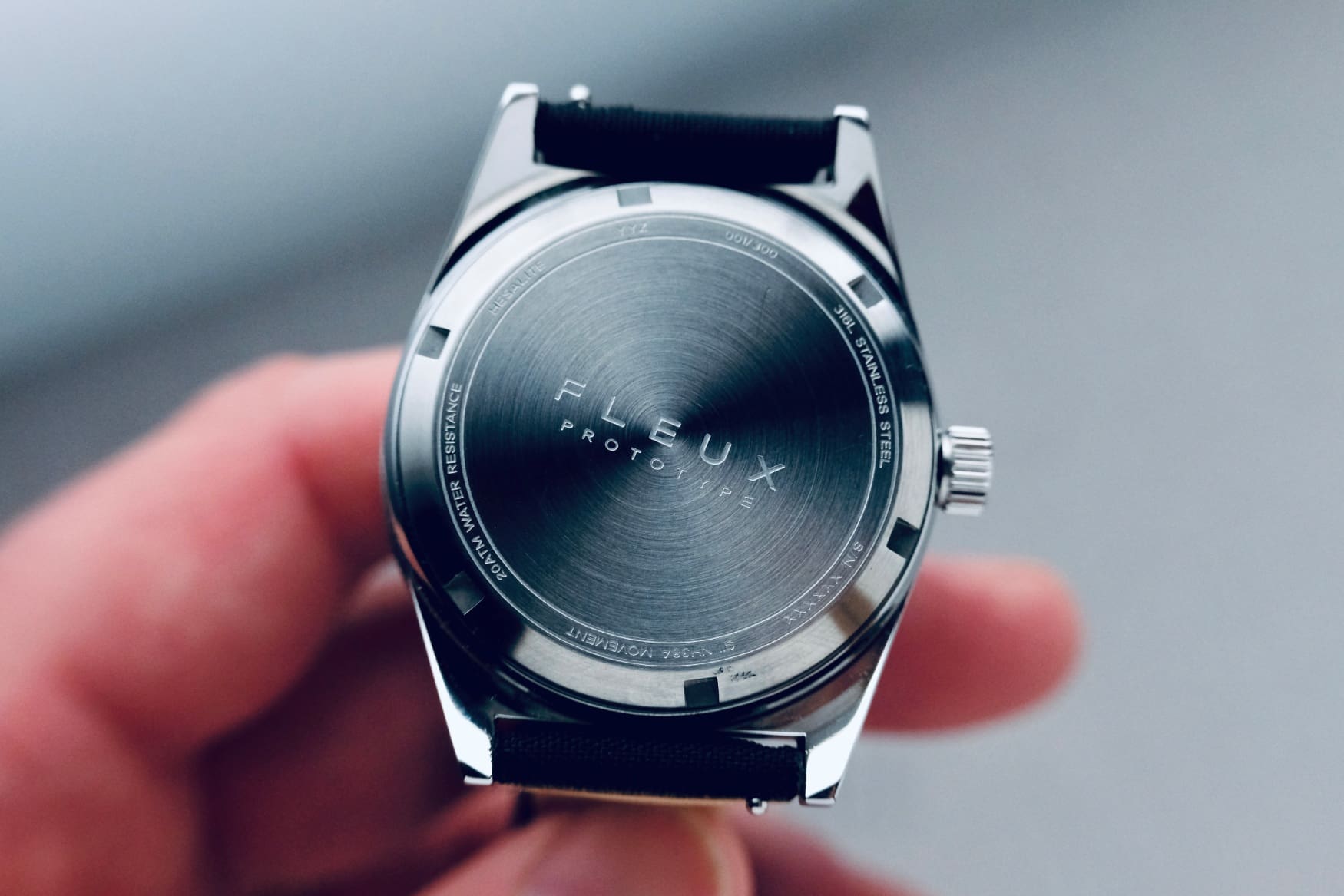 As mentioned above, the watches are powered by the Seiko NH38A caliber which beats at 21,600 BPH (3Hz) and comes with 41 hours of power reserve. The NH38A (and its sibling the NH35A) are notoriously thick, but reliable and affordable. This choice of movement partially explains the 14mm total thickness of the watch in addition to having a vintage-Rolex type of bulbous caseback. The case, for its part, has a simple profile with lugs that dramatically turn down towards the wrist. There is a predominance of brushed finishes except for a polished chamfer that runs across the case. 
The dials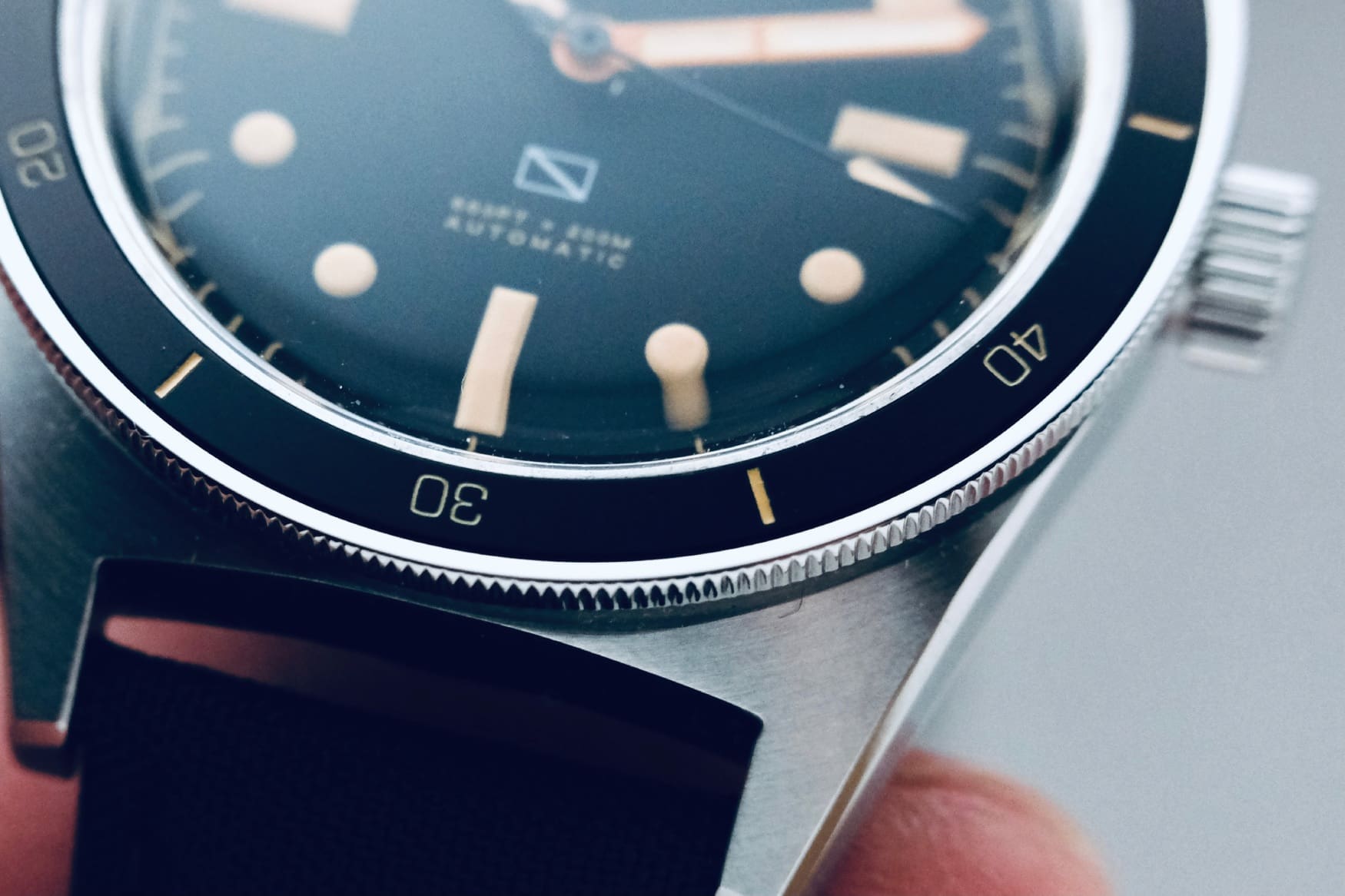 Last but not least, let's talk about the dial layouts. Both models have what is known as "divers' hands" in which the minute hand is more visually prominent than the hour hand. This makes sense since divers care more about timing a dive (up until 60 minutes) rather than counting elapsed hours. The minute hand is painted orange, a la Squale, while the hour hand has a black surround. The seconds hand also has black surrounds and comes with an arrow-shaped lumed tip. Text is kept to a minimum on the dial and is painted with a colour that matches that of the C3 "Old Radium" lume. Super vintage.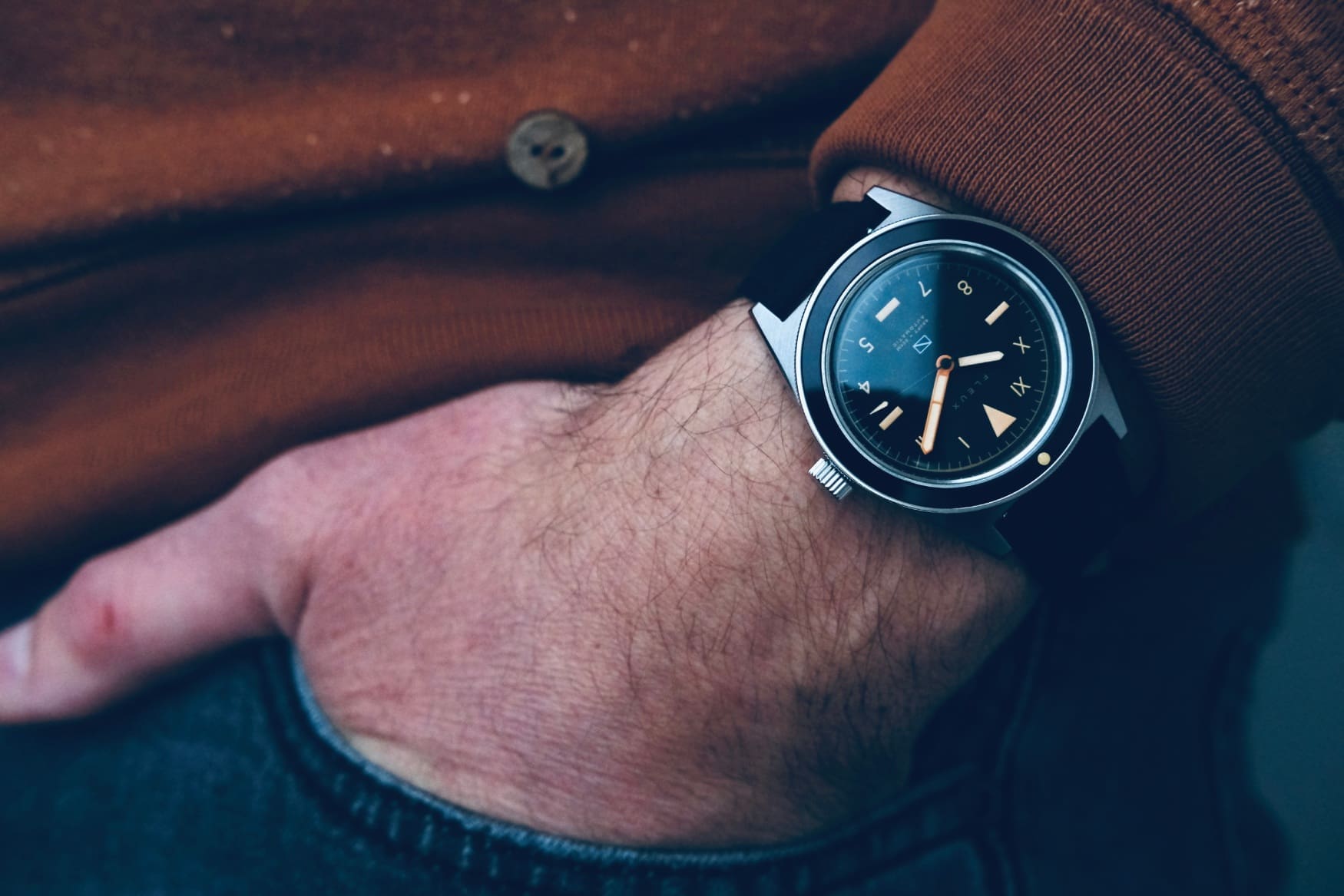 The two models differ, therefore, in how Ed decided to go about designing the hour markers. The FLX001 has a mix of dots of two sizes, batons, and an inverted triangle at the 12 o'clock. The effect of juxtaposing circular dots of two different circumferences is subtle yet unique. For its part, the FLX002 has a California dial with Roman numerals on the top half of the dial and Arabic numerals on the bottom half. In this case, all hour markers have the same size, creating a stronger visual harmony whilst making the time easy to read. As mentioned earlier, each version has a different bezel, further telling them apart. 
Final thoughts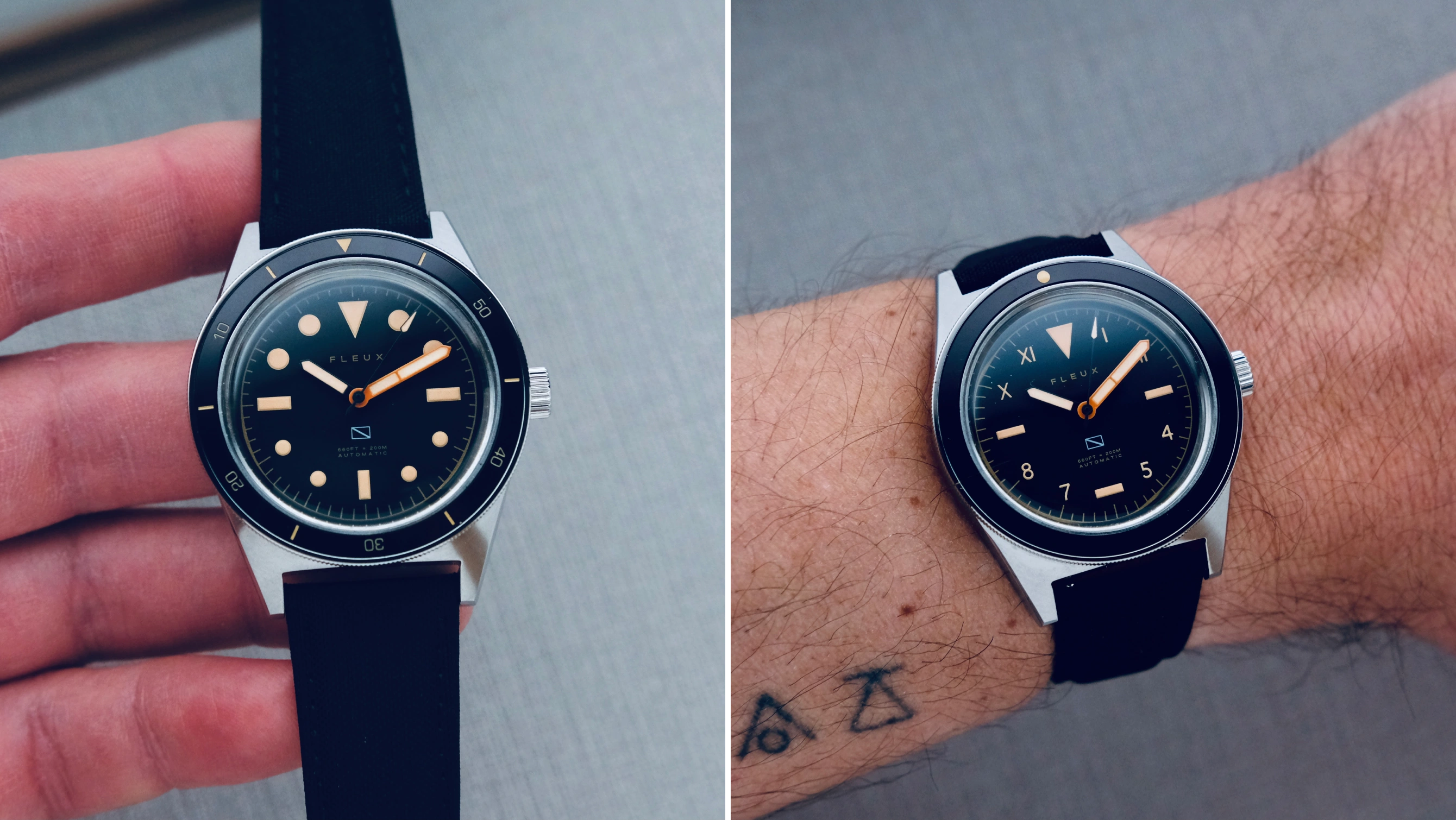 These two releases from Fleux manage to combine solid specifications and plenty of vintage charm. But the really exciting part is that extremely attractive price-point – less than US$500 for a 200m diver with bags of retro panache. These aren't throwback divers that limit themselves to a splash of aged lume, they commit to the theme with conviction and, in my opinion, are all the better for that.
Fleux FLX001 and FLX002 pricing and availability:
The Kickstarter campaign will be running April 11 through to May 1 2023, you can visit the countdown on the Fleux website and Kickstarter page. Price: US$420 (super early bird), US$452 (early bird), US$467 (pre-order), US$499 (RRP)