This IWC Ingenieur SL designed by Gerald Genta could be yours on Loupe This
Zach Blass
As watch enthusiasts progress in their collecting, each proceeding hunt is typically dictated by the box they want to check off next. Brand, complication, sports, dress etc. But serious horology heads often target creations based on their designers, and one designer who has attracted the hearts, minds and wallets of watch buyers around the world is Gerald Genta. Primarily known as the father of the Royal Oak and Nautilus, Genta is commonly considered the most prolific watch designer of all time. As watch consumers have become more educated, the values of Genta creations have soared. We know all to well that the Royal Oak and Nautilus are unobtanium at retail, and that both vintage and modern pieces command huge premiums on the secondary market. But Genta designed many other pieces as well and even lesser known designs of his, like the Credor Locomotive, now often command high asking prices. So what is one well-priced Genta designs that you can set your sights on? Well, as a tiny-wrister, I reluctantly share the insight that looking towards smaller diameters is a way to shave down the price. And right now on Loupe This, sitting at a current bid of $3,000 USD (with an estimate of $4,000 – $6,000 USD) and with a little over five days remaining to bid, there is a compact, classic and Genta-designed 1980s IWC Ingenieur SL Automatic ref. 3506 up for grabs.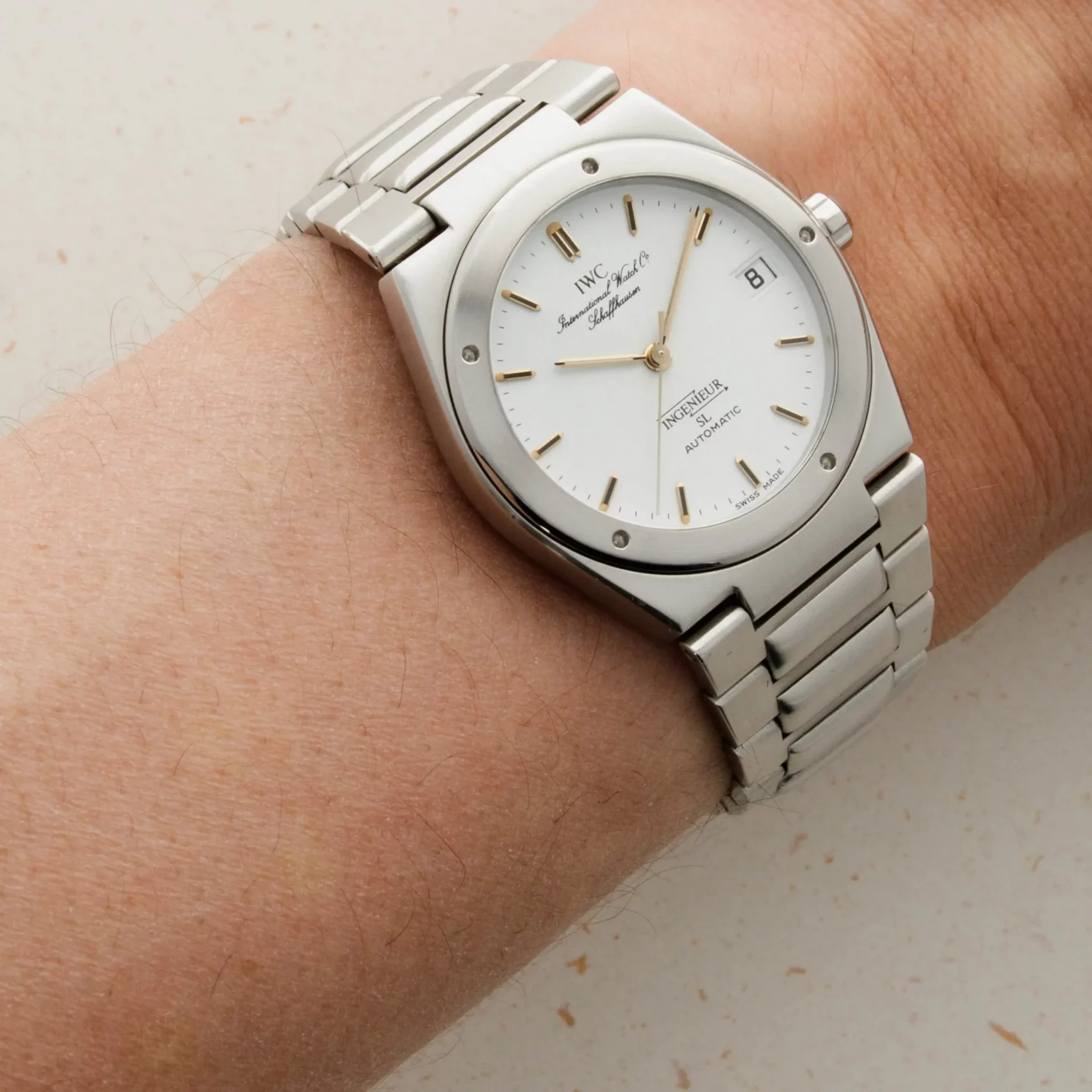 "While the IWC Ingenieur can trace its origins as far back as 1955, the collection was revamped in a rather significant manner in the 1970s following the popularisation of stainless steel luxury sports watches. Designed by Gerald Genta himself, the new Ingenieur SL was a slim 'Jumbo-sized' case much like Genta's Royal Oak that featured an integrated bracelet. Furthermore, it even featured a bezel with four rivets, much like the Royal Oak's exposed screws. Eventually, following a period of insufficient sales, IWC decided to launch a smaller variant of the Ingenieur, the ref. 3506, in the mid-80s, which is what we have here. With an emphasis on IWC's elegant design language, the ref. 3506 utilized design touches such as gold hour markers and hands along with slightly textured dials in a bid to swap the Ingenieur's tool-watch design with a sophisticated look that echoed IWC's dress watch aesthetic while remaining true to the new Ingenieur. Produced only for a short period of time, the ref. 3506 was well-received while it was in production, and today is a rare variant of the Ingenieur that collectors still love to see." – Loupe This Co-Founder Justin Gruenberg
Based on its condition report, the 34mm stainless-steel watch is graded with a score of 8.5/10 – described as having minor signs of wear on the case and a few superficial scratches on the case and bracelet. Looking at the lot images myself, I would concur with this assessment. It is definitely not pristine and unworn, but you really have to search for the few superficial blemishes to notice them.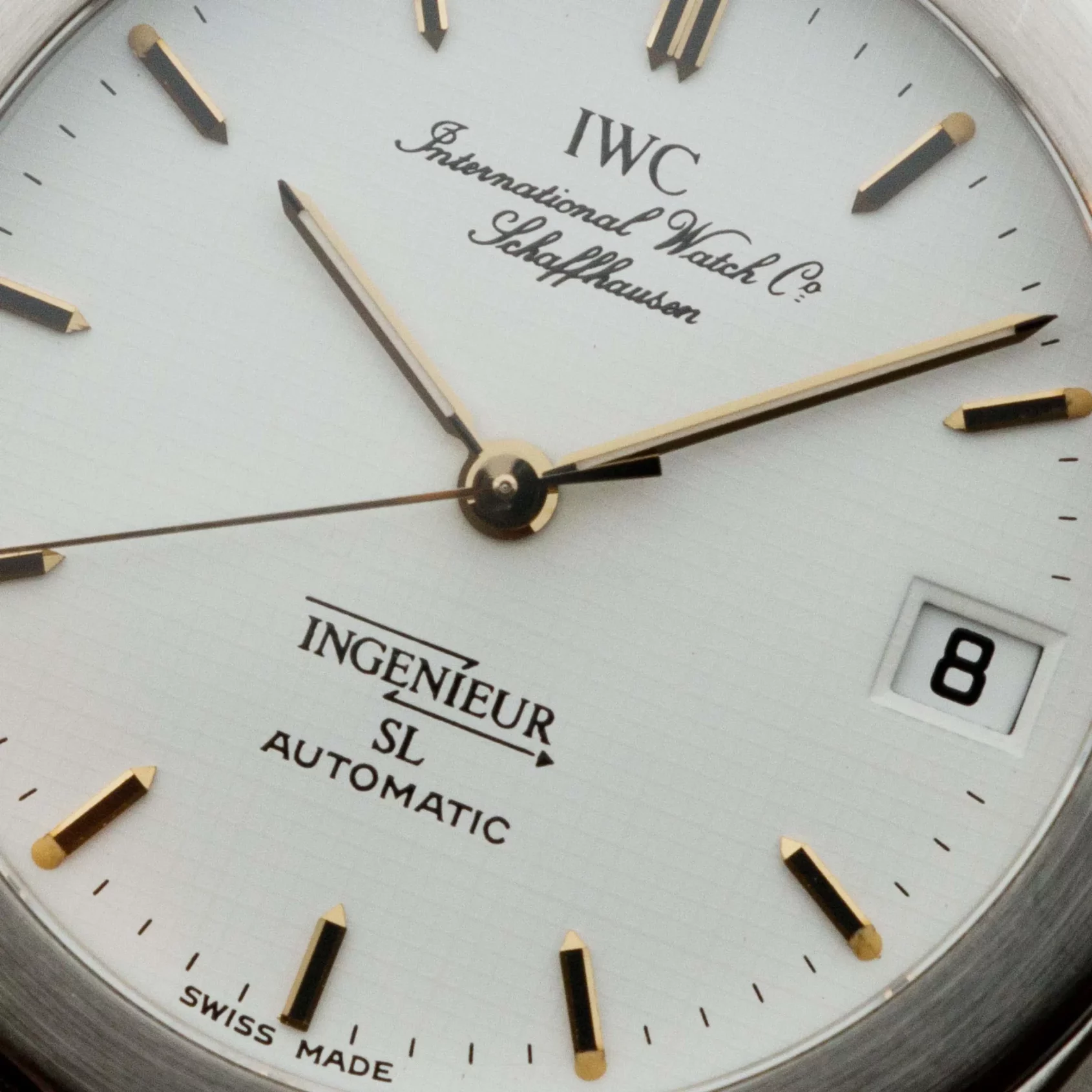 Normally I do not particularly love the idea of indices within a steel case to be executed in contrasting gold, but in this instance I think it just somehow works – perhaps catering to its strong vintage charm. It also may work for me a tad more in this instance due to the fact the top facets of the gold indices have been blackened, muting the contrast and adding further intrigue to their aesthetic. The subtle grid texture to the dial is a nice touch, a distinguishing element its wearer can appreciate as they wrist-roll to check the time or take a reel for the 'gram.
When bidding or buying any vintage watch, it is always important to inquire about its service history – who wants to buy a pretty watch that is busted inside. Prospective bidders will be glad to know that the watch was fully serviced by IWC personally in 2017, and when placed on a timing machine (crown down) it appears to be running at +1.7 seconds per day – very accurate, at least in its position, for a watch of its age. For those concerned about sizing, you will also be glad to know the watch bracelet has a total of 23 links affixed to it, five of which are removable. The only potential detriment to consider is that during its service in 2017, the original tritium hands were replaced with service hands filled with Luminova. The pips adjacent to each of the hour indices, however, are original tritium plots that have patinated into a desirable golden pumpkin hue. For sticklers, this may pose an issue. But for those looking for a bargain on a rare watch, it definitely works to your advantage.
How to bid on the IWC Ingenieur SL Automatic ref. 3506 up for sale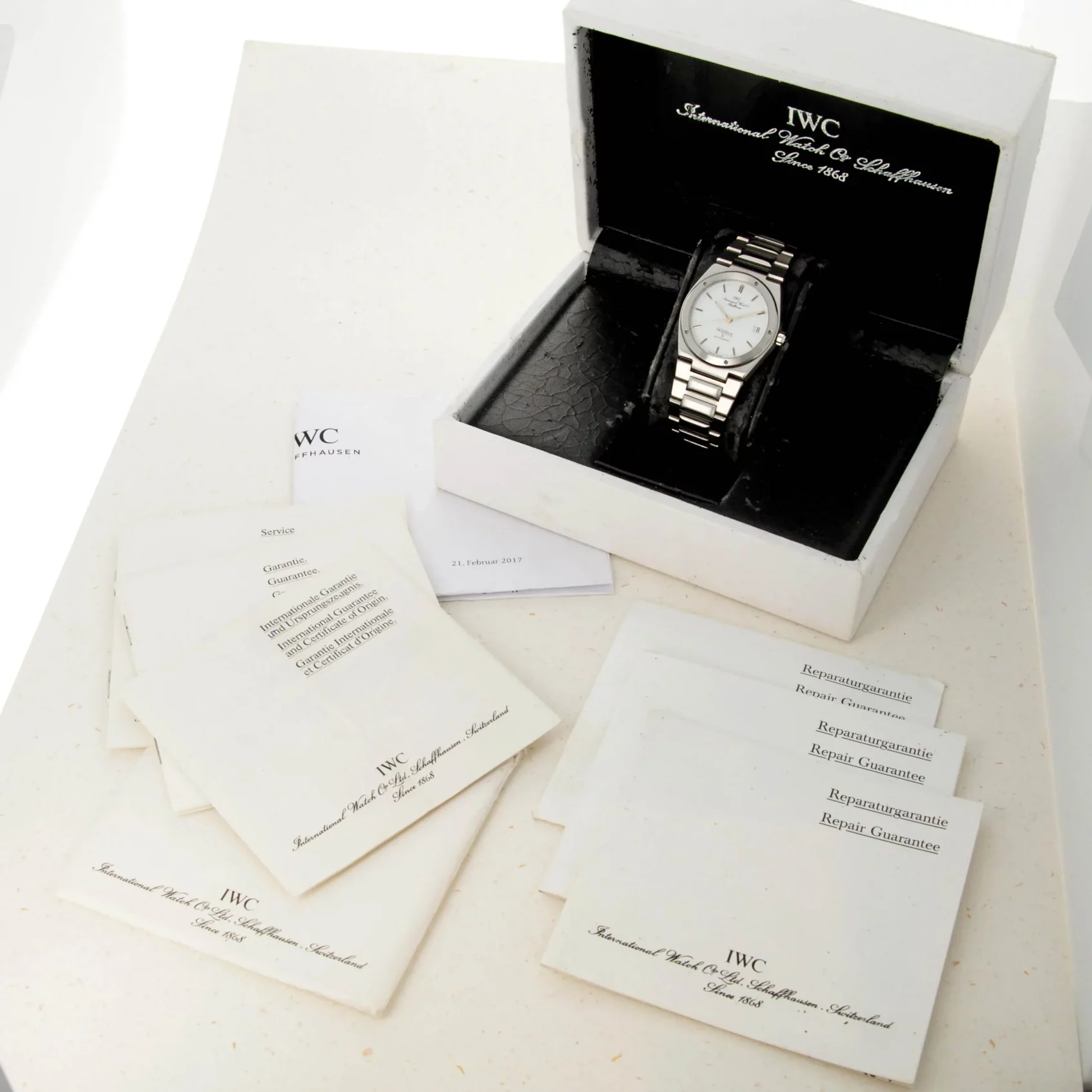 Included in the lot is the IWC Ingenieur SL Automatic ref. 3506 with box, papers, and service invoice. To register to bid for the lot, be sure to create an account on Loupe This before the auction ends on March 8 at 12:05 PM EST. Happy bidding!
Editor's Note: The timing reading was taken (crown down) with a ONEOF Accuracy Boutique Edition timing machine at time of cataloging. It is provided by Loupe This as a courtesy only, and shall not be construed as a warranty or guarantee of any kind. Please refer to their terms and conditions of sale for more information.