From the first days of my downward spiral into my geeky obsession with horology, the world of the independent watchmakers has always held a warm place in my heart. Even when the Swiss watch industry was filled with doom and gloom, these small passion-fuelled outfits forged ahead, creating new and innovative releases at a time when the big-box brands were doing their best to stay afloat by releasing an endless flood of dial variations and other minor updates. In recent years, this unique microcosm of watchmaking has continued to see growing interest from the collecting and enthusiast community at large, as more and more watch fans develop a taste for high watchmaking that skews a little outside the norm. This year at SIHH I spent an inordinate amount of time in the Carré des Horlogers — the show's independent watchmaking hub, and my "home away from home", if you will — to take an in-depth look at what the industry's more creative minds have cooked up for the new year. Here's what I uncovered.
Richard Mille RM 53-01 Tourbillon Pablo Mac Donough
Squeezing Richard Mille onto this list involved a bit of debate, as in terms of market presence and scale of business, RM is by no means one of the "little guys". That said, he's not part of one of the conglomerates, and each year his new releases end up ranking as the most talked about watches of the year — love him or hate him, he simply can't be ignored. This year's hero piece, the RM 53-01 Tourbillon Pablo Mac Donough, forges new ground on a couple of significant levels. First, its elaborate cabling system, supporting its particularly delicate-looking movement, ensures that the piece can resist up to 5000 g-forces, which is the same amount of force to which Ball Watches test their pieces (though using far more conventional calibers and hefty steel cases). This setup isn't entirely new, having previously been used on the RM 56-02 Tourbillon Sapphire and the RM 27-01 Nadal, though this latest application is even more complex and intricate than its predecessors. Further to this, RM has further protected its sleek new tourbillon by taking a page from the automotive world. Between two very thin layers of sapphire glass, they've bonded a thin sheet of vinyl. Should this 900,000 CHF masterpiece be struck by a polo ball while Mac Donough is on the pitch, the crystal will shatter without leaving any fragments resting in its inner workings.
F.P. Journe Chronographe Monopoussoir Rattrapante
From the man who needs no introduction, we all knew something like this was coming after his unveiling of a monopusher split chronograph for the Only Watch auction, but it's safe to say this new release is even better than expected. Created as the newest addition to the LineSport model range, the 44mm chronograph features very casual aesthetics, including rubber trimming on its case and bracelet. Considering its Only Watch sibling sold for north of $1M this past November, the pricing of these series production models is quite reasonable. Starts at 58,000 CHF for the titanium model, 78,000 for red gold, and 106,000 for the platinum version. Though the weight of the titanium is a mild deterrent, personally, its sleek grey/purple dial definitely makes it the "hero watch" of the trio.
H. Moser & Cie Endeavour Flying Hours
If you've read my other feature on the Endeavour Flying Hours already, you'll know I was quite smitten with it during my viewing at SIHH. Its clever caliber — developed with Moser's sister company, Hautlence — displays its hours via a trio of satellite discs resting above a crisp Funky Blue dial. Every other creation from the brand thus far has carried a much more traditional aesthetic overall (not counting the wacky one-offs like the Swiss Mad Watch), and the juxtaposition of this classic dial and case against its slightly URWERK-esque time display works exceptionally well without breaking the bank. The limited-edition model (capped at 60 pieces) is priced at 32,000 CHF in a white gold case.
Romain Gauthier Insight Micro-Rotor for Ladies
To be fair, this newest edition of the Insight Micro-Rotor is very much a new variation of an existing model by the supremely talented Romain Gauthier, but here's why it matters. In the pool of proper haute horlogerie geared towards women, there are very few contenders — let alone ones released by small independent manufacturers who are producing less than 100 watches per year. That alone doesn't make it any good, but the Insight Micro-Rotor was such a home run last year that adding details like mother-of-pearl dials (either Tahitian black or Australian extra-white mother-of-pearl to be specific) and a snow-set micro-rotor with 45 brilliant cut diamonds to its beautiful movement architecture and conservatively-sized 39mm case, well, the imagery speaks for itself. Each variant will be limited to 10 pieces each, priced at 83,000 CHF.
Laurent Ferrier Galet Annual Calendar Montre École
Tipping the scales back to something far more traditional in aesthetics, Laurent Ferrier's latest new release is powered by a new in-house hand-wound caliber with at least a few tricks up its sleeve. In terms of setting, both the date and month can be adjusted bi-directionally via the crown, while days of the week can be skipped ahead via a fairly subtle pusher located at 10 o'clock. Visually speaking, the new annual calendar is fitted into the Montre École (or "School Watch") case we saw launched back in 2017. Measuring 40mm across, the new model wears very comfortably on the wrist in both steel, as well as its heavier metal yellow and rose gold configurations. Being offered with either a light silver or dark slate grey/anthracite dial, what's also quite surprising is the brand's playful choice of dial accent colours. A soft baby blue date track surrounds the outer perimeter of its dial, with indication being provided by a bold red hand — a stark contrast to its cool white hands used to indicate hours, minutes and running seconds. At a personal level, I'd be quick to side with the dark dial in steel. The real shocker? Pricing starts at 50,000 CHF in steel, and a VERY modest 5k more for gold.
De Bethune DB27 Titan Hawk V2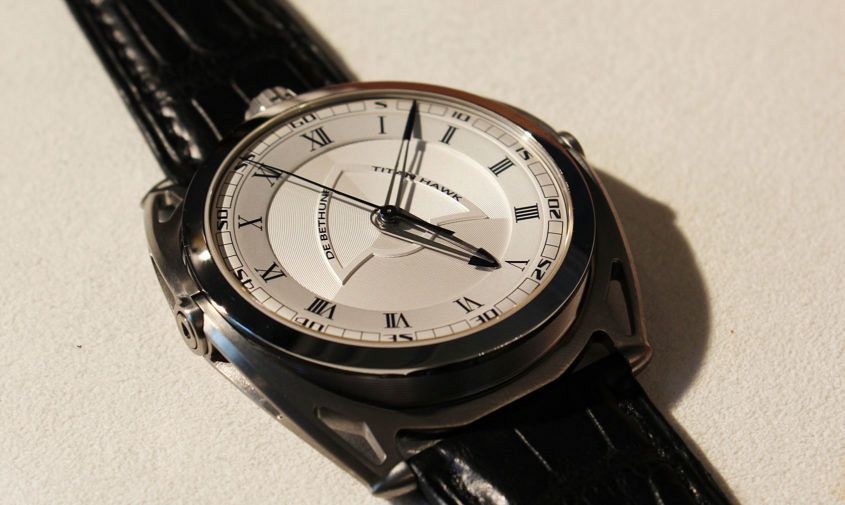 Technically not part of SIHH, hosting their own private viewings in downtown Geneva, De Bethune's rise from the near-ashes is too noteworthy an occasion to not discuss. The last couple of years there has been much speculation about the future of the company, and just recently it was announced that one of the company's former CEOs, Pierre Jacques (who left to run the now-defunct MCT), has returned to the helm with backing from a private equity firm. The brand arrived with a pair of new models, including their new "entry level" DB27 Titan Hawk V2, priced at a very reasonable 37,000 CHF. The new Titan Hawk V2 delivers all of the charms that make De Bethune so spectacular: a floating case held by curved articulating lugs, an elaborate multi-piece dial, and simply a unique aesthetic that you cannot mistake for anything else.