INTRODUCING: Farer hits New York City with four new offerings
Ricardo Sime
On Thursday night, I was able to attend an event hosted by Worn And Wound with Farer as their guest at the New York City Filson Flagship Store. The watch brand, known for their colourful aesthetic and robust offerings, has not travelled to the States in some time. So this was the perfect opportunity to see their recent releases. Knowing this, Farer didn't come empty-handed and to my surprise, presented four new watches. These consist of three, time-only stunners and a new colourway for their non-bezel GMT. Say hello to the Farer Discovery, Resolute, Hopewell and Lander Midnight.
First up are the three handers. As far as specifications go, these watches come in at a very inviting 39.5mm. The case has a compact lug-to-lug of 45mm with a svelte 10mm thickness. On my 7.5 inch wrist, that translates to darn near perfect wearibility. Finishes consist of topside brushing with side polishing that allow the watch to capture light beautifully, while still maintaining a casual aesthetic. The case is rated to 50 metres of water resistance and has a push/pull crown. This should stand up to most situations you'd throw at it.
Beyond the specs, what truly stands out with these three handers is their dials.  Beautifully displayed below a boxed sapphire crystal are three different versions. Above, we have the deep purple of the Discovery. It bears a classic 3, 6, 9, 12 layout (with indexes and numerals being raised) that's uninterrupted by a date window and with minimal lines of text . This was definitely a crowd-pleaser as the dial would fluctuate between that purple colour to an almost midnight black.
Next came the Resolute. This is Farer presenting another masterclass in the use of lume. You'll notice that the raised black numerals here are bordered white. That white is your luminous paint and is the inverse of your curved syringe hands. The blueish green glow of the lume, when partnered with the orange seconds hand and the accompanying 20mm green strap work very well together.
Finally, to round out the three handers, we have the Hopewell. Farer has always cornered the market when it comes to blue dials and that continues here. It starts with the numerals on the dial being framed by a light blue colour. This then flows into the beautiful midnight blue color of the dial. To round this all out, Farer injects its playfulness with pops of yellow and red.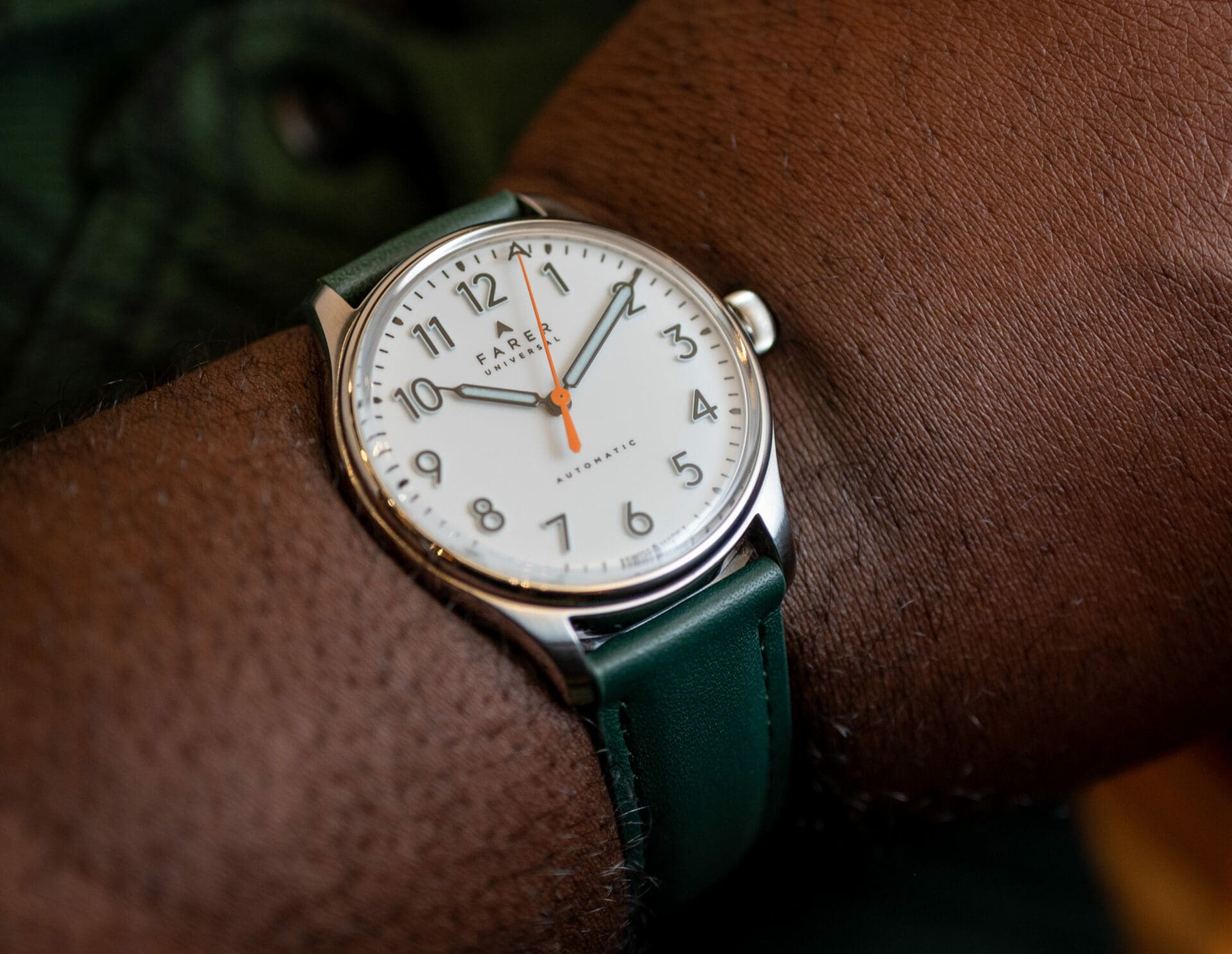 As far as movements are concerned, all three watches contains an automatic no-date version of Selitta's SW200. This movement can be hand wound with the crown in the closed position and when in first position, the watch hacks and time can be set. As far as specifications go, the movement has 26 jewels, beats at 28,800 bph and has a power reserve of 38 hours.  Farer adds a final touch by including a bespoke rotor, viewed through a display caseback.
The final release of the night was the Lander Midnight, a new colourway for Farer's popular GMT Automatics. This collection features watches without a GMT bezel that instead have an even number GMT track on the dial. In terms of specifications, the GMT Automatics make use of the same case as that of the new three handers. Beating inside is a top grade Selitta SW330-2 movement with a rate of 28,800 bph and providing 42 hours of power reserve.
The main differentiator between the Lander Midnight and previous GMT automatics is the new midnight blue coloured dial. It features bronze hands and a bronze minute track, whose golden hue pairs well with the blue. To bring it all together, Farer adds British pillarbox red to tip the GMT hand.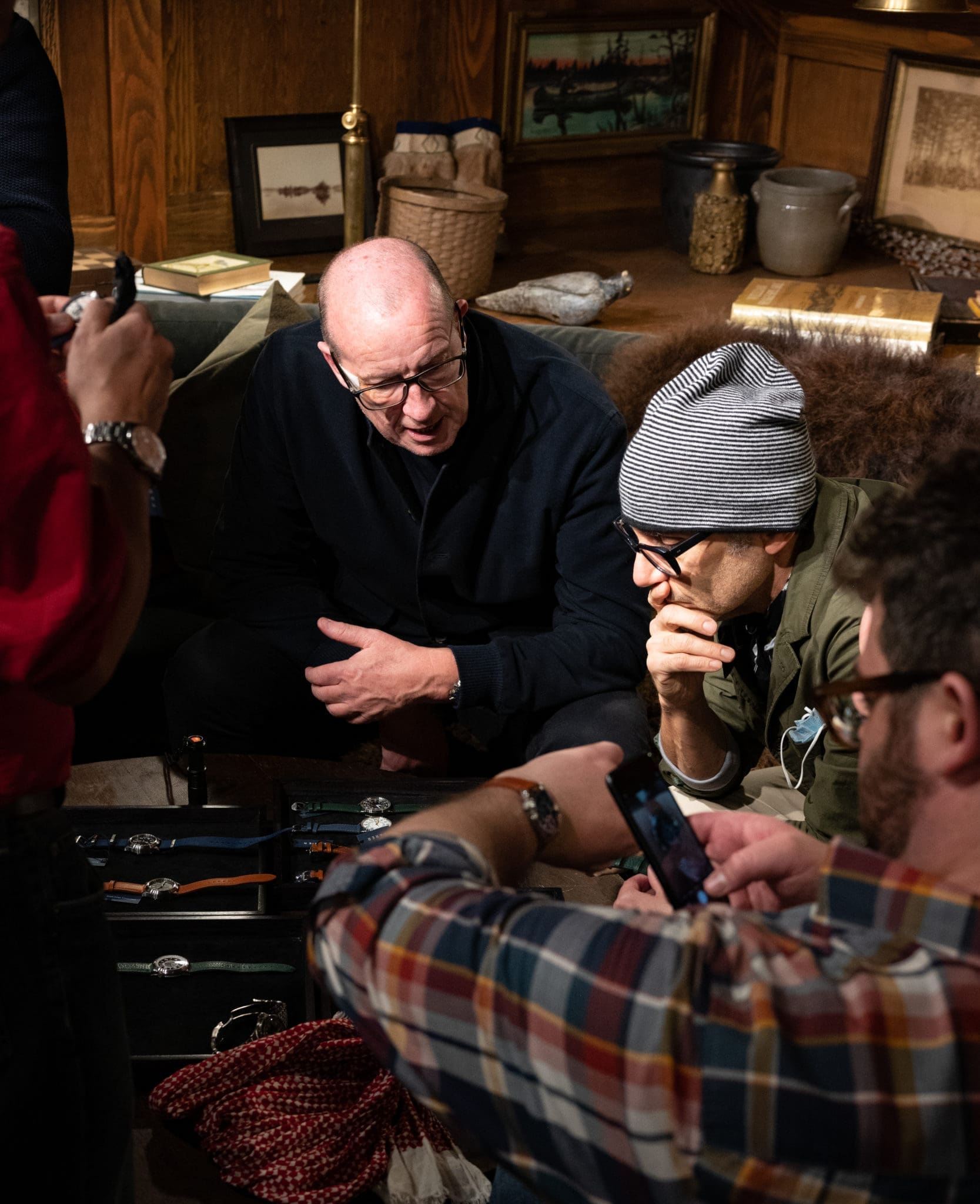 Overall, last night's outing was a great statement for the brand. Being able to see most of their offerings up close solidified their high standing among collectors. It also allowed many of us to get to know the people behind the brand. And yes, I know their use of colour may not be for everyone. However, it's hard to question that their catalogue is filled with quality-built, robust watches. These four new references just add to the legacy they are building and that we increasingly enjoy.
Farer Three Handers and Lander Midnight GMT Automatic Price and Availability:
The Discovery, Resolute and Hopewell will be available for purchase on November 30th. Price: $875-895 USD
The Lander Midnight GMT Automatic is available now on the Farer website. Price: $1450 USD