The Hamilton Khaki Field Expedition will not lead you astray
Luke Benedictus
The Hamilton Khaki Field Expedition is an outdoorsy upgrade on the brand's classic field watch
The bezel is equipped with a bi-directional rotating compass 
The field watch comes in a choice of three coloured dials: black, white or blue
You're lost in the desert, surrounded on all sides by endless sand with no visible landmarks around you. So what do you do? It's often been said that your bet here is to whip out a cocktail shaker and immediately start preparing a gin martini. The reason: as soon as you begin, at least two or three people will appear and start telling you that you're doing it all wrong. The problem, of course, with this sage advice is if you get lost in the desert and find yourself without gin and vermouth. Should you wind up in this nightmarish scenario, hopefully you're wearing the new Hamilton Khaki Field Expedition because it comes equipped with a bi-directional rotating compass bezel for all your navigational needs. Although as it turns out, it also offers a whole lot more.
Field watches are, in my book, the unsung heroes of the horological universe due to their honest to goodness simplicity.  They don't pretend you can fly a plane or regularly strap on a scuba tank. Instead, they're far more down-to-earth and approachable, secure in their no-nonsense functionality that basically extends to being reliable, legible and tough. Sure, field watches might boast a rugged, military heritage that saw them emerge as the wristwear of soldiers in World War One. Yet they tend to wear this macho provenance with a refreshing lightness.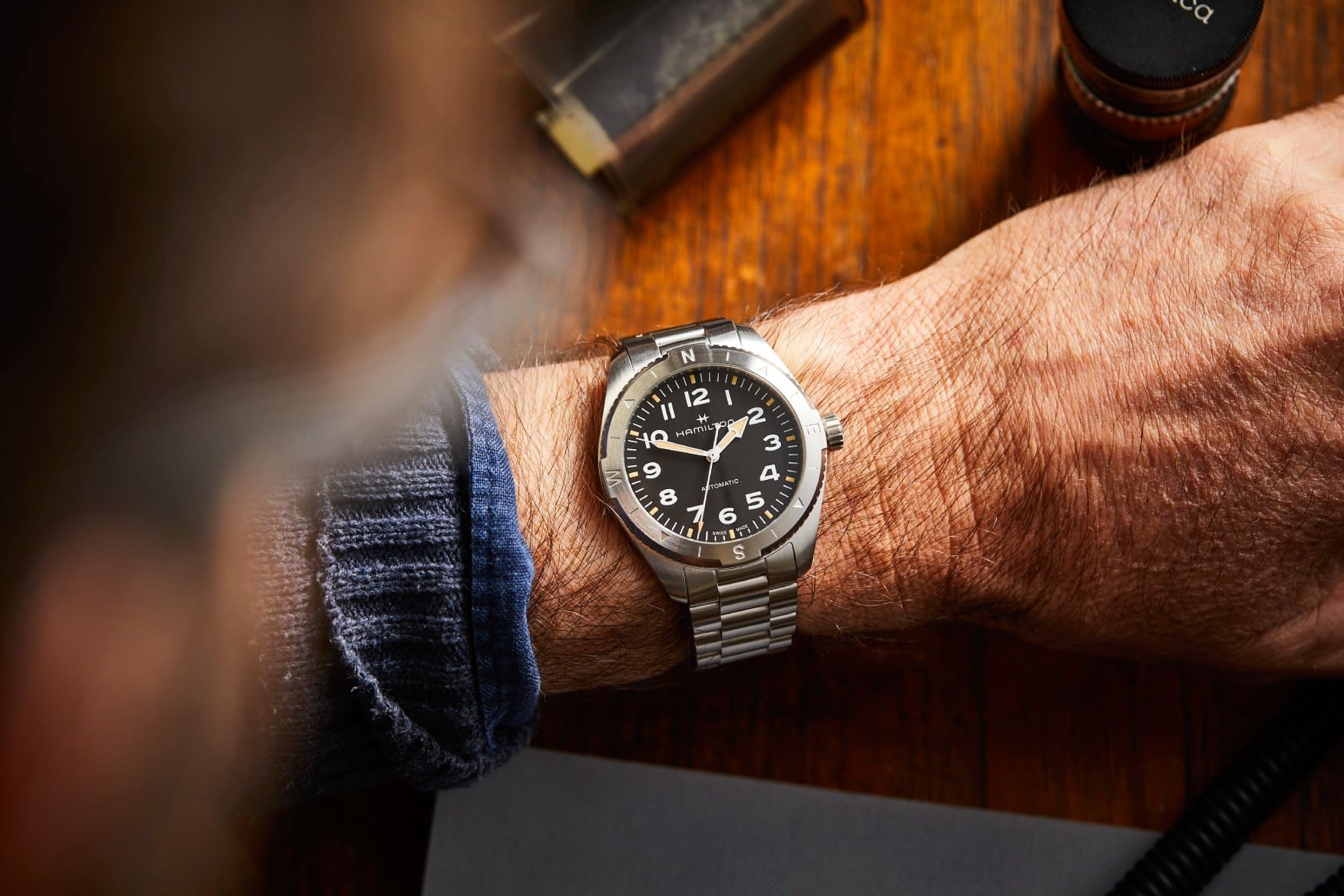 The distinguishing features of a field watch basically consist of a black dial with Arabic numerals, highly visible hands and markers, plus a smallish stainless-steel case, all delivered at a price that doesn't make you wince.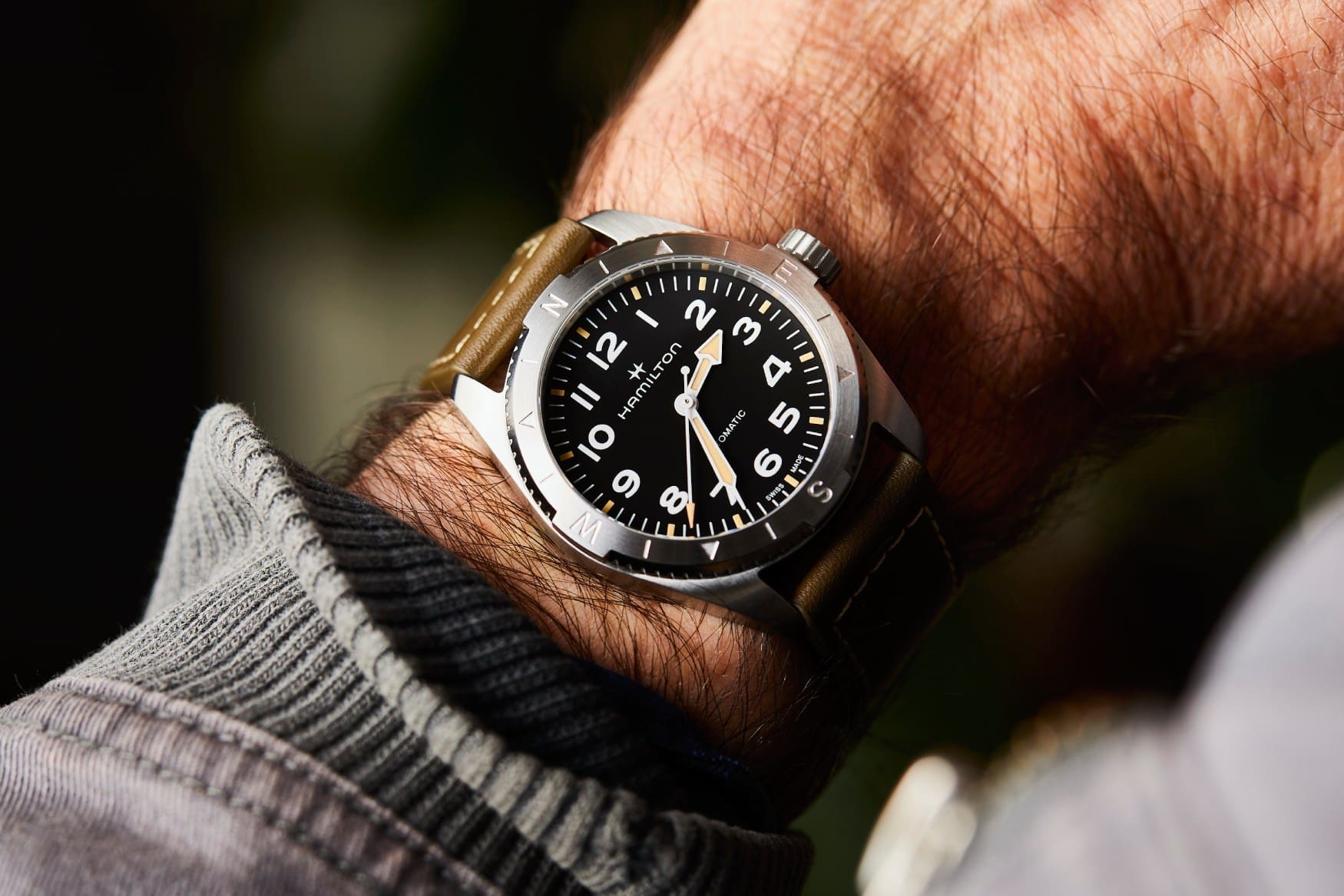 Fortunately, this is a, well, field where Hamilton excels, largely because they've had an awful lot of practice. The quality and accuracy of Hamilton's early pocket watches first caught the attention of the American military back in 1914. The brand began supplying their precision railroad watches to US soldiers under the command of General "Black Jack" Pershing during World War I, adapting the pocket watches to wristwatches to ensure the soldiers could read them quickly and easily. From there, things quickly ramped up. During the Second World War, Hamilton began dispensing watches, timers and precision instruments to the U.S. military in serious numbers. How serious? Well, in 1942, Hamilton halted all consumer production to ensure they could supply the huge number of watches required by troops. From 1942-1945, they delivered more than one million watches.
In the intervening years, the brand has honed its craft. The Hamilton Khaki Field Mechanical feels like the quintessential field watch for its rugged simplicity that leans into the design DNA of the mil-spec Hamiltons that the brand made many moons ago. The fact that you're getting a Swiss-made watch with a sapphire crystal for a decent price ensures the Hamilton Khaki Field Mechanical is invariably recommended in any conversation suggesting affordable watches for budding collectors. Yet, for me, the most astonishing thing about the Khaki Field Mechanical is that was only released in 2017. Here is a watch that is so timeless and pitch-perfect in its design, that it feels like it's always been part of the horological landscape.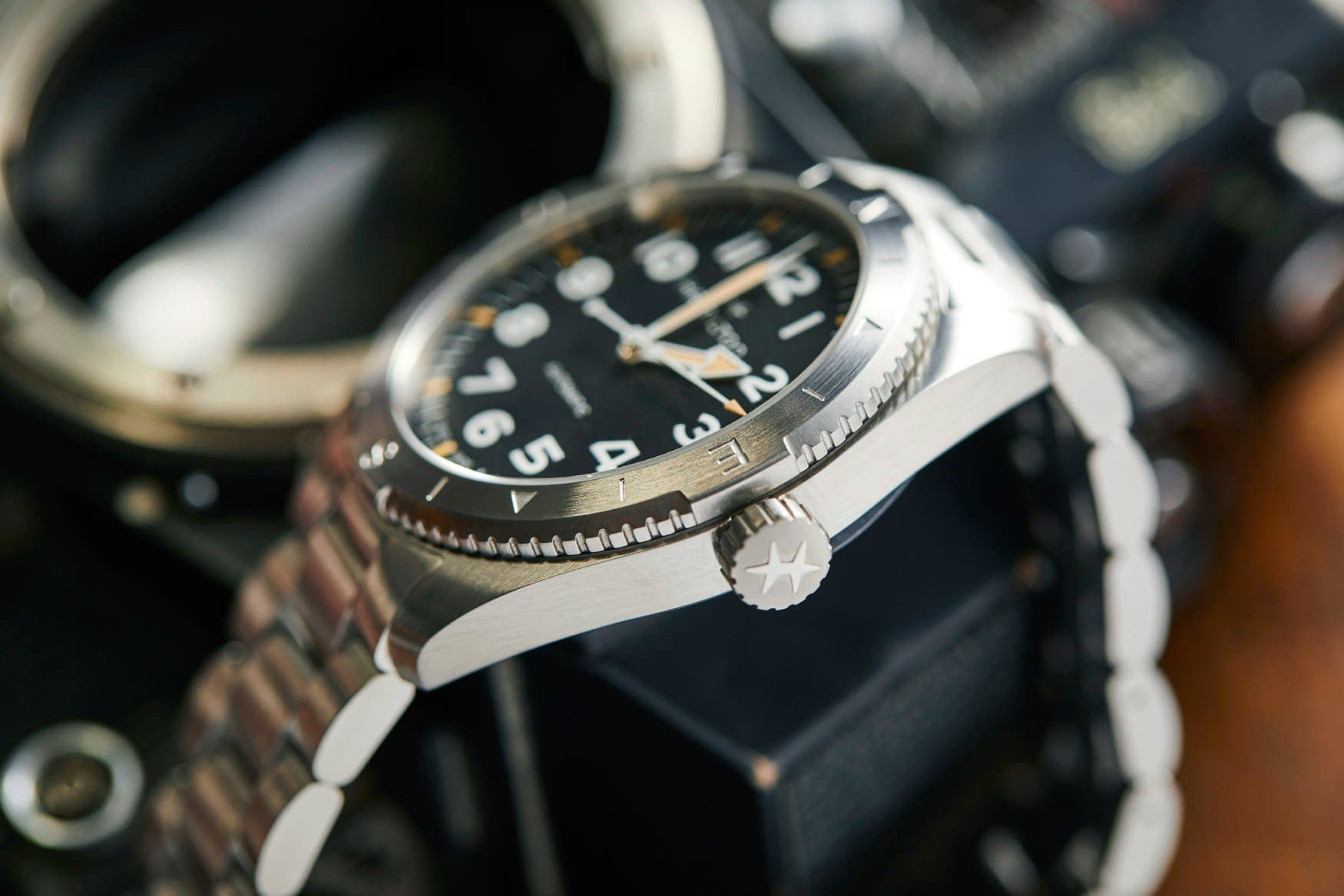 Visually, the Hamilton Khaki Field Expedition conforms to the basic template of the family. It's packaged in a brushed stainless-steel case that comes in two sizes that should keep everyone happy. Vintage aficionados or smaller-wristed types will gravitate to the 37mm, but there's also a 41mm option available too. While it's not a slinky dress watch, its girth is 11.5mm, ensuring that it still isn't too thick.
Squarely aimed at outdoorsy types, this watch is a sturdy customer, too. The Khaki Field Expedition's case features a screw-down crown and 100m water resistance to keep things ticking no matter the weather.  But the real selling point here is the addition of the bi-directional rotating compass bezel. Marked with the cardinal points of north, south, east and west, the timepiece will help you navigate your adventure with the help of the sun.
The Khaki Field Expedition adheres to the basic tenets of the field watch category with a reassuringly no-fuss dial that's designed to offer easy legibility and that comes in three different colours: black, white or blue. The nickelled hour and minute hands are liberally daubed with Super-LumiNova, while the second hand is also tipped with lume.  As Hamilton evocatively suggests: "It will tell you the time at a glance while you are gazing up at a starry sky or roasting marshmallows by the campfire."
Inside, the watch is powered by the Hamilton H-10 movement, which has become a modern classic of Swatch Group catalogues, mainly due to its 80-hour power reserve and Nivachron balance spring that minimises the negative effects of magnetism. The watch is fitted with a leather strap or a stainless-steel bracelet either of which should go perfectly with your walking boots, the next time you head out for a hike.
Hamilton Khaki Field Expedition pricing and availability
The Hamilton Khaki Field Expedition is available now. Price: A$1,675 (leather strap), A$1,825 (steel bracelet)
Brand
Hamilton
Model
Khaki Field Expedition
Reference Number
H70315830
H70315130
H70315510
H70315540
Case Dimensions
37mm (D) x 11.5mm (T)
41mm (D) x 11.5mm (T)
Case Material
Stainless steel
Water Resistance
100 metres
Crystal(s)
Sapphire
Dial(s)
Black, white, blue
Strap
Green or brown leather strap with pin buckle
Stainless steel bracelet with folding clasp
Movement
H-10, ETA C07 base, automatic, Nivachron balance spring
Power Reserve
80 hours
Functions
Hours, minutes, seconds, compass bezel
Availability
Available now
Price
A$1,675 (leather strap)
A$1,825 (bracelet)