Does Accutron have an ace up their sleeve with the new DNA Casino?
Fergus Nash
The Accutron DNA Casino expands on electrostatic technology with exciting new colours.
Each colour is has its own 6-digit code, involving a puzzle which you can try to solve.
The 45mm case is surprisingly wearable with sleek shaping.
Can you imagine what it would be like to look through a shop window and see a brand-new Accutron Spaceview in 1961? Gears and springs are old-fashioned, quartz is just a relatively common mineral, and this green-dialled watch with its copper coils and exposed wires looks like it's been bashed together in a mad scientist's workshop. Now, once again split off from Bulova, Accutron is trying to recreate that feeling of baffled amazement. The Accutron DNA was released in 2020 to pioneer the use of electrostatic generators in watchmaking, and now they've followed it up with this colourful limited edition called the Accutron DNA Casino.
In replicating the spirit of the 1960s original, the Accutron DNA's most accurate element is how little the general public understand the technology behind it. It's confusing at first, but a little digging and dumbing-down can ease the curiosity. On the openworked dial, you'll notice three circles. The two mirrored ones at the bottom are both wheels that work similarly to an automatic winding rotor, except that they generate static electricity which then gets stored. That energy drives the hour and minute hands, keeping the watch running for two years when fully charged. The third, larger wheel is what powers the seconds hand, which sweeps smoothy at a frequency of 32,768Hz. Safe to say, you won't see any ticking with the naked eye. This kind of thing drains a lot of power, so it enters a power saving mode after five minutes of inactivity, stopping the seconds hand. To get it going again, you need to give it some big arm swings. It sounds inconvenient, but it's the kind of quirk which makes this new, obscure technology so charming. Plus, the twitching and spinning of the electrostatic disks makes for a hypnotic display.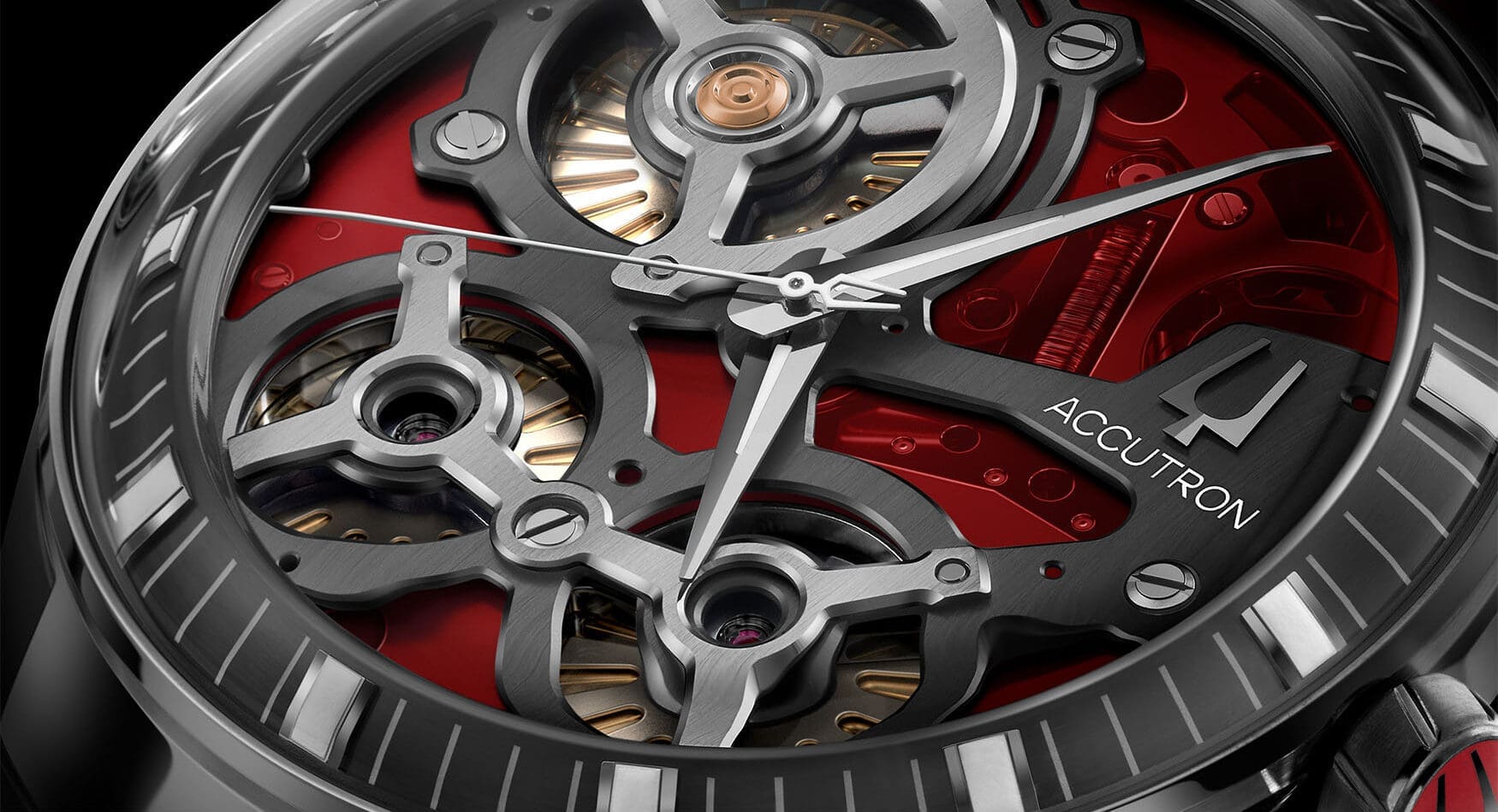 As for these limited editions, the translucent layer which reveals some more of the movement's components has been tinted in four different colours that seem to represent a casino environment. Complete with matching rubber straps, they're available in a spearmint green, blue, orange, and red. Each different colour is linked with a 6-digit code on the caseback, and although I've solved the puzzle, I won't spoil it for those who wants the satisfaction of figuring it out themselves.
The Accutron DNA Casino is quite an expensive watch at US$3,500, and new technology in the movement alone may make it difficult to justify. Thankfully, the quality of the build does. In separating Accutron from the parent brand Bulova (and their parent brand Citizen) they've reached a level of luxury which warrants its cost. The stainless steel cases are given dark grey coatings with the exception of the blue-dial reference, and the 45mm form has been shaped perfectly to conform to the wrist. Considering the diameter and 50mm lug-to-lug, it wears surprisingly well, although the 15.6mm height thanks to a 5mm domed sapphire crystal definitely makes its presence known.
Accutron DNA Casino pricing and availability
The Accutron DNA Casino is limited to 100 pieces in each of its colour variations. Price: US$3,500
Brand
Accutron
Model
DNA Casino
Reference Number
28A207
28A208
28A205
28A206
Case Dimensions
45.1mm (D) x 15.6mm (T) x 50mm (LTL)
Case Material
Stainless steel
Water Resistance
50 metres
Crystal(s)
Sapphire
Dial
Openworked with green, blue, orange, or red tint
Strap
Colour-matched rubber
Movement
NS30, proprietary electrostatic movement
Power Reserve
Two years with power-saving mode for seconds hand after five minutes
Functions
Hours, minutes, seconds
Availability
Limited to 100 pieces in each colour
Price
US$3,500