Winning Formula: 5 of the coolest vintage watches in Formula 1
D.C. Hannay
The 2022 Formula 1 season is back after the summer break, and we here at Time + Tide couldn't be more stoked. This is a season fraught with intrigue, from McLaren cutting loose favourite Aussie son Daniel Ricciardo, to his replacement, young gun and fellow countryman Oscar Piastri sliding into Ricciardo's seat for his inaugural F1 season next year. Another big part of F1's excitement? The watches, of course. We're all pretty versed in the modern Formula 1 watches that seem to come out on a weekly basis, but which ones are the GOATS throughout the history of the sport? Here's a look at 5 of the best vintage watches from Formula 1's storied past.
Breitling Navitimer 806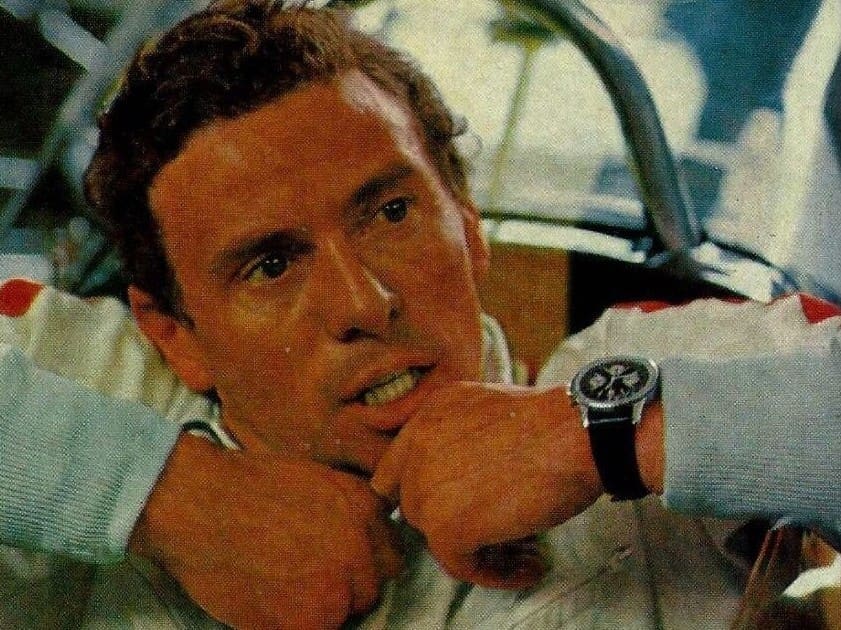 Scottish driver Jim Clark was objectively one of the best F1 pilots in the sport's history, with a stellar record that included 25 Formula 1 wins and 33 poles before his untimely death at age 32, crashing during a 1968 Formula 2 race at Hockenheim in West Germany. An incredibly versatile driver, the majority of his F1 wins came while driving for Team Lotus, but he also raced sports cars, and even the Indianapolis 500, which he won in 1965.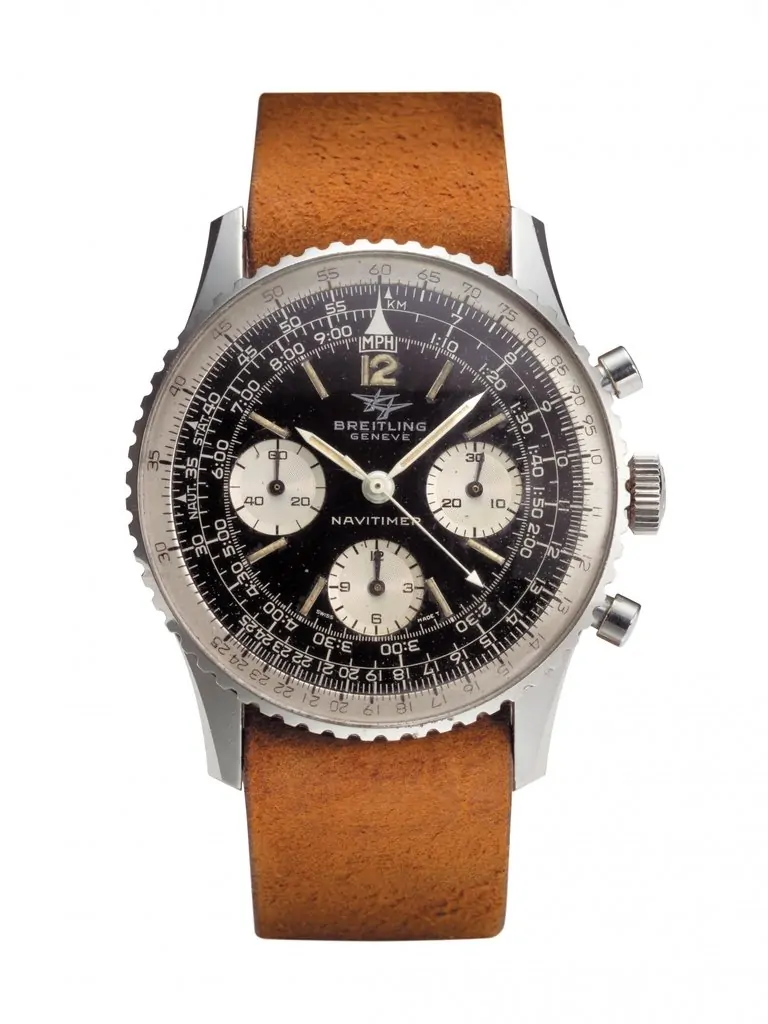 Besides chronographs from Gallet and Enicar, Clark is most associated with his Breitling Navitimer Ref. 806, so much that collectors refer to the variant he wore as the "Jim Clark". The Navitimer is one of the most iconic chronographs in history, and Clark's featured the smaller subdials and "Twin Jet" logo of its time, powered by the highly regarded Venus 178 manual-winding column wheel movement.
Heuer Carrera 1158 CHN
Jack Heuer, Niki Lauda, Clay Regazzoni, Photo: TAG Heuer
Few other manufacturers are as associated with motorsport as Heuer, and the legendary Ferrari F1 team of the early '70s received some very special watches as part of the team's deal with Jack Heuer. In 1971, Jack presented the Ferrari pilots with solid gold Carreras (Ref. 1158 CHN), one of the most gorgeous Heuers ever created. The gold case was the tonneau iteration from the second series of Carreras, and featured a mesh Gay Freres bracelet and black "Panda" subdials.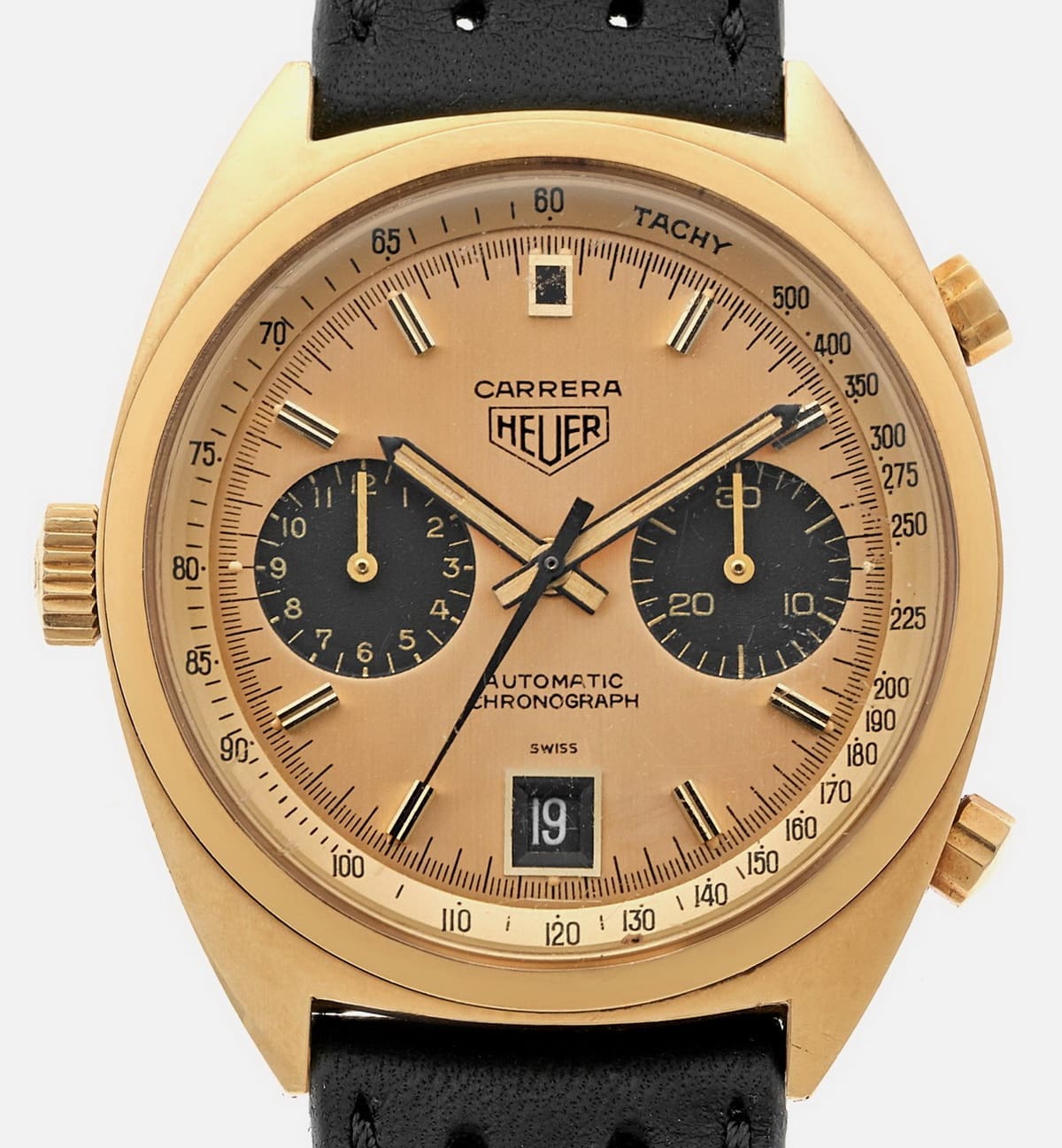 These golden beauties cost more than the average car of their day, and featured something pretty unique engraved on the caseback: A personalisation for each driver (including, rather ominously,  their blood type), which included racing icons Mario Andretti, Niki Lauda, and Jacky Ickx. They're highly valued today, and rare, too, with only 150 watches said to have been produced.
TAG Heuer Formula 1
Alain Prost, Photo: Motorsport Magazine
By the time the '80s rolled around, Heuer was in something of a slump. Quartz watches were taking the lunch money of most Swiss manufacturers, and despite offering the movements in certain models themselves, a shot in the arm was needed. Swatch came along at exactly the right time with a colourful, budget-friendly solution, and the newly remade TAG Heuer would soon come up with a hit of their own: The original Formula 1. Here was a less expensive model, decked out in all the bright colourways of auto racing, purpose-built for the New Wave future. The original F1 was a much more robust offering than anything from Swatch, with a bold, fibreglass-clad stainless case, contrasting bezel, rubber strap, and a durable quartz movement. And the kid version of yours truly now had a grail watch on his wish list. The cases were small, at 28 and 34mm, but no matter: Those eye-searing colours helped the Formula 1 stand out like few other watches of the day. Many variants followed in all the colours of the rainbow, with quartz chrono models soon to come.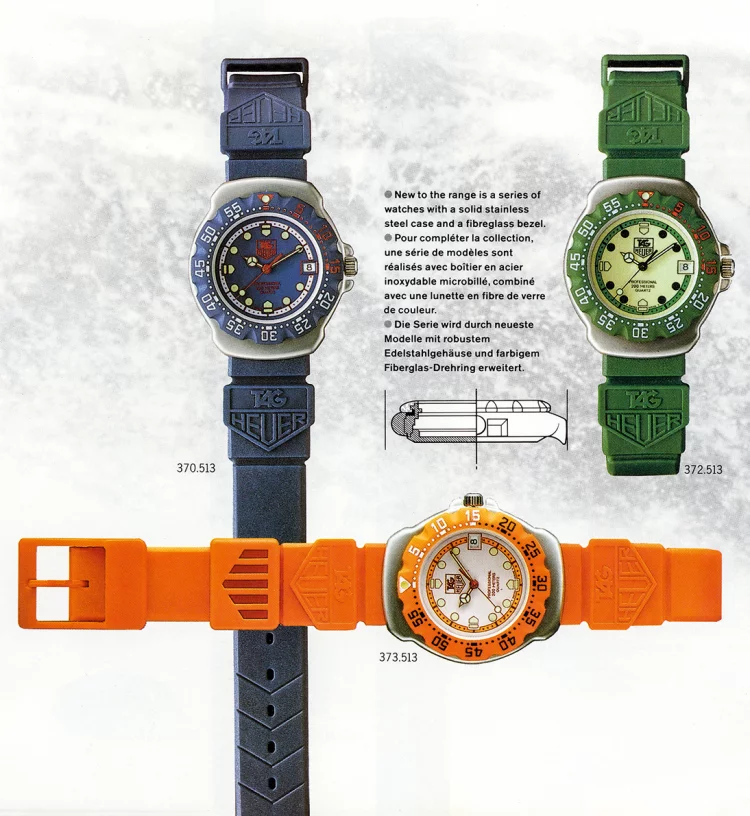 TAG Heuer became one of McLaren's sponsors during their '80s heyday that saw Niki Lauda, Alain Prost, and later, Ayrton Senna driving for the team. The brightly-coloured TAGs were suddenly everywhere, and the McLaren crew sported red versions that matched the team's trademark red and white Marlboro livery. Needless to say, hearts and minds were won worldwide, and it could be argued that the Formula 1 played a major role in turning TAG Heuer's fortunes.
TAG Heuer S/el S25706C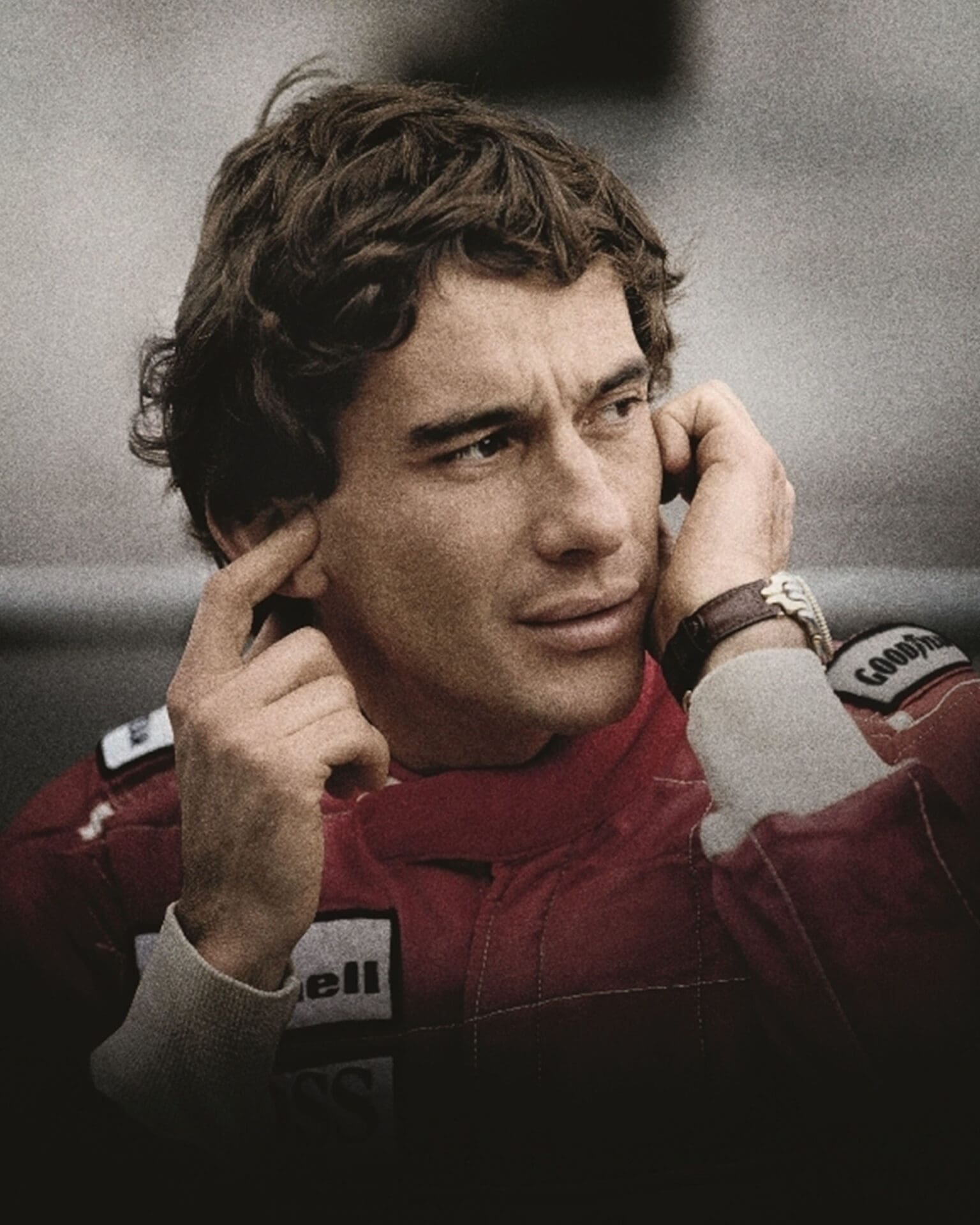 Ayrton Senna, Photo: TAG Heuer
Speaking of Ayrton Senna, some say he was the most naturally gifted driver ever to race F1. His talent was enough to make other drivers wonder if they were even competing in the same sport. The Brazilian pilot was an F1 champion three times, and won 41 races, along with 65 poles, before his life was cut short after a crash in 1994. He was leading the San Marino Grand Prix when he ran into a concrete barrier at over 190 miles per hour.
Senna's TAG Heuer partnership began during his days with McLaren, and continued through to the untimely end of his career. While at McLaren, Senna became the ambassador for the new TAG Heuer S/el (Sports/Elegance) line of watches. Very much a product of their time, the S/el models have an unmistakable look, due largely to the sinuous integrated bracelet links, which to me resemble some type of alien vertebrae. His model of choice was the S25706C, featuring a leather strap and analogue/digital display. Some may say the S/el line is incredibly dated, but I find them utterly badass, and they're the direct forebear of the Link series. In the ensuing years, TAG Heuer has released many tribute models to the Brazilian driver.
Omega Speedmaster Reduced Racing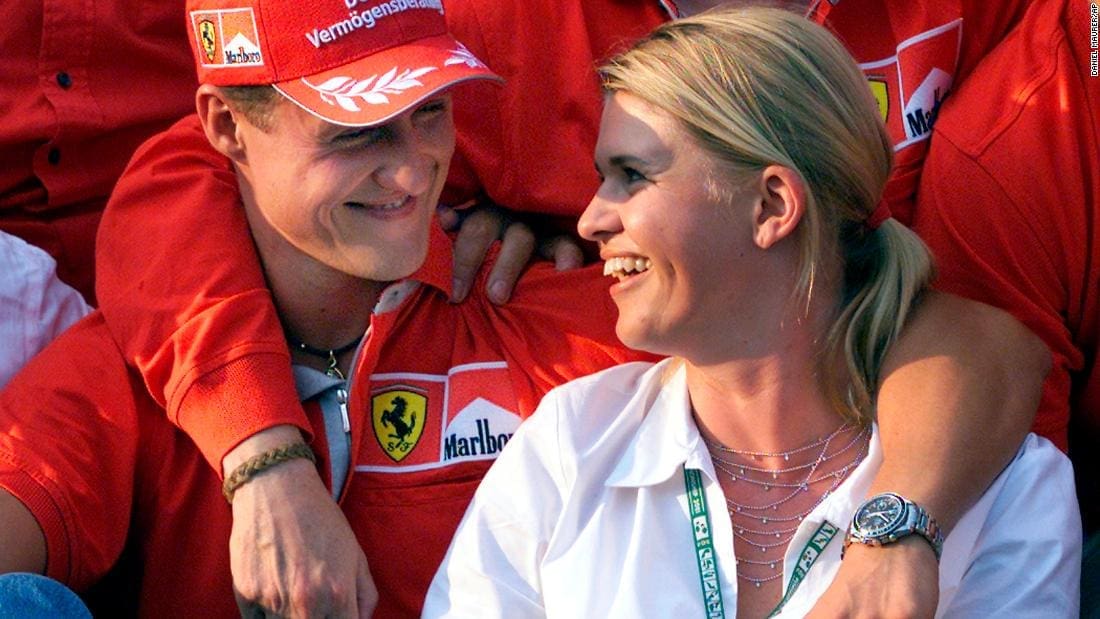 Seven-time Formula 1 champion Michael Schumacher also needs little introduction. The German ace scored no less than 91 wins during his reign from the '90s to the mid-2000s. He helped usher in the modern era of F1, with his boundary-pushing driving style, rigorous training methods, and pioneering mega-sponsorships. Tragically, he suffered a traumatic brain injury sustained while skiing in 2013, shortly after his retirement. He continues to recover at home in Switzerland, cared for by his wife Corinna, and his racing legacy lives on, with his son Mick becoming an F1 driver himself, racing for Haas in 2022.
Introduced in 1996, Omega has released several watches that pay tribute to Schumacher, but this one, based on the Speedmaster Reduced, is my absolute favourite. It's got a well-contoured 39mm case that fits very differently than the larger Speedmaster Professional, as well as an automatic movement with an added chrono module, a Hesalite crystal, and those fantastic dial colours of burgundy, blue, and a yellow that evokes Ferrari's Giallo Fly paint colour. Other dial variants and models followed, but I'll always love the yellow one most of all.