5 affordable vintage watch options
Time+Tide
Watch collecting has never been more present in the public consciousness. Before the quartz revolution of the 1970s, the idea of collecting watches was probably akin to collecting modern vacuum cleaners. It just didn't make much sense. An old watch wasn't vintage; it was just old. And a watch that was still ticking, and keeping time to a reasonable degree? Well, that was just fine and dandy. Perhaps a very well-to-do man might have had one watch for work, and another for special occasions, but these faithful companions would have been expected to remain with him for years and years and years.
The notion of forming a watch collection only really emerged when the technology of mechanical watches became functionally obsolete, and the true classics of what seemed for so long to be a permanently bygone era were appreciated for their artistry beyond their base function of telling the time. Now every man and his dog is hunting through garage sales, hoping to find a beautiful, tropical dial Rolex that some unwitting seller has failed to recognise.
But this widespread awareness of a vintage watch's potential value has done some funny things to the market for preloved and brand new watches. To the latter category first: Nowadays, it is common for people to buy watches as theoretical financial investments. This is rarely a good idea, because the problem with something being sold as a collectible means it is bought as one, too. Awareness of potential longterm desirability breeds ubiquity. How many box-fresh Rolex GMT-Master II watches do you expect to see on the preloved market in 10, 20 years time? Put simply, loads and loads.
Case in point: The iconic Paul Newman Rolex Daytona is only so incredibly sought after now because it simply wasn't then. In truth, the dial design that Newman accidentally made famous was not commercially successful at all. It was discontinued soon after it launched. That, mixed with the fact one of the most handsome and charming men of the 20th century was pictured with it on his wrist, led to it becoming the most expensive wristwatch ever sold at auction.
So forget vintage collecting as a way to make money. You might do, but to go at it with nought but dollar signs in your eyes is a fool's errand. Go at it instead with heart. Buy something because it appeals to you. And the great thing about vintage is that if you've seen a modern design you're fond of, its design language probably has its roots in the past. This Top 5 is a mixed bag of pure affordability, options for those who want to bring an unloved piece back to pristine condition, and relative value. There's something for every budget on this list, so read on …
Seiko Sportsman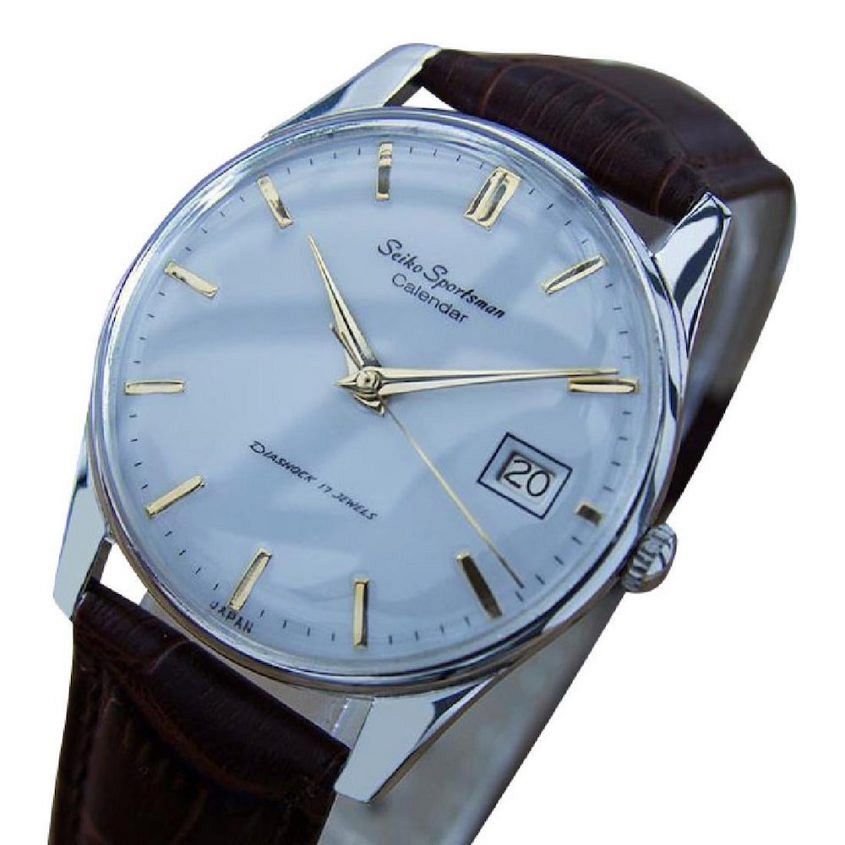 Vintage hunters often hit-up the famous specialist watch sites first, but eBay is still a great resource for the lower-end products that are not valuable enough for fakes to be a real concern. Seiko often features on lists like this, where affordability is an option. The brand has a huge back catalogue of great-looking, eminently wearable, timeless, and versatile watches that are the perfect gateway drug to get you hooked on what could become a very expensive habit indeed. While the quartz options from the '80s are super collectible now (especially some of the first analogue quartz chronographs on the market), the mechanical stuff is purchasable for not much money at all.
You can pick up an absolutely mint Seiko Sportsman for around $500 AUD, and they are so clean and classic, you'll likely never want to shift it from your collection. If you're looking for high legibility, a style that appeals to generations old and young, and a credible name on the dial, you can't go far wrong with one of these beauties.
GUB Glashütte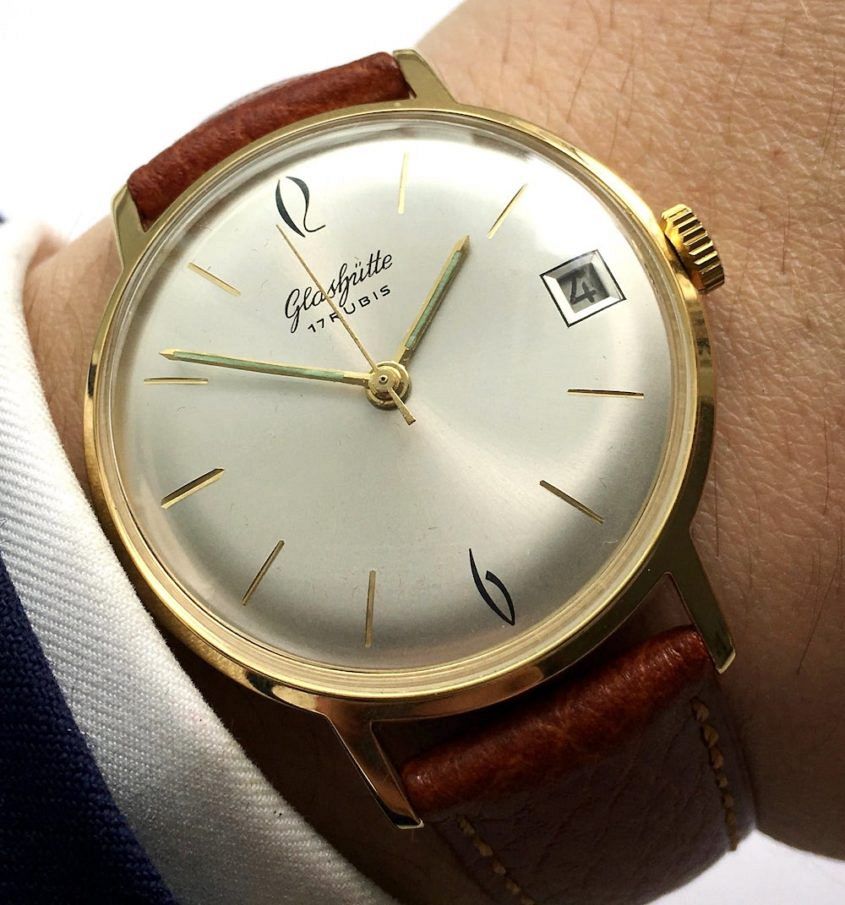 The GDR era in Germany was not a good time for watchmaking independence, with almost every brand brought under state control and required to produce very basic movements with a high degree of functionality and very little aesthetic appeal. While Glashütte's reputation has returned since German Reunification, the watches from its time behind the wall are not that highly coveted. But that's quite a shame, because, despite the bland appearance of the movements themselves, they are solid workhorses, wrapped in occasionally beautiful skin. GUB was the name given to the conglomerated brands of the German Democratic Republic, and during the late '60s and early '70s, it produced some really stylish watches that have aged better than anyone could have predicted they would at the time.
So current is the typeface used on many of these pieces that it also featured on Glashütte Original's '60s collection, which debuted in 2018. And for less than a thousand dollars it's possible to get a good example in nice condition. One of the best things about a lot of GUB watches from the perspective of name recognition, is that quite a few of them, including the example, pictured, still had Glashütte printed on the dial (in the same font type as the modern incarnation of Glashütte Original – GUB's direct descendent). That means you're kind of getting a historically interesting watch made by GO at a fraction of the cost of the current collection.
But do pay close attention to the state of the case. A lot of these watches were made with cheap materials, with rolled gold (gold-plated base metal sheeting used for low-cost jewellery) and this can wear pretty badly. The problem with rolled gold or chromed cases is that they often become badly pitted and cannot be refinished. If you don't mind the beaten-up look, then this isn't a problem, but it can be a problem for some fastidious collectors. If you're one of those people that like their vintage to look brand new, skip ahead to the next item on the list.
Omega De Ville
There are a ton of vintage Omega dress watches in steel available at surprisingly good prices. It is still possible to pick up an Omega that needs a lot of work for a few hundred Australian dollars, but to get a decent model with a nicely preserved dial, you'll be looking at the best part of two grand. Here's the cool thing about buying a vintage Omega: you have a really good chance of being able to have it restored thanks to the sheer amount of watchmakers qualified to work on the brand and the relative availability of parts stretching a long way back in time. If you like your luxury items to look new — and you're buying vintage to save a few bucks, and have little to no interest in the provenance or resale value of your piece — this is a seriously good way to get yourself a brushed-up beauty with some powerful name recognition on the dial.
Tudor
The resurgence of the Tudor brand has been nothing short of astounding. The brand has been masterfully guided back from obscurity to be one of the current crop of darlings. While many of the popular modern-day models like the Black Bay and Pelagos are selling for significant amounts due to their visibility, some of the more pared-back designs that are yet to be relaunched or remade are trending for under AUD 2000.
The advantage here is that Tudor has shown a recent keenness, along with many other brands, to mine their heritage for "new" models. You need only look as far as the recent release of the Black Bay P01 at Baselworld 2019. Originally an abandoned prototype designed to usurp the unreliable unidirectional bezels of the time, the P01 went on to be one of the most compelling stories of this year's Swiss shows. While you'd be hard-pressed to find a historic version of this watch, it seems likely it won't be the last from this brand's back-catalog to find itself reborn for a new generation.
Universal Genève Polerouter
While the Polerouter is the least affordable on this list (with a good example trading at well over AUD 5000), it also has the strongest modern-day provenance. Designed by a young Gérald Genta – the man behind such classics as the Patek Philippe Nautilus and, perhaps even more famously, the Audemars Piguet Royal Oak – this watch's humble history has grown in significance over time. Add to the mix the fact that it is an absolute doozy, finding and corralling a fine example of this watch would be a boon to any collection. With many slightly different iterations available, the classic model (20214), which was originally designed for SAS pilots flying the polar route for the first time in commercial aviation history, is probably the most sought after, but the Universal Genève Polerouter Sub (20369) is a diving compressor of the finest order, and can boast a fervent fandom, which has driven the price of this less-seen model up to around the same as the classic reference 20214 and its many subsequent updates.