Swatch x Blancpain Bioceramic Scuba Fifty Fathoms
Jamie Weiss
Blancpain's iconic dive watch receives the MoonSwatch treatment
Powered by a SISTEM51 automatic movement, it's water-resistant to 91m 
Five colours are available, each named after different oceans and inspired by colourful sea slugs
The Swatch x Blancpain Fifty Fathoms has been one of the worst-kept secrets in the watch world. After the enormous success of the Swatch x Omega Bioceramic MoonSwatch last year, many watch fans were speculating when and how Swatch would follow up such an enormous collaboration. Blancpain was long tipped to be the next brand in the Swatch Group stable to be the focus of a collaboration – and after months of rumours, dodgy renders and wild speculation, Swatch has finally pulled the covers off their affordable luxury dive watch. Naturally, we dashed down to Melbourne's Swatch store to have a look at the watches ourselves… And we're pretty impressed.
So, down to brass tacks. The collection's full name is the Swatch x Blancpain Bioceramic Scuba Fifty Fathoms collection. The Scuba, of course, was Swatch's dive watch line, which has largely been moribund in recent years after the not-particularly-successful Scuba Libre launch in 2013 – so it's cool to see the Scuba come back, especially in such style. As the Scuba name suggests, you can indeed swim with this Swatch x Blancpain – something some watch fans were worried about. Indeed, it's water-resistant to literally fifty fathoms (or 91 metres, if you prefer).
To put another concern to bed, the Swatch x Blancpain is an automatic watch. Blancpain famously ran a series of ads post-quartz crisis that boldly claimed that "there has never been a quartz Blancpain watch, and there never will be". Swatch, thankfully, has kept true to that promise: the Swatch x Blancpain Bioceramic Scuba Fifty Fathoms is powered by Swatch's SISTEM51 mechanical automatic movement, which boasts a Nivachron anti-magnetic balance spring and an impressive 90-hour power reserve. As it happens, 2023 marks not only the 70th anniversary of the Fifty Fathoms but also the 10th anniversary of the SISTEM51 movement, so it's all very fitting.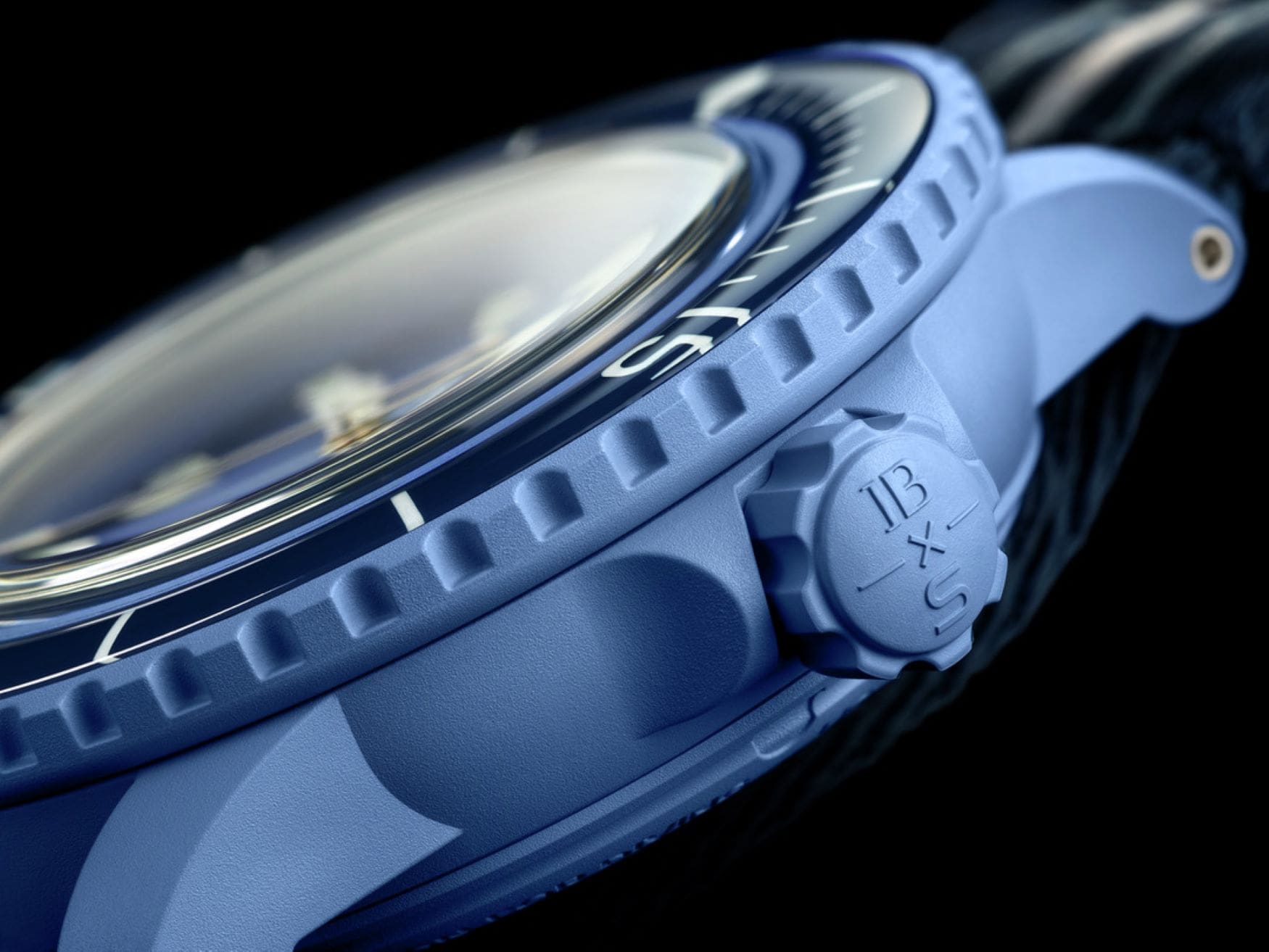 Some more important details: as the name implies, the Swatch x Blancpain Bioceramic Scuba Fifty Fathoms features a case made from Swatch's eco-friendly Bioceramic compound, like the MoonSwatch before it. It features a screw-down crown (also made from Bioceramic) as well as a unidirectional diving bezel made from Bioceramic and scratch-resistant glass. It comes mounted on a NATO strap made from recycled fishing nets, which features Bioceramic hardware, and perhaps most importantly, comes in five different colours, each named after one of the planet's five oceans: the Arctic Ocean (beige), the Pacific Ocean (orange), the Atlantic Ocean (blue), the Indian Ocean (green) and the Antarctic Ocean (ice white).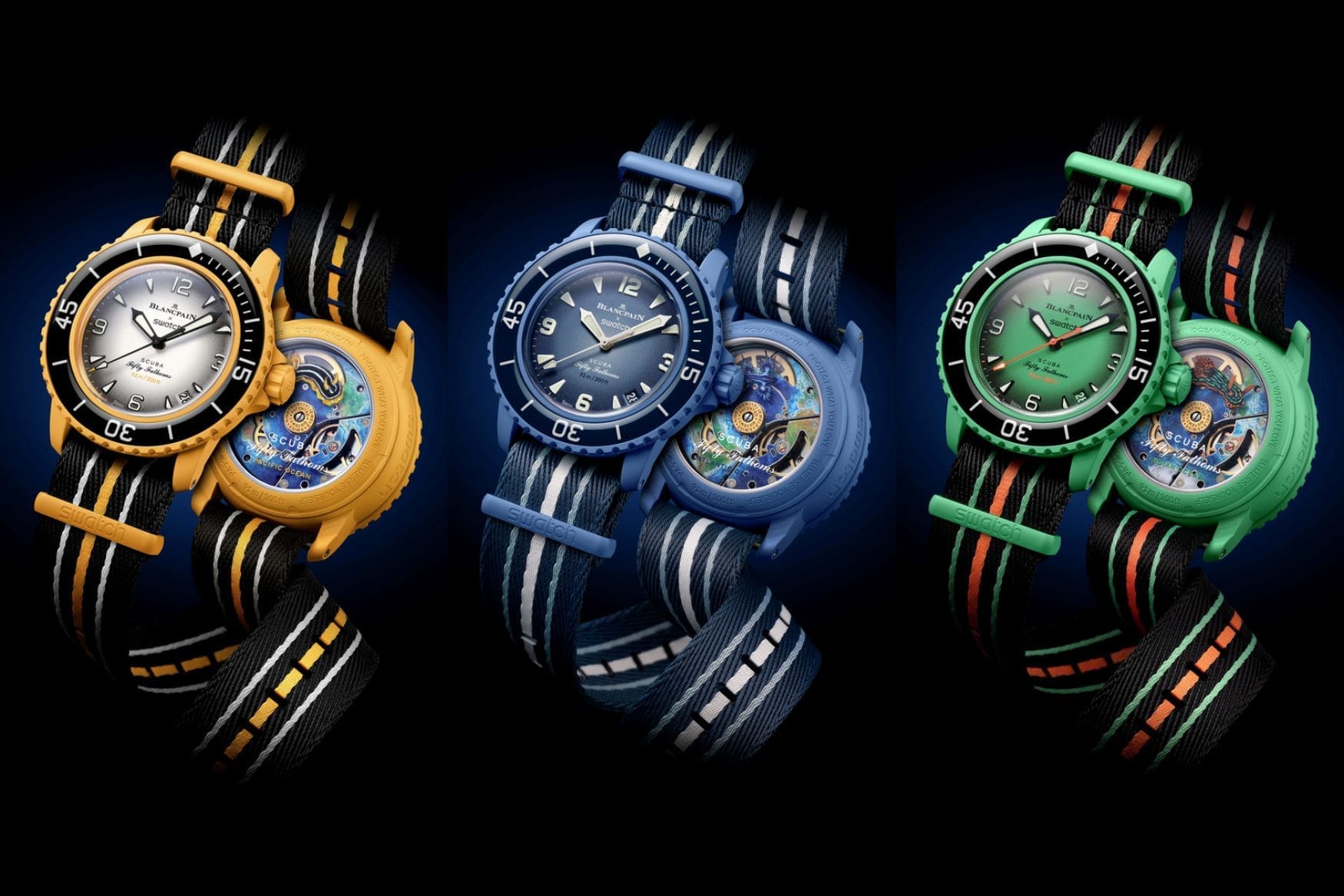 Swatch explains that the colours of each of these models are inspired by the colours of nudibranchs – a type of colourful sea slug – found in each of the planet's oceans. Nudibranchs also adorn the transparent automatic rotors of each of the Swatch x Blancpain models, while the main plates of their movements feature graphics of the Earth. It's a funky touch; one that reflects Blancpain's longstanding Ocean Commitment program, which has helped to double the surface area of protected marine areas around the world. Blancpain President and CEO Marc A. Hayek, who himself relaunched the Fifty Fathoms in 2003, explains that "these sea animals are pure marvels of nature. With their unlikely shapes and often shimmering colours, they are an immense pleasure to observe in their element during a dive. They create a serene and calming effect."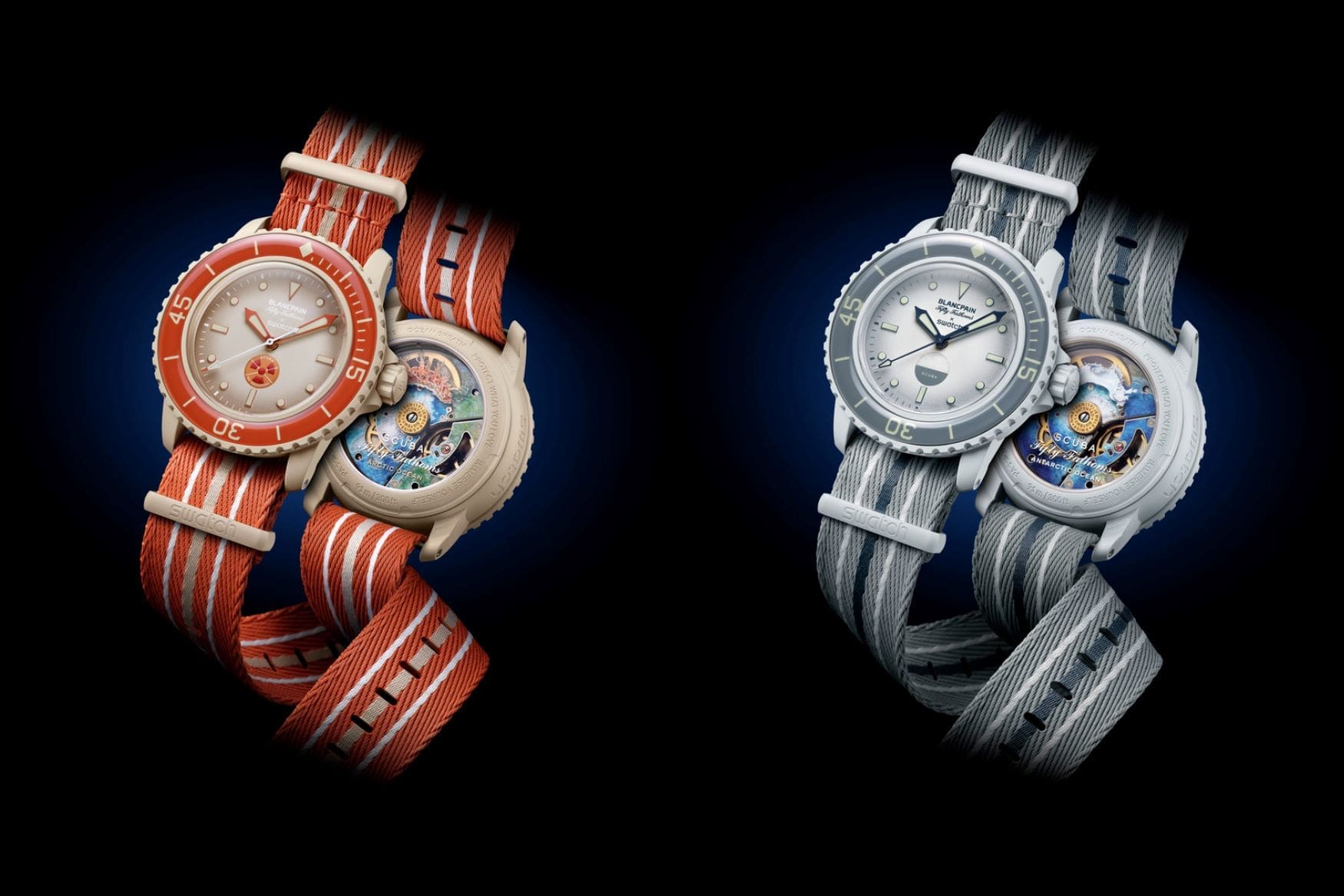 Furthermore, the Pacific, Atlantic and Indian Ocean models are modelled on modern Fifty Fathoms references and feature Arabic numerals at 12, 3, 6 and 9 as well as a date window at 4:30, while the Arctic and Antarctic Ocean models are styled after vintage Blancpain references, and have a retro Blancpain logo instead of a modern one. The Arctic features a trefoil logo at 6 o'clock and references 'No Rad' models provided to militaries during the Cold War, while the Antarctic features a humidity indicator graphic, another common feature of '60s Fifty Fathoms models.
Addendum: Given the focus on sustainability that Swatch and Blancpain have placed on this release – the Bioceramic case, the recycled NATO strap, the recycled glass and the nods to Blancpain's Ocean Commitment – it does beg the question as to whether or not the Swatch x Blancpain Bioceramic Scuba Fifty Fathoms' SISTEM51 movement is more reparable than previous examples. For those who don't know, Swatch's SISTEM51 movement isn't designed to be repaired: the entire calibre (indeed, the entire case) is typically sealed at the factory; that is, it isn't designed to be repaired. However, we wonder because the Swatch x Blancpain Bioceramic Scuba Fifty Fathoms's movement and case are more water-resistant than previous SISTEM51 watches, whether or not it's more serviceable. This isn't information we have on hand, however.
Swatch x Blancpain Bioceramic Scuba Fifty Fathoms pricing and availability
Like the MoonSwatch collection, the Swatch x Blancpain Bioceramic Scuba Fifty Fathoms is non-limited and will be available at select Swatch stores worldwide. Price: A$630
Brand
Swatch
Model
Swatch x Blancpain Bioceramic Scuba Fifty Fathoms
Reference Number
SO35N100
SO35P100
SO35A100
SO35I100
SO35S100
Case Dimensions
42.3mm (D) x 14.4mm (T) x 48.0mm (LTL)
Case Material
Bioceramic
Water Resistance
50 fathoms (91 m / 300 ft / 9 bar)
Crystal(s)
Biosourced glass with anti-scratch coating
Bezel
Bioceramic with glass insert
Strap
NATO strap made from recycled fishing nets
Movement
Swatch SISTEM51, 19 jewels
Power Reserve
90 hours
Functions
Hours, minutes, seconds, date (on Pacific, Atlantic, and Indian Ocean models only)
Availability
9th of September 2023
Price
A$630