The dust of Baselworld 2018 has finally settled, and while there was a ton of quick news to hammer through, there are certain topics that require a little more digestion. Case in point: the world of small independent watchmaking had a lot on offer this year, both outlandish and understated. Having seen and handled innumerable watches during the duration of the fair, sifting through the archives to come to a decision on who led the pack required both patience and a healthy dose of decompression. Of course, there were some obvious frontrunners from the likes of H. Moser, Angelus, and something truly bonkers from Urwerk; however, there were a healthy number of releases both conservative and outlandish from all over this category.
Sarpaneva Moonment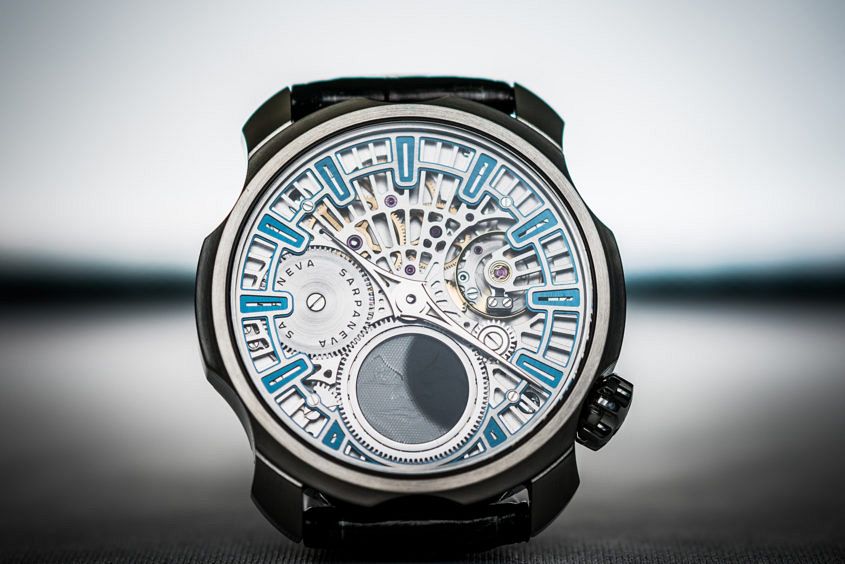 Many of us in the industry have had a soft spot for Stepan Sarpaneva's wild creations, but in 2018 he has upped the game by launching his first ever in-house caliber. The hand-wound caliber is partially exposed beneath Sarpaneva's trademark cage-style dial, and features a unique interpretation of the brand's iconic moonphase complication. Using vertically stacked optic fibre, and a solid rotating moonphase disc, the moonphase has a fascinating eclipse-like appearance that changes dramatically depending on available light. Due to the caliber's complexity and the size of the Sarpaneva team, production of the Moonment will remain quite low — roughly three or four units a year, priced at 33,500 euros.
H. Moser & Cie. Swiss Alp Watch Minute Repeater Tourbillon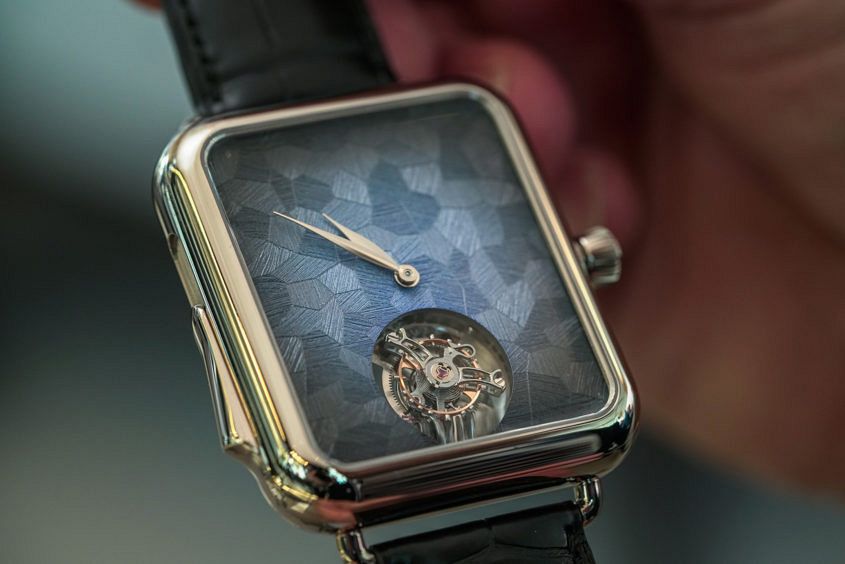 Moser is one of those brands that's hard not to love. On one hand crafting beautiful classically designed timepieces with a modern twist (and great finishing), and on the other taking the piss out of the industry with their outlandish one-offs like the Swiss Mad Watch or the kiboshed Swiss Icons release that was dusted under the rug just before SIHH. This year, the brand further upped their game in the haute horlogerie category by releasing their first-ever minute repeater, cased in their Apple Watch-esque Swiss Alp casing. Dials for this new release are being crafted entirely bespoke on a "upon order" basis, meaning each variant will be unique to its client. That said, the elegantly textured dial seen on the first example (which sold on the opening days of the fair) is so charming that we certainly wouldn't turn it down. At first glance we wondered how a repeater would perform in this kind of case shape; however, we can attest that it is no slouch in the auditory department.
Angelus U50 Diver Tourbillon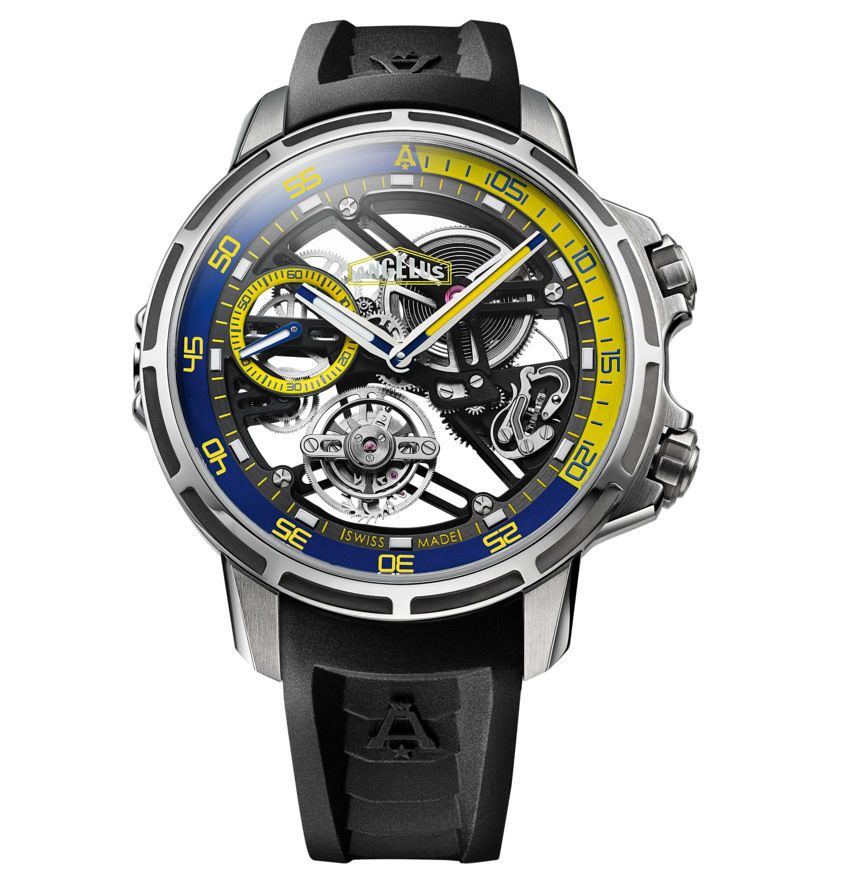 Easily a personal favourite of this pack, Angelus is an absolute master of skeletonised calibers (you may remember the Angelus U20 that Felix fell in love with at Baselworld 2016). This year, the brand launched the perfect example of "because we can" watchmaking — an over-the-top skeletonised tourbillon dive watch. Fitted in a compressor-style two-crown titanium case, the U50's A-300 hand-wound caliber is beautifully finished in black ADLC to improve overall legibility. Its 45mm case may seem a touch large at first glance; however, given its stubby lugs it's shockingly comfortable on the wrist, not to mention lightweight. In a sense, the piece is faintly reminiscent of the bizarre MB&F HM7 Aquapod, though with one key difference. Unlike the Aquapod, which took a dive-themed design but only offered a water resistance rating of 50m, the U50 Tourbillon Diver is rated for a more category-appropriate 300m.
Urwerk AMC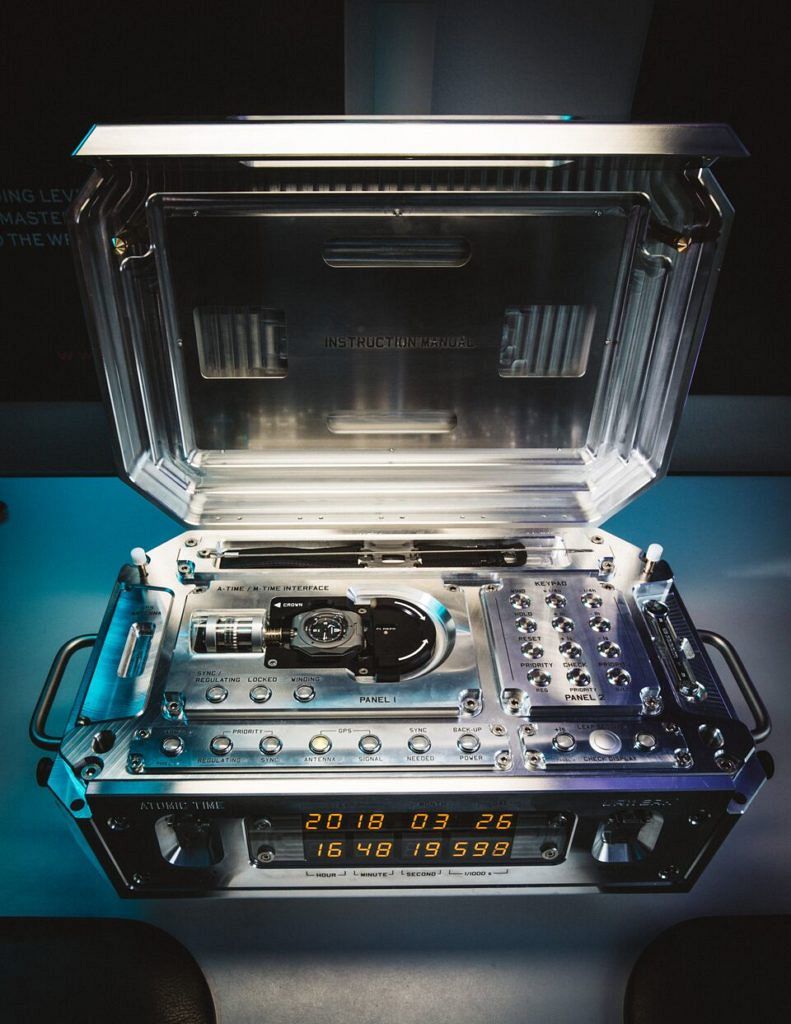 The independent watch category is always one to push boundaries, but Urwerk's latest creation — one whose caliber and concept was first shown at SIHH — is unlike anything you've ever seen. Building off of the concept of the "Sympathique" clock from Breguet built back in 1793, Urwerk dragged the centuries-old idea into bleeding edge watchmaking. In original guise, a pocket watch is crafted with a matching clock into which it can be "docked" on a daily basis. While docked, the master clock would wind and set the pocket watch. In the case of the AMC, the base unit (which looks sort of like a futuristic detonation device) is linked to atomic time, and aside from winding and setting the wristwatch, it also has the capability to adjust/regulate the caliber as necessary.
AkriviA Chronomètre Contemporain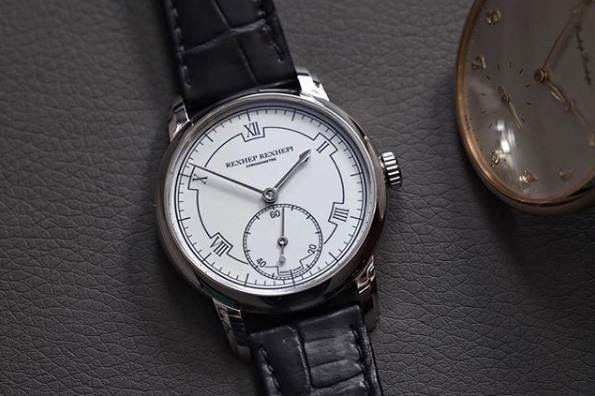 Touted as the new poster-boy of the rising generation of high watchmaking, Rexhep Rexhepi and his small team (including his brother Xhevdet) have been working away in their now compact workshop in Geneva to bring their latest creation to life in time for Baselworld. The Chronomètre Contemporain is by far the most traditionally styled creation from the firm thus far, but examining the piece from all sides, it still speaks volumes of Rexhep's vision for the brand. Clever and thoughtful movement design, exceptional hand-finishing using traditional methods, the hand-wound Chronomètre Contemporain's elegant and symmetrically designed caliber is a real masterpiece, as is its Grand Feu enamel dial. For the first time Rexhep's name adorns the dial — a sign of what's to come with this new classically styled collection.
Czapek Faubourg de Cracovie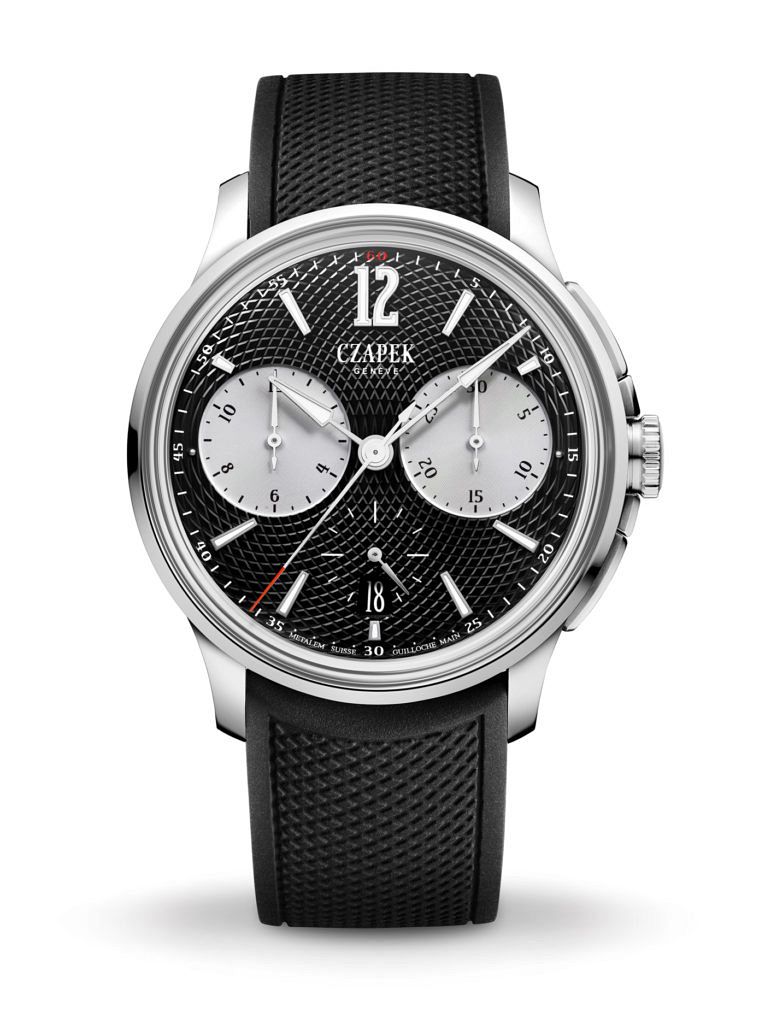 Another underrated favourite of the independent watch market, Czapek's new chronograph takes its name from the third boutique opened by Czapek, located in Warsaw, Poland in 1850. History lesson aside, the sexy steel reverse-panda chronograph has one of the sharpest guilloché dials we've seen in a while, mated to a thoughtfully designed 41.5mm case. The way its pushers transition smoothly into its crown guards gives its case a slightly dressier, seamless appearance, whereas its rubber strap and red-tipped chronograph seconds hand hints at a slightly more casual persona. The perfect all-round chronograph of 2018? At the very least it's a VERY strong contender. In stainless steel, the new piece will retail for 24,000 CHF when it hits retailers in June 2018.
De Bethune DB25 Starry Varius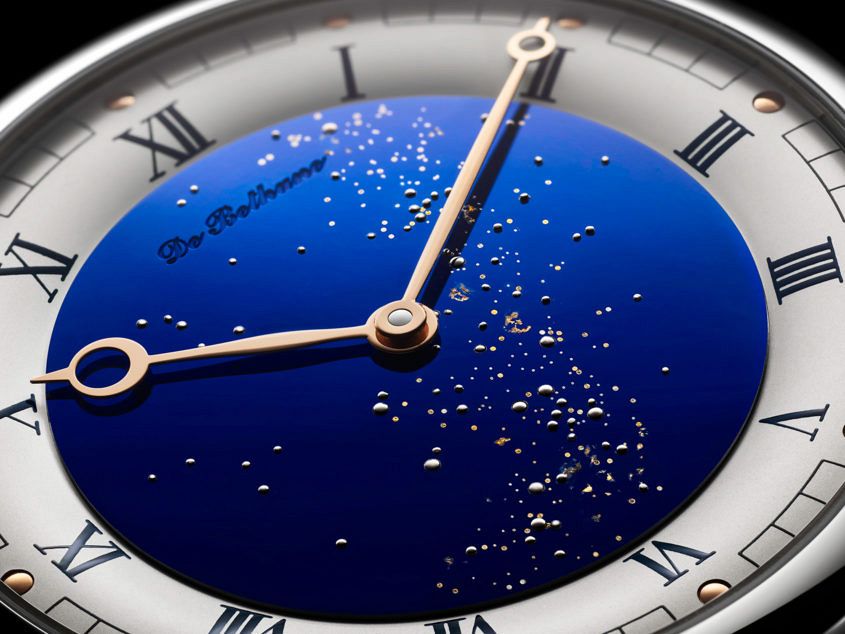 It's been a strong year for De Bethune since their first round of unveilings in Geneva in 2018, but the launch of the new DB25 Starry Varius in its more compact 42mm titanium case has officially made the brand hotter than it's been in years. Variations of this insane reflective blue dial have previously only been available in larger case sizes, and hearing the responses of many collectors and enthusiasts on the show floor, the demand for this more compact version is going to be significant. Making the DB25 even more special, customers can choose to have the starry sky pattern on the dial set to match the night's sky at the geographic coordinates of their choosing. This, of course, will add a slight premium to its 66,000 CHF price tag, but the individual touch will be worth the expense to many.
Le Rhöne JMT 'Jumping Meridian Time'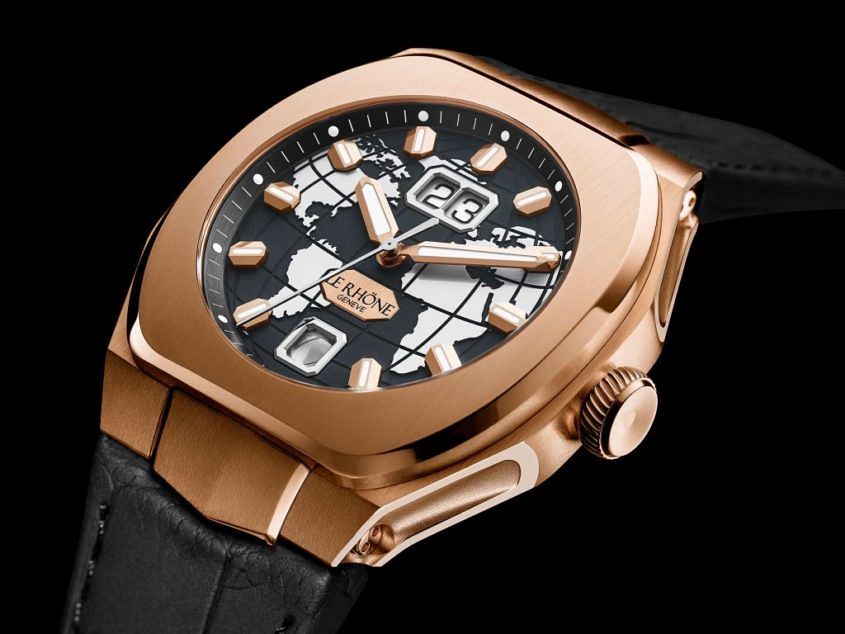 One of the most interesting surprises at Baselworld 2018 turned up from a mostly unknown independent brand in the form of this sleek dual time from Le Rhöne. Previously known for their elegant Hedonia Grande Phase de Lune, and its massive mother-of-pearl moonphase indication positioned over a starry sky dial. With the launch of the JMT, a comfortable and smartly executed dual timer, the brand is poised to nudge itself a touch further into the mainstream. The JMT features an elegantly decorated dial, displaying a three-hand home time, a date display at 6 o'clock, and a two-disc digital 24-hour local time, all fitted into a 41mm pink gold case. Its easy-to-read digital setup adds a further layer of practicality by including a quickset for local time operated via a pusher at 10 o'clock.
Cyrus Klepcys Vertical Tourbillon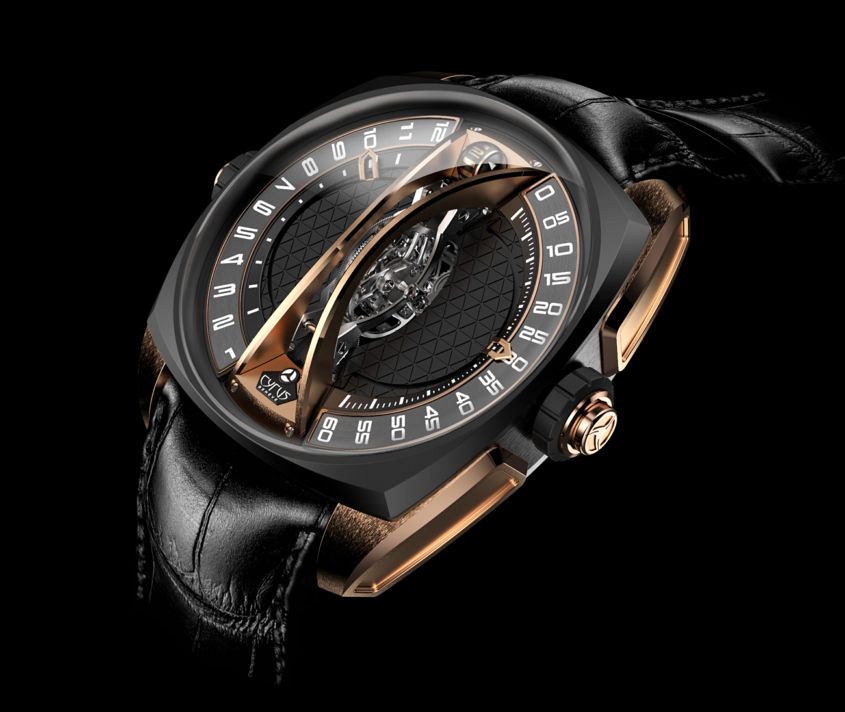 A bit of a sleeper brand when it comes to name recognition, Cyrus has launched its seventh watch this year at Baselworld 2018. Fitted in the brand's elaborate multi-piece Klepcys case and using a pair of crowns (a hallmark of the brand, signifying respecting the past while looking to the future), the new release displays retrograde jumping hours on one side and running retrograde minutes on the other, and a subtle digital power reserve indicator at 12 o'clock. The real eye-catcher under the crystal is its central vertically-mounted tourbillon supported by a large arcing dual-armed bridge in either gold or DLC finish. Though the stealthy aesthetic of the all-black variant will appeal to some, we're siding with the contrasting gold and DLC variant when it comes to overall appeal. In case you're wondering, the second crown on the left actually acts as a pusher for quick-setting of its jumping hours. The caliber is manufactured by Chronode SA, the firm of Jean-Francois Mojon, whose name may not ring a bell, but his past work speaks volumes. His firm was involved in the HYT H1, the first MB&F Legacy Machine LM1, the Harry Winston Opus X, and even the MCT Sequential One.
Moritz Grossmann Atum Hamatic
An independent brand unveiling their first automatic caliber is certainly noteworthy, however not necessarily grounds for placement on a "best of" anything list. That said, the Atum Hamatic's new caliber is anything but just another self-winder. As with many of the brand's creations, the idea behind the Hamatic was to modernise a fairly archaic winding device — the automatic hammer mechanism. Visible through a display caseback, as well as through small cut-outs in the lower portion of its dial, the new caliber 106.0 isn't really breaking new ground, but at the same time I can't help but applaud Moritz Grossmann for at least stepping outside the box and giving us something properly different in watchmaking this year. The fact that it uses those ultra slender hand-finished brown/violet hands (shaped like the ones found on last year's OnlyWatch entry) is just icing on the cake.