Five of the best ocean-going chronographs beyond the usual suspects
Henry Zwartz
Imagine yourself at the Formula 1 – or any motorsport it doesn't really matter. You can smell the heat oozing off the rubbery tarmac, the whine and hum of engines, the exciting echo of a presenter on the loudspeaker introducing the racers. You look down and note the time, activating a pusher on the side of the case as the first lap gets to a start. It's visceral scenes like this that come to my mind's eye when we talk about chronographs: the romance of motorsports and speed.
Perhaps it's this romantic notion that makes them such a popular sub-category of sports watch. But it also makes them a great "one watch" collection, except for one glaring issue with many in the category – water resistance.
And so this isn't an article about placing chronographs in that dimension, no this is an article looking at chronographs that you can comfortably take into the ocean without worrying that you're consigning your watch to a watery grave. Why? Because any true daily wearer, for me and no doubt many fellow enthusiasts, needs to have the water resistance capable of the occasional swim.
As someone who recently acquired a swimmable chronograph, but who usually goes for diver's watches, this was a major factor in my purchasing decision. And so I've done a little research to help you in your own pursuit for an ocean-going chronograph. Spoiler alert: I tried to not include offerings from Tudor, Omega or Rolex because they are such obvious examples!
Hamilton Intra-Matic Chronograph H
First on the list is a classic beauty from Hamilton. In the 1960s, Heuer created its iconic Carrerra, a sporty chronograph that has proven popular on the vintage market. Many brands at the time also created their own chronographs using Valjoux movements that bore a striking resemblance to the Heuer. In fact some of these models even shared reference numbers with Heuers. Hamilton's release of its latest Intra-Matic series pays homage to the brand's chronograph offerings in the 1960s in that vein. They've absolutley nailed this reissue, with great size and specs, including a 100m water resistance. If you're after timeless aesthetics and solid specs to match at a reasonable price, look no further. And thankfully Time+Tide stocks these 40mm beauties, too. Price: $3,150 AUD Buy here
Tissot's new PRX Chronograph
Tissot is a brand with a rich history dating back to the mid 1850s, and since its acquisition by Swatch Group has earned a reputation as providing very solid value propositions. The Tissot PRX was a smash hit for the brand and for good reason – providing a lot of bang for your buck in terms of specs and quality while also tapping into the craze for integrated-bracelet sports watches. Now, Tissot has gone one step further and introduced a chronograph based on a Valjoux movement for the PRX line. And even better, it has 100m water resistance to turn into a great daily wearer. Price: $2,775  Buy here
Nivada Grenchen Chronomaster Aviator Sea Diver
Moving away from the Swatch Group and Nivada Grenchen is an interesting brand that was brought back to life by a couple of knowledgeable experts in the watch industry only over the last few years. But in that short time they've put out release after release of authentic reissues and modern updates of that brand's significant and fascinating back-catalogue. Their centrepiece is the Chronomaster Aviator Sea Diver, a true Swiss army knife of a watch that not only functions as a chronograph but can double as a diver's watch (of sorts), has a GMT function on the bezel, as well as having a regatta timer/tachymeter. It's a watch that I've been lucky enough to get my hands on and the 38mm sizing, which is very true to the 1960s original, is perfect for those with smaller wrists such as myself. I've actually gone diving with this particular watch and it held up just fine with its 100m water resistance. Price: $1,921 USD on leather or rubber Read more
IWC Pilot's Watch Chronograph 41mm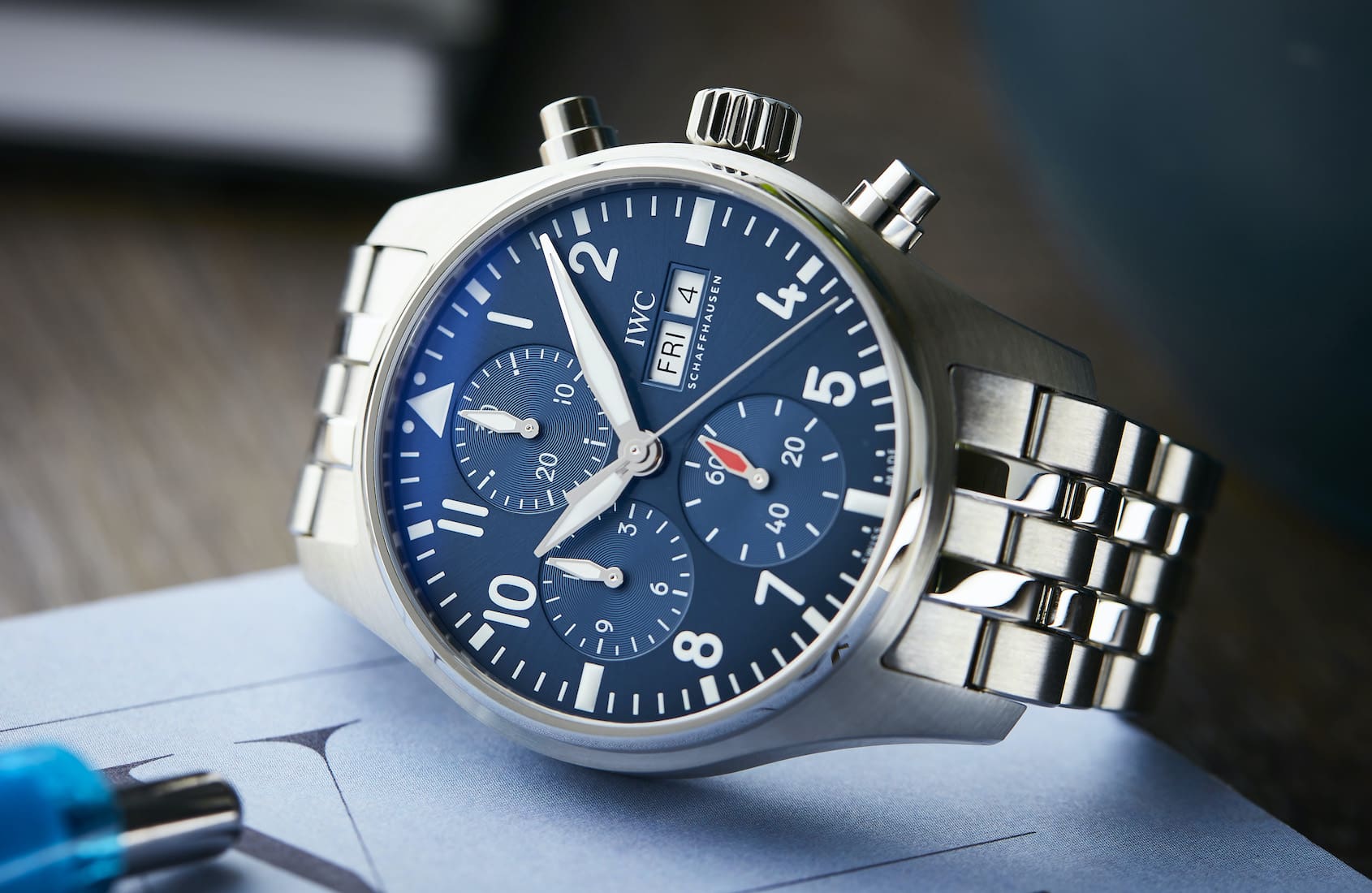 One of my favourite brands, IWC has an incredible history with pilot's watches. The legendary 'MK' line has been foundational in the brand's tool watch offerings. Part of this has been a sub-family of chronographs that are seriously impressive. At Watches and Wonders in 2021, IWC released its latest iteration of the Pilot's Watch Chrono in 41mm. With a water resistance of 100m, up from the 60m many of their pilot's watches traditionally had, this became not only a classic design but one you could take into most situations. All you have to do is pick a colour. Price: $10,000 AUD  Read more
Seiko Prospex Speedtimer Solar Chronograph
Last on this list, but certainly not least, is a great offering from the Japanese brand Seiko with their Speedtimer Solar Chronograph. This offers great value and professional specs, including the 200m water resistance you get with Prospex offerings. But not only are the specs and price very solid, the looks are pretty spot on too. While I don't usually steer towards quartz or meca-quartz offerings, this option from Seiko tickles the classic chronograph aesthetics itch while making no compromises in capability. Price: $1050