The Dial Artist is the man behind the customised CasiOak Galaxy – the hottest G-Shock on the planet
Thor Svaboe
It's no secret that we're big fans of the G-Shock CasiOoak and have become particularly intrigued by the modified versions. The CasiOak has quickly become the darling of everyone from first watch-wearing millennials to experienced collectors. Then it dropped. The Casioak Galaxy was a collaboration between IFL Watches and The Dial Artist (Kit Alexander) as part of a range of customised CasiOaks.  The hyper-colourful Galaxy went viral like a Supreme mega-drop and became a huge hit on social media, selling out fast. Like a cheeky nod to the precious stones on a rainbow bezel Rolex, it hit the zeitgeist right between the eyes.

Its rainbow-modded visage is a delectable piece of wristcandy, and a knock out from 10 feet away. But who is behind this massive hit? I was lucky enough to catch up with Kit (@thedialartist) and got the lowdown on how he got started in the modifying game where he's carved out this bright niche.
T+T: Let's start with a bit of background. You're known for your customisation and bespoke work on everything from Rolexes to G-Shocks with Speedmasters and Zeniths thrown in for good measure. What started it off?
Kit: I had a Seiko turtle, I think it was an SRPD-066 or something like that [the SRP775 we think], the original gold & black turtle.  I loved it. It was a great watch, but I think as with most people flipping watches when they desire something new, as soon as they get a new watch they're done with it almost immediately.  It's like: "Oh well, it's a Rolex. Everybody's got Rolex. How can I just make it a wee bit more interesting?" So I decided to pull my Seiko apart, paint the dial and just enjoy it that way.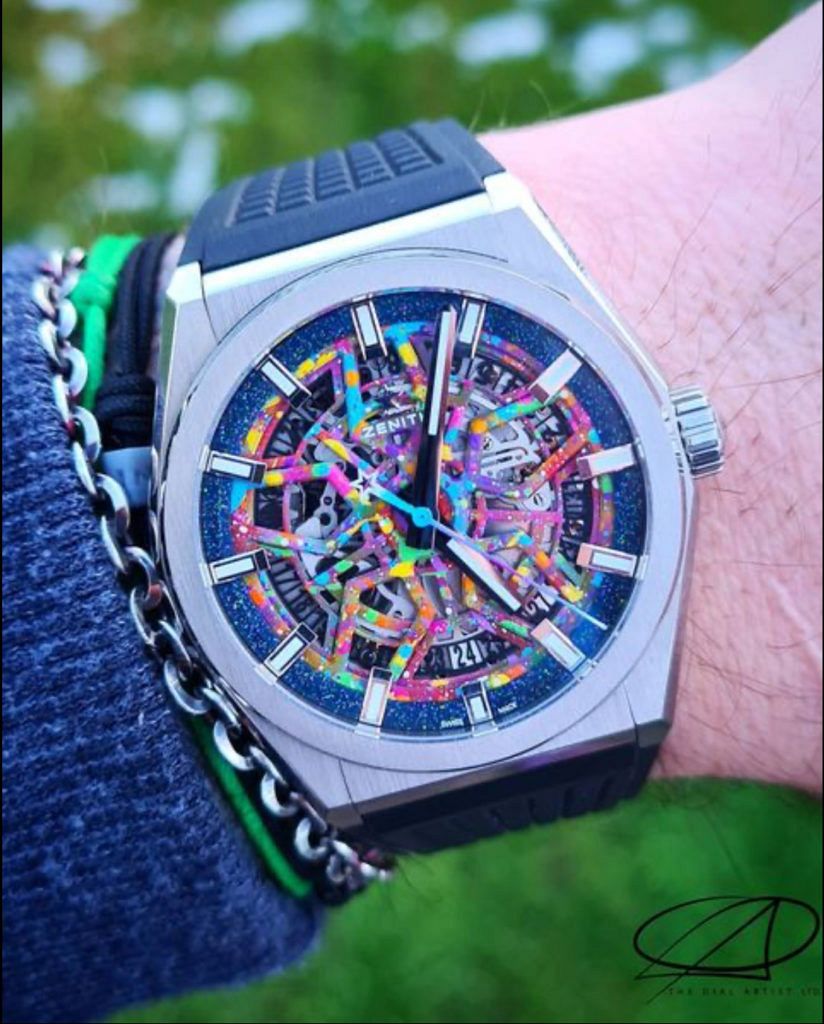 I never really thought any more of it, until I was on a Reddit forum and people told me to share it, on a "Friday share your wristwatch" thread. So I put it up and the response was overwhelming: "Oh my God, what'd you do? How'd you get that?" And then the requests started coming…"Could you paint mine?". That was a few years ago and it just snowballed..
You get known on one forum and then people start asking if you have a website and Instagram handle. I didn't have either, so I started to delve into those platforms and, before I knew it, I had quite a following, and increasingly more orders coming through.
Fast forward three or four years I'm sitting here now with a house that looks like a G-Shock boutique and more watches on the way. It's been totally unexpected, but it's fun.
T+T: What was your day job when you started it?
Kit: I still am a lecturer in art and design, teaching design-based subjects, like product design, interior design, and some art mixed into it. So it's nothing directly associated with watches, but the creative side is.
T+T: I know the feeling. I worked as an interior designer and stumbled into kitchen design and selling kitchen appliances, finding it increasingly frustrating because this is where my heart is and watches are just a force that drives my creativity.  Are you still doing bespoke work?
Kit: Yes! I get emails and messages through Instagram daily. The bespoke work ranges from abstract stuff – dots and splashes – to more complex full-painted dials. Bespoke work is still probably the bread and butter of what I do.
T+T: With the IFL connection and the CasiOak, do you feel that the Dial Artist is going corporate?
Kit: (laughing) Yes and no, because everything's still done by hand.  I've got hundreds, and hundreds and hundreds of watches to paint so it can feel like a production line, but because everything is still manually done, there's still a strong creative element there. The good thing about the IFL connection is that we are looking at more limited-edition runs, so there's a continuous change to what we're doing.
There are some core items, like the the grey and the black rainbow CasiOaks, but we are looking at pushing that into more unique pieces and then seeing where it can take us. It's forever changing, which is good. Rather than it just being the same thing over and over again.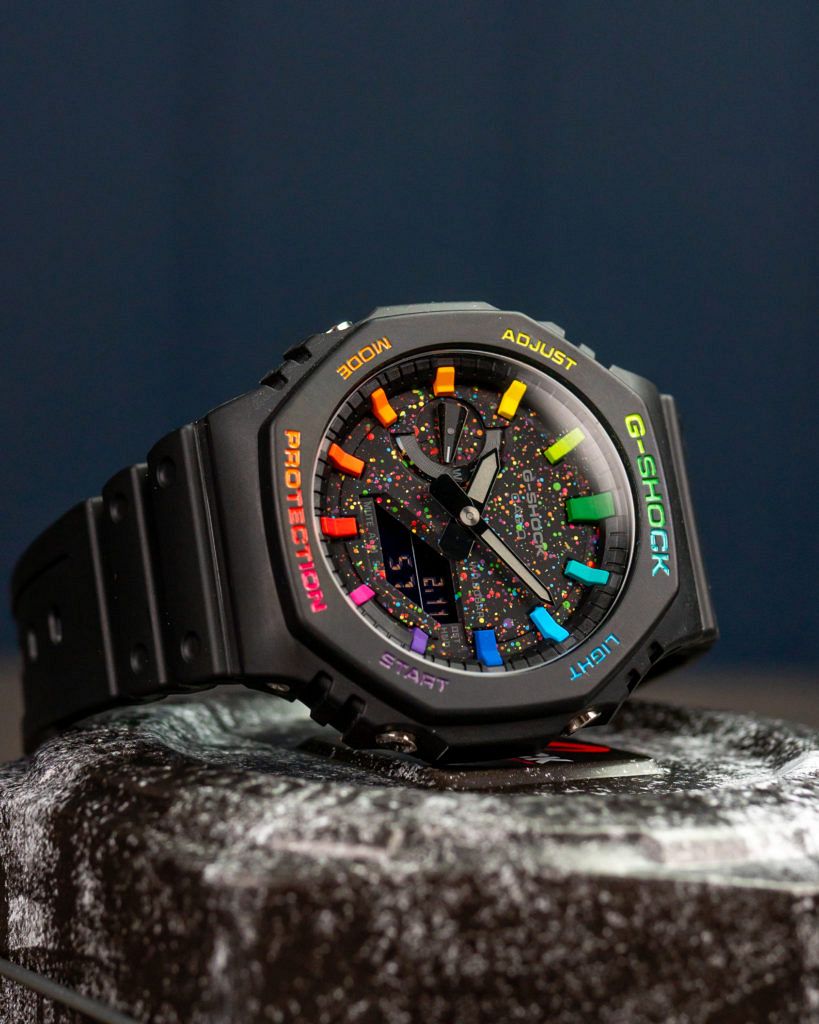 T+T: The title of this article might be "The Most Dazzling Rainbow Watch of 2021", as I'm struggling to hide my enthusiasm. The big question is: what instigated using this Casio G-Shock as a commercial project?
Kit: I did a number of independent commissions on the CasiOak when it first came out, originally painting a rainbow for myself, put it up online, and the feedback was ENORMOUS, and that spurred people on. For about a year I did independent commissions all over the place, in different colourways.
I think what I've posted on Instagram is probably about 10% of what I actually do, so it's quite good. And then a year ago IFL got in touch: "How can we collaborate?, we really love the rainbow CasiOak."
There were messages back and forth, then silence. Until September/October when they got back in touch. After that it went from zero to 100 very quickly. We did an initial range of 50 pieces just to test the water and they sold out in less than 48 hours. That went pretty well…
After this success in December, we started a collaborative process, producing a range of samples, so there were a number of watches painted just to figure out what rainbow we wanted. Was it going to start on red? Was it going to start on green? Was it going to start on blue?
Then to make the dial more interesting for a limited edition, people really seemed to like the cosmic effect. We went for the name Galaxy, and that started with a massive number of dots, looking like a night sky. Before you know it, 200 pieces were made and put online. And yes, they are sold out.
I suppose from the outset it looks like a very long developmental process, but I've spoken to other watch brands who usually have a two to three year lead time for one watch.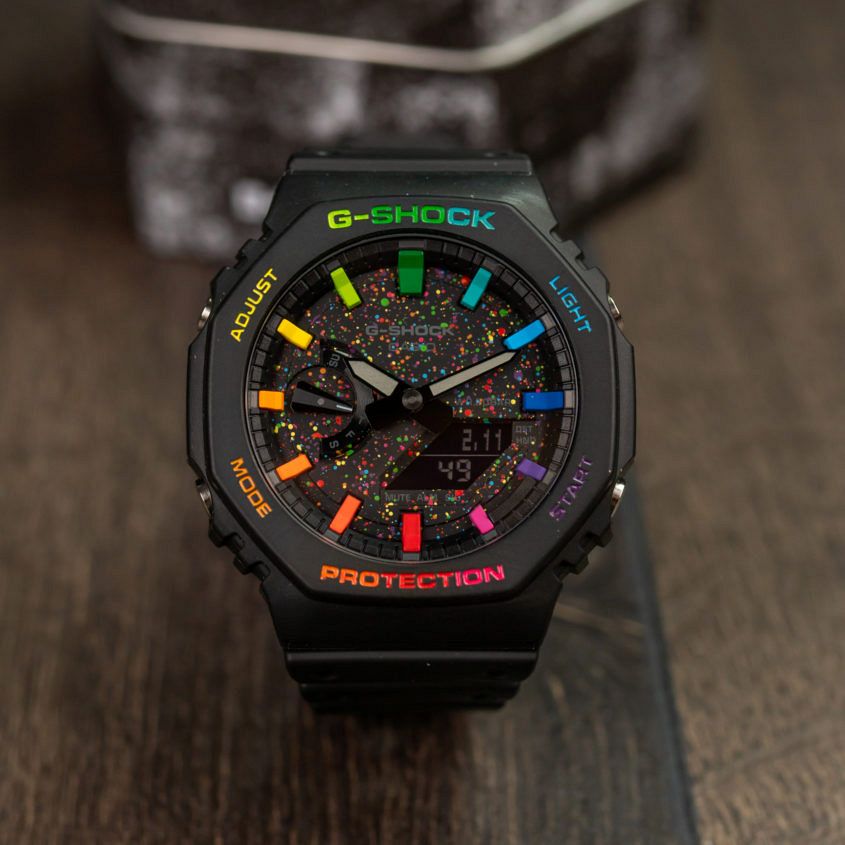 T+T: And you actually only had a gestation period of four to five months on the Galaxy from inception to market?
Kit: Probably less. I think we decided, painted and produced the watches in three months, including developmental dialogue. We're already calling each other just to see what the next limited edition might be, for the end of March, possibly April. The turnaround time is very, very short, which is great because it's nice to do something and then see the output straight away instead of seeing your Instagram get really busy two years later.
You mentioned [fellow customiser] James from Black Badger, and that's probably his experience of lead times. When I've spoken to people like George Bamford, it's a case of looking at a project, proposing and then it's like radio silence for ages. All of a sudden they decide to do something with it. A rapid turnaround just keeps everything fresh.
T+T: What's the reception been like on the new grey rainbow now that the range is expanding?
Kit: Really, really well. That's probably the strongest so far, which is good. We have plans for a limited edition on that one, which won't be a rainbow. It'll be something completely different and fun. Then the new jelly CasiOak, which I was surprised by not being available around the world yet. Obviously, IFL is based in Sweden where it's not released yet, so they got me ordering up those watches ready to go.
It's nice that Casio are releasing more interesting models, and I think they've got three smaller ones coming out this year as well, more geared towards the female clientele. We do have a lot of women who would love to have a CasiOak, but they feel it's too big.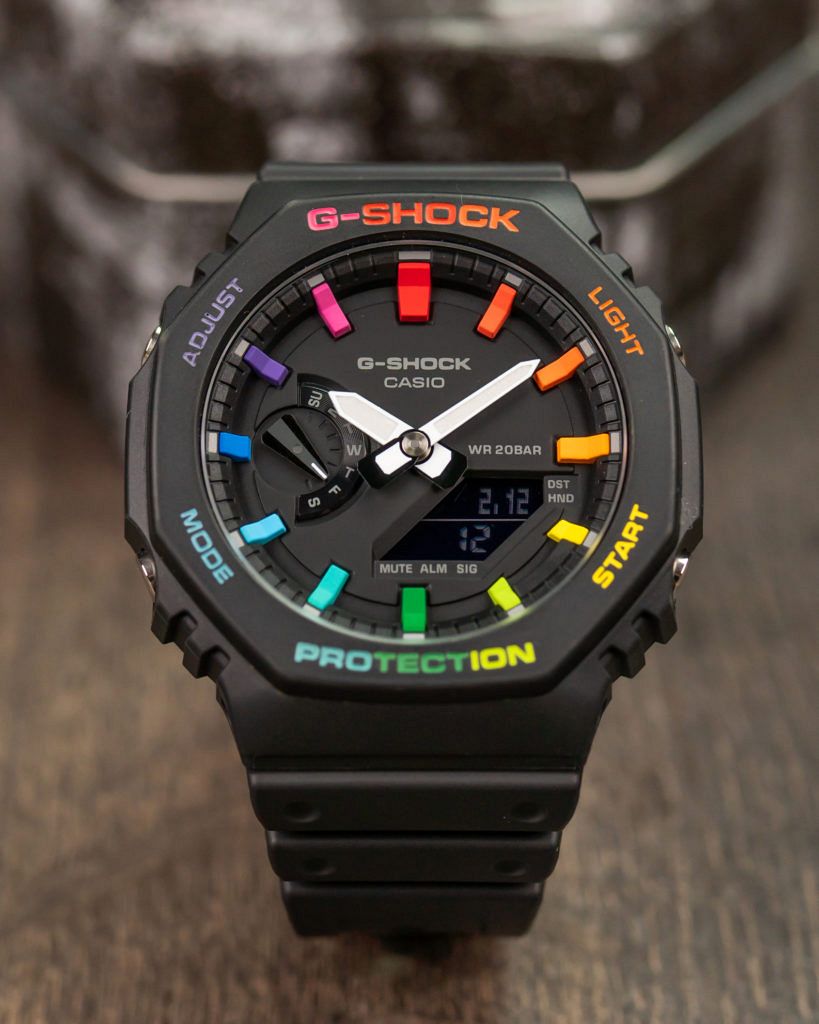 T+T: So, if I'm reading you right there's another limited edition coming and you're going to do some work on the new transparent G-Shocks?
Kit: There's definitely plans to do that and when? I think we're going for June, July time. It's hard to say, because we don't really have a clear road map.
T+T: And that's probably what makes it interesting and gets the creative juices flowing, isn't it?
Kit: Definitely, it's a play-about to see what you come up with, which is great. Whereas some companies have a very fixed focus as to what they want and if you deviate from that just a little bit they're not happy, even if it works. In those cases it's a bit like: "Why are you speaking to me? If you want to do that, just do it. Don't ask me to get involved."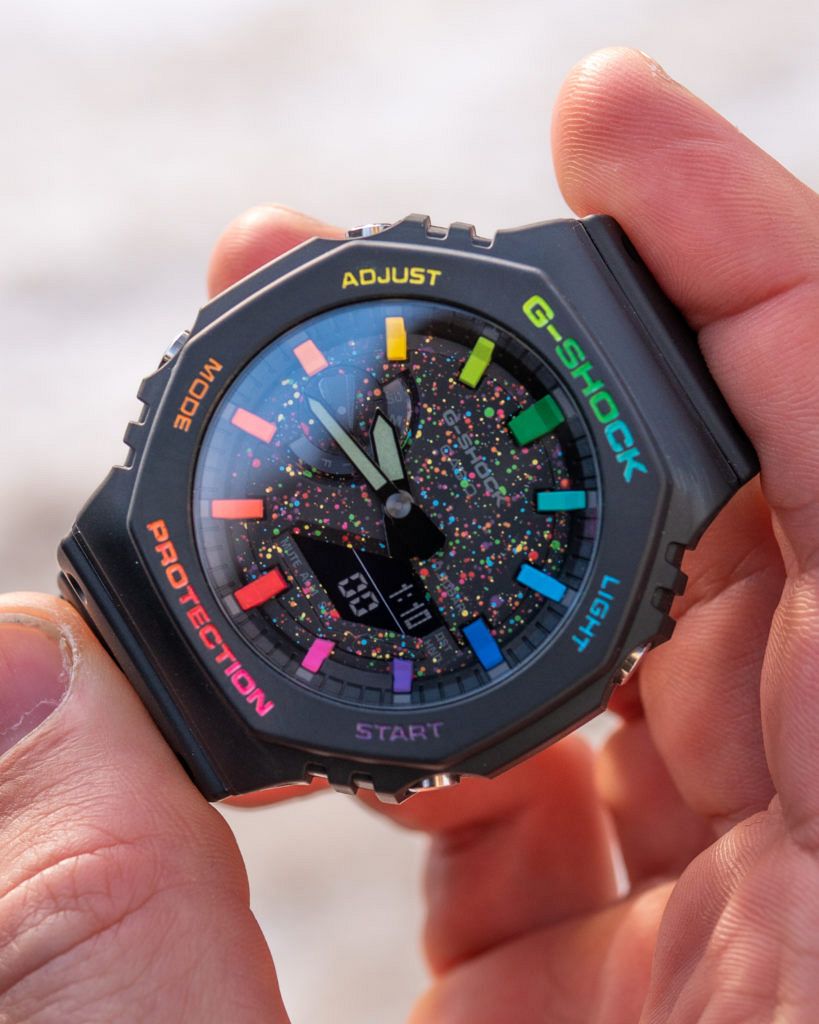 T+T: A quite mind-boggling fact is that it's still just you, customising hundreds of G-Shocks. The workload must be massive. You're basically doing one case, one dial at a time, for the entire production run.
Kit: I'll get a box of 100 watches, then spend two days to take them all out, break them down, pull the parts out and so forth. After I have them all laid out, I'll do one colour at a time painting them. They take about three or four coats of paint and that can take a full couple of weeks to get done…  
If this takes your fancy as much as ours, check out the website of IFL Watches, with 5 CasiOaks in the range there's plenty of choice. And do check out @thedialartist on Instagram. I assure you the temptation factor will be strong to wrap up a Seiko, Speedmaster or Tudor to send off.  Art for the wrist indeed. Stay tuned for the next adventures of The Dial Artist on Time+Tide.