This Breguet Classique 7147 is pretty unbeatable as a dress watch
Time+Tide
Editor's note: Watch people love nothing more than popping watches into genres or tropes. And while a lot of the time these categorisations can be a little, how shall we put it — arbitrary — in the case of Breguet's Classique 7147 we're pretty comfortable declaring this as a dress watch, and a dress watch in the truest and most classical sense.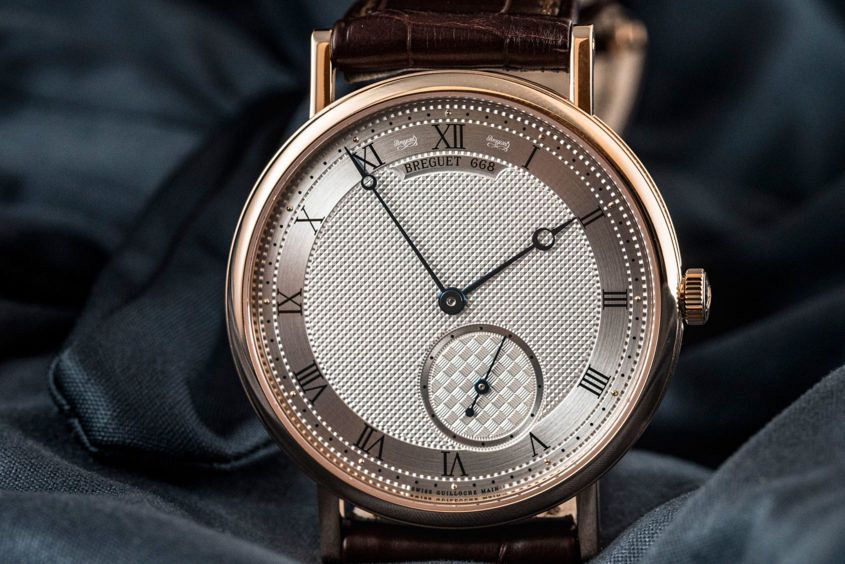 The Classique 7147 is the definition of a quiet achiever. It's a simple, sturdy watch that does everything asked of it with style, and it does so with a sense of reserved assurance that only a watch with 'Breguet' on the dial can adequately muster. The purpose of this Breguet is to be a dress watch without equal. If you need a black-tie timepiece that speaks to tradition and classical style, without being yet another ho-hum exercise in derivative design, we suggest you make a beeline for the Classique 7147.
The case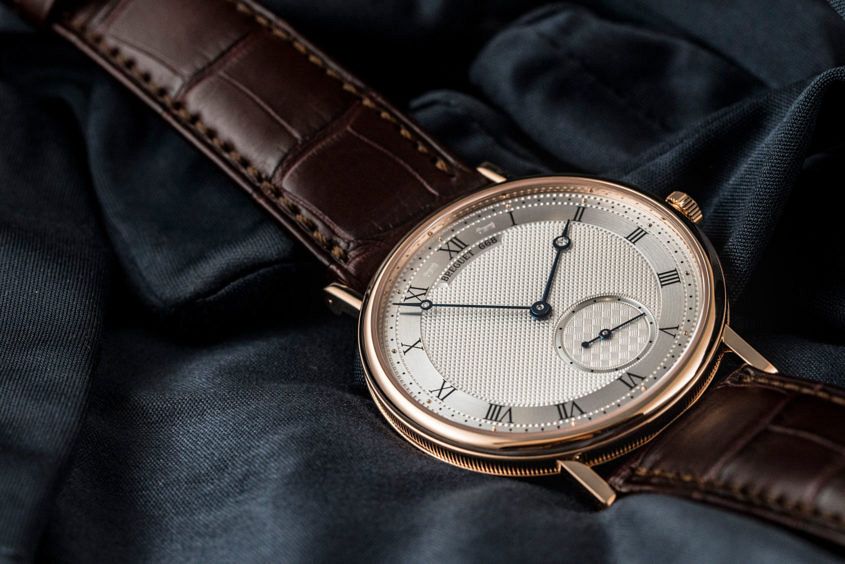 The first thing you need to know about the 7147 is that it's not a completely new design. Rather, it's an update of the Classique 5140. From a distance these two timepieces look indistinguishable, but up close the 7147's new body-work stands out. At 40mm it's on the larger end of the dress watch scale, but thanks to its slim profile of 6.1mm (down from the 5140's 10.8mm) it wears far more discreetly than you'd expect. Design-wise the case is classic Breguet: straight lugs (with curved end-pieces to accommodate the strap) and the delicately fluted middle case section that's a signature of the brand. It's available in white gold or rose gold options. As far as cases go, it's instantly recognisable as Breguet, and that's not a bad thing.
The dial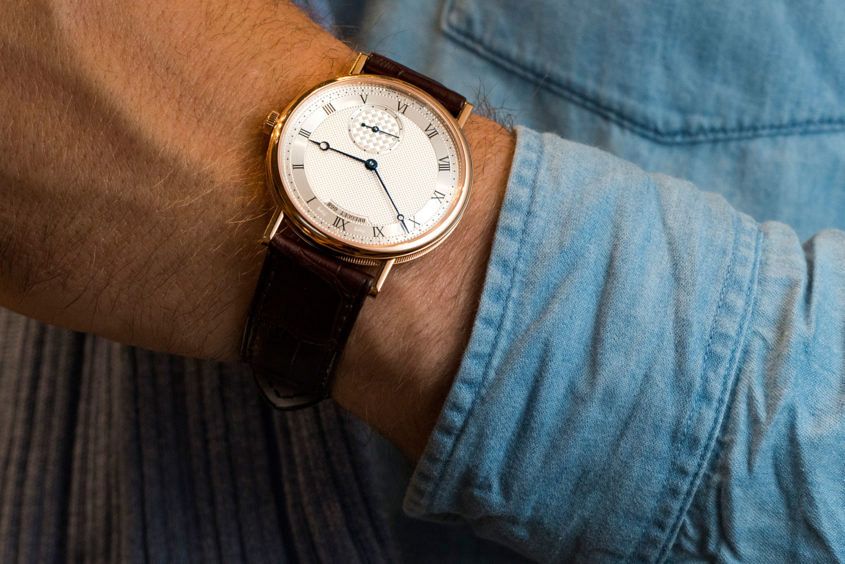 The traditional approach continues on the dial – a delicately balanced marriage of finish and technique that elevates the 7147 from their typically restrained dress-watch competitors, such as Patek Philippe and A. Lange & Söhne. The centre of the silvered 18k gold dial is finished with a visually arresting engine-turned hobnail guilloche, contrasting with the off-centre small-seconds crosshatch guilloche finish. Add to this the wide brushed hour track and matching outer minutes and you've got a dial that manages to exhibit a diverse range of textures without becoming cluttered or overcomplicated. On top of these broad brush strokes, Breguet's finer points really stand out – the archetypal hands, the secret signature at 12 and the dial-side serial number. It's these details that make this watch such a timeless design.
The movement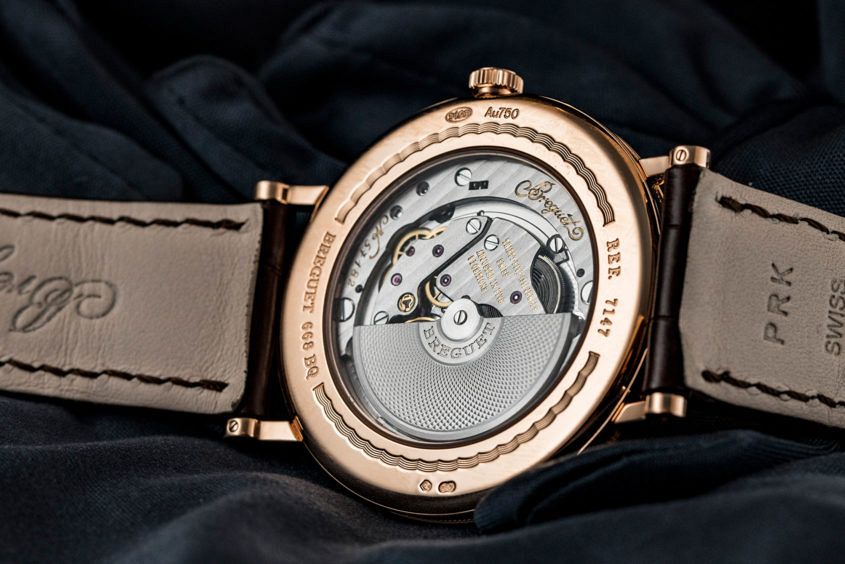 I expected to see a manual movement in this watch, not only because of the ye olde styling, but also because it's exceptionally slim. But, on turning it over, I was greeted by the sight of the Cal. 502.3SD. This ultra-slim automatic movement measures a mere 2.4mm high, and has a range of unusual features, such as off-centre weight, open mainspring barrel and a design that leaves the small-second sitting near five. On top of this the escapement is running silicon pallets, going to show that even though the brand's namesake is credited with so much horological innovation, Breguet isn't beyond improving upon 17th century tech.
The strap
There's really only one strap option for a watch like this – and that's alligator. Having said that, no doubt someone will post a picture of this watch on a NATO and it'll look amazing.
The verdict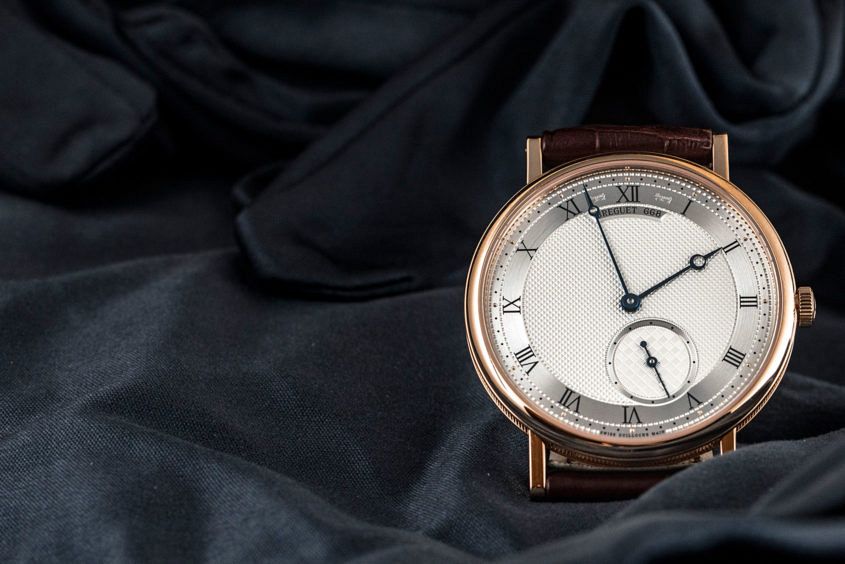 This Classique offers a whole lot of watch for its $27,000 sticker price. Not only do you get an excellent case and dial, an interesting ultra-thin movement — all from one of the top brands in the world — you also get a watch that's far from boring. I love the off-centre small seconds (though I suspect it'll be a turn-off for some), and I could happily gaze at that dial all day, and under all lights. If that, God forbid, ever gets dull, there's always the sapphire caseback, and the asymmetrical, superbly finished wonders that lie beneath.
Talking point
(In your best Crocodile Dundee impersonation): You call that a guilloche dial? This is a guilocche dial.
Who's it for?
If you feel as much at home in a tuxedo as you do in tracksuit pants, you need this watch in your life.
What would we change?
It doesn't bother me, but the OCD out there might want that seconds dial to be centred.
Breguet Classique 7147 Australian pricing
The Breguet Classique 7147, in rose gold, $27,000