Tom Inslay is your typical Aussie, with the obvious exception of being wholly consumed by the beautiful world of horology. He's also got a few interesting talents …
Hey Tom, we've been wondering — what do you actually do?
I have been in the manufacturing industry my whole life, the past six years as a CNC Machinist for a multinational mining company which designs and manufactures niche equipment for hard rock mine sites. On the side, I also run my own business, primarily as a bespoke hand engraver, and now watch art.
What's your daily watch and why?
My daily watch is a Blue Tudor Pelagos. For me it's the perfect work watch: the titanium makes it light, the clasp makes it easily adjustable and comfortable, the ceramic bezel is durable, the lume is second to none. It's also not a $20,000 watch that I am too afraid to mark and wear, yet it's a nice enough watch that an enthusiast would enjoy to wear.
What else is in your collection? Have you got a favourite?
I also have a Rolex GMT-Master II 116710BLNR 'Batman', an Audemars Piguet Royal Oak 15400 Blue, and a Rolex Submariner 5513 (birth year 1988). Which one I like the most changes on a daily rate, but at the current time I am enjoying wearing my birth year 5513 — we make a good team, ha ha.
Generally speaking, what do you look for, regarding criteria, when buying a watch?
I don't have criteria as my tastes and style changes so much as my horology journey progresses.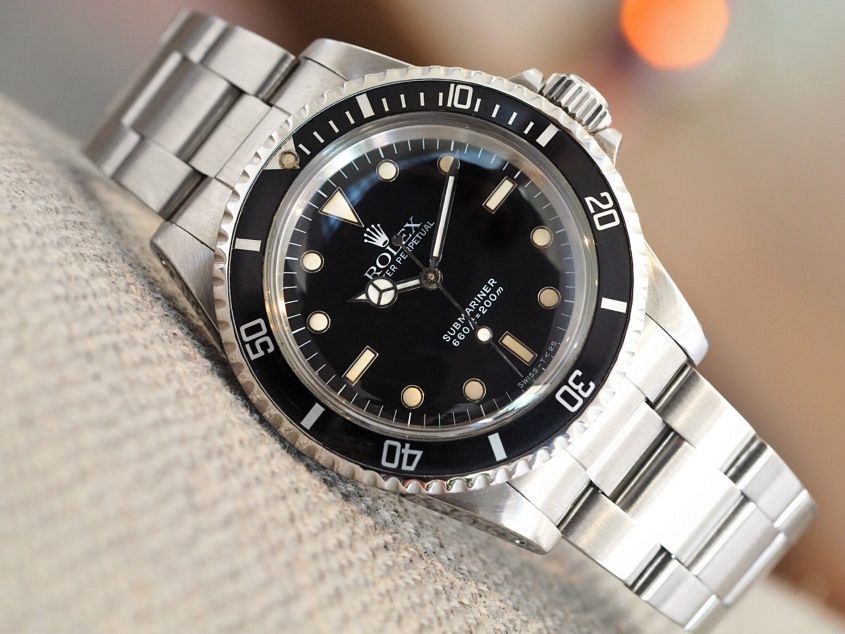 What is your grail piece?
It would be an A. Lange & Söhne Zeitwerk Striking Time. I have been lucky enough to own a couple of Langes: an 1815 and an 1815 chronograph. To me, they are the pinnacle of horology and the pinnacle of my trade as a machinist. I love the analogue display on the front, I love the movement, and to have the chimes on top of that would be insane.
How did you find yourself engraving watches?
I was a gunsmith for many years and was introduced to engraving on high-class English shotguns like Purdey and H&H. I never had $200,000 to buy one, so I taught myself to engrave in 2010. It wasn't long until I was hooked. I used to engrave only guns, and watches were not even on my radar to engrave or as a hobby. I was introduced to watches after constant requests to engrave them. I owe a lot to engraving for introducing me into the world of watches. I'm currently on hiatus from the engraving but will be back soon.
Let's talk about your latest project. What is it and what were you trying to achieve?
Yes, I have just completed a small batch of watch displays. They are simply an art piece for the office desk or by the bedside table. At the moment I have only made them in the style of a modern Rolex Submariner (Mercedes hands with blue lume). They're about a foot high and are made from 316 stainless steel. The hands can be set at whatever time/position you want — but it isn't a clock, they don't move. I don't think there is enough watch art, especially in 3D. I wanted one for myself, but given the setup cost, it was worth making a few more to sell.
How much work goes into something like this?
Quite a bit really. The hands are machined out of 2mm stainless plate and done on a Vertical CNC Milling Machine. The spindle and the base are machined from 20mm and 95mm 316 stainless bar on a CNC Lathe. At the moment they are made one at a time, and total machine time of each is about one hour.
From there they all need to be deburred, filed, sanded and polished, which is where most of the labour takes place. Once that is complete, I apply the lume into the pockets which have been machined into the hands, and then it's just final assembly.
Will they be available for sale? Do you plan on making more variations?
All of this current batch has been allocated. I kept one, gave a couple as gifts and also sold a few. I plan on making more when the time permits, and depending on how much more demand I receive, I could definitely ramp up production numbers.
More styles would be great. I think some Omega sword hands would look sweet! I also have ambitions to make some more watch art, and I would like to make a two-foot high crown and stem sitting in a stand. I have a lot of ideas floating around.