LIST: Six men's watches that look incredible on women (and why)
Ceri David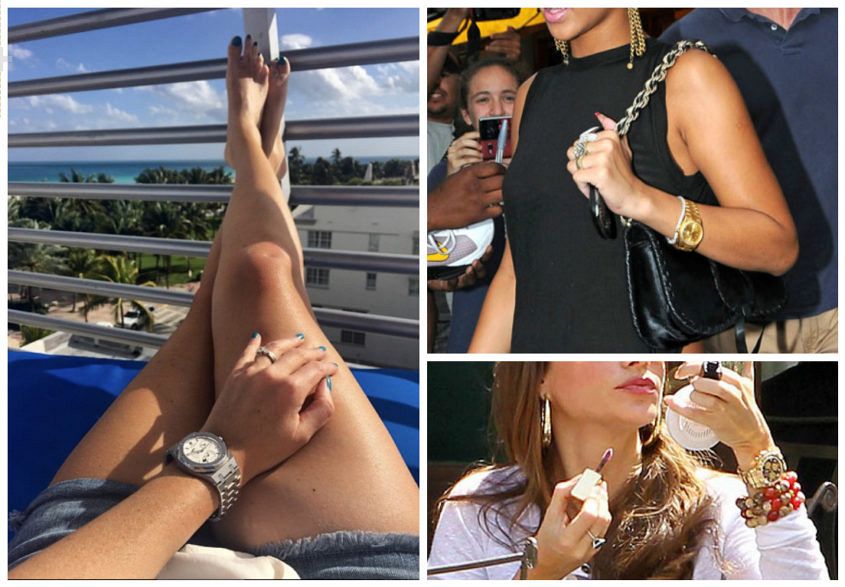 Ever since the female of the species began wearing trousers circa the 1920s, they've been gradually but persistently encroaching into the territory of men. Never has the saying 'give them an inch' been more relevant. Next minute, they had the right to follow whatever career path they fancied and the freedom to get a short haircut without bringing shame on the entire family, and the world was upside down.
Women wearing men's watches is just the latest example of this invasion – and you know what? Get used to it. Full disclosure: I am a woman, so I'll stop with this 'they' nonsense. After centuries of not having a choice, we can finally do what we like, so is it at all surprising that we're making the most of that? I frankly just feel disappointed that you blokes find it so much harder than we do when it comes to blurring gender lines. Go on – wear a skirt. There's nothing stopping you.
So, in service to women (and men, who now have the ultimate partner-pleasing justification for their next watch, i.e. "Honey, it's our new watch"), here is Time+Tide's pick of six men's watches that often find themselves on the wrists of women – and our take on why they work so well.
Rolex Daytona
The internet is so crammed with female A-listers wearing gents' Rolexes that there's almost no room left for cat videos. There's Rihanna, Jennifer Anniston, Charlize Theron, Victoria Beckham – we could go on. But we won't. Our pick of the bunch is the Rolex Daytona – seen here on Sofia Vergara and Ellen DeGeneres.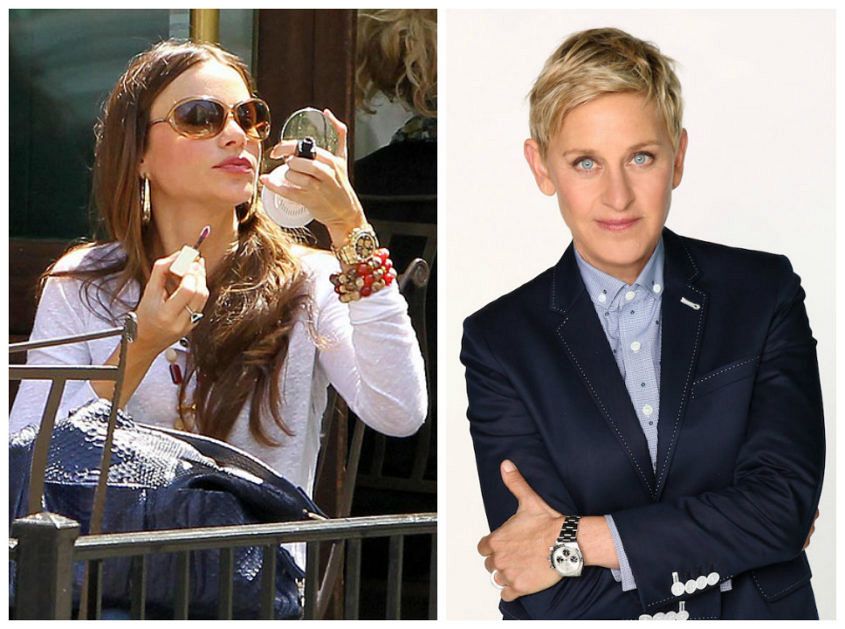 Why it works:
The Daytona is a major status symbol – and everyone knows the brand, no matter how horologically illiterate they may be, which makes it universally impressive. The classic styling also means it goes with virtually everything – although clearly no one told Ellen, who owns a huge collection of modern and vintage examples. From which, we can deduce that Ms DeGeneres is doing quite well for herself. Who knew? It's also sized right for slender wrists and won't bang around like other men's models might.
Hublot Big Bang
Hublot has a very different appeal to Rolex. It's modern, innovative, technical, bold –  a distinctly 21st century watch – and that's exactly the kind of woman who'll wear one.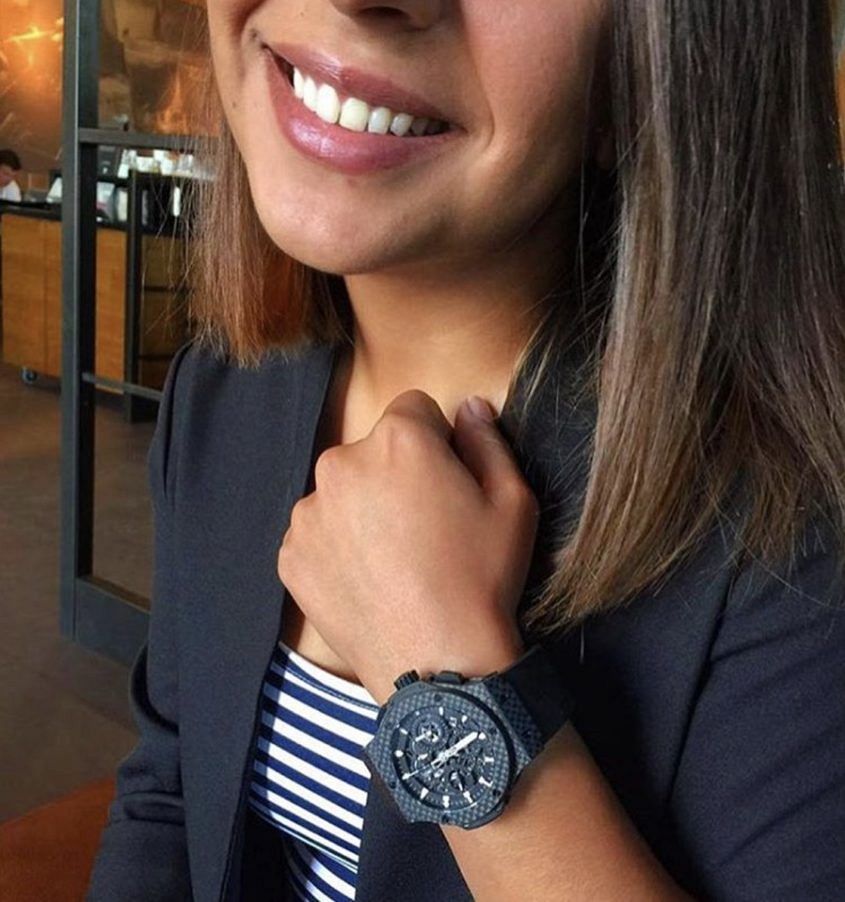 Why it works:
A matt-black Hublot adds definite tough-girl swagger to any outfit, but the intensity depends entirely on what else she's wearing. Switch the navy blazer and Breton stripe above for black leather and chunky boots, and the look goes from edgy office chic to vampire-slaying diva in an instant. We say yes to both.
Panerai
We debated long and hard between the Luminor and the Radiomir, before taking the advice of the little girl in the Old El Paso commercial: "Por que no los dos?" Both have a cult following with the ladies – and rightly so.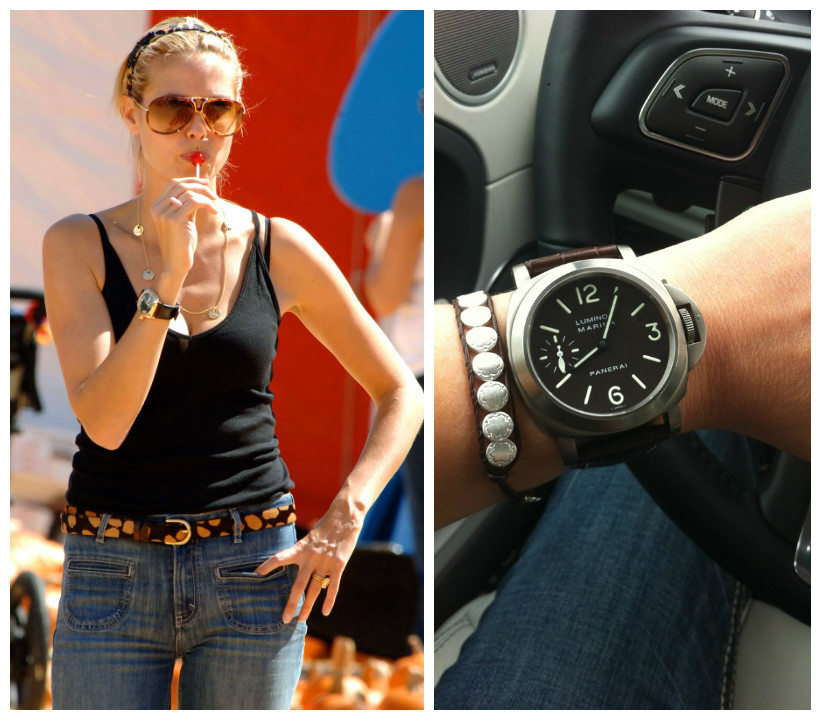 Why it works:
Panerai is such an overtly masculine brand, so a woman who wears one is making a strong statement. These watches are all about toughness with a purpose, not status. Conclusion? This is a woman with nothing to prove, and she's certainly not wearing this watch in an effort to impress you. Oh, and by the way, Heidi Klum is well aware lollipops are bad for her teeth, but frankly, that's none of your business.
Vintage Omega Speedmaster
Everyone knows Omega – how can they not? But this queen isn't wearing a mother of pearl-dialled diver or a Ladymatic. She's wearing the iconic Moonwatch, and a vintage one at that. Goes to show that true icons know no gender.
Why it works:
At the opposite end of the spectrum from the tomboy with a rough-and-ready piece of kit on her arm, the bohemian in an oversized watch can come across as all the more delicate. This one happens to have an amber strap that she's matched with the florals in her skirt. Proof that a masculine watch can be a perfect fit for a feminine ensemble.
IWC Portugieser
Here in Australia, the Portugieser has a bit of a reputation as a business watch. It's classy, credible, and instantly recognisable across the boardroom – and this warmer toned red gold and ardoise chronograph model is a perfect choice for a woman wanting to stand out of the corporate pack.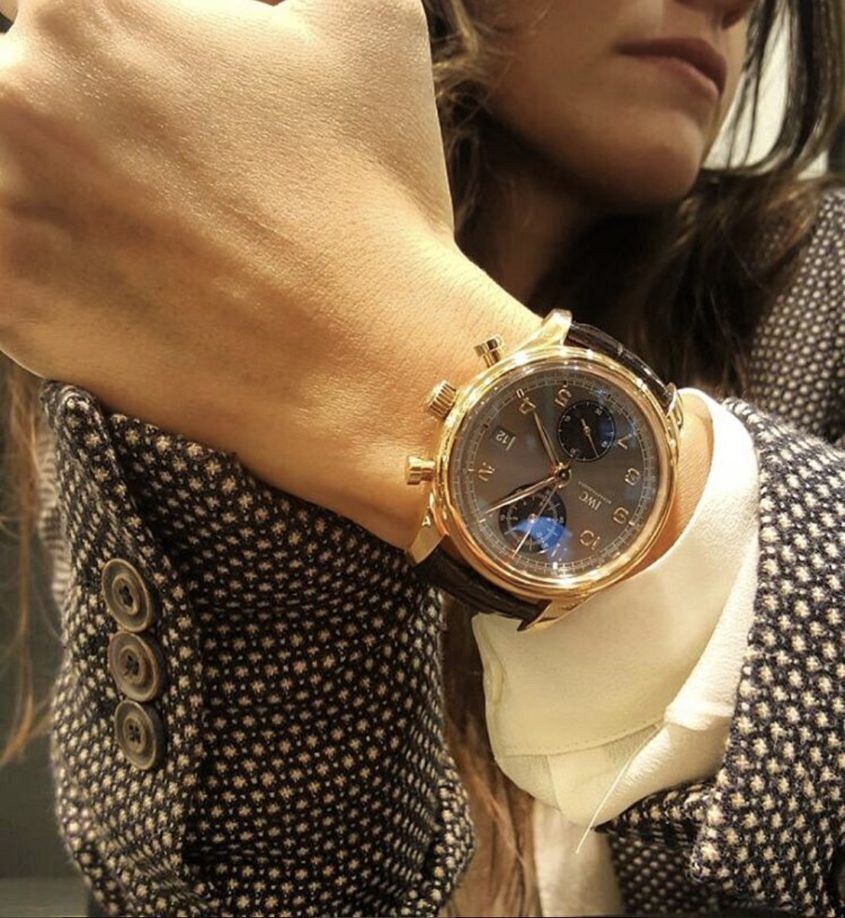 Why it works:
When it comes to a dial this large, a bare arm might appear spindly by comparison. Worn with voluminous layers, though, like this silk blouse and textured jacket, the watch's size is played down – making it ideal for winter. In warmer weather, a couple of bracelets or a leather cuff can help create a similar critical mass.
Audemars Piguet Royal Oak
There's an assumption that the fairer sex is only interested in diamonds and precious metals when it comes to watches. Not so. And what better way to prove it than one of the original luxury steel sports watches – the Royal Oak from Audemars Piguet – often imitated but never bettered.  Bonus points for rocking this less common dual time model.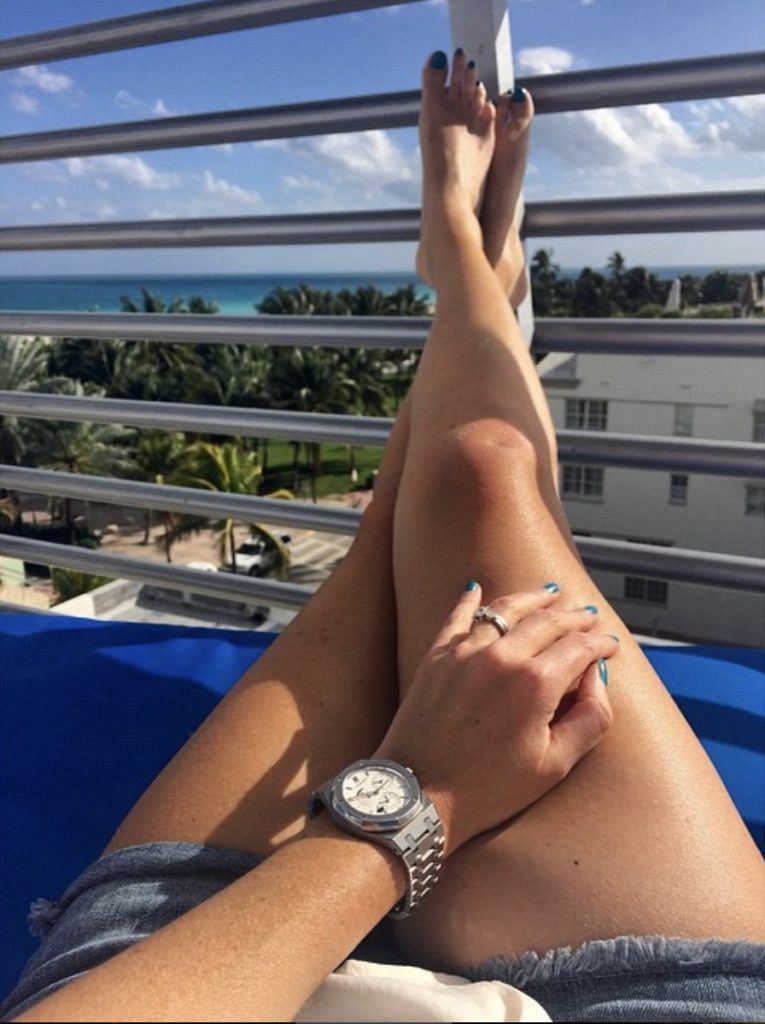 Why it works:
With its fresh white dial and clean lines, this makes a great weekend watch, especially when teamed with a tan and a view, as above. Wear it on the yacht you bought with that last bonus, girlfriend.