IN-DEPTH: The Hublot Big Bang Unico Red Magic
Felix Scholz
The story in a second: It's big. It's red. It's Hublot.
Red is a colour with some pretty specific cultural meaning — danger, passion, excitement and love. And most of these emotions or associations are pretty applicable (danger, not so much) to Hublot's latest hot piece, the Big Bang Unico Red Magic, a statement piece par excellence that impresses on so many levels.
The case
Yeah. We've got to start with the case. There's just no avoiding it. This is an incredible watch case on many levels, including sheer brightness. This is a case that definitely lives up to the Big Bang name. And for all that this incredibly vivid, bright watch is as eye-catching as a red fire engine barrelling down main street with sirens and lights blaring, there's more to this 45mm watch than 'mere' surface appeal. For starters, ceramic isn't the easiest material to work with, and regardless of colour, the highly polished ceramic front and back plates, as well as bezel, is achievement enough. But the real party trick is just how Hublot has managed to achieve such a bright colour on ceramic, which is a tricky material. But Hublot are no slouches with material innovation — they're one of the industry leaders when it comes to using unorthodox materials, and using them at scale. This red ceramic has been achieved using a patented in-house process on vibrant ceramic. For me, it's the high polish that amps up the appeal of the bright colour, taking it to the next level. It's the main selling point of the Red Magic, but it's not the only point.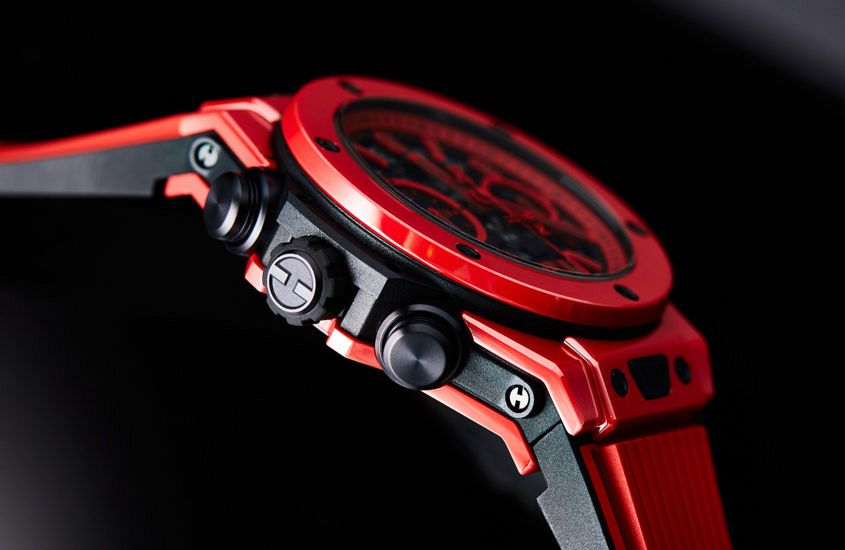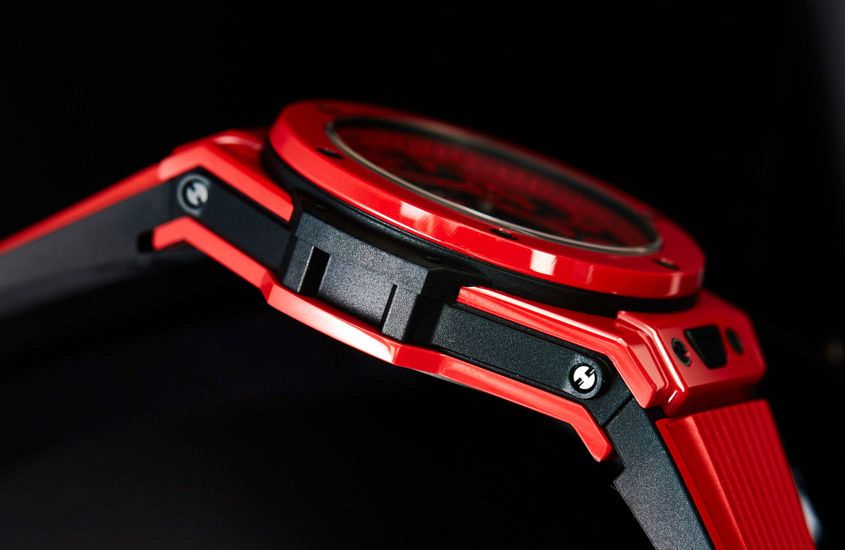 The dial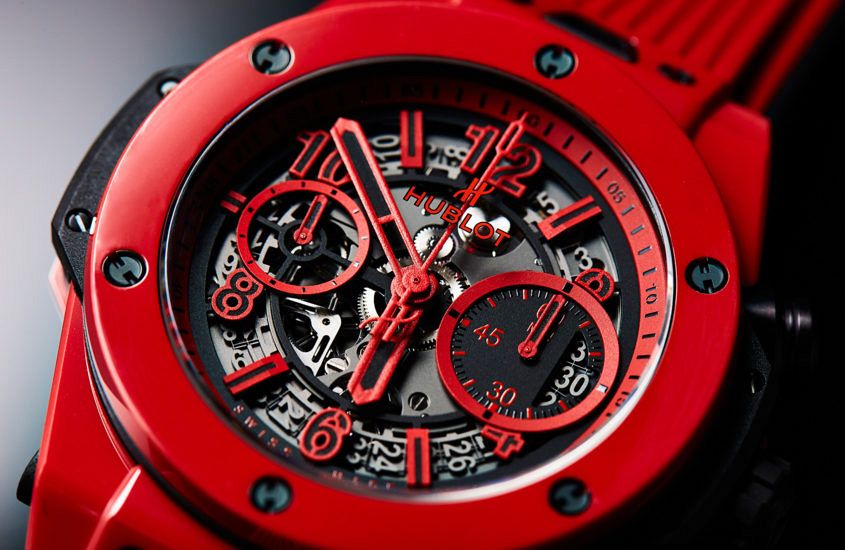 It's red, but not as red as the case. The dial follows the well-established convention of Big Bang dials – bold, floating numerals matching the case, set against the semi-skeletonised movement. There's lots to like here — the high contrast in general is great, and there are numerous little details to keep you engaged; I like the matt finish of the black lume.
The movement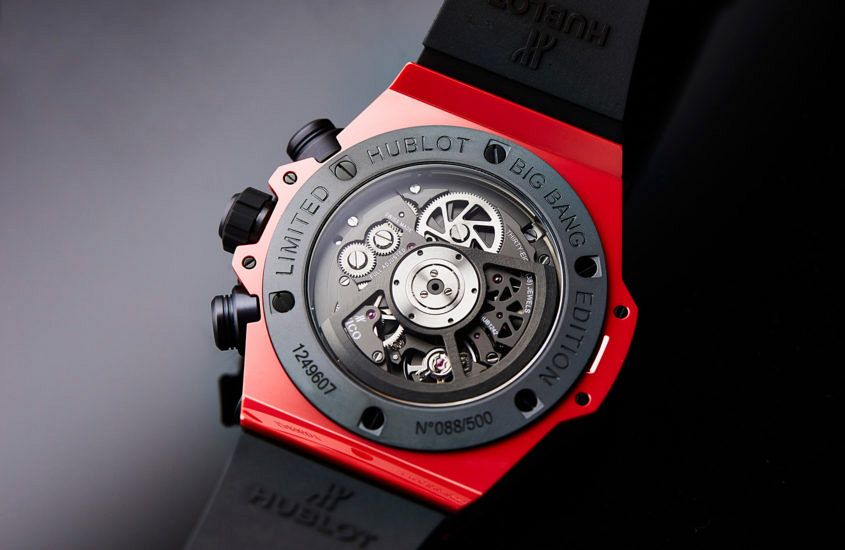 Beating away inside the Red Magic is the HUB 1242, a Unico movement — a flyback column wheel chronograph that rocks a double clutch (that you can see on the front) and an attractive mostly black PVD finish. It's good for 72 hours.
On the wrist
Make no mistake, this watch stands out about as much as you'd expect a popping fire engine red 45mm watch to stand out. Heck, even the strap is red. So consider that your fair warning that it's not the sort of watch you go for if you're looking to avoid attention. Having said that, the bigness and the boldness of this watch is what makes it for me. It's one heck of a statement piece.
The verdict
Some people (typically snobby watch people) like taking pot shots at Hublot because, in a lot of ways, they're easy targets. The unashamedly out there designs, the ambassador-heavy marketing model and large numbers of limited editions are all things that are anathema to a particular breed of mechanical watch enthusiast. But this watch is the counter argument to all those things. It's a watch that, through its combination of audacity (I mean, it's reeaaally RED) and technical prowess (getting something that red isn't easy, as other makers of ceramic watch parts will attest), is genuinely novel, and plays a role in pushing material innovation in the sector. I can guarantee you that in a few years (or whenever that patent expires) we're going to see a lot more vibrant ceramic watch bezels, cases and the like. And that, I think, is a good thing.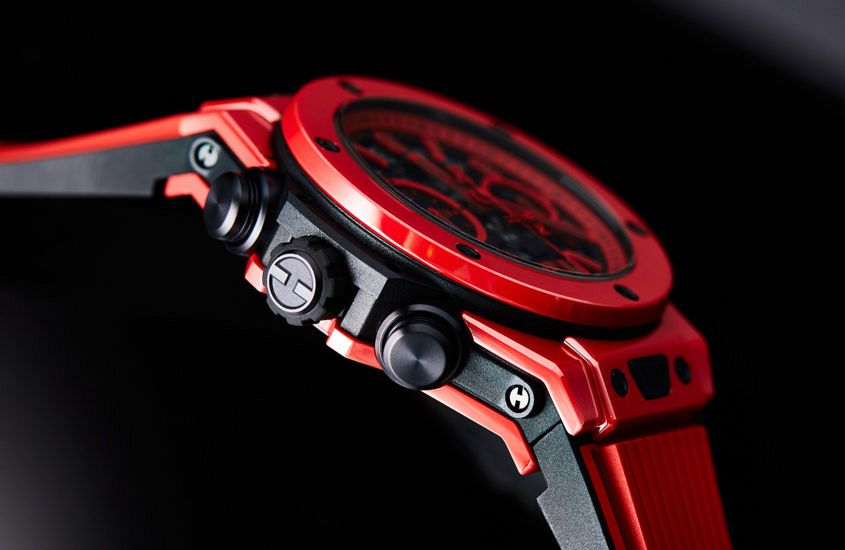 Talking point
Oh, your watch has a red ceramic bezel, that's cute.
Who's it for?
Someone who is unafraid of colour. Like, really unafraid.
What would we change?
I honestly can't really think of anything. I reckon this watch would look incredible with a glossy black ceramic dial though.
Hublot Big Bang Unico Red Magic Australian pricing and availability
Hublot Big Bang Unico Red Magic, limited to 500 pieces, $33,800