HANDS-ON: The TAG Heuer Monaco Bamford
Justin Mastine-Frost
In many ways, you could say that few people have had as significant an impact on the watch industry from a design standpoint in recent years than George Bamford. Beloved by many, despised by a good few at least, Bamford is single-handedly the reason why watch customisation is now so prevalent in offerings directly from watch manufacturers. After many years on his own, his recent collaborations with LVMH, selling brand-authorised custom offerings from the TAG Heuer, Zenith, and Bulgari catalogues, further legitimised his efforts, but this new release, unveiled at Baselworld 2018, kicks things up a healthy few notches. You're looking at the TAG Heuer Monaco Bamford — the first piece co-designed directly from TAG HQ in a carbon fibre case.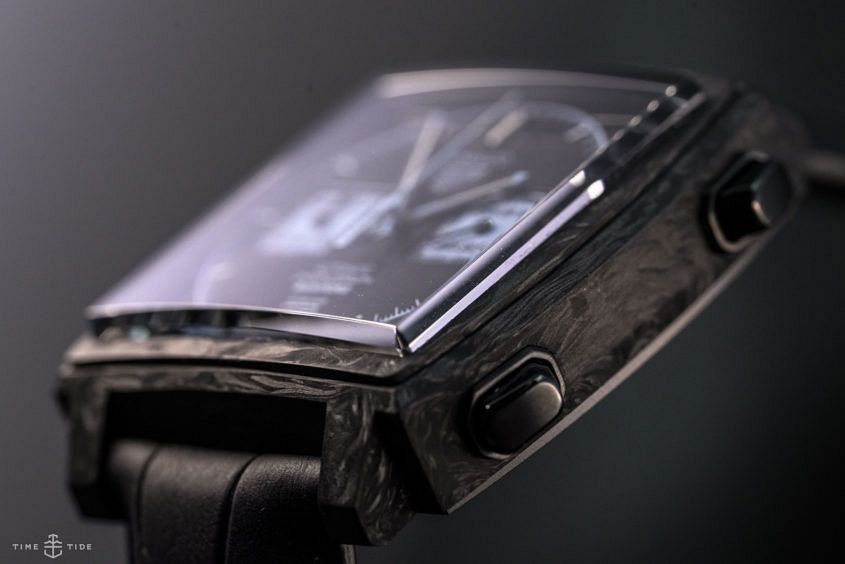 Vital statistics
Past conversations with George Bamford had already led us to believe that something "bigger" was coming down the pipeline from this flourishing partnership, and given his love for vintage Heuer at a personal level, this new Monaco makes sense. The original 39mm case proportions and Calibre 11 self-winding movement are maintained, whereas its carbon fibre case and jet-black dial with contrasting baby blue indices are distinctly custom and a significant departure from any Monaco ever produced by TAG themselves. Sure, you can use the current configurator on the Bamford Watch Department website and build your own Monaco with a black MGTC-coated steel case with similar indices, but to have the first ever carbon fibre-cased Monaco that is limited to a production run of only 500 pieces (priced at a $10,600) is a bit of a no-brainer.
On the wrist
On the wrist, said carbon case is quite lightweight when compared to its steel brethren, though not without substance. The Monaco's 39mm case has always been a great fit for a wide range of wrist sizes, and that does not change with the new case material. It's safe to say that in this guise the Monaco Bamford is a touch less dressy than its siblings, though with the right attire it could be safely pulled off with business casual attire (still a black-tie no-no, as should be the standard TAG Heuer Monaco).
Who's it for?
TAG Heuer Monaco Bamford may not win over any of the "purists" in the room obsessed with maintaining the vintage look of heritage pieces like the Monaco, but at the end of the day that's not the point either. George continues to bring customised watches to the table that provide an alternate to the norm, to the status quo, and those looking for something outside the standards will definitely appreciate this new release.
Any surprises?
The price! The 500-piece edition is priced at $10,600 By comparison, a customised steel Bamford lists for 7500 GBP (that's right, George only prices in home currency online). If you do some quick conversion, you'll come to realise that this carbon-cased gem is priced LOWER than its steel counterpart. You don't get the same experience of changing every last detail of the watch to your heart's content, mind you, but you get one badass Bamford watch in a unique case material at a price that's pretty hard to beat.
TAG Heuer Monaco Bamford Australian pricing and availability
TAG Heuer Monaco Bamford, limited to 500 pieces, $10,600.
Specifications
Reference No
CAW2190.FC6437
Strap
Black alligator leather and rubber
Movement
Calibre 11 Automatic