HANDS-ON: Heavy metal – the Casio G-Shock Full Metal GMW-B5000D-1
Cameron Wong
Anyone else ever play this game? Sitting at my desk during school, my friends and I would quickly double tap the start/stop button on our digi-stopwatches, trying our best to beat one another and see who could do it the fastest. I actually remember getting a digital watch just so I could play (and totally not to secretly practise at home). The watch I ended up getting, or at least what my now faded memory recalls, was a square 5000 series G-Shock. And this year the legendary resin-cased design celebrates its 35th anniversary, with Casio releasing the very first all stainless-steel version of the icon.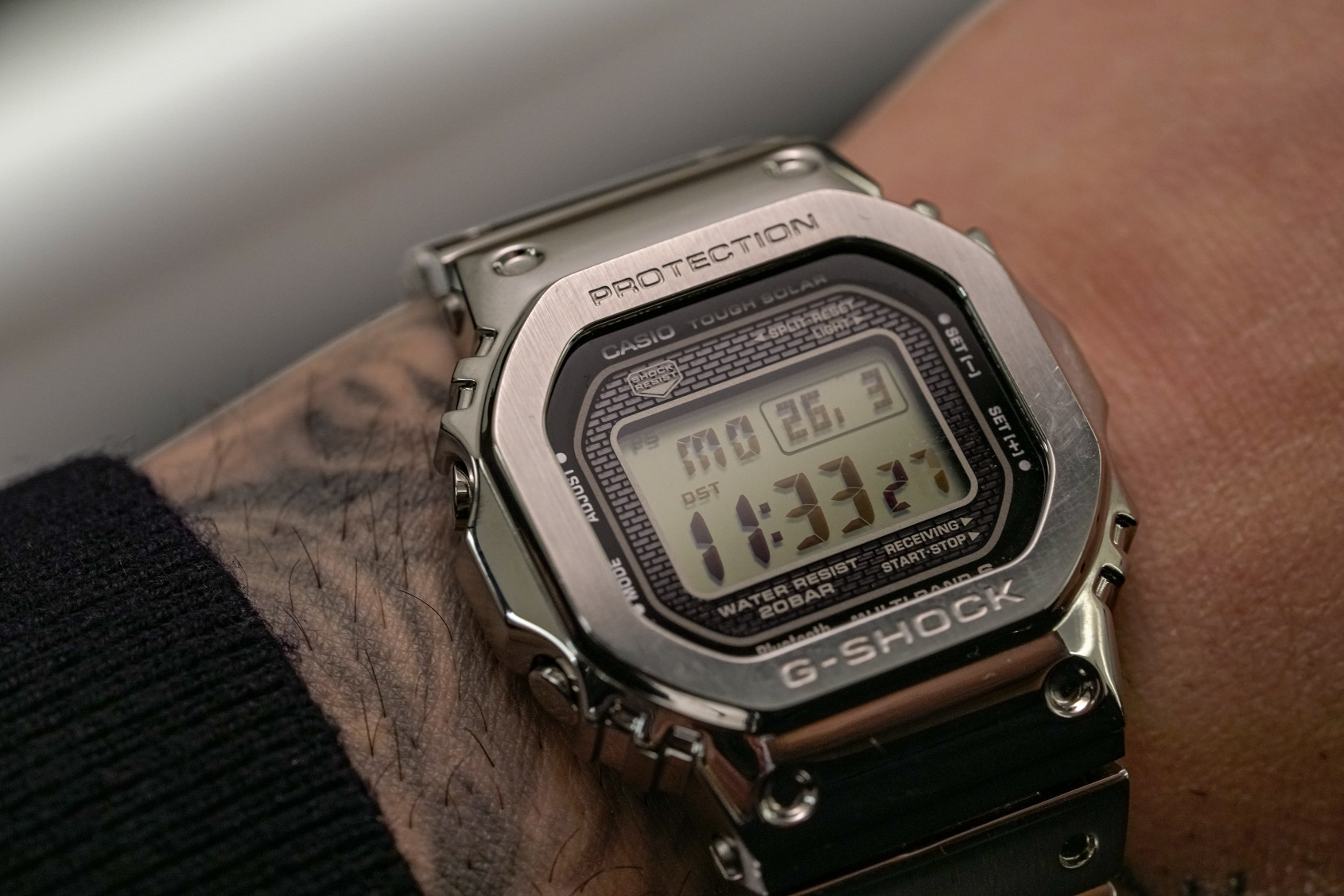 First things first, this Full Metal take is every bit as tough as that very first bulletproof G-Shock – the DW-5000 brought to life in 1983 by Casio engineer Kikuo Ibe. Only now, instead of an entire outer case made of resin, the timekeeping module inside is suspended in all stainless-steel, with fine-resin cushioning sandwiched between. Everything else is much the same. The multifunction LCD screen is modelled on the original, except now it features Tough Solar technology with the familiar brick motif – as seen on various other G-Shocks – surrounding the outer edge and drawing in the light as tiny miniature solar cells. There's also Multi Band 6 functionality, for radio-controlled atomic clock accuracy, and Bluetooth to connect the Full Metal G-Shock to your phone. Using the app, you're able to access all of the watch's functions, from changing world times, to setting alarms, and even reminders that are then displayed on the watch screen.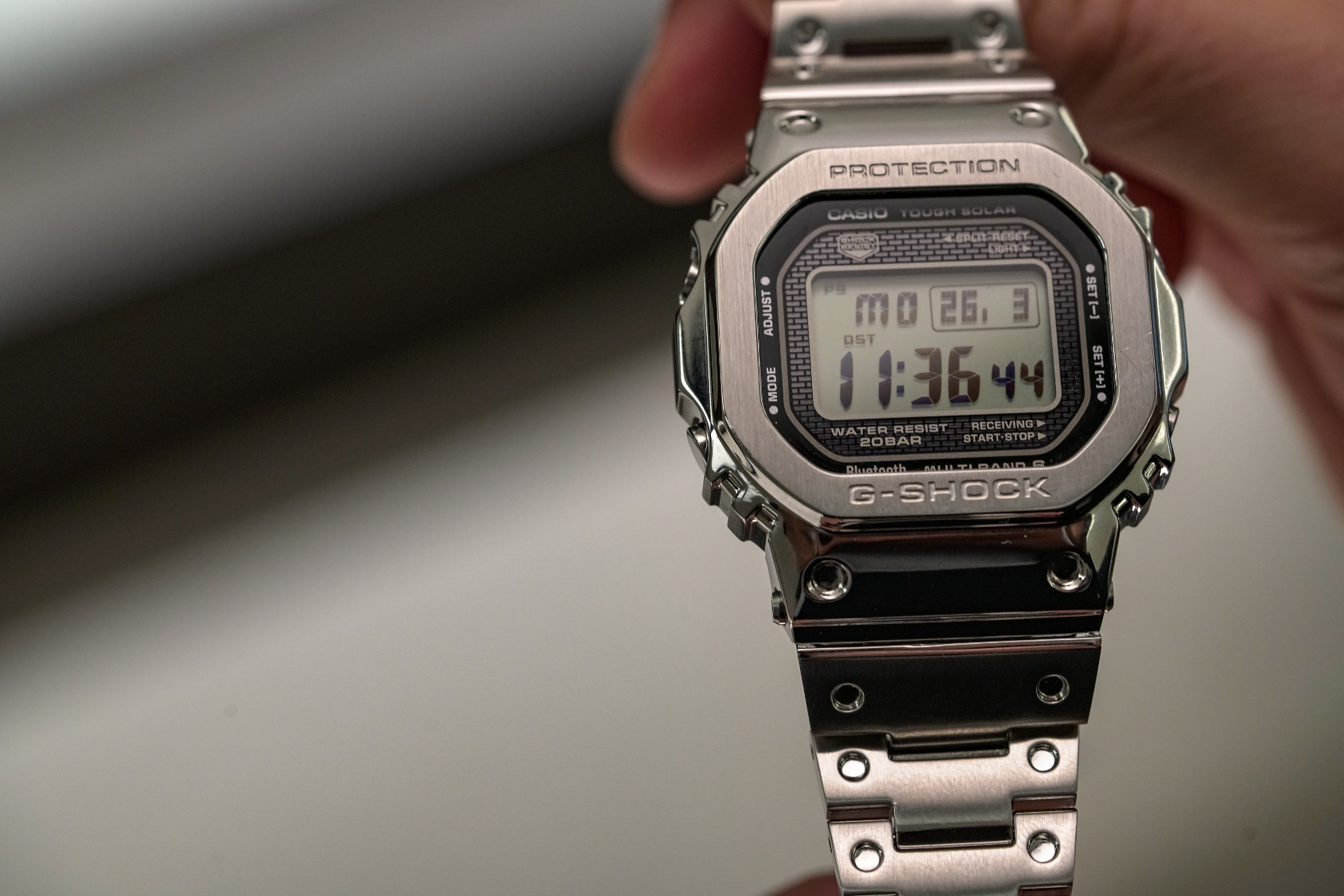 Such is the G-Shock way, the Full Metal 5000 is ready for anything, and it's the stainless-steel case and bracelet that really put the fun in functionality. Measuring 49.3mm across by 43.2mm vertically and 13mm thick, the case is rated for 200 metres of water resistance and sits surprisingly comfortably on the wrist. It's noticeably heavier than other versions – in the best possible way – and the bracelet, which is modelled on the original, is given plenty of flexibility while still remaining solid and secure, with its nicely milled folding clasp also featuring micro-adjustments. What really impressed me, though, was the level of finishing. There are no sharp edges, and a mix of finely brushed and mirror finishes adorn both the case and bracelet. My personal highlight is the vertical brushing found on the bezel.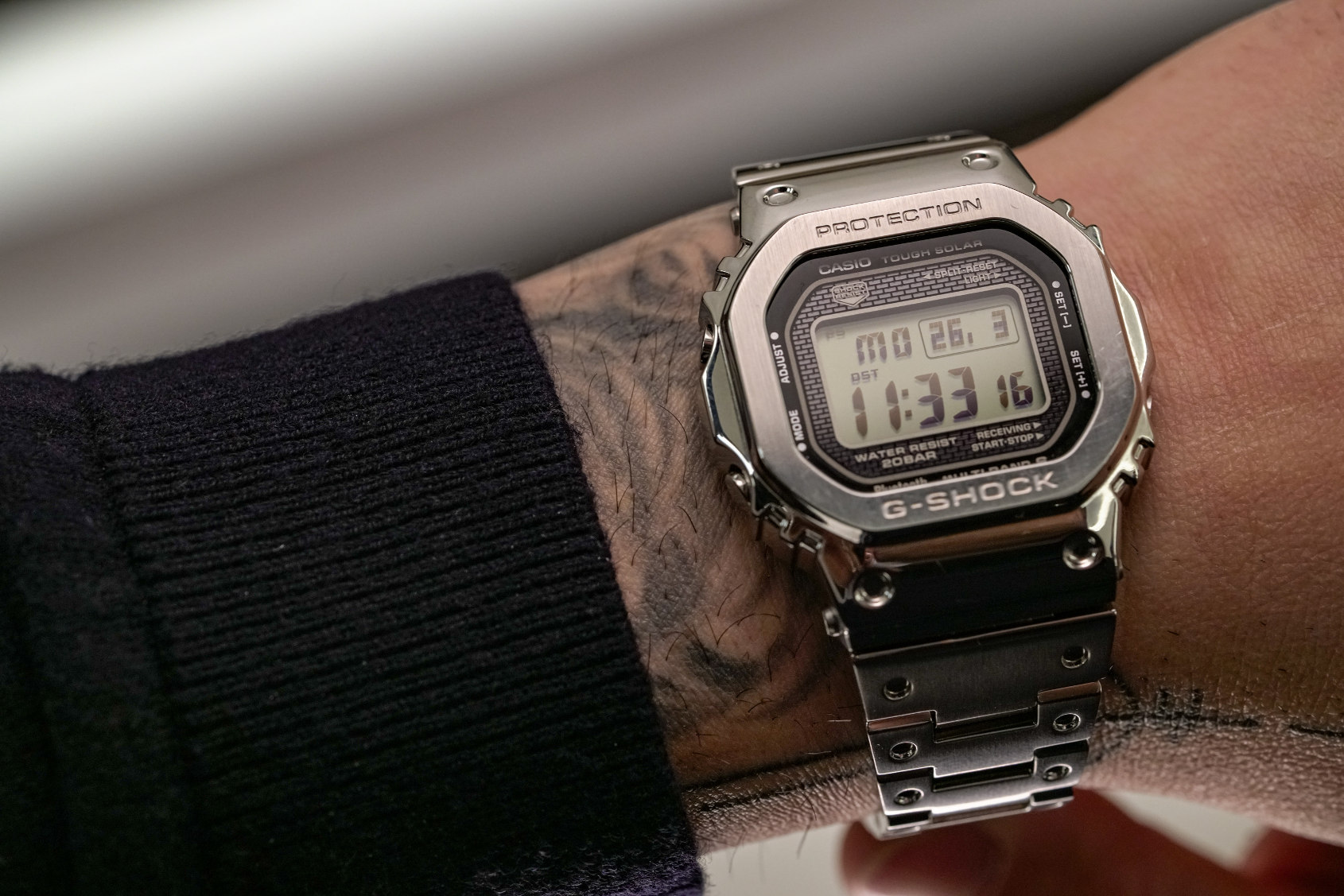 Not just for the hardcore G-Shock lover, these are sure to turn even the most casual of fans over to the dark digital side.
Specifications
Model
Full Metal 35th Anniversary
Reference No
GMW-B5000D-1
Case Size
43.2mm x 49.3mm
Case Material
Stainless-steel