From vintage to a one-of-a-kind piece celebrating Springfield's finest, Darren's watch collection is top notch.
NAME: Darren
OCCUPATION: Professor of Law at Northwestern University and Attorney for start-up businesses and entrepreneurs
HANDLE: @dmgreen11
FOLLOWERS: 10.7k
LOCATION: USA
Hi Darren, first question. What's your daily watch and why?
I tend to wear my watches two days at a time, so I don't really have a consistent daily wear. I do, however, have a couple of go-to watches for travel and other situations where I may be banging around a bit: my ZRC Grands Fonds (the recent re-release) and my Damasko DK11. The ZRC is just about the perfect "homage" diver in my view, and the Damasko packs more technology and innovation in the movement and case than watches costing 10 times the price. And, to my eye, both are flat out killer in the looks category.

What are you working on at the moment?
I typically split my time each week teaching at Northwestern and working with early stage businesses to help them form, grow, raise money etc. I will be taking a group of law and masters students out to San Francisco shortly to meet with a bevy of venture capital investors, start-up businesses, private equity funds and business incubators, which should be fun.
My passion projects tend to be custom timepieces, and I don't have any in the hopper presently. My last project was the creation of a timepiece around a vintage Marvin Peseux 260 chronometer movement I was lucky enough to source, which was still paired with its certificate detailing results from the Neuchâtel timing trials many years ago. I chose Roland Murphy for the project (as I have on various other custom projects) and was quite pleased with the result.

How do you unwind?
Nothing all that exciting! I love watching and attending sporting events — in particular, my beloved Cubs who broke the longest dry spell in the history of major sports in the US a while back. Every now and then I venture on to the racquetball court as well, but I find that with age it's possible to get injured before the match even starts. And, of course, periodic perusals of my IG feed to see what's happening in the world of horology.
How would you describe your collection? Looking through your feed no main brands or patterns jump out (other than your love for vintage). What criteria do you look for when buying a watch?
My interests, not unlike many other watch enthusiasts I've met, have evolved over time. When I first became interested in watches I was drawn most strongly to some of the iconic sport chronographs and divers from the 1960s. I've probably owned more than a half dozen vintage Speedmasters ranging from an early 2998 to some of the later 321 models. Five or so years ago I started to learn a bit more about horology during the 1940s and early 1950s, which, up until that time, was sort of a "dead" period for me — I simply didn't know much about it. The oversized stainless steel chronographs and "Calatrava"-style time-only timepieces created during that era became of particular interest to me, and remain so to this day. What's interesting about this time period is that outside of Longines – who to me represent the pinnacle of watchmaking during these years – the name on the dial tends to matter less than is often the case with later watches. Vulcain, for example, while a rather small brand these days, created some magnificent jumbo time-only timepieces in the 1940s powered by truly special movements. Movado was an entirely different animal prior to World War II, bearing virtually no relation whatsoever to the modern-day version.


As for modern watches, other than my two "tool" watches mentioned above, my interest lies in independent watchmaking. Getting to know the watchmaker creating your timepiece and seeing a piece of their heart and soul in the machine you get to wear on your wrist, is something special. All of my current AHCI/independent watches are custom creations which took anywhere from one to three years from concept to delivery. To date, I've worked with Christian Klings, Masahiro Kikuno, Richard Habring, Roland Murphy/RGM, Thomas Prescher and Artur Akmaev.
You have one very unique watch, which caught my eye. Tell me about your Simpsons watch, what's the story there?
Yes, this one was a blast from beginning to end and remains so on the wrist.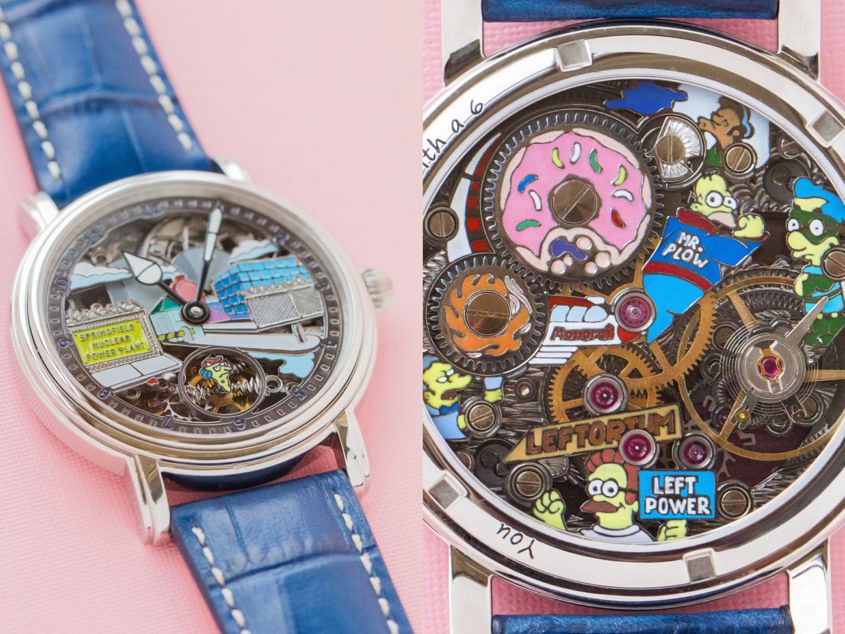 I first became aware of Artur Akmaev's work a couple of years ago when I stumbled upon a timepiece he actually created for himself celebrating all things Batman. Engraved timepieces were never really my cup of tea, but the attention to detail in Artur's watch, combined with the incredible scenes he seemed to be able to create within his other watches, got me thinking. I consider myself a bit of a Simpsons snob (meaning the show ended, for all intents and purposes, with the conclusion of season 10 — which is 20 or so years ago). To me those early episodes, however, offer some of the best comedic writing in the history of modern television.
I reached out to Artur in mid-2015, and luckily for me, he suggested he was interested in the project. From there the fun began. I started by sending a dozen or so stills of seminal scenes from some of my favourite early Simpsons episodes. Together we whittled down the list, figured out which characters would make the cut, and picked the scene/clothing/pose we wanted for each of the characters. Could the dial, or "entrance" to the watch, be anything other than the Springfield power plant?
Artur then went to work for a few weeks behind the scenes weaving my hodge-podge of images and thoughts into a coherent front side and back side for the timepiece. I asked for some challenging things, such as – by way of example – a moving small seconds hand in the shape of Mr. Burns as the power plant softball team coach (a classic episode). Artur was able to accommodate virtually all of my quirky asks. After a bit of back and forth, the final design was agreed [upon]. Artur started with a nice ETA/Unitas movement – the perfect large canvas for this type of project – and wove my disjointed series of images and characters into a work of comic art.
Artur's watches remind us that there is a fun side to independent watchmaking, and don't let the playfulness of Artur's watches fool you — his hand-crafted creations are intricate, detailed, well-finished and quite simply second to none. The dial unfolds over 3 layers adding amazing depth to the scene. A truly incredible talent.