What Sealed The Deal – David's Pequignet Rue Royale
Nick Kenyon
Getting engaged is an incredibly special moment in anyone's life, as it spells the beginning of something that will endure to stand the test of time. What better way to celebrate than with a new watch, to match your fiancée's new ring. This is the story of David and his Pequignet Rue Royale.
When did you first see/hear about it?
Nearly 10 years ago I read about a brand called Pequignet in one of France's national papers. I could instantly tell their Rue Royale was a serious machine, with its classic good looks and multiple complications powered by an in-house calibre. The price was definitely right, too: not cheap, but certainly a value proposition compared to similar offerings from established Swiss brands.
I realised soon enough that perhaps one factor behind the aggressive pricing was actually that it wasn't Swiss Made. I'm half-French, so aside from the specs, what intrigued me the most was the inscription on the dial: "Fabriqué en France". Indeed, these days, Germany and Switzerland get all the attention when it comes to European watchmaking, but few people realise that because of proximity, France also played a major role in the fabrication of watches. Unfortunately, the quartz crisis hit hard, and French watches now are really hit-and-miss, which is disappointing given the country's status as one of the world's great producers of luxury products. Looking at the Rue Royale, I'd be lying if I said that seeing this gorgeous, serious, French watch — manufactured only an hour and a half from the village in which my family owns a home — didn't fill me with pride.
Any story behind the purchase?
I told myself I would keep up with the brand, which proved difficult since Pequignet's marketing outside of France was — and continues to be — almost non-existent. Naturally, seeing the watches in-the-metal in Houston, Texas was impossible.
Fast forward about five years and I'm now in Paris, this time with my girlfriend. On the way to the hotel from a nice dinner, we passed a jewellery shop (Fréret-Roy, near the Place Vendôme) with, you guessed it, Pequignet watches in the window. I told myself I had to go check them out the next day, but this would require some strategising.
You see, we had been together for a while, and she was getting antsy about where we were headed. Asking to look at watches … while on vacation in Paris … when there had not been much mention of a ring up until then, it could have turned out really badly for me.
I had a plan, though: I would suggest we look at rings! That went over well, and within five minutes we were in the store, her with a ring on her finger, and me finally with the Rue Royale on my wrist. The watch was exactly what I'd hoped it would be, but seeing my girlfriend so happy made me forget about that and I told the shop owner that yes, we would be buying a ring!
After the initial excitement, I was curious to know if he would offer a package deal, and since my now-fiancée liked the largest, sparkliest diamond the most, he actually did make me a nice offer. Unfortunately, the ring was quite a bit more than I'd wanted to spend, so the watch would have to wait ("happy wife, happy life", right?).
What was the deciding factor?
Luckily, the owner was persistent, and I think you could say that over the next few months we became pen pals, with him periodically asking how I was doing, then always casually asking if I still wanted the watch. Finally, after about six months of putting it off, I realised that the cost wasn't much compared to the lifetime I would spend with the watch, and the Rue Royale was mine. Interestingly, this was the exact watch he had ordered for me when I initially expressed interest, so it was a very direct connection to the day I became engaged.
Any surprises?
I'm pleased to say I get just as big a kick out of seeing the French days of the week and "Fabriqué en France" as I did when I first read them. From a functional standpoint, I found out after I purchased the watch that the "Calibre Royale" movement was quite new at the time and apparently had some teething problems early on. Thankfully, everything still runs very smoothly.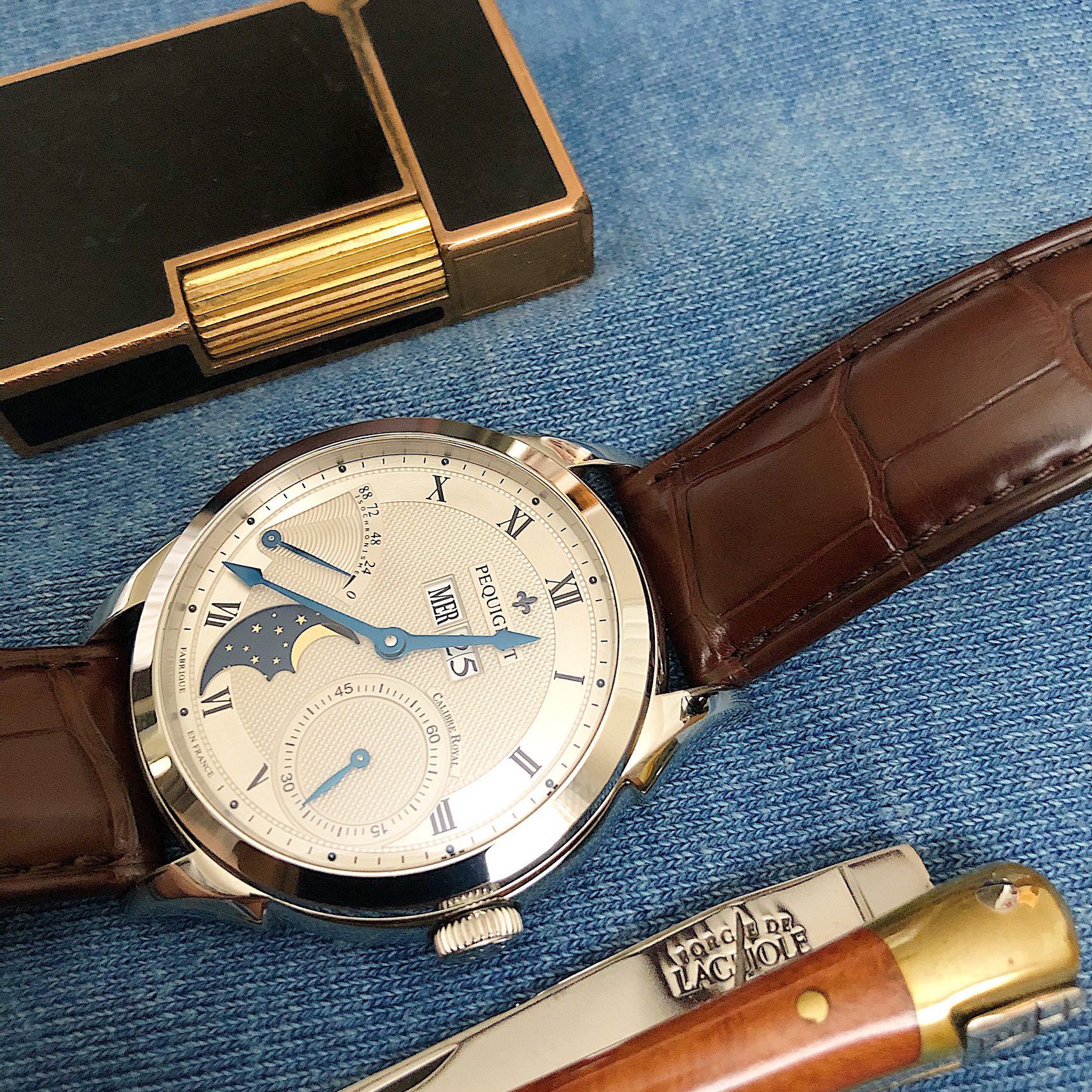 When do you wear it?
I wear this watch a few times a month, mostly to the office, and it's a blast to bring to meetups because no one has heard of it.
How does it feel on the wrist?
Dress watches are usually not for me, and the ones I do own are quite small. Even though the Rue Royale is 42mm, it wears very nicely on my wrist. While I wouldn't do anything too active with it on, it feels solid and well-built. Overall the watch is a pleasure to own, and I joke that it's the reason I am married. In fact, I am quite convinced this is why my wife has indulged — even encouraged   — every watch purchase since then. Clearly, I picked a winner, and I look forward to many more years with my wife and my Rue Royale!