The Avoirdupois Force Majeure is engineered and manufactured in Manhattan with an in-house movement entirely made in the USA
Zach Blass
Avoirdupois is a furniture and lighting company based in NYC
The Avoirdupois Force Majeure is a 550-piece limited edition engineered and manufactured in Manhattan
The integrated ultra-thin steel watch has an in-house calibre comprised of only domestic parts right down to the hairspring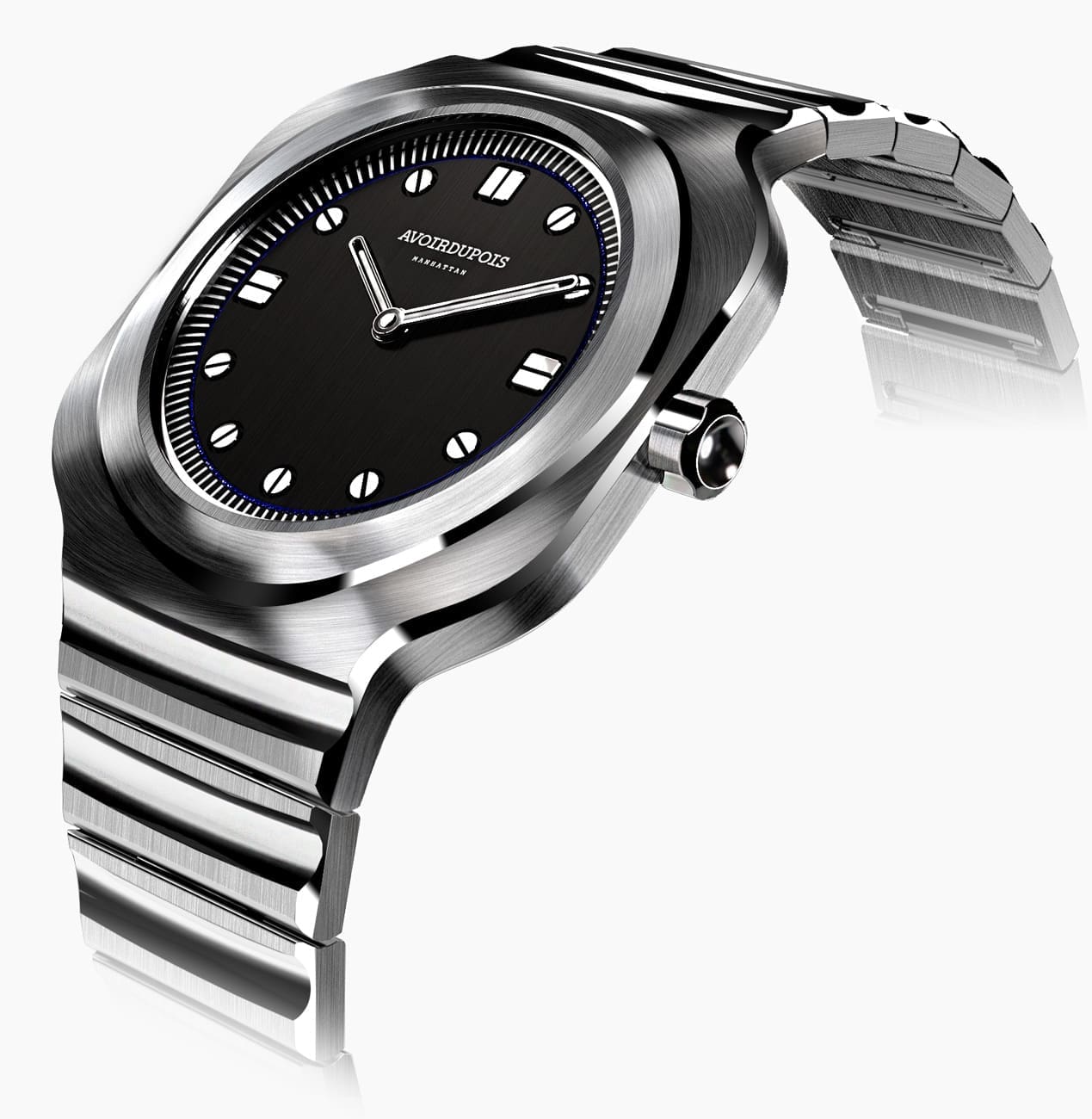 Some collectors get hung up about Swiss made. But, we have long seen that regions such as Britain, Germany, Netherlands, Japan, and many more are all capable of introducing some really great timepieces. Historically, the USA was once home to a massive watch industry – a golden age that has since gone. But, there are certainly American watch brands who are keeping USA watchmaking alive. One brand, however, is making huge strides towards a truly USA-made watch – and it is not even technically a watch brand. At least yet. Meet the Avoirdupois Force Majeure, a watch designed and manufactured in Manhattan, New York City with an in-house movement comprised solely of domestic parts all the way down to the hairspring.
As a born and raised New York City guy who has lived his entire live in Manhattan, the idea of a Manhattan-made watch is very intriguing. Avoirdupois is a vertically integrated manufacture. But, until now, their manufacture has solely been around in-house designed and manufactured furniture and lighting objects. I cannot attest to their watch manufacturing skills, it is yet to be seen in a stage where only renders of the watch have been shared. That being said, they clearly have experience creating novel and distinct objects fully in-house. The Avoirdupois Force Majeure is an integrated stainless-steel watch with an attractive dimension set: 38.5mm in diameter, an ultra-thin 5.95mm thickness, and 48.5mm lug-to-lug length. Nothing about the design of the 50-metre water-resistant watch feels borrowed, with its distinct case shape, dial design, and novel bracelet format. Again, I cannot speak to the level of finish, but it appears to have a radially brushed brushed case and bezel with accents of mirror-polishing on the edges. It has an interesting geometry as well, with a conical bezel that then steps down to a cushion-meets-octagonal form that then seamlessly flows into its ridged integrated bracelet. Its black dial colour is certainly not novel, but I have never seen screws utilised for hour indices – nor have I have ever seen what appears to be raised outer minute hashes on a raised outer ring.
The Manhattan engineered and manufactured externals are already an intriguing element in their own right, but spicing things up further is the in-house AVDP.130.LB micro-rotor automatic calibre within. According to Avoirdupois the AVDP.130.LB is "the first contemporary in-house movement from the USA" and it is comprised of "zero Swiss or foreign components and all components of the Force Majeure are of domestic origin – including the hairspring." The calibre offers 60 hours of power reserve, has a distinct 17,280 vph beat rate, and a 22K gold micro-rotor. This patent-pending calibre does not offer a large view of it's inner workings, with a nearly full bridge covering everything but the balance wheel beneath. Again, only these renders have been shared so far. But, the finishing appears to be of a higher quality with evidence of chamfering to various edges of components and texture to the top of the 22K gold micro-rotor. The largely matte-grained and blackened surfaces of the calibre have a rather modern and mysterious aesthetic vibe that matches the feel of the dial.
View this post on Instagram
Its domestic-made nature and novelty, of course, comes at a cost. This 550-piece limited edition has been priced at US$12,950 by Avoirdupois. Now, for a brand with no history in watchmaking, yet manufacturing entirely in-house, there is a lot of uncertainty here. The uncertainty, however, is also very exciting. Sure, the lack of understanding, at least for now, as to the warranty of the watch, who can/will service it when needed, and the performance of the calibre can be a moment of pause for consumers at any price – particularly above US$10K. Those who do purchase the watch will truly be embarking on an horological expedition, like an explorer navigating unchartered waters. It is undoubtedly scary, but an absolute thrill as well.
The moral of the story is watch enthusiasts, especially NYC-based enthusiasts, need to stay tuned in on this Avoirdupois Force Majeure. And I will certainly look to reach out to Avoirdupois to get a more in-depth understanding of how the watch is made and the genesis of its idea and design. For a first outing, to have a Manhattan-made watch that is under 6mm thick with an entirely new domestic-made calibre is insanely ambitious. But this NYC-native is definitely rooting for them to succeed.
Avoirdupois Force Majeure pricing and availability:
View this post on Instagram
The Avoirdupois Force Majeure is set to be released in 2023 as a limited edition of 550 pieces. You can learn more about the watch and join the waitlist for updates and availability here. Price: US$12,950
| | |
| --- | --- |
| Brand | Avoirdupois |
| Model | Force Majeure |
| Case Dimensions | 38.5mm (D) x 5.95mm (T) x 48.5mm (L2L) |
| Case Material | Stainless steel |
| Water Resistance | 50m |
| Dials | Black |
| Crystal | Sapphire crystal and exhibition caseback |
| Strap | Stainless steel bracelet with micro-adjustment |
| Movement | In-house micro-rotor automatic AVDP.130.LB |
| Power Reserve | 60 hours |
| Functions | Hours, minutes |
| Availability | 2023, limited to 550 pcs. |
| Price | US$12,950 |