Look Mum, no hands – the best watches without hands in 2018
Time+Tide
For as long as time has been indicated with hands on a dial, horologists have been hunting for different ways to communicate time. Contemporarily, this pursuit has taken some weird and wonderful forms, resulting in a few very clever feats of engineering to tell you what time it is. For those who are tired of tracking rotating spokes around a circle, who want something simpler (or more complex), these are the watches for you. Employing discs, screens, apertures and even revolving orbs, this is our shortlist of the best watches without hands from 2018.
G-SHOCK

GMWB5000D-1 35TH ANNIVERSARY SILVER ALL METAL MASTERPIECE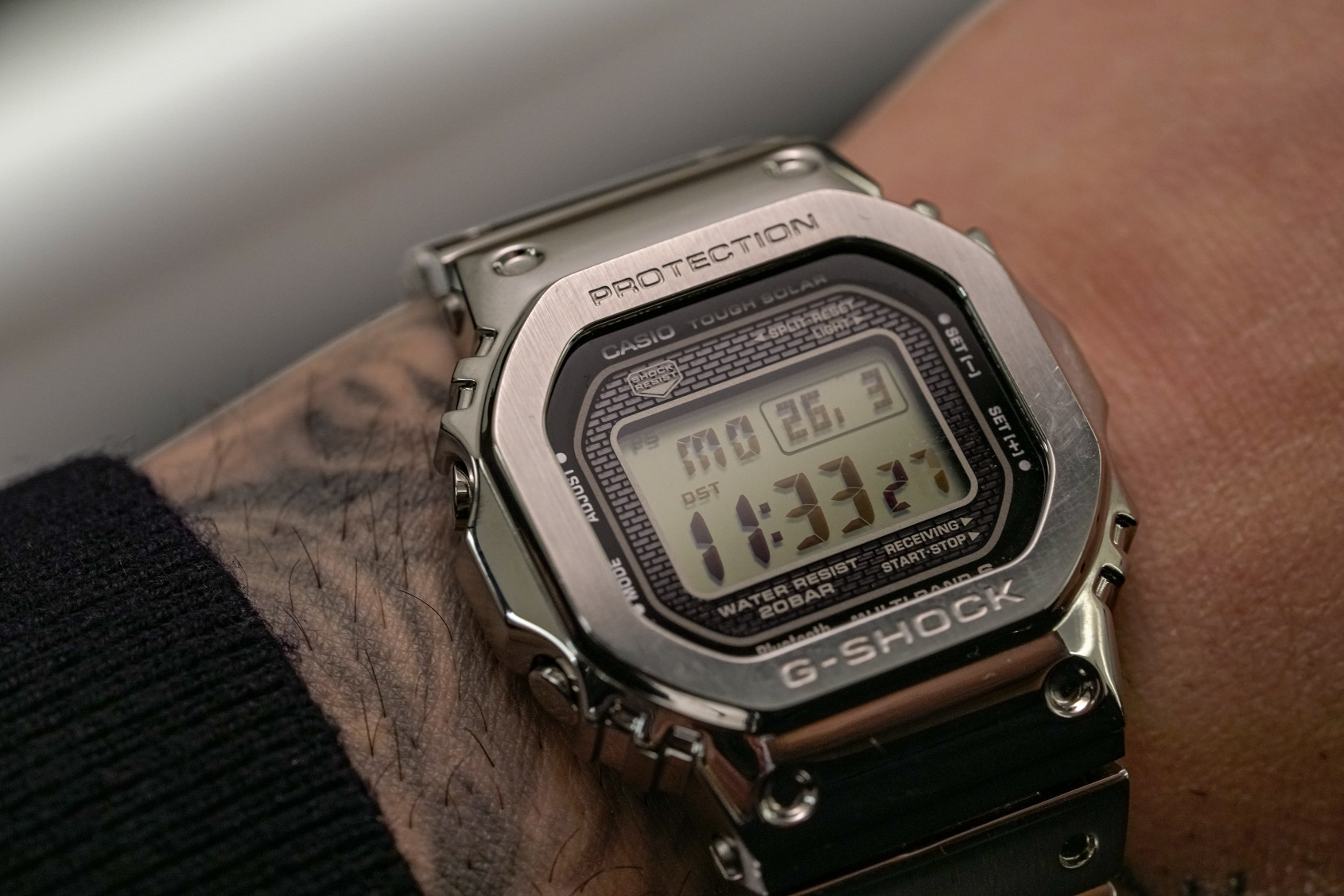 Brainchild of Casio engineer Kikuo Ibe, the G-Shock DW-5000 was first introduced in 1983. And to celebrate the 35th anniversary of the legendarily tough resin-cased watch, the Japanese brand have introduced this version – which also happens to be the very first all stainless-steel 5000 series G-Shock. It supports all the standard functions, from a tough rectangular case and solar charging to Bluetooth connectivity.
Ref No. GMWB5000D-1, Case size 49.3mm, Case material Steel, Movement Tough solar, Price $949
IWC

TRIBUTE TO PALLWEBER EDITION "150 YEARS"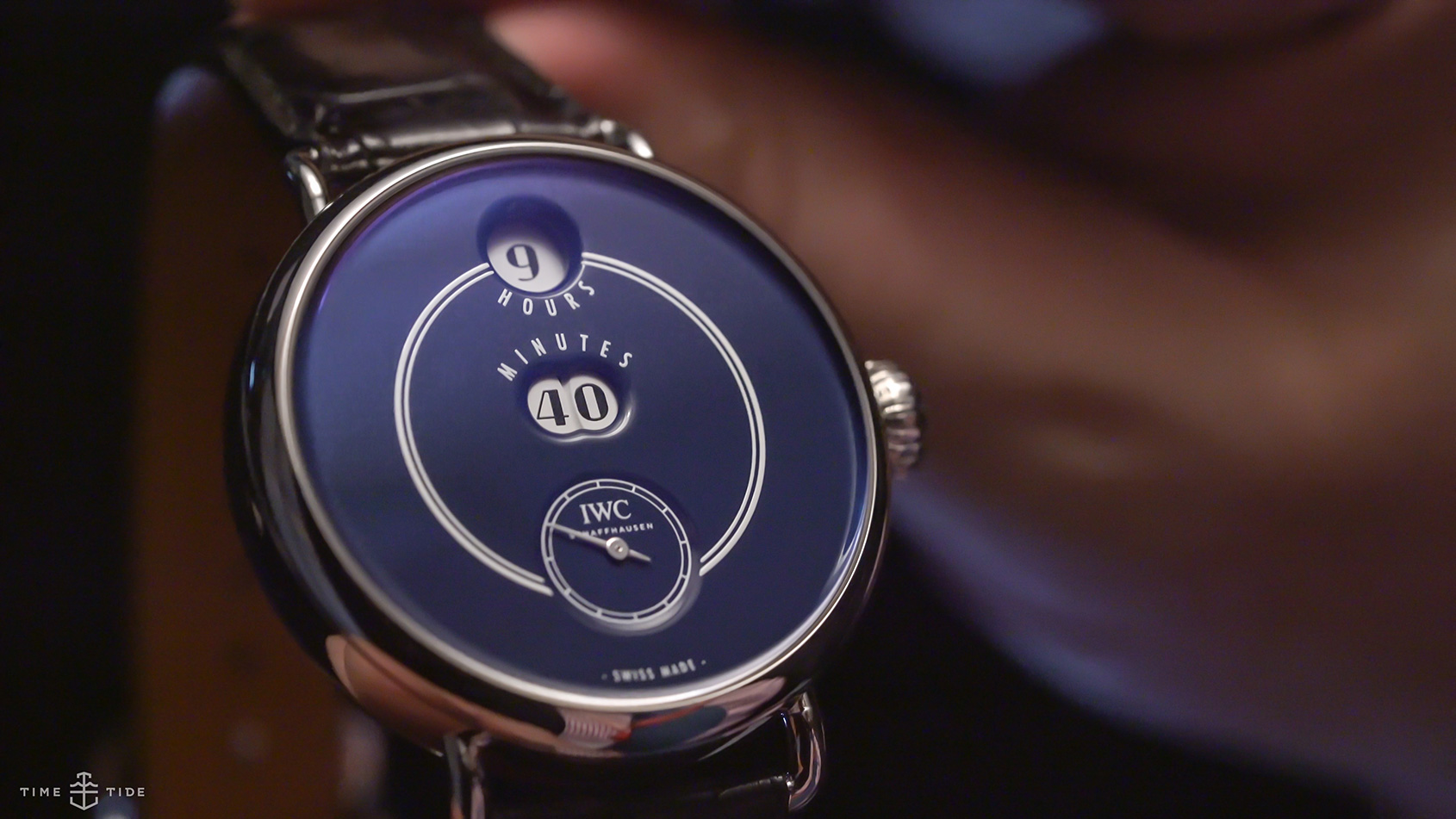 Think "digital watch" and most minds instantly turn to thoughts of LED screens and the trusty calculator watch. However, long before the invention of those handy little battery-powered timekeepers came Josef Pallweber and his mechanical jump hour and minutes display. Patented in 1883 and then licensed to IWC, the display that was originally only found inside a pocket watch is now made for the wrist, paired with a brilliantly blue lacquered dial.
Ref No. IW505003, Case size 45mm, Case material Steel, Movement 94200, Price $33,000
VAN CLEEF & ARPELS MIDNIGHT HEURE D'ICI & HEURE D'AILLEURS WATCH
Most famous for their precious stones, the watches of Van Cleef & Arpels veer towards the highly jewelled and highly feminine. Which makes the Midnight Heure d'Ici & Heure d'Ailleurs (or time here and time elsewhere if you don't parlez-vous francais) that much more interesting. It shows dual time zones through porthole-like apertures, and a retrograde minute to boot.
Ref No. VCARO8T800, Case size 42mm, Case material pink gold, Movement Agenhor developed, Price POA
H. MOSER & CIE

ENDEAVOUR FLYING HOURS

While H. Moser & Cie are well known for their classic designs, and of course their mesmerising fumé dials, there's another more innovative side to the Schaffhausen-based manufacturer. Partnering with sister brand Hautlence, they've surprised with this fresh take on the "wandering hours" complication. It uses a central rotating sapphire disc to display the minutes, while cut-out hour discs rotate in a fixed position, with the current hour highlighted by white from underneath.
Ref No. 1806-200, Case size 42mm, Case material 18k white gold, Movement C806, Price $50,650
MB&F

MOONMACHINE 2 WITH STEPAN SARPANEVA
MB&F don't make watches, they prefer the term 'Horological Machines'. For their second collaboration with Finnish master of the moon phase, Stepan Sarpaneva, they created the MoonMachine 2, which takes the automotive case design of the HM8 and gives it some lunar flair. The real star, however, is the specially cut prism that not only projects the time vertically from its flat plane, but also the newly added moon phase display.
Ref No. 81.TL.B, Case size 49mm x 51.5mm, Case material Titanium, Movement Base Girard-Perregaux, Price $130,700
ULYSSE NARDIN
FREAK VISION
There are two sides to Ulysse Nardin. One that looks back to the classics and their storied history of prize-winning marine chronometers. And then there's another vision that looks forward, bursting at the seams with technological marvels and avant-garde designs. The Freak Vision embodies the latter category. Utilising a brand-new anchor escapement made entirely of silicium components, it's also the first automatic in the Freak collection, using UN's patented Grinder Automatic Winding System.
Ref No. 2505-250, Case size 45mm, Case material Platinum, Movement UN-250, Price $153,100
BLANCPAIN

TOURBILLON VOLANT HEURE SAUTANTE MINUTE RÉTROGRADE
While the grand feu enamel dial of this newest Blancpain is kept clean and simple, the engine driving the time behind it is something far more complicated (just flip it over and see). Used for the first time in a Blancpain wristwatch is a jump hour and retrograde minutes display. The pièce de résistance is a flying tourbillon that appears to float on air – its lower bridge replaced by a clear sapphire disc.
Ref No. 66260-3633-55B, Case size 42mm, Case material 18k red gold, Movement 260MR, Price $186,000
VAN CLEEF & ARPELS

LADY ARPELS PLANÉTARIUM POETIC COMPLICATIONS
Fans of Van Cleef & Arpels know that the Maison loves a bit of poetry. And their latest astronomical complication puts the solar system on the wrists of those with the world at their fingertips, with Mercury, Venus and Earth – each represented by a tiny polished bead – orbiting an aventurine dial in real time. Adding yet another rhythmical verse is the brilliant-cut diamond, rotating around the Earth in 29.5 days, offering a moon phase like no other.
Ref No. VCARO8R500, Case size 38mm, Case material White gold, Movement ValFleurier Q020, Price POA