Our favourite pieces from Vacheron Constantin's must-see Less'Ential exhibition
Jamie Weiss
Over its 268-year-long history, Vacheron Constantin has claimed more than a few horological superlatives – such as literally inventing the world's first watch complication, or more recently, the reference 57260 from 2015, which to this day remains the most complicated mechanical watch ever devised. However, Vacheron Constantin's history and design legacy aren't solely defined by chasing complications above all else. Indeed, one of the things that makes Vacheron Constantin such a compelling, awe-inspiring brand is its characteristically restrained, tasteful, timeless approach to watch design – an approach that's also informed by a robust commitment to innovation.
That's what Vacheron Constantin's latest travelling exhibition is all about. It's called Less'Ential – a portmanteau of 'less' and 'essential' (or 'less is more', if you prefer) – and encapsulates a truly special collection of rare and historically significant Vacheron Constantin references chosen from the nearly 1,600 timepieces that compose the brand's private collection… And it's in Sydney, Australia from the 8th to the 25th of September. Time+Tide had the chance to preview the exhibition ahead of its opening to the public, and we've selected five of our favourite pieces from the exhibition that demonstrate Vacheron Constantin's uniquely innovative yet classy spirit.
Yellow gold "surprise" pocket watch from 1954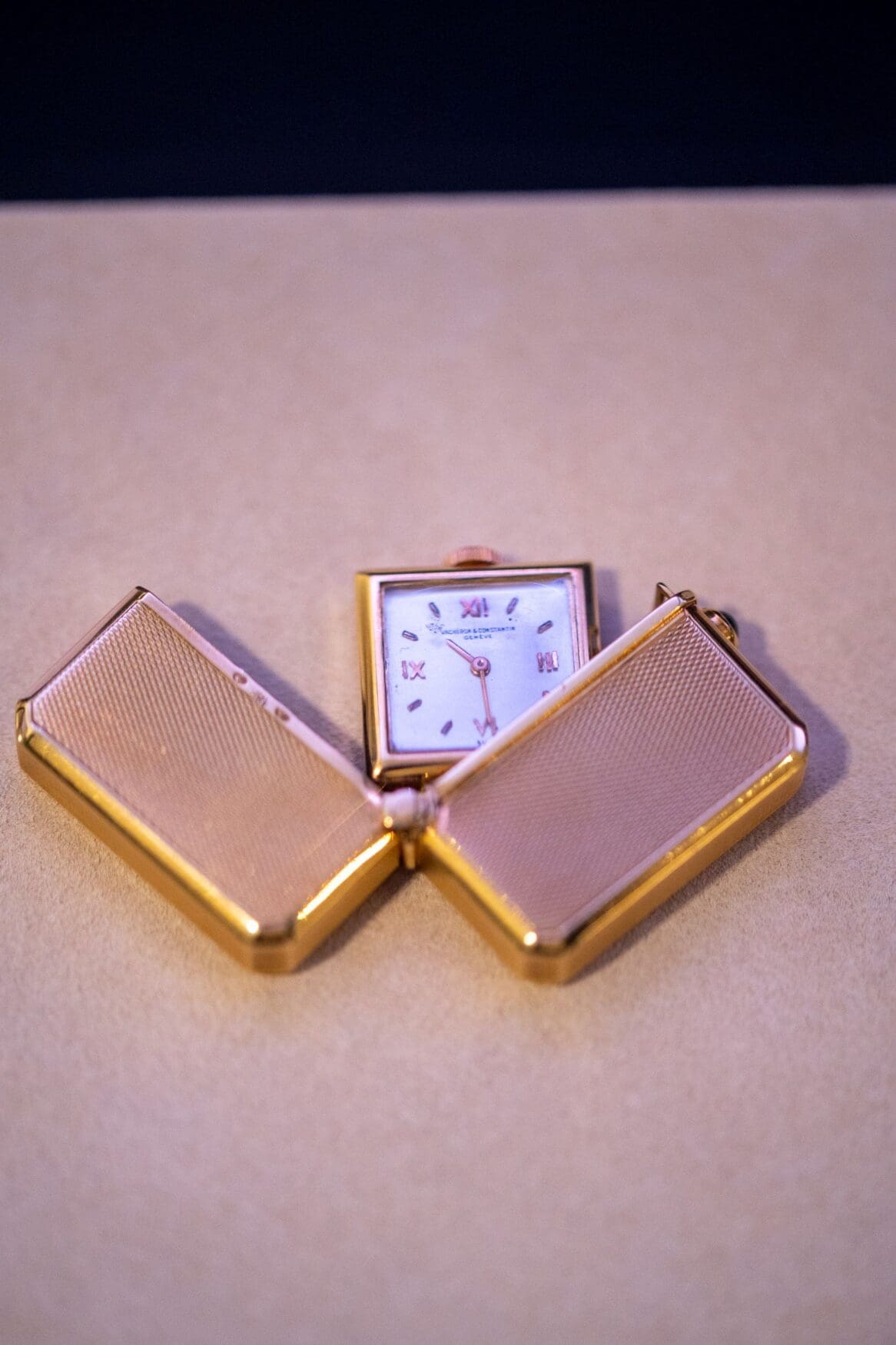 In 2023, plenty of watch lovers count themselves as part of the "everyday carry" (EDC) subculture, which makes sense: a watch is an essential EDC tool, like a wallet, knife or cigarette lighter. Seems as if Vacheron Constantin was wise to the EDC trend in the '50s, as this "surprise" watch demonstrates… But rather than being the sort of timepiece a rugged action man would carry, this watch was designed to fit in a woman's purse or clutch.
Crafted from 18k yellow gold, this cigarette lighter-like timepiece features a tiny 18mm hand-wound movement protected by a guilloché case featuring an original hinged opening system and a clasp adorned with a cabochon. The guilloché doesn't only look appealing and demonstrates Vacheron Constantin's skill with the technique, but it's also practical, as it allows the user extra purchase when digging around in their purse or pocket for the watch.
This surprise watch perfectly demonstrates Vacheron Constantin's Less'Ential concept: it's a deceptively simple piece; inspired by the everyday, but is executed to the highest standard and features a novel mechanism.
Trapeze-shaped 'Prestige' watch with dual-time display from 1978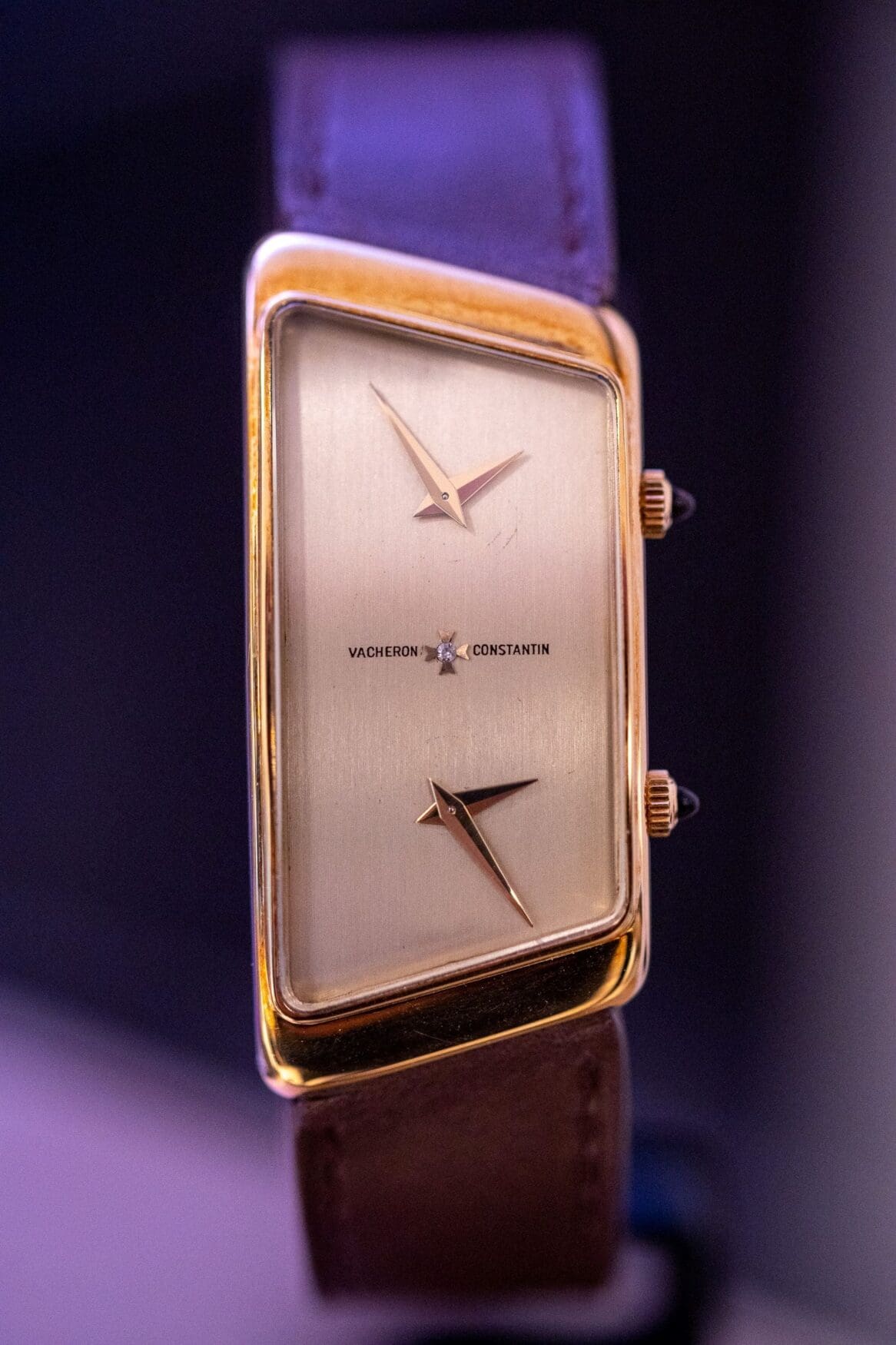 One of the biggest developments in watchmaking during the 1970s – other than the emergence of the first luxury sports watches and the so-called 'quartz crisis' – was a willingness on the part of watchmakers to break out of the circular mould and experiment with more radical case forms. Vacheron Constantin was one of those innovators, with the brand receiving the prestigious Diplôme du Prestige de la France (an award for achievement and contribution to French heritage) in recognition of their unusual trapeze-shaped timepieces. VC would go on to create a whole collection of trapeze-shaped watches, naming the collection 'Prestige' after the award they netted.
This Prestige from 1978 is a particularly fine specimen. The trapezoidal case design remains as eye-catching today as it did almost half a century ago: lugless, subtly curved to hug the wrist and almost completely devoid of dial detail save for a gem-studded Maltese cross in its centre, this "cross-country watch" can tell the time in two different time zones thanks to its two semi-thin oval calibres stacked one on top of the other.
Rectangular cuff watch prototype from 1985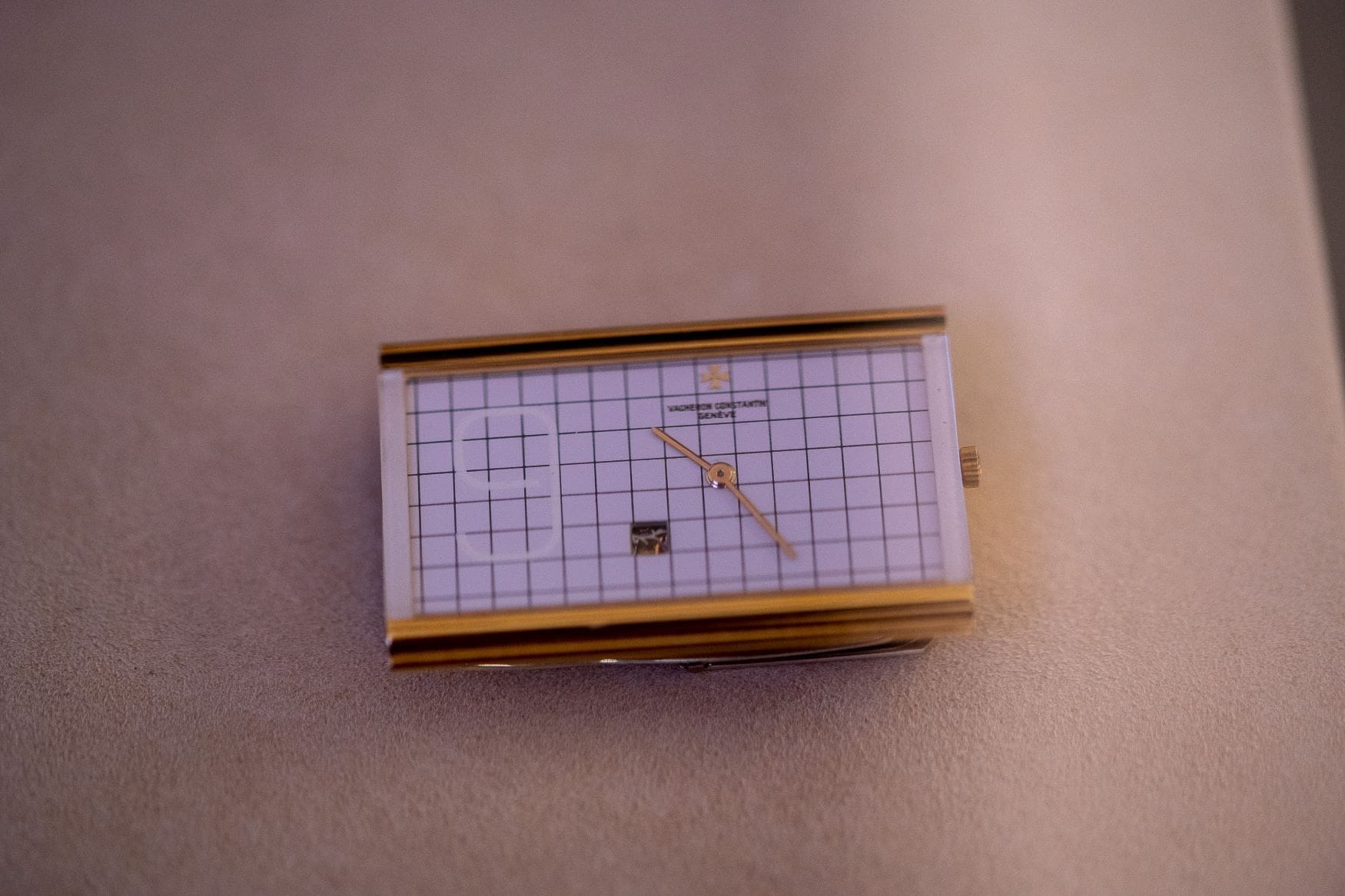 This piece from the Less'Ential exhibition demonstrates more than any other how consistently innovative Vacheron Constantin has been over the years. Presented at the "Montres et Bijoux" event held in Geneva in 1985 (an ancestor of today's Watches & Wonders), it was awarded the Design Prize yet never progressed past the prototype stage – which is a shame, as it would've been cool to see this go into production.
Designed to clip onto a shirt cuff – with its white chequered dial designed to blend in your average shirt pattern – this exceptionally '80s piece features a single white-on-white oversized numeral 9, as well as a single grid cutaway to expose the escape wheel of its ultra-thin Calibre 1003. It's supposed to be bad taste to wear your watch over your shirt, but attached to your shirt? That's a different story…
Asymmetrical bracelet watch from 1970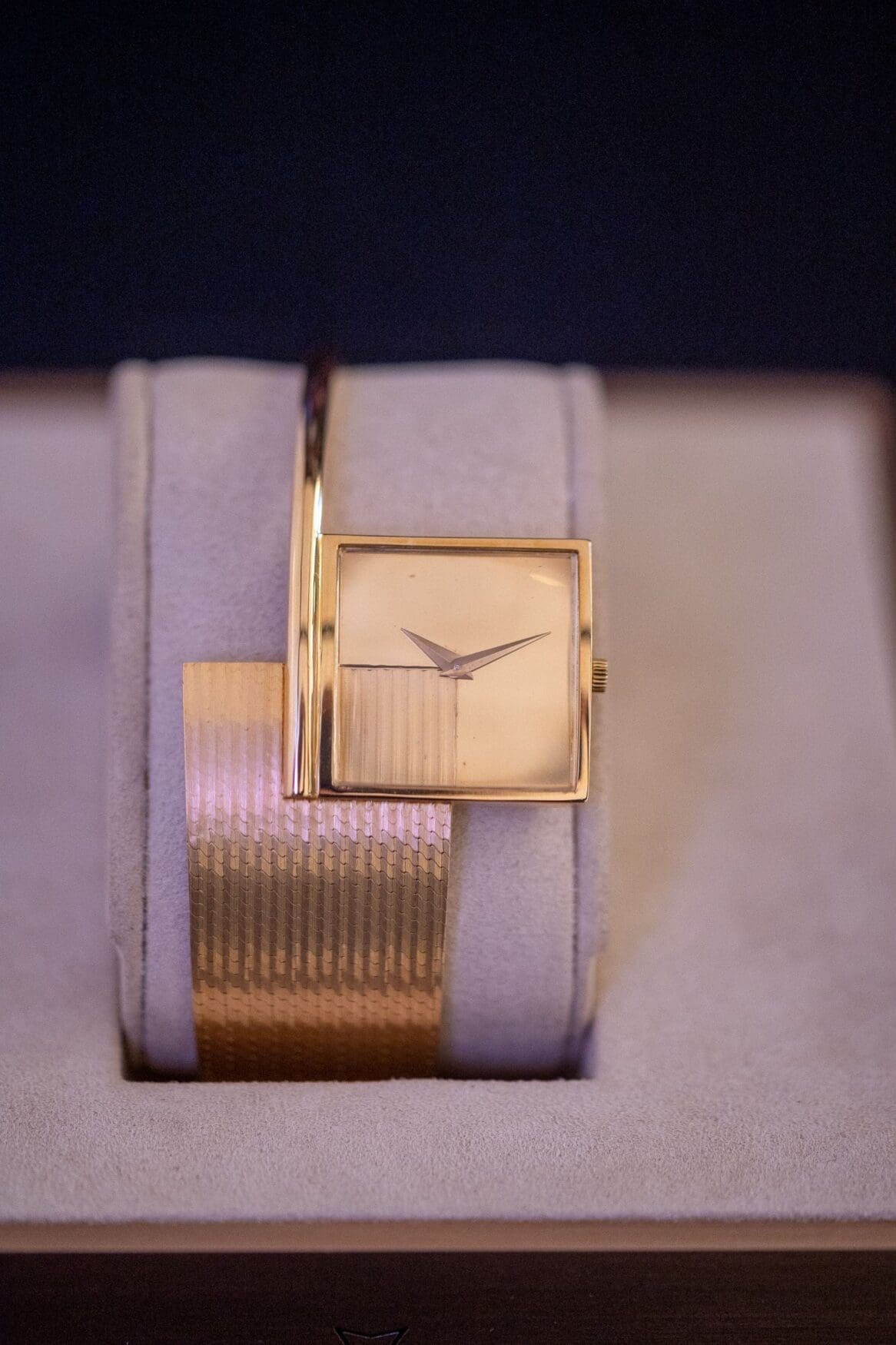 Another one of the more out-there designs being exhibited at the Less'Ential exhibition, this ladies' piece is another prototype that was introduced at Montres et Bijoux back in the day. It features a bangle bracelet linked to a cuff-type band, whose mesh pattern intrudes into the corner of the watch's dial, which is cantilevered out into space in a dramatic visual effect.
Bracelet watches like this were particularly popular in the '70s – Audemars Piguet, Patek Philippe and Piaget were some other brands who experimented with designs that created the illusion of the watch head emerging from the piece's bracelet – but this radical Vacheron remains particularly unique and striking.
Platinum minute repeater wristwatch from 1951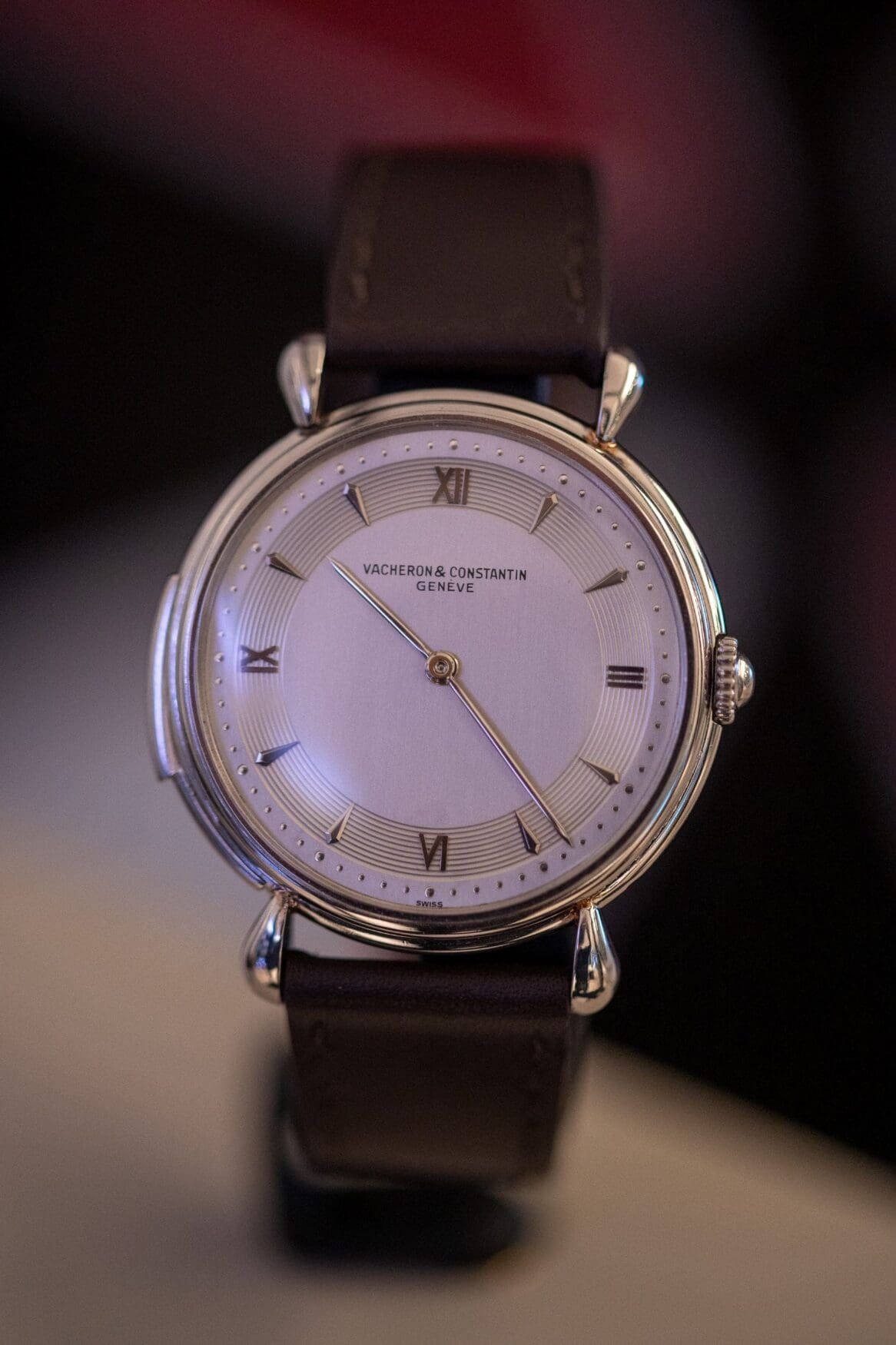 Last but not least, we have Vacheron Constantin Style & Heritage Director Christian Selmoni's favourite piece from Less'Ential: a platinum minute repeater that he explains was the hardest piece to source for the exhibition and has a market value well in excess of A$1 million. Less than 50 examples of this reference were produced, among which the platinum models are the rarest.
It's not hard to see why it's his favourite, as it exemplifies so many of the things that make Vacheron Constantin so special. Its gadrooned caseback, inverted 'Corne de Vache' lugs and very Art Deco dial lend it a refined yet timeless aesthetic. At just over 3mm thick, it's a prime example of Vacheron Constantin's legacy of producing ultra-thin timepieces. Its dual hammer, dual gong movement features remarkable sound quality. It's peak Vacheron, and an utterly mesmerising piece to behold in person.
"This idea of watchmaking purity, which is synonymous with elegance at Vacheron Constantin, is a signature that can be found throughout its history… The great quality of the Maison, which is always in tune with the times through creations that are symbolic of current trends, doubtless lies in its ability to preserve this watchmaking soul throughout the various stylistic interpretations of its watches – of which there have been many since the Maison was founded in 1755," Mr Selmoni explains.
Vacheron Constantin's Less'Ential exhibition will run until the 25th of September at Vacheron Constantin's Sydney boutique at 104 King Street in the CBD. Find out more and book an appointment here.